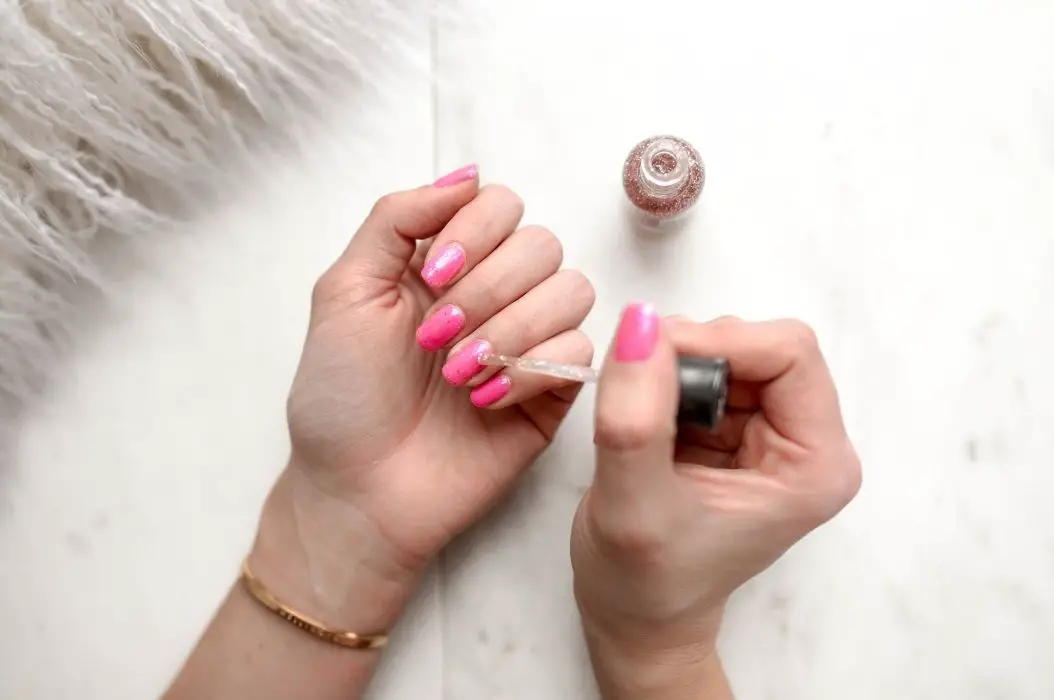 This post contains affiliate links. This means if you purchase something through one of my links, I may receive a small commission at no extra cost to you. Please read my disclosure for more info.
Not all women like wearing long nails, and they always have a reason to cut their nails short. Maybe because short tips are natural and more practical, or you don't want to cut yourself and deal with a broken nail!
No matter what the reasons are, you can create pretty and cute short nail designs. And if you're a beginner and craving some nail art in your life, don't worry because you're at the right place.
From chic to feminine short nail designs, you'll find ones that you love and want to copy ASAP.
Here, I've rounded easy short nail designs for beginners that are so pretty and simple that you can do it yourself!
25 Pretty and Easy DIY Short Nail Designs for Beginner
1. Constellation Nail Art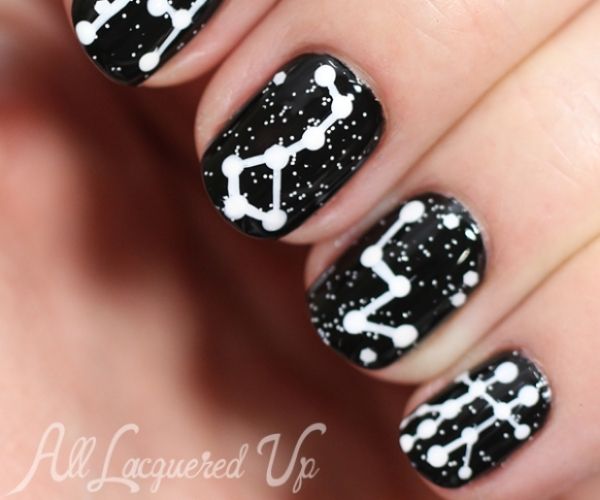 If astrology intrigues you and you love stargazing and wondering what type of constellations that you see in the night sky, why not put your favorite constellations or the ones that are hard to remember to your nails, so you could figure it out on your next stargazing.
Full tutorial at All Lacquered Up
2. Modern Gold French Nail Art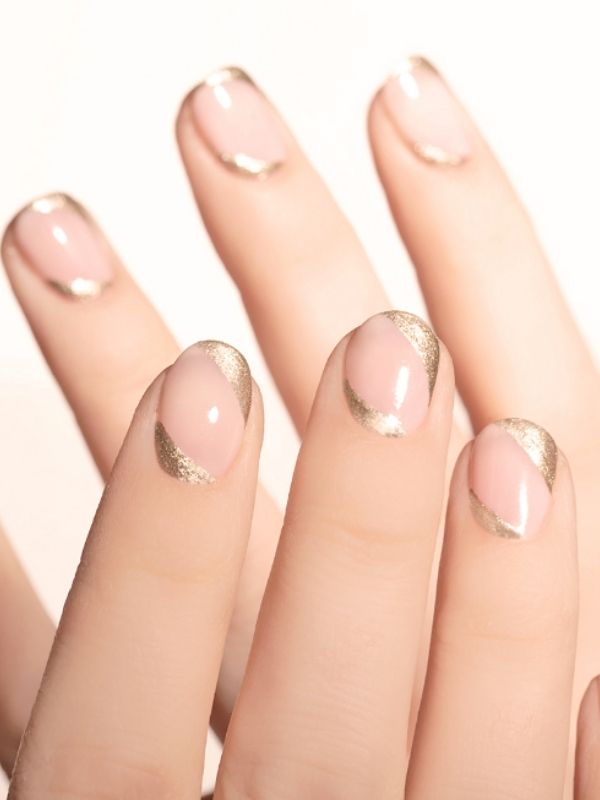 Who doesn't like a touch of gold in their style especially on nails? This minimal old classic style is so easy to create and looks great for future events. A sheer neutral nail polish, a metallic gold nail polish, a top coat nail polish and a striper brush are supplies that you need to copy these nails.
Full tutorial at Lulus
3. Marble Amethyst Nail Art
At first glance, you may think it's acrylic nails or nail designs with hard technique, but don't be fret because this beautiful marble nail art is so easy to copy.
You just need to paint your nails with a base coat first then apply white nail polish, apply again the white nail polish and while it's still wet put small drops of blue and purple nail polish or other colors that you want on the wet white layer and lastly press a piece of plastic on your fingers.
You can ask your friend to help you create this pretty nail art and have a fun girls' day out!
Full tutorial at Lucy's Stash
4. Heart Tips Nail Art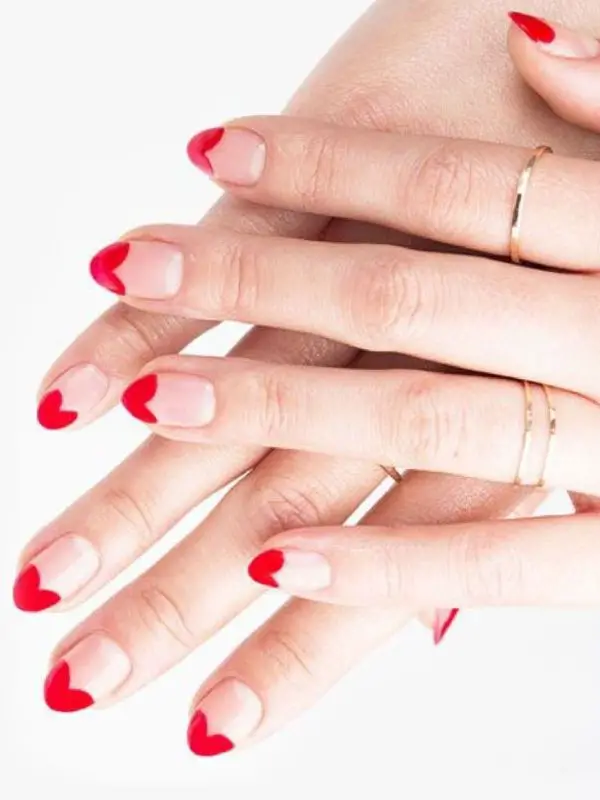 This beautiful heart tips nail art will be perfect for Valentine's Day, not just because of the heart shape but the color really compliment the mood too.
Or you can create this nail art when you need to go on a date and yet you don't have much time to polish all your nails, but still want to look pretty and cute!
Full tutorial at Cosmopolitan
5. Tropical Nail Art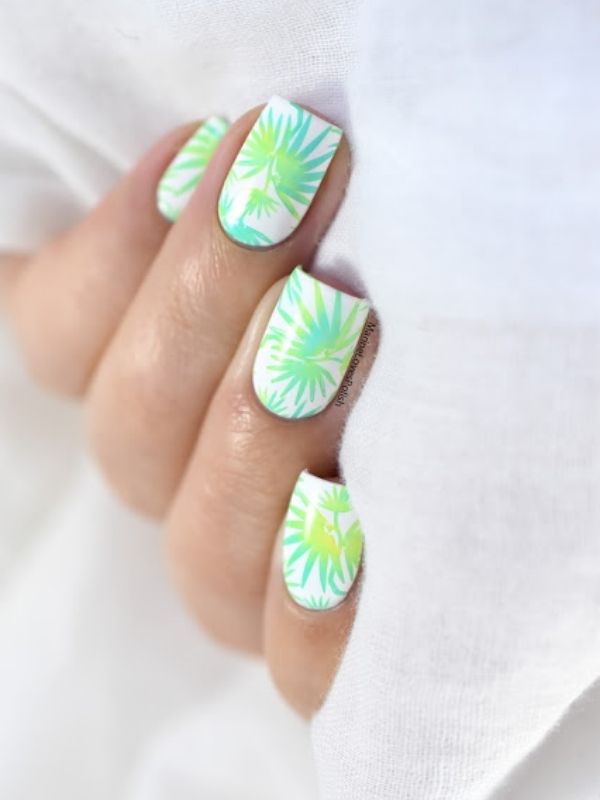 If the beach and coconut tree is your favorite season, then you'll love these leafy prints nail art with green-blue shade colors. It's actually quite easy to create, all you need is a nail stamp plate and nail art stamper, nail polishes and scraper.
Full tutorial at Marine Loves Polish
6. Pink Gradient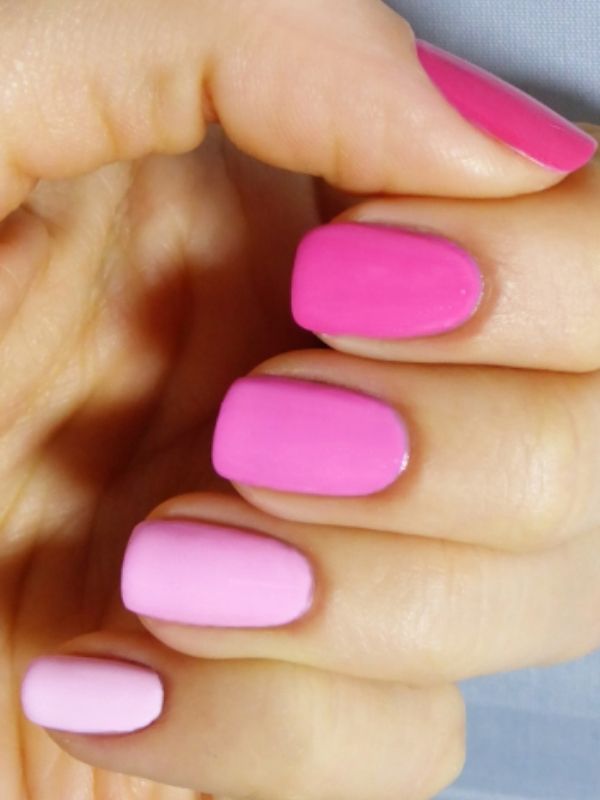 I really love how this simple and elegant pink nail look! You don't need to good at art to create these nails. What if you don't have a set of pink color gel nail polishes? That's not a problem because you just need deep pink nail polish and white polish to create each shade.
Full tutorial at Lulus
7. Sailor Stripes Nail Art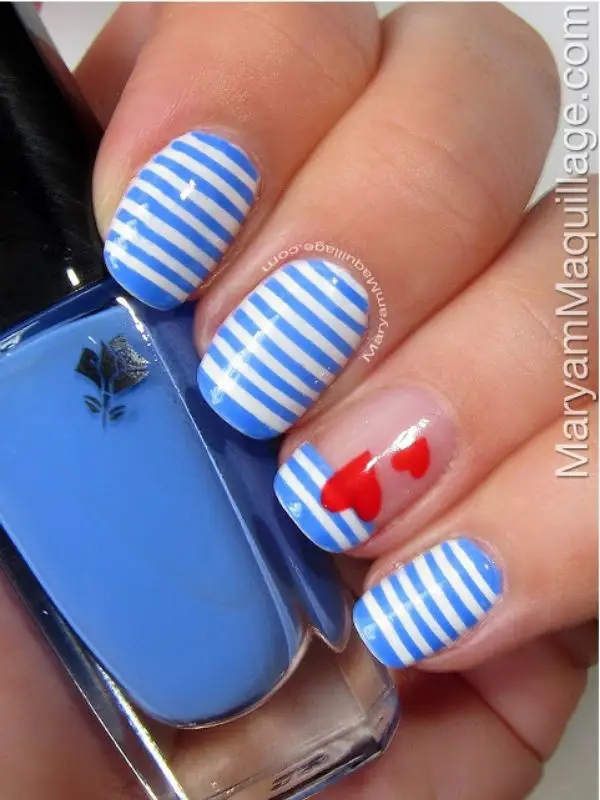 This white and blue makes us think about the summer and how good it's to go to the beach. That's why this nautical mani is perfect to begin your summer season! With only white and blue nail polish, striping tape, a base and a top coat, you can create these cute blue stripes.
Full tutorial at Maryam Maquillage
8. Pink and Purple Nail Art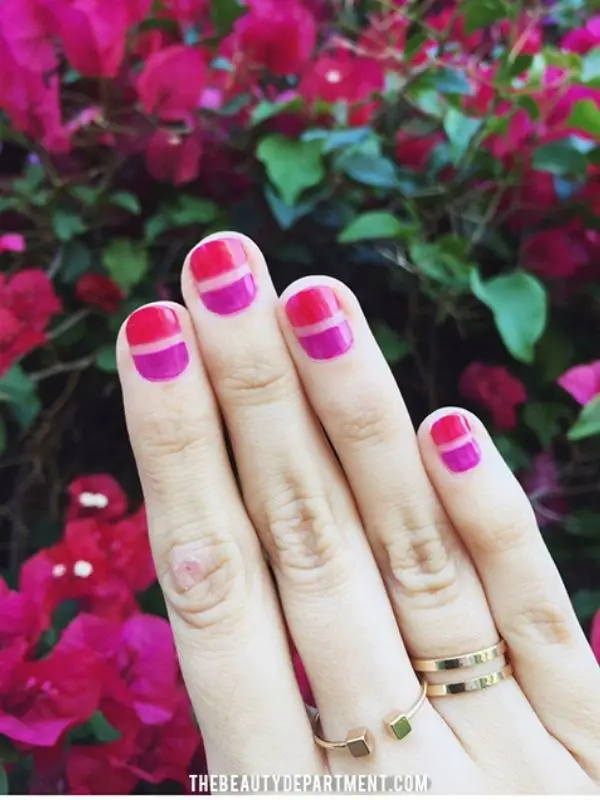 These two bright colors and a partially bare mani will make you remember spring. To create this look, you need small strips of washi tape and put them horizontally on your nails, then paint your base and near tips with purple and pink. You can also get creative by changing the colors.
Full tutorial at The Beauty Department
9. Minimalist Nail Art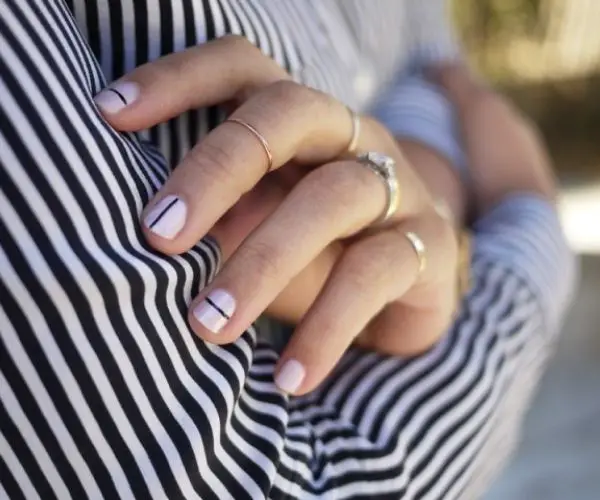 If you had enough of all the brightness and shine of nail arts, then this minimalist nail art can be a great change on your nails. To copy this style you just need a light pink almost white polish or light nude polish that you have, black polish and a thin paintbrush or you can use a toothpick. A perfect look for really simple people!
Full tutorial at Honestly WTF
10. Black and Glitter Nail Art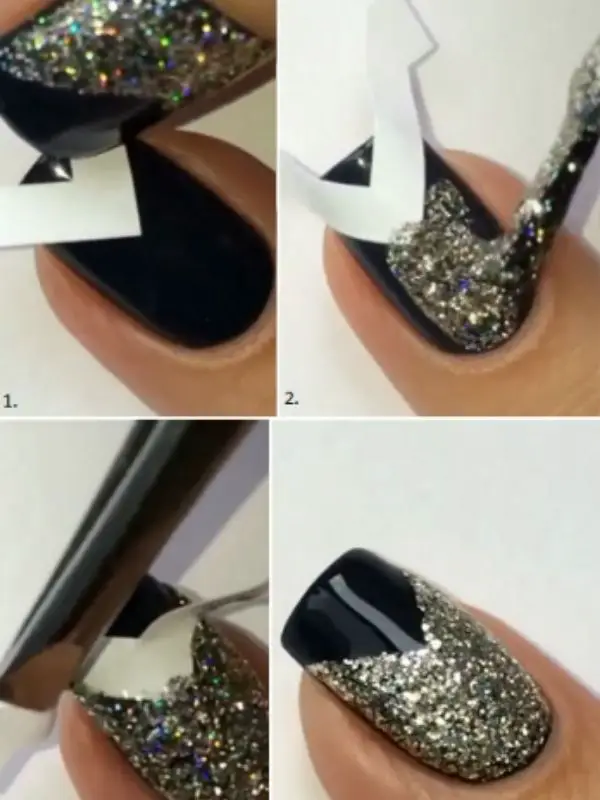 You will amaze how easy to do this nail art, with no waiting time and no hassle. To create this nail art, you need black nail polish, silver glitter nail polish and V-shaped nail strips or you can use washi tape. This elegant manicure is perfect if you want to go to a party and have a glamorous night!
Full tutorial at All Day Chic
11. Modern Plaid Nail Art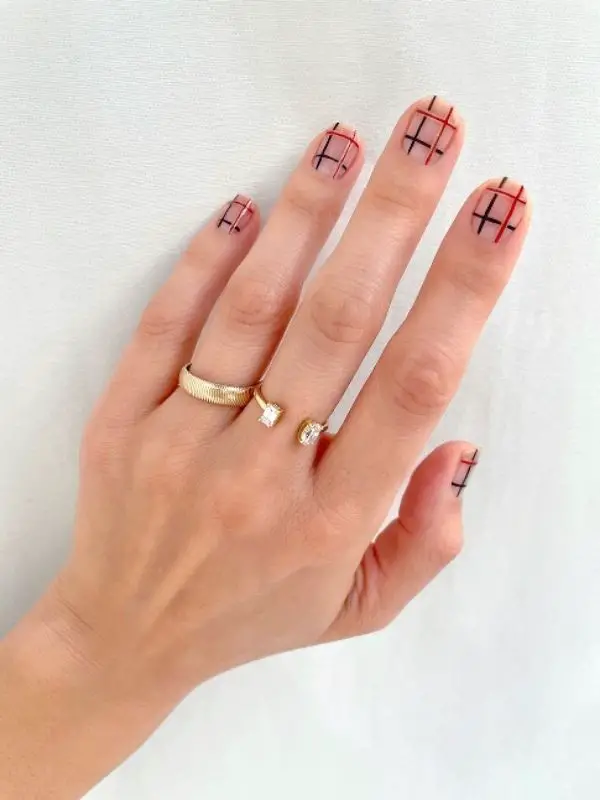 Or you can try this simple yet festive nail art. It's so easy to make this mani at home, you just need black, gold and bright red nail polish and a thin nail brush tool to make the plaid style.
Full tutorial at Lulus
12. Daisy Nail Art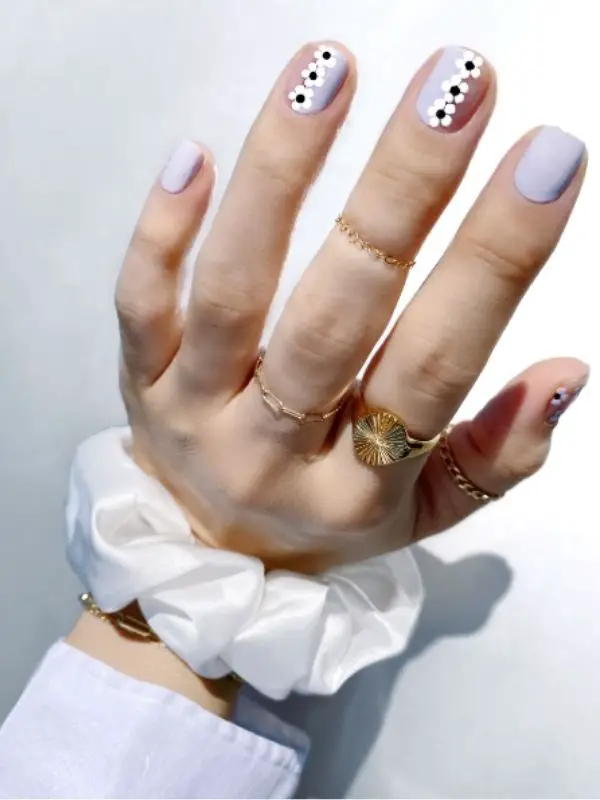 Almost everyone likes to see flowers in full bloom and so do I. Thanks to this chic and cheerful nail design you can see flowers on your nails. A light blue nail polish, a black nail polish, a white nail polish, a clear top coat and a dotting tool are all you need to create this one.
Full tutorial at Lulus
13. Roman Holiday Gradient Chevron Nail Art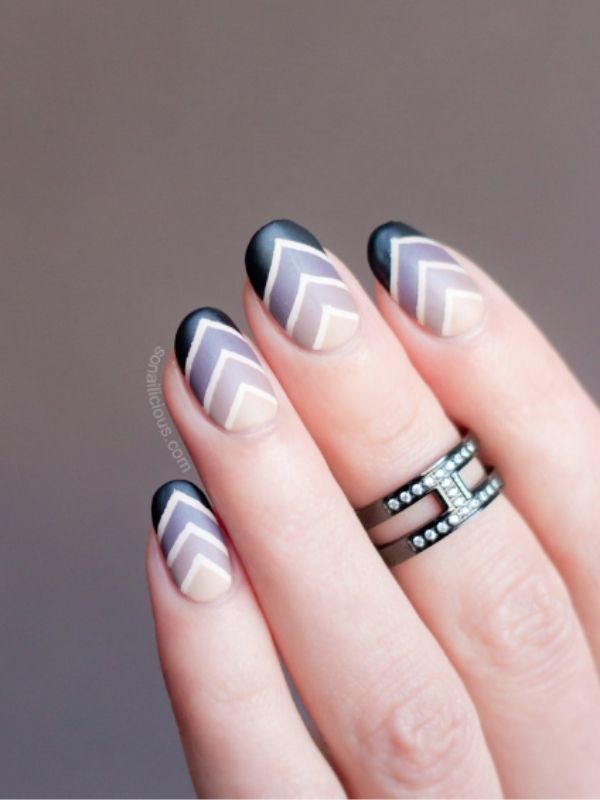 Looking for impressive nail art that you can create at home? These gradient chevrons are so stunning and easy to copy. You just need stripping tape, nail art brush and nail polishes. You can also play around with your choice of colors!
Full tutorial at So Nailicious
14. Midnight Smoke Nail Art
You can never be wrong with black polish, and you will surprise how easy to copy these nails. To create this you need black polish, green polish, a top coat and acetone. You might even feel like a sorcerer with these nails!
Full tutorial at Chalkboard Nails
15. Jewel-Tone Color Block Nails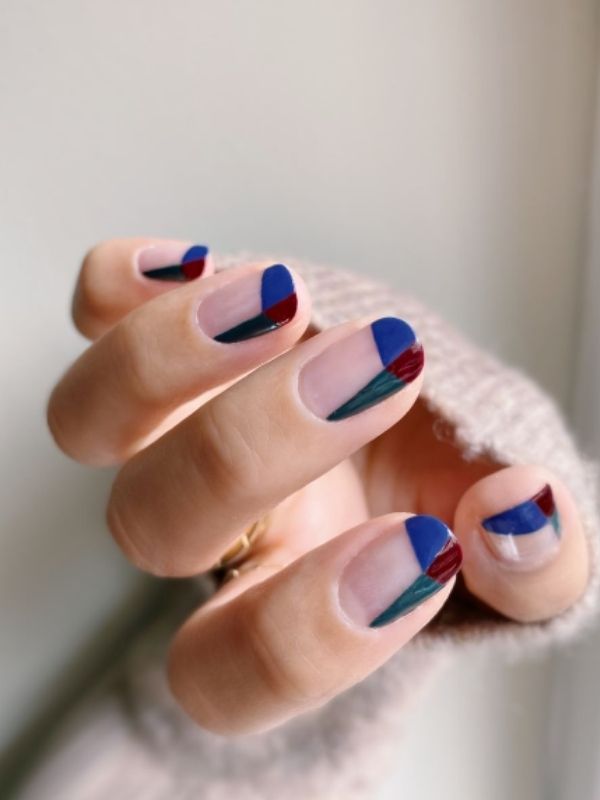 This chic fall manicure with colors of sapphire blue, emerald green and burgundy can be your next nail art project. You can also create the summer version of this design by using a bright color block.
Full tutorial at Lulus
16. Sideswipe Nail Art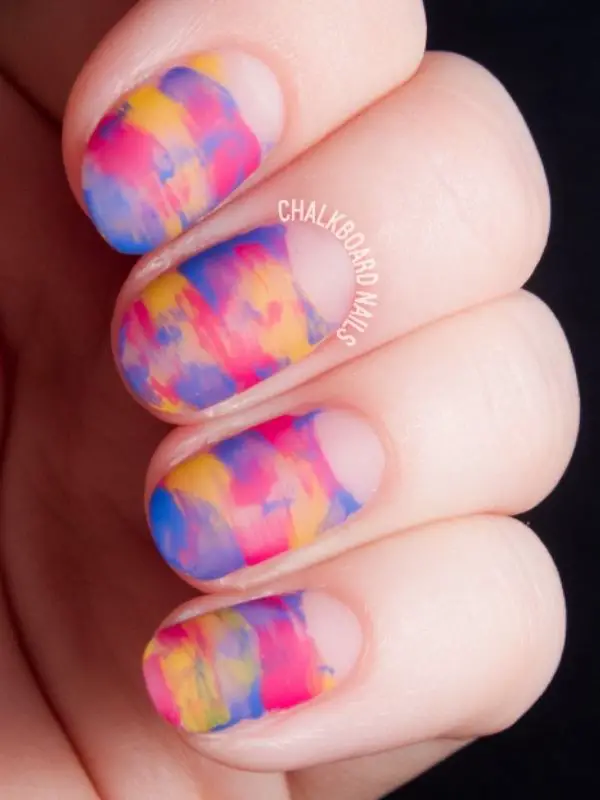 Don't good at painting your nails? This nail design doesn't require you to paint all your nails, you just need to swipe thinly bright color nail polishes that you have with a clean brush on your nails. Easy and perfect for girls' day out!
Full tutorial at Chalkboard Nails
17. Purple Ombré Nail Art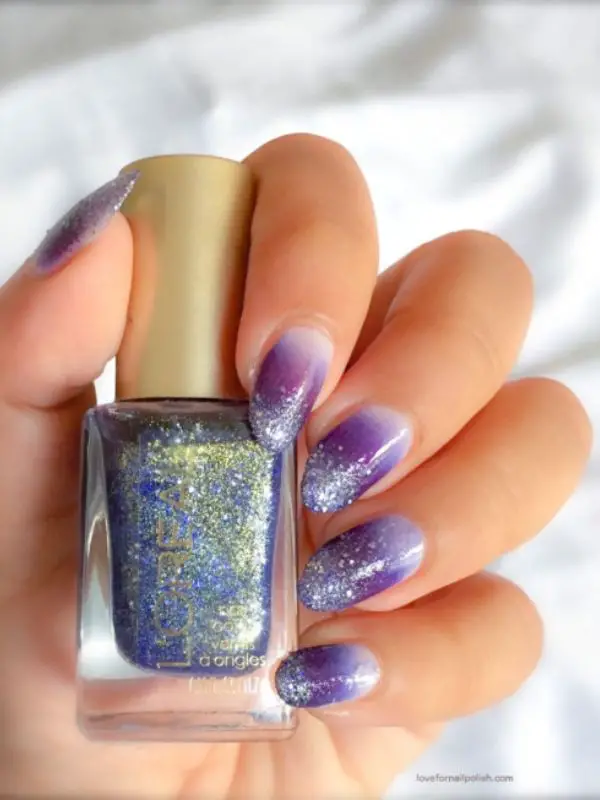 Ombré colors always work wonders on nails, like these pretty gradient nails and the glitter on tips make it look more stunning! This nail art is easy to create, all you need is a lilac shade, purple and purple glitter polish and a makeup sponge.
Full tutorial at Love For Nail Polish
18. Animal Print Nail Art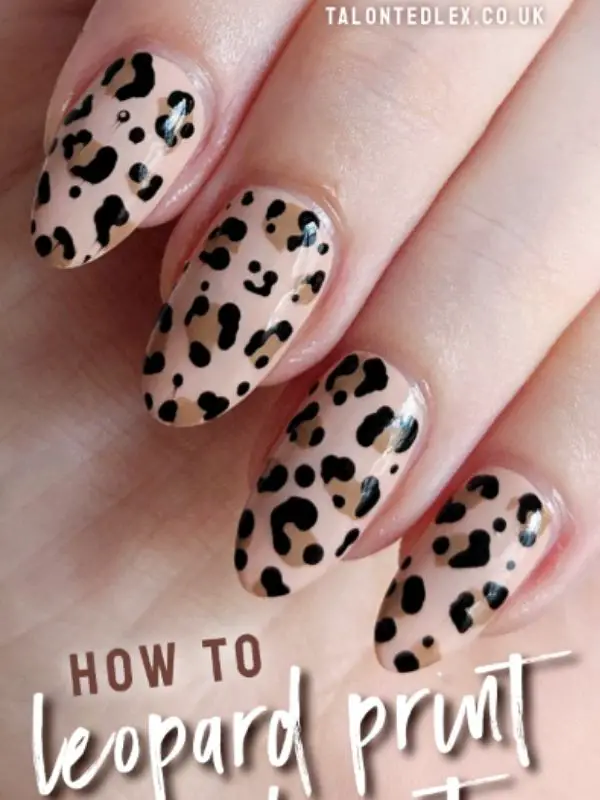 Show off your jungle spirit with these fierce and fancy animal nails. You need a dotting tool to copy this on your nails, the good news is you can use the tip of a hairpin if you don't have the tool.
Full tutorial at Talontedlex
19. Fishtail Braid Nail Art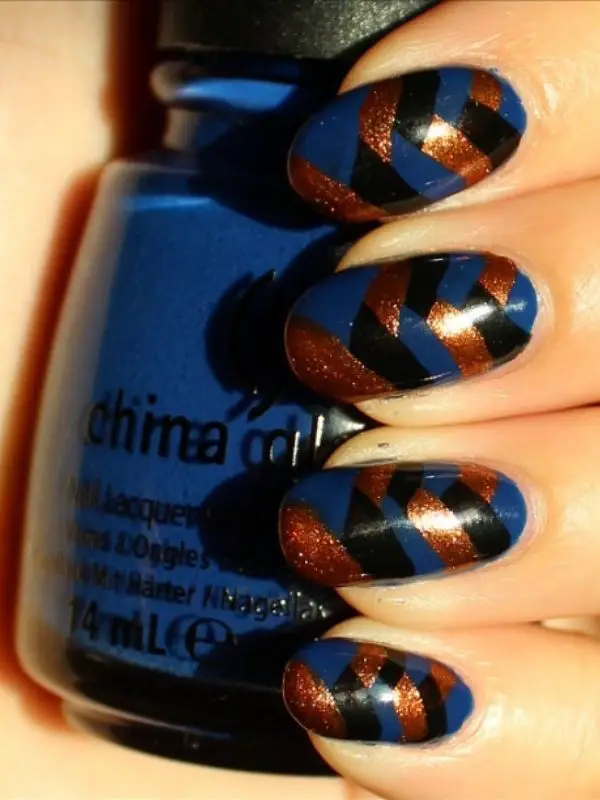 This fishtail braid nail art is not as hard as you think. You don't even need tape to create the fishtail braid, because all you need is some patience to layer the polishes and wait until the coat is dry.
Full tutorial at Swatch and Learn
20. Bright Color Block Nail Art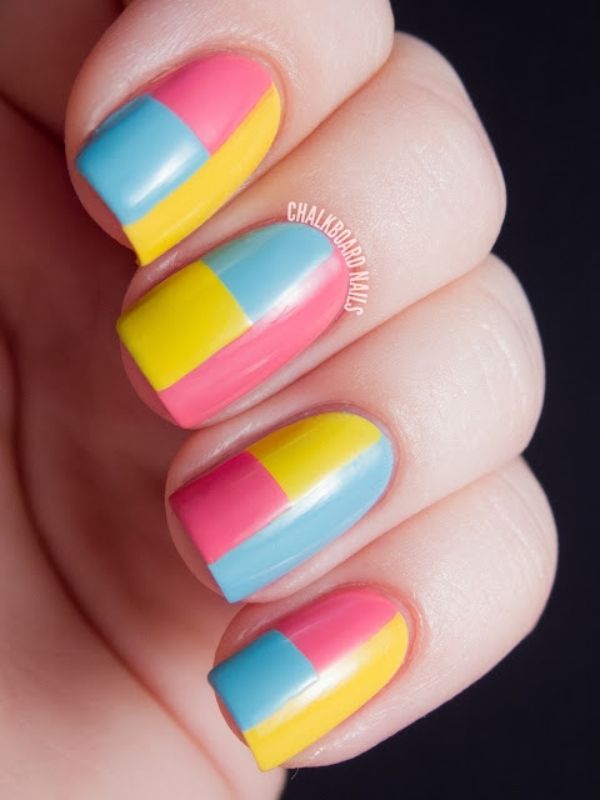 If you love spring then you'll definitely like these bright color block nails. You just need yellow, blue, and Fuschia polish, clear stationery tape and a quick dry top coat. You can also get creative by changing the color nail-by-nail.
Full tutorial at Chalkboard Nails
21. Retro Nail Art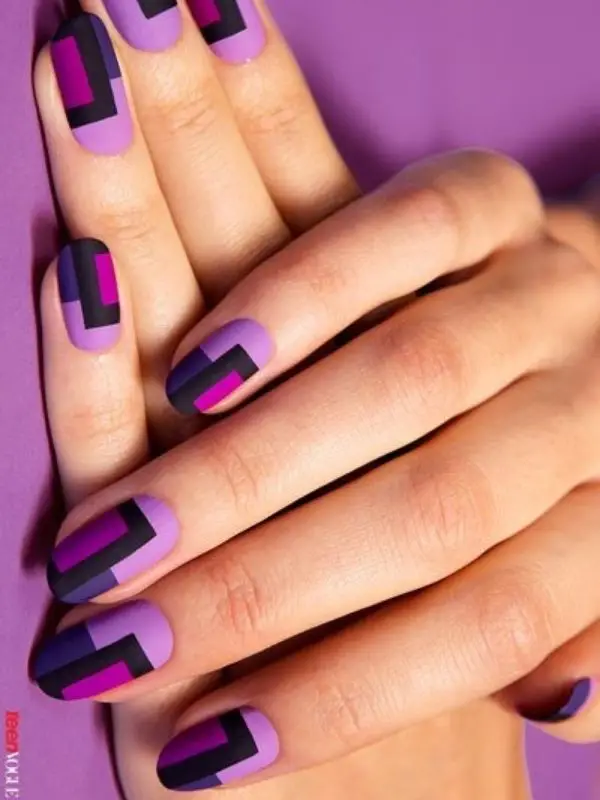 Look at this stylish DIY Nail art that surely will take you back in time! You need a light purple, a pinkish purple, a dark purple and a black nail polish. Another good thing from this nail design is finished with the matte top coat that really gives the look depth.
Full tutorial at Teen Vogue
22. Orange With Gold Stripes Nail Art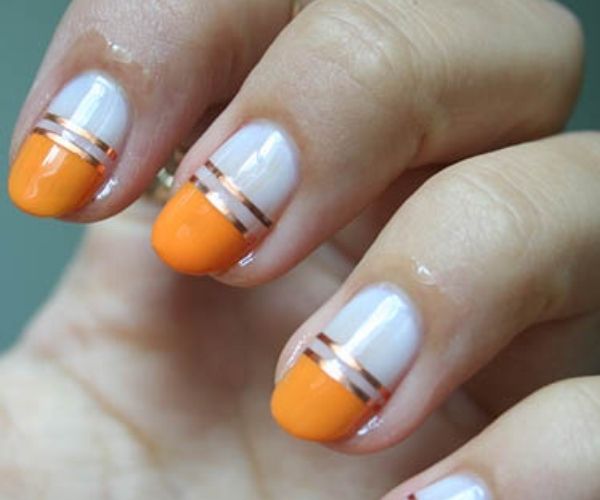 Who would have thought that nail tape can create something cool like this nail art? And once you create this, you can't stop staring at your nails at how elegant and beautiful it's.
Full tutorial at A Little Obsessed
23. Stylish Gray Nail Art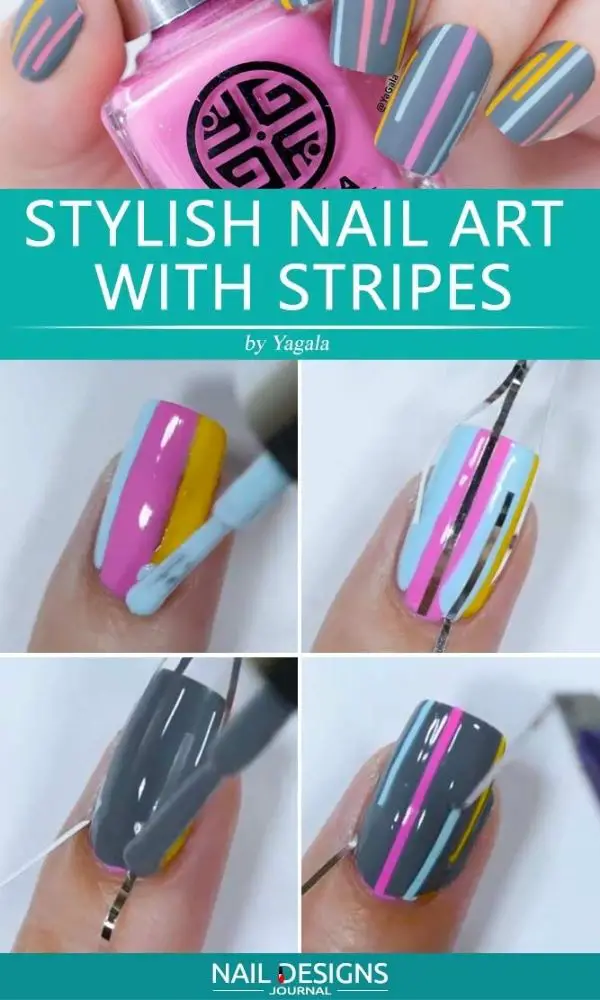 I really love how these matte gray nails match with the bright color stripes. To create this you need to base your nails with three bright colors, a few pieces of stripping tape which then put over your nails, a grey nail polish for the last paint and a matte top coat.
Full tutorial at Nail Designs Journal
24. Tribal Nail Art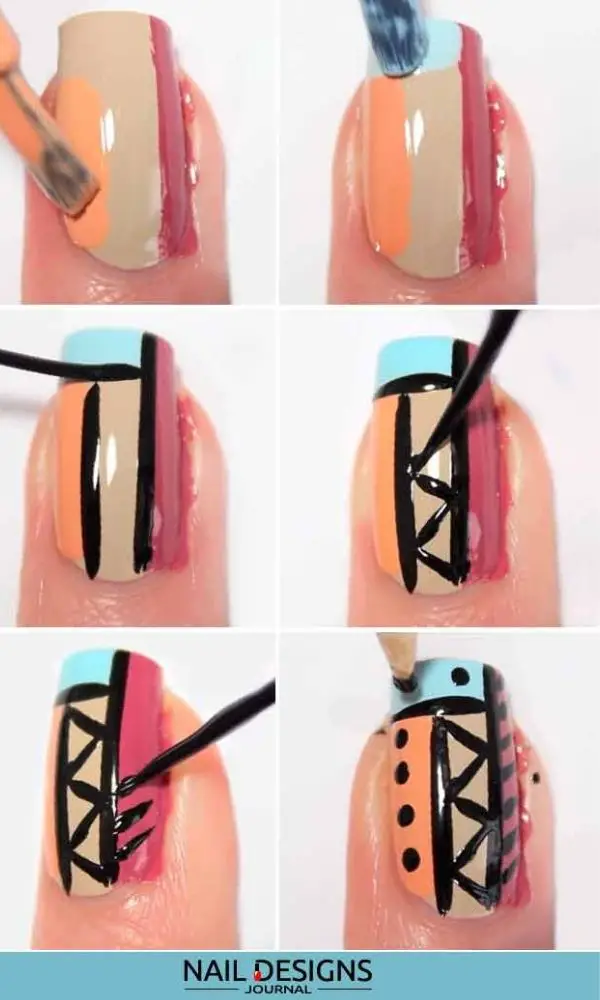 I really love these nails! And I know that you love this too. The colors, dots and stripes create a perfect match. And maybe you already thinking how difficult it's to replicate this on your nails because of the details. But trust me, this nail art is not as hard as you think.
You can also ask your friends, sister, or even your mother to help you create this nail art.
Full tutorial at Nail Designs Journal
25. Easter Egg Nails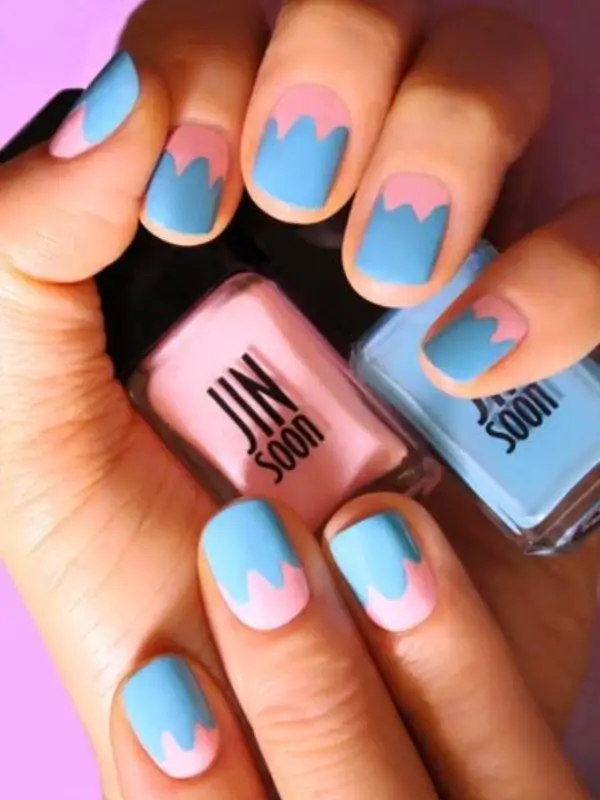 Look at these cute and perfect blue and pink egg nails. You can create these adorable nails for any occasion!
Full tutorial at Hot Beauty Health
So which one of these nail designs is your favorite? Choose the one that makes you proud of yourself!