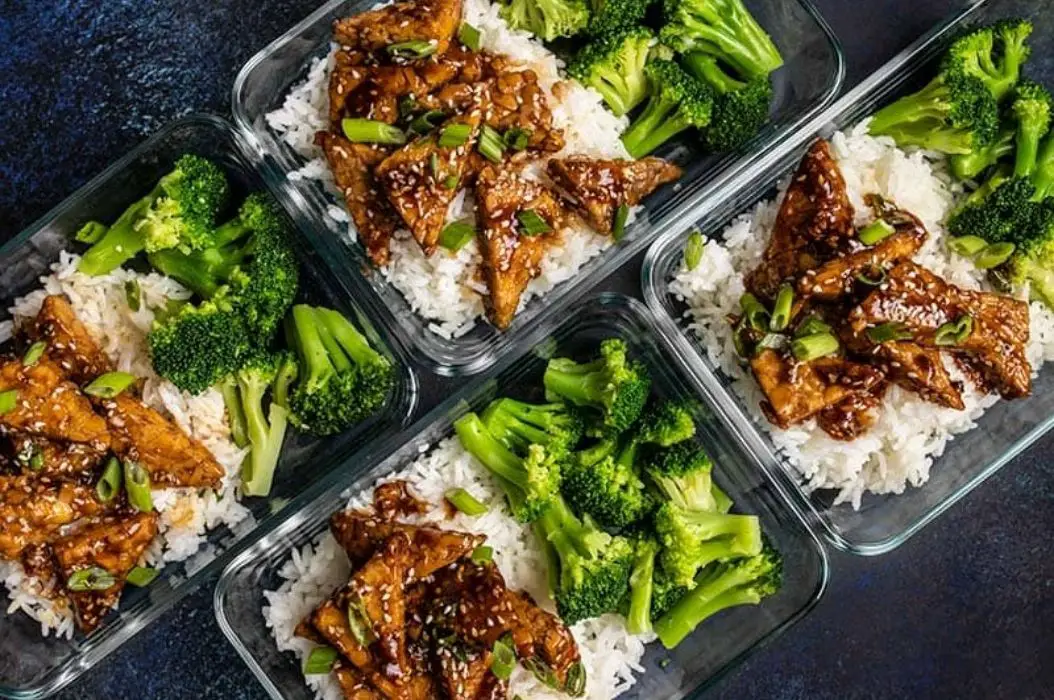 This post contains affiliate links. This means if you purchase something through one of my links, I may receive a small commission at no extra cost to you. Please read my disclosure for more info.
It might seem impossible to prepare delicious meals for breakfast, lunch, and dinner in a day when there is a lot of things you do in your everyday life. But by planning ahead, you can prepare your meals with these easy and healthy meal prep ideas.
Prepping your meal not just makes you eat healthy food but also makes you proactive and aware of what food you allow to enter your body during the week and keep your diet under control.
Meal prepping also helps you save money. Because it will decrease your grocery bills and make you less eat out during the week, so it helps reduce your impulse to purchase unnecessary food and drink.
With these easy and healthy meal prep ideas I've gathered for you, you can easily cook it on Sunday, and then you are set for breakfast, lunch, even dinner for the week.
I can assure you that you'll never get bored with these meal prep ideas!
Tips To Get Started On Meal Prep
1. Make a plan
Pick the perfect recipes that you want to cook for the week and plan out your grocery shopping list. If you're a beginner meal prepper, it's better to start from one recipe that really tortures you to make, it can be breakfast or lunch. After a week or two and you get used to meal prep, then you can start to make 2-3 recipes per week.
2. Use the right storage containers
Storage containers are an essential kit because you will store your meal for the week in them. And you need to use the good ones like this glass container that will keep the foods fresh and BPA-free so it's safe to use in a microwave when you reheat your food.
Make sure that you have room to store all of those containers after you fill them!
3. Schedule it
Just because it saves a ton of your time doesn't mean you don't need time to prep them.
So it's best to schedule off a block of time every Saturday or Sunday to prep all your meals. You can set a reminder on your phone if you find it hard to do or you're like me that tend to forget to prepare them.
Best Meal Prep Ideas
let's jump to the best, healthy and easy meal prep ideas that definitely will become your quick favorite recipes!
Breakfast Meal Prep Ideas
Let's start with meal prep ideas for breakfast that are healthy and filling! And they're the best way to start your day if you're in a rush in the morning.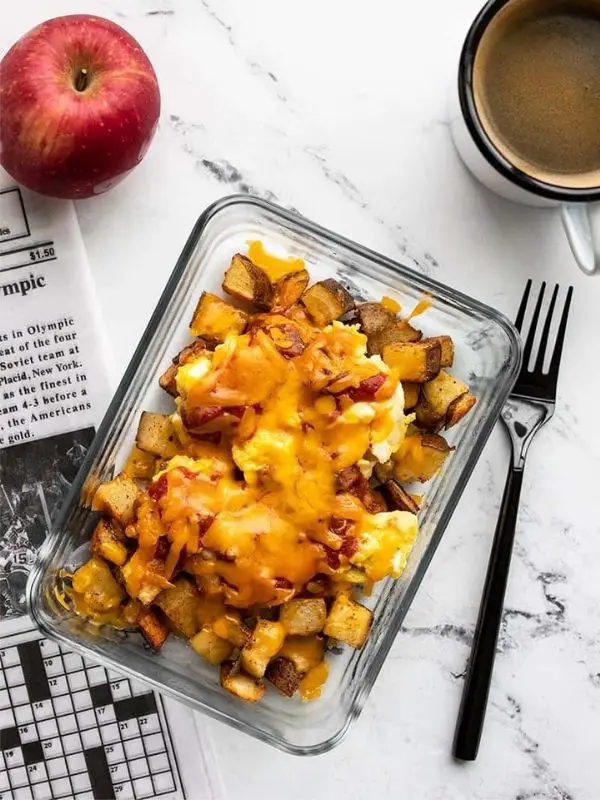 Do you want a tasty, budget-friendly, and hot breakfast in about 90 seconds? I got you. All you need to make this delicious breakfast is roasted potatoes, scrambled eggs, a little salsa, and cheddar cheese. You can also add topping to make it more flavorful. (Via Budget Bytes)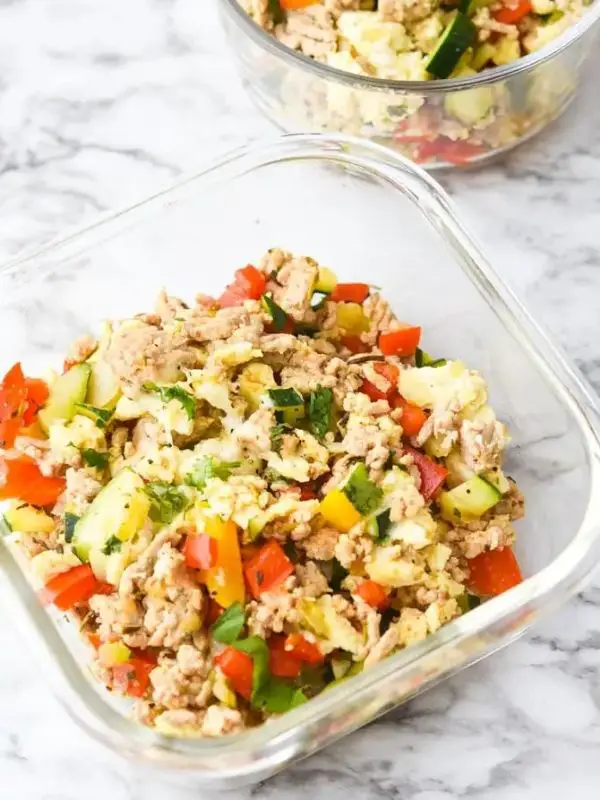 Let's dust off that skillet and use it to make this veggie-loaded breakfast that is packed with protein. Veggies, eggs, and lean ground turkey are the main ingredients of this tasty breakfast. It doesn't require much time to make because it only takes 10-minutes to make. What a healthy breakfast! (Via Meal Plan Addict)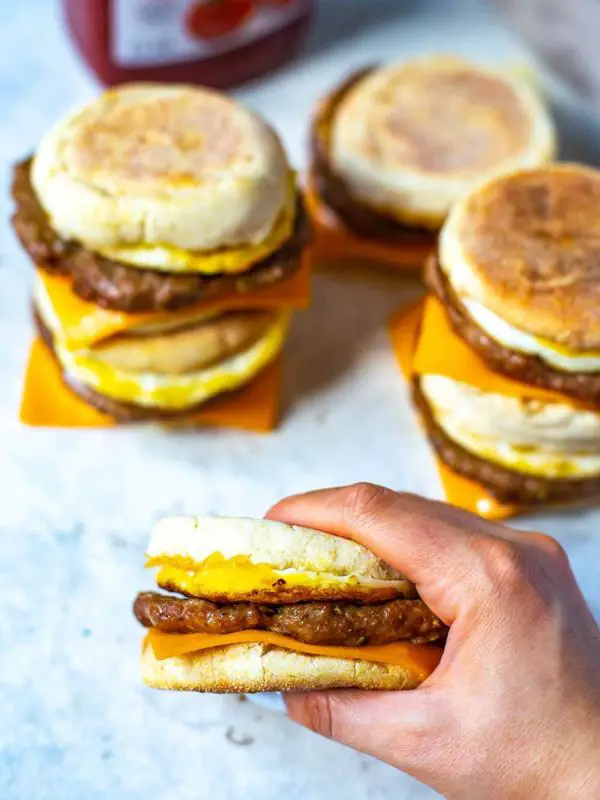 You don't need to go to McDonald's in the morning just to buy their egg and sausage McMuffin for breakfast because now you can make it with this copycat recipe version. Not just easy but this copycat is healthier than the original version. (Via The Girl On Bloor)
Want more make-ahead healthy breakfast recipes ideas? Then check this freezer-friendly breakfast post.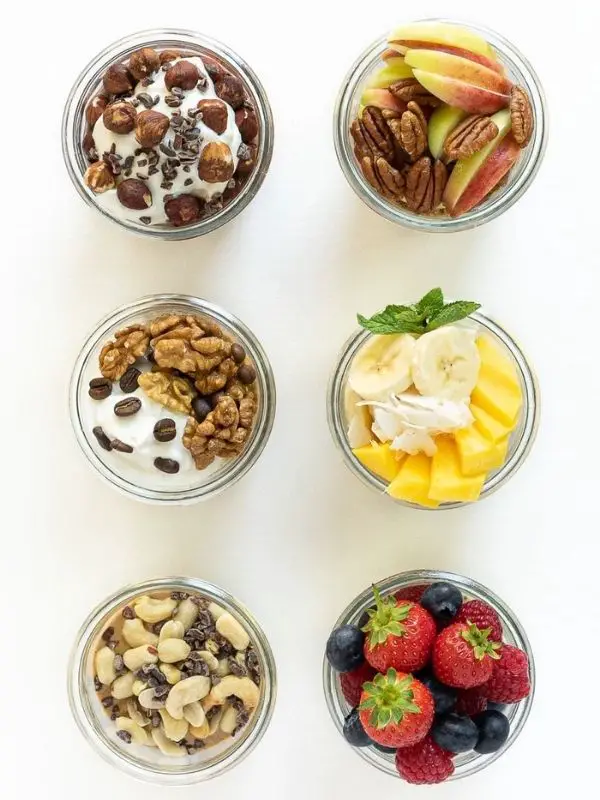 If you want don't want to eat the same breakfast for a week, this healthy breakfast is going to help you! Has 6 amazing flavors with a nutritious base that you can easily prep the night before. The best part? it doesn't require any cooking. Definitely a grab-and-go meal! (Via Gathering Dreams)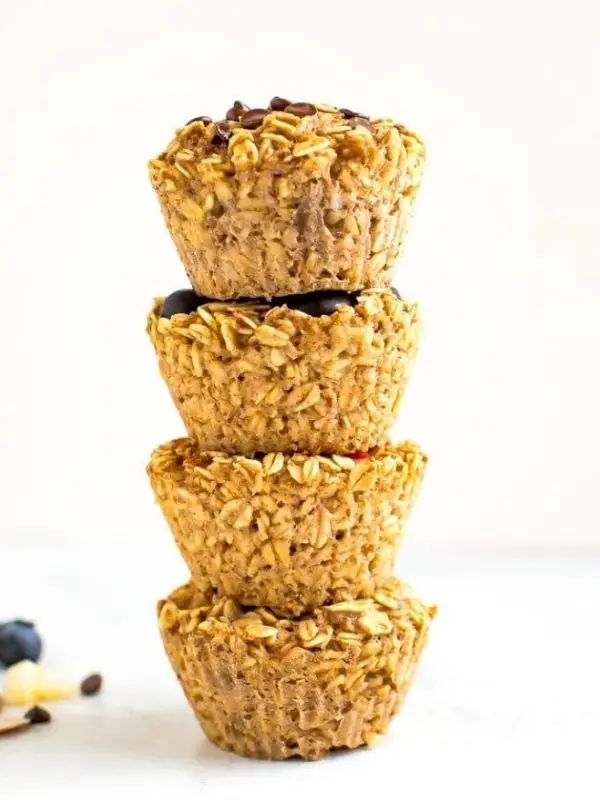 If you're bored of eating muffins but you like the size so you can control how many you eat and keep track of the calories especially if you're on a diet, then these oatmeal cups will be your new favorite breakfast!
There are four variations of these baked oatmeal cups that you can try. This recipe is also vegan dan gluten-free. (Via Eating Bird Food)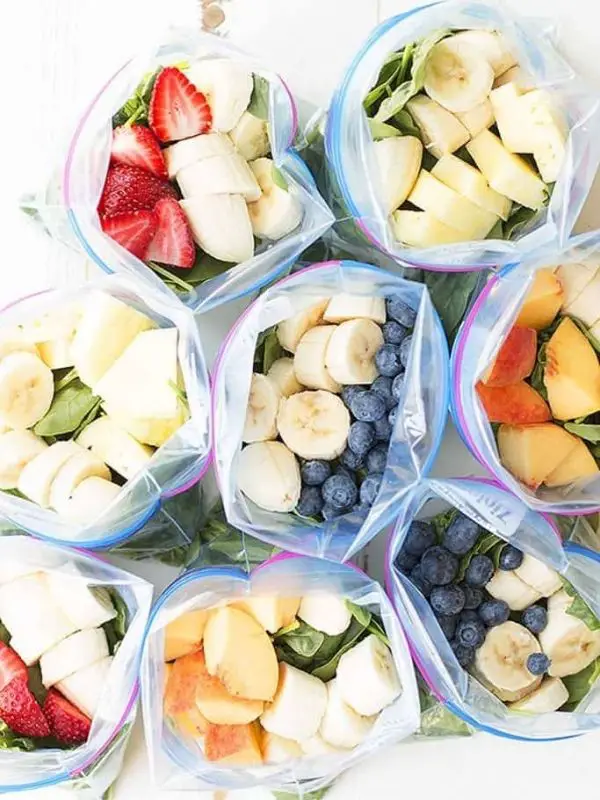 You can never go wrong with eating smoothies for breakfast. Not just easy to make ahead and freeze, they're also nutritious too! Surely you will never run out of flavor with these fruit and vegetable combinations. (Via Don't Waste The Crumbs)
Lunch and Dinner Meal Prep Ideas
Eating healthy doesn't have to be boring! I picked a lot of ideas that are delicious, easy, and most importantly will make you less stressed!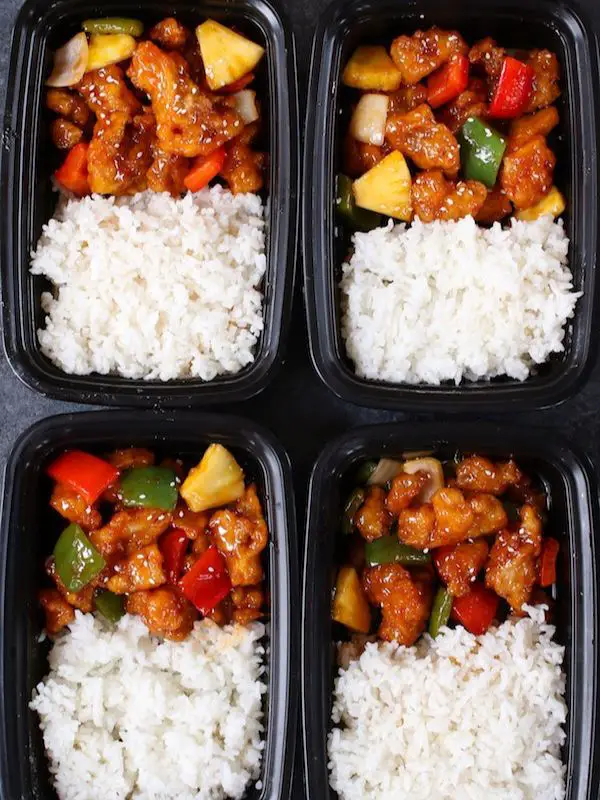 If you love Chinese food, then you probably like this recipe, or maybe this is already on your fave dishes. It only takes 20 minutes to make this crispy chicken, pineapple, onions, and bell peppers in a sweet and sour sauce. (Recipe from Tipbuzz)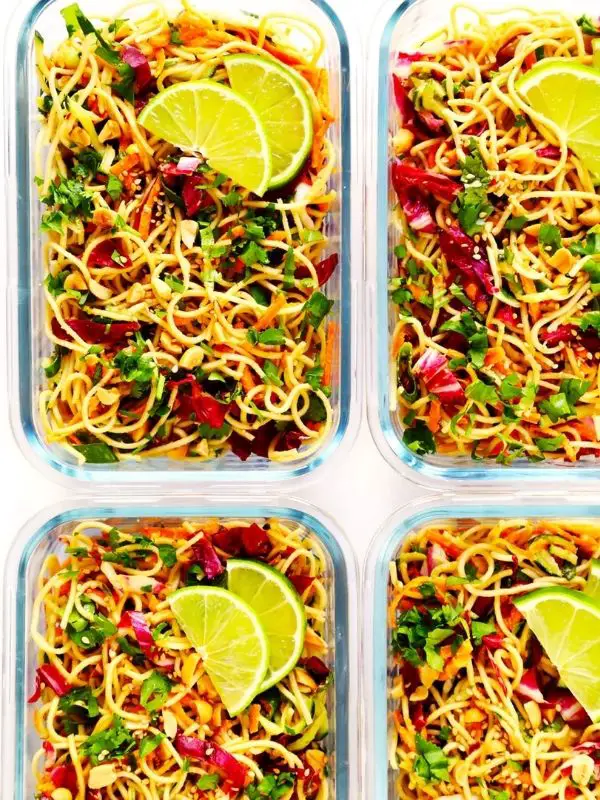 Swap out rice for noodles and make this scrumptious meal. The peanut sauce makes this noodle recipe ridiculously irresistible. And it's easy and quick to make. You can customize these noodles by adding tofu, chicken, shrimps or even making them a good vegetarian meal! (Via Gimme Some Oven)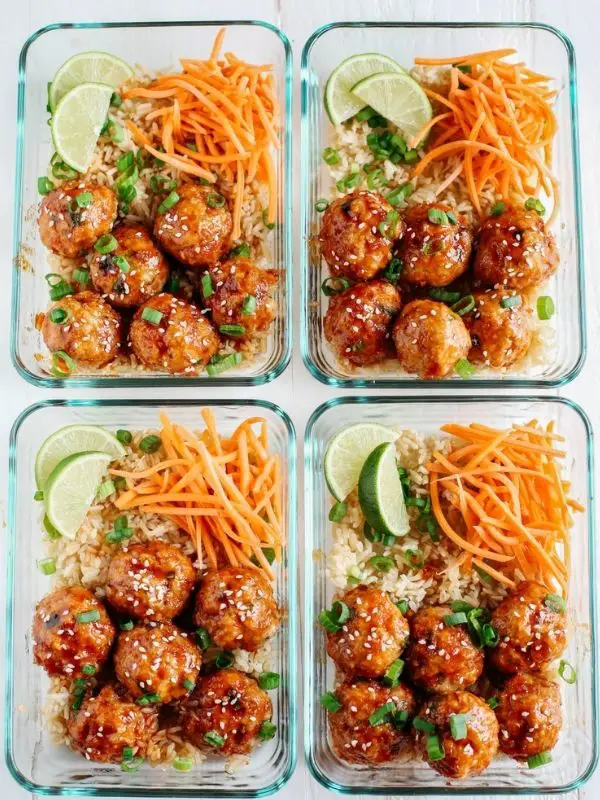 The mouthwatering sauce made with sriracha, soy sauce, ginger, honey, and garlic is the key that makes these baked meatballs taste so good. You can serve these meatballs with brown rice, quinoa, or even cauliflower rice for a low-carb meal. (Via Eat Yourself Skinny)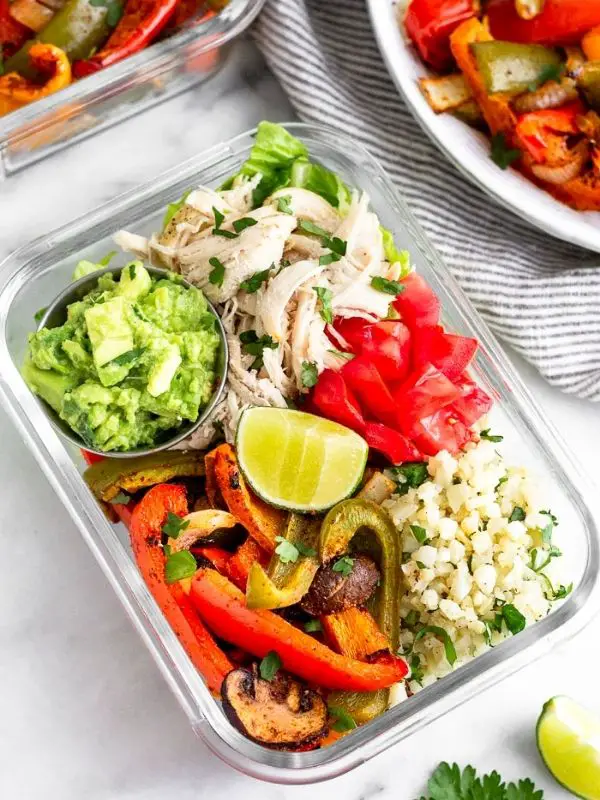 Packed with shredded chicken, cilantro lime cauliflower rice, guacamole, and veggies make this recipe a whole30, paleo, inexpensive and healthy meal, ready in under an hour! Loaded with protein and healthy fats this recipe makes a great idea for meal prep. (Via Eat The Gains)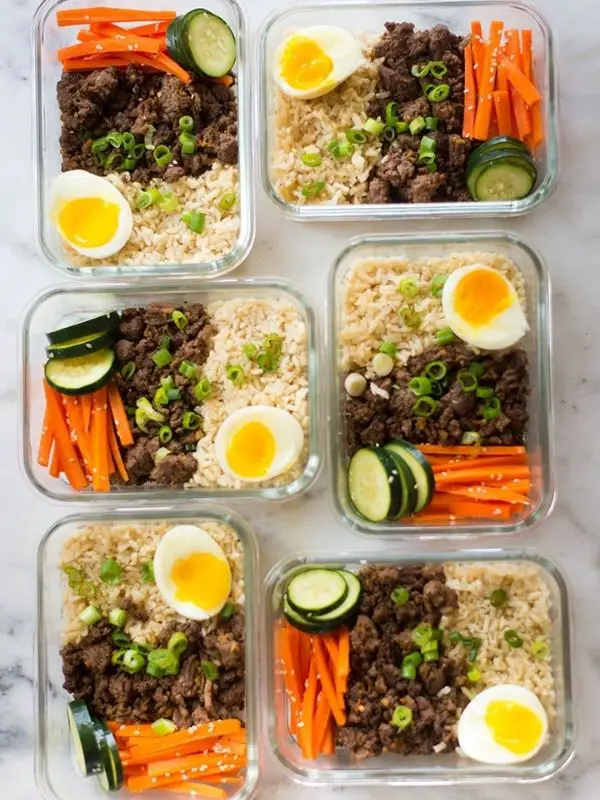 Another easy and delicious Asian recipe that probably gonna make you stick to eating healthy! What's great about this recipe is it's so cheap, it cost less than $4 a meal. A meal that tastes delicious yet so cheap, what more could you ask for? (Via A Sweet Pea Chef)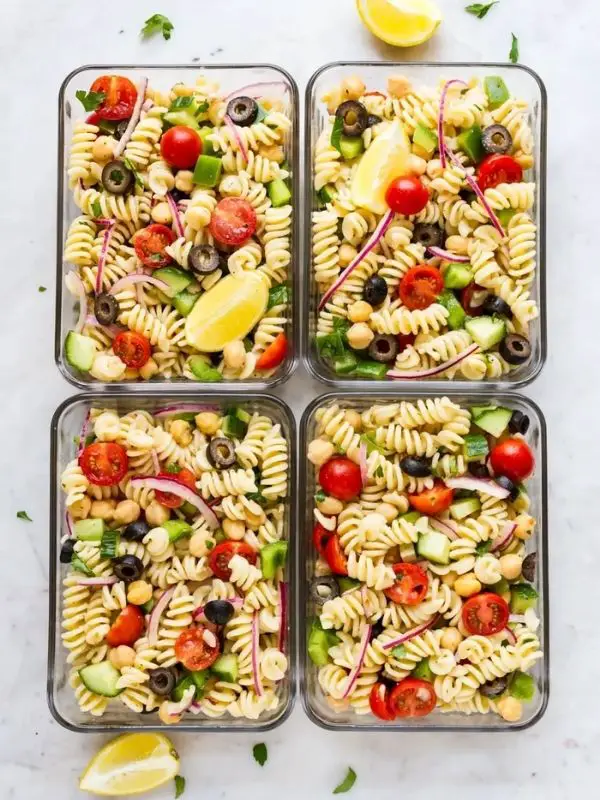 Want a quick and healthy meal without any fuss? This vegan pasta is a perfect dish. Made with chickpea, black pepper, cherry tomatoes, cucumber, black olives, and pasta, and with just 15 minutes you can make this easy and colorful pasta. (Via Simple Veganista)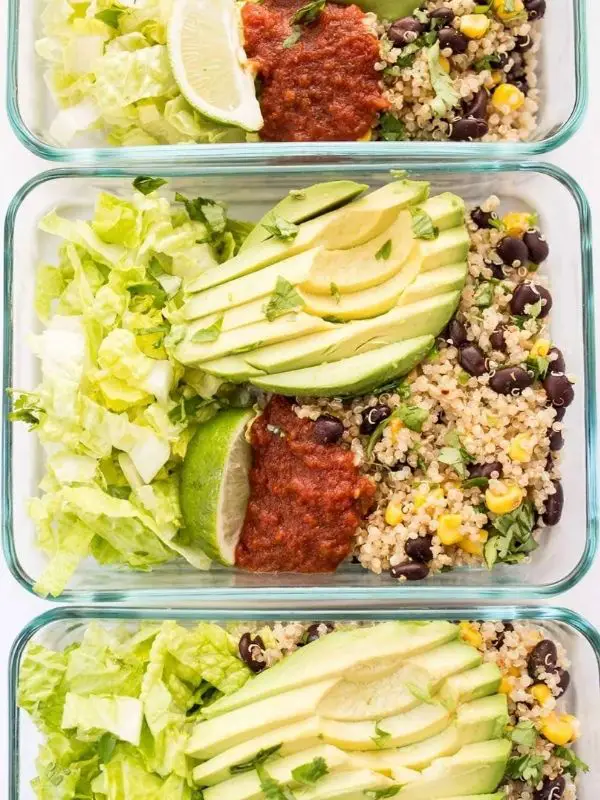 Looking for a healthy, nutritious, and delicious vegetarian meal? I've got you covered. In less than 20 minutes you can make these vegetarian quinoa bowls made with corn, cooked quinoa, romaine, salsa, and avocados. You need to give it a try! (Via Simply Quinoa)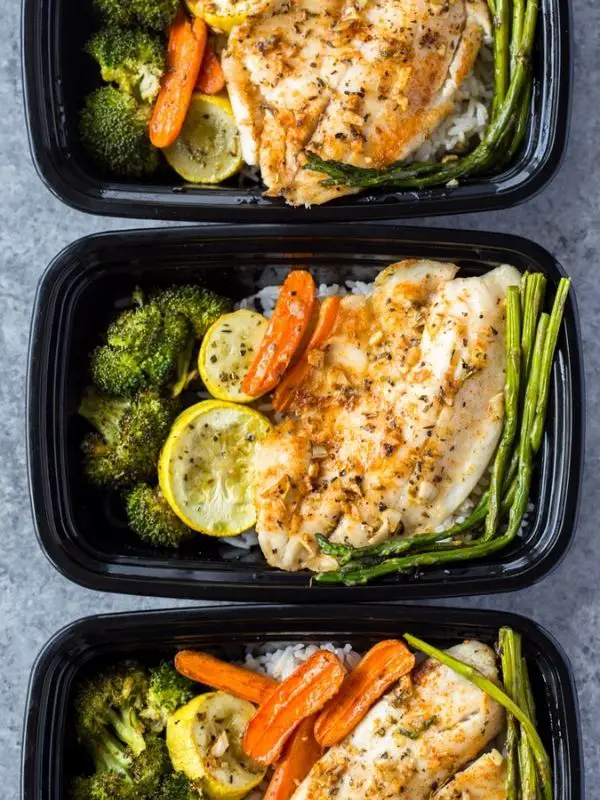 Bored with chicken? Then this tasty mix of fish and veggies is a meal you must try. You just need cooked rice and baked tilapia, broccoli, asparagus, zucchini, and carrots then put them into your meal prep containers. You definitely will enjoy this delicious meal all week-long. (Via Gimme Delicious)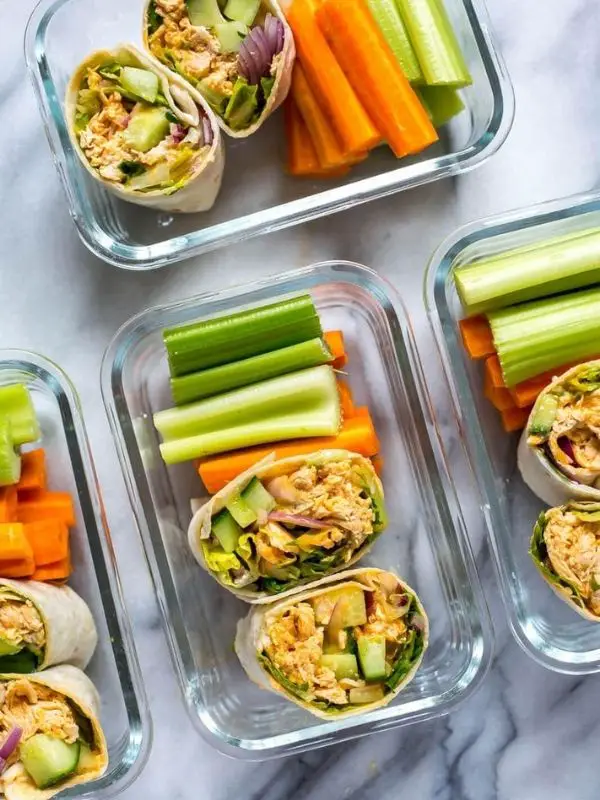 To make this delicious and easy wrap, all you need to do is cook the chicken, shred it, then toss the chicken into buffalo wing sauce, after that chopped all your veggies then throw all the chicken and veggies in the wrap. So easy and simple. (Via The Girl On Bloor)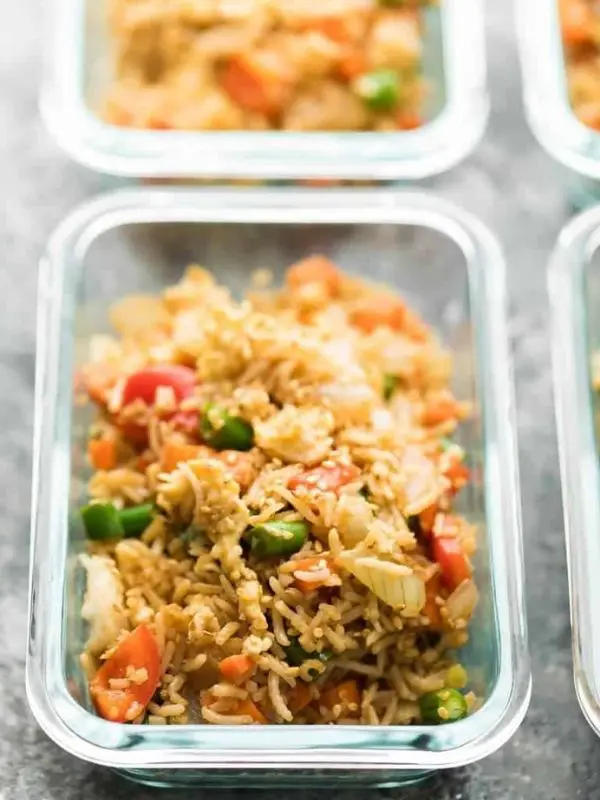 This budget-friendly, freezer-friendly, kid-friendly and absolutely delicious recipe is a perfect pick for meal prep as it is made with simple ingredients. To make other variations you can simply add shredded or cubed chicken, pork, or even shrimp. (Via Sweet Peas and Saffron)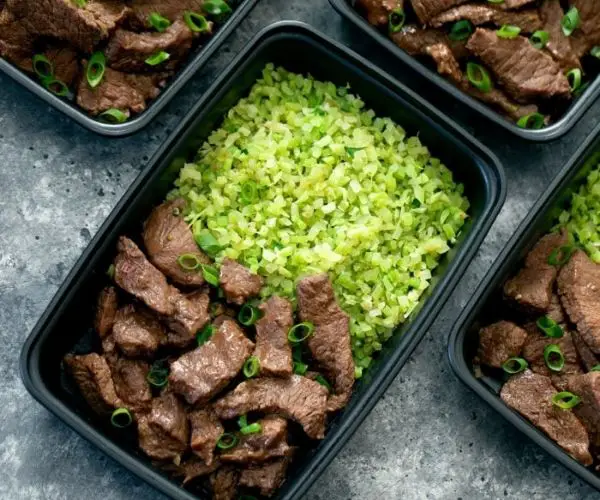 maybe you usually substitute regular rice with cauliflower rice, but have you heard of or tried broccoli rice? If you haven't, then you need to try this asap. This recipe is not just healthy but also low-carb. What a fun twist of the classic beef and broccoli recipe! (Via Kirbie's Cravings)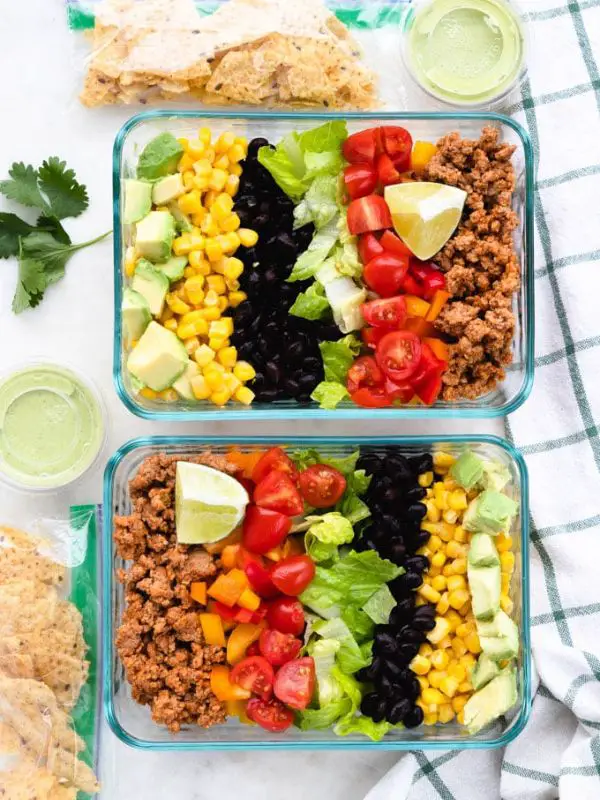 Make your body and heart happy with this colorful healthy taco salad packed with fiber, lean protein, and healthy fats. This recipe is also perfect for those who prefer lighter meals. (Via Meals With Maggie)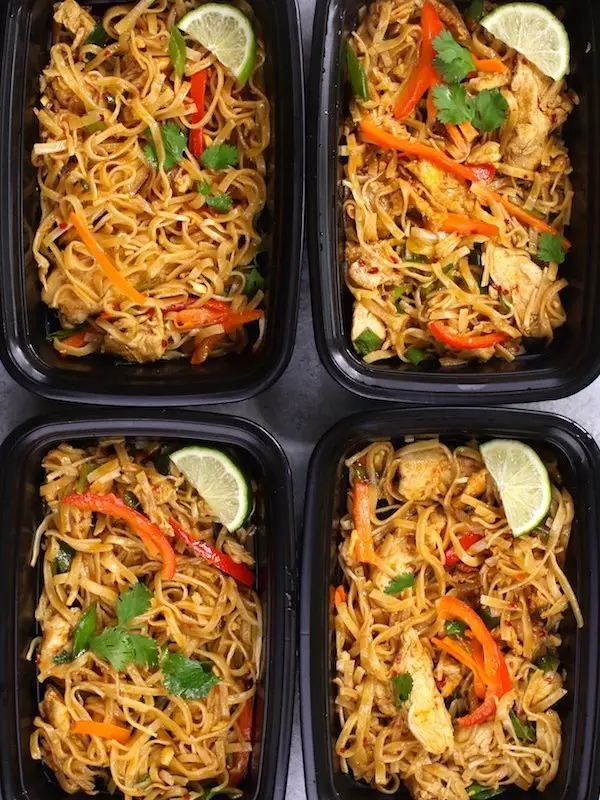 This pad thai is a great meal prep idea if you're tired of eating rice or if you are obsessed with this Asian food. Not only healthier, delicious, and less expensive than restaurant food, but it's also a time-saver. Surely you going to love this! (Via Tipbuzz)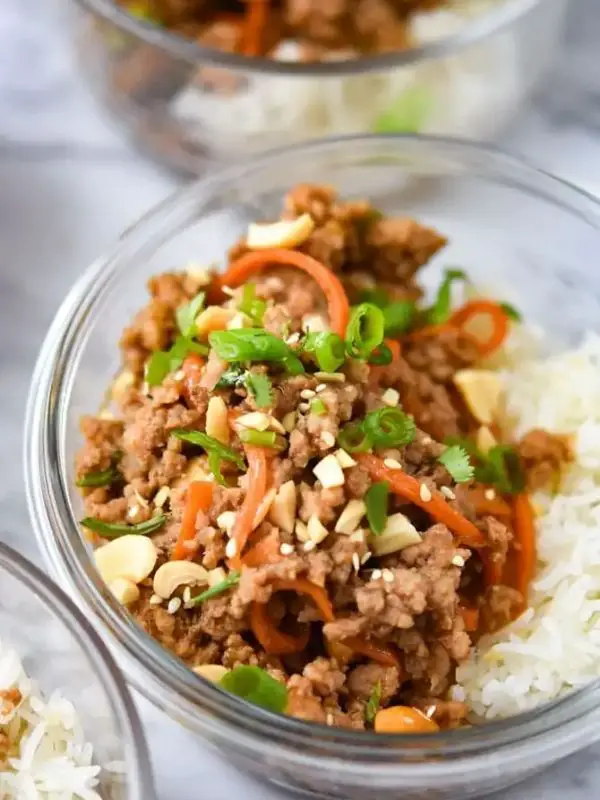 Step out of your comfort zone with chicken meal prep and start to shake up your lunch game with this tasty and flavorful ground pork meal prep. Another recipe to add to your meal prep rotation. (Via Meal Plan Addict)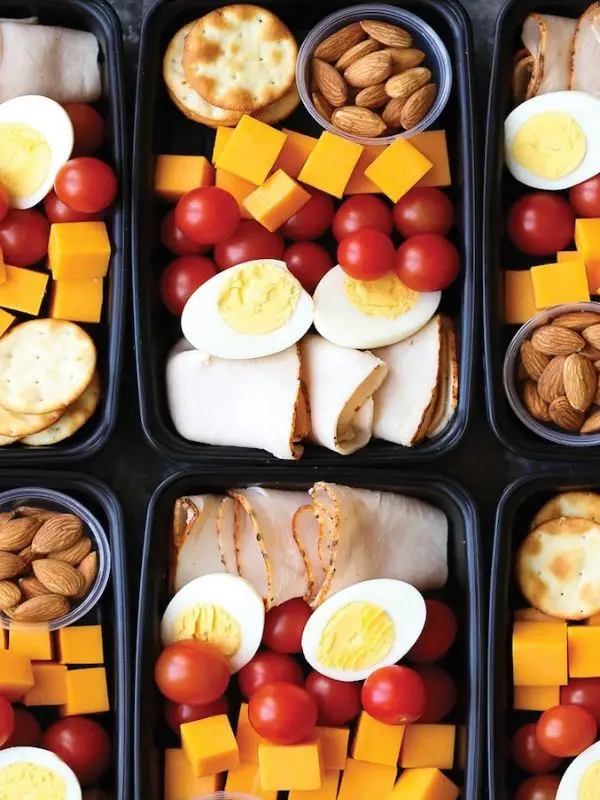 Need a super-filling snack for a light lunch or on the go? This snack box is the answer. You don't need to cook because all you need to do is to put all the ingredients in a meal prep container then put it in the fridge. So easy to make and you can customize this dish to your liking! (Via Damn Delicious)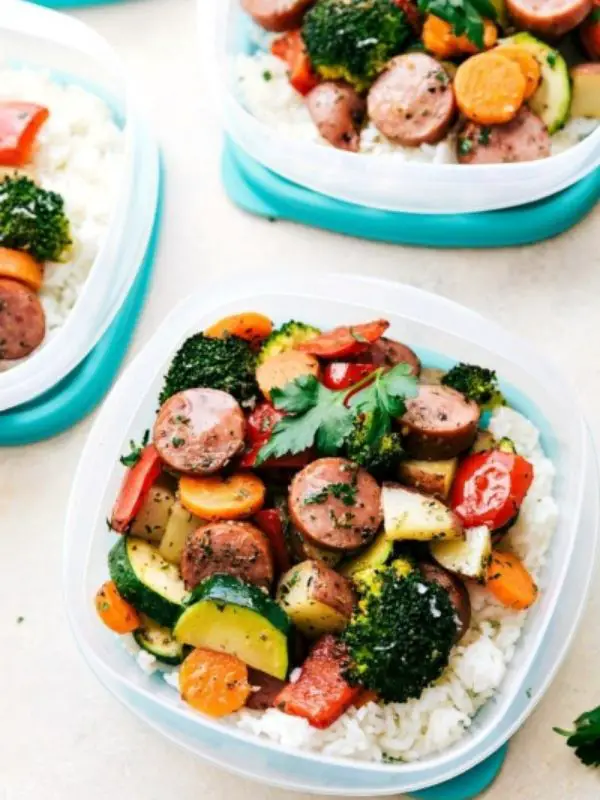 To make this healthy and easy recipe, all you need to do is put all the veggies and sausage on the sheet pan, add the seasonings right on top and drizzle the olive oil over everything then bake. You can customize this simple, filling, and nutritious dish by adding your favorite veggies and smoked sausage. (Via Chelsea's Messy Apron)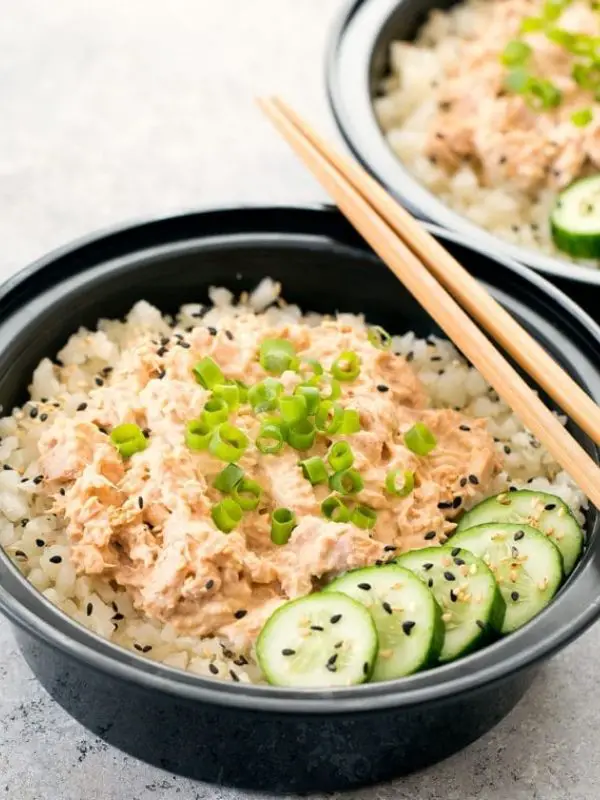 Have a canned tuna but don't know what to do with it? I've got the perfect solution. Instead of making tuna salad, you can mix the canned tuna with a spicy mayonnaise sauce then turn it into this healthier, flavorful, and low-carb version. (Via Kirbie's Cravings)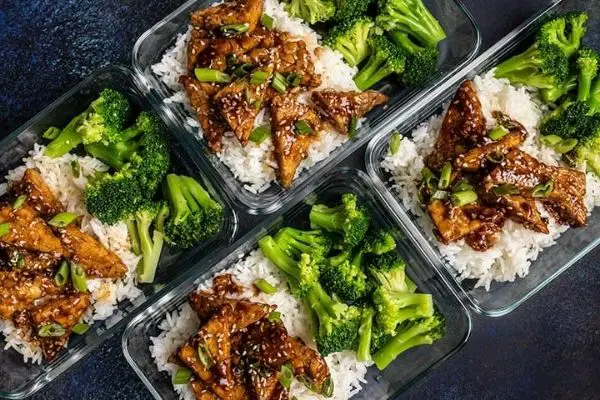 Tempeh is one of my favorite ingredients because you can make them with whatever sauce and it will still taste great. Tempeh is a protein-rich soy food and packed with nutrients.
So start trade-in your beef and broccoli for this more flavorful and interesting lunch. You'll amazed at how easy and delicious this high fiber bean-filled tempeh is. (Via Budget Bytes)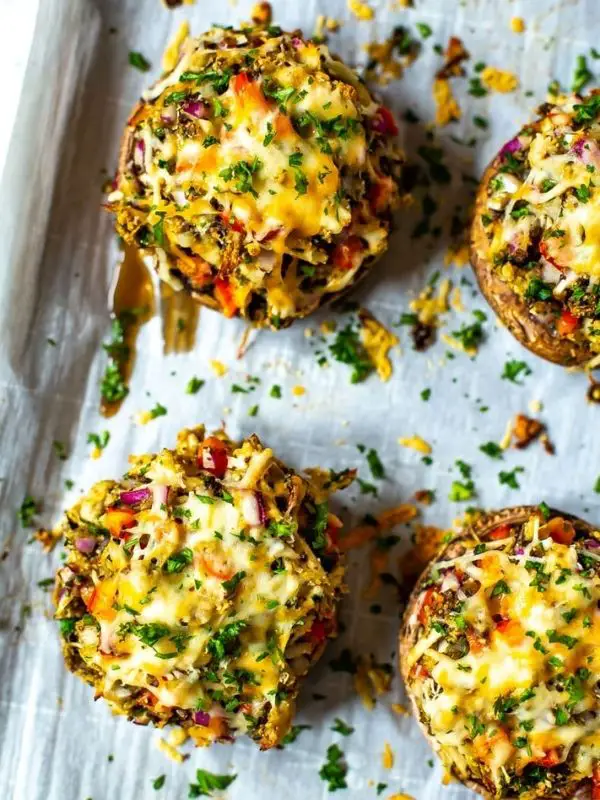 Surely, this delicious and easy mushroom filled with shredded chicken, cheese, and breadcrumbs will become your new go-to meal prep. You can turn this recipe into a vegan version by cast-aside the chicken and cheese and adding extra veggies. (Via The Girl On Bloor)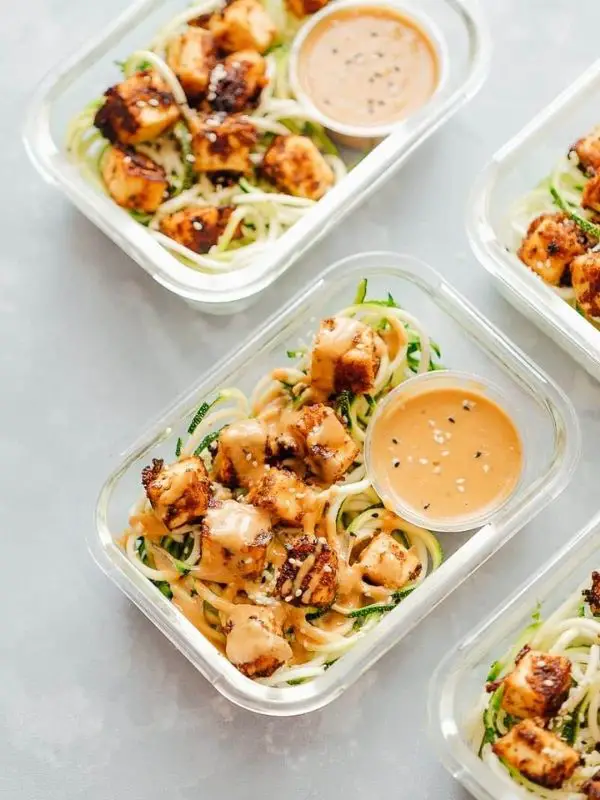 Looking for a healthy, low-carb, vegan, and gluten-free meal prep? Served with crispy sesame tofu and zucchini noodles, make these lunches are a perfect option for you. Believe me, anything that goes with peanut sauce is straight-up delicious! (Via My Food Story)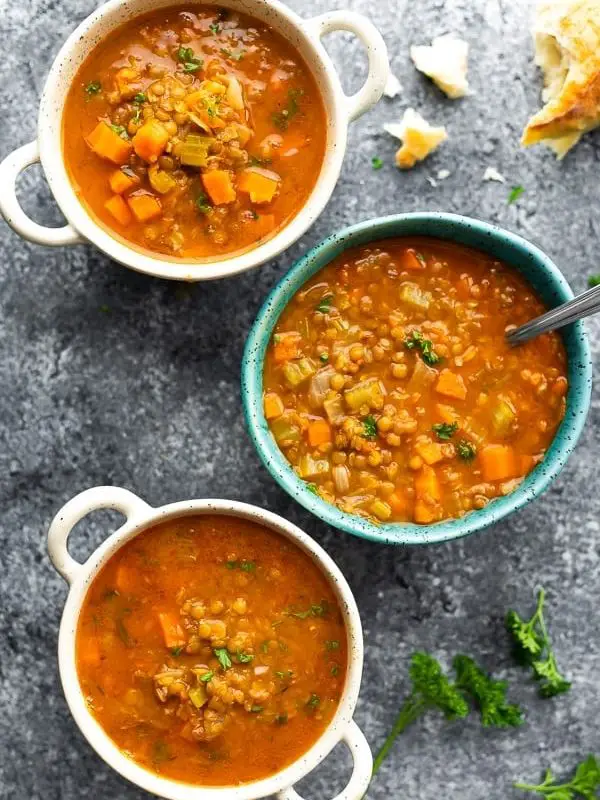 A soup for meal prep? Yup, you hear that right! Made with lentils, veggies, tomato paste, and herbs, this hearty and vegan soup is sure will warm your soul especially in cold weather. You can serve this tasty soup with crusty bread. (Via Sweet Peas and Saffron)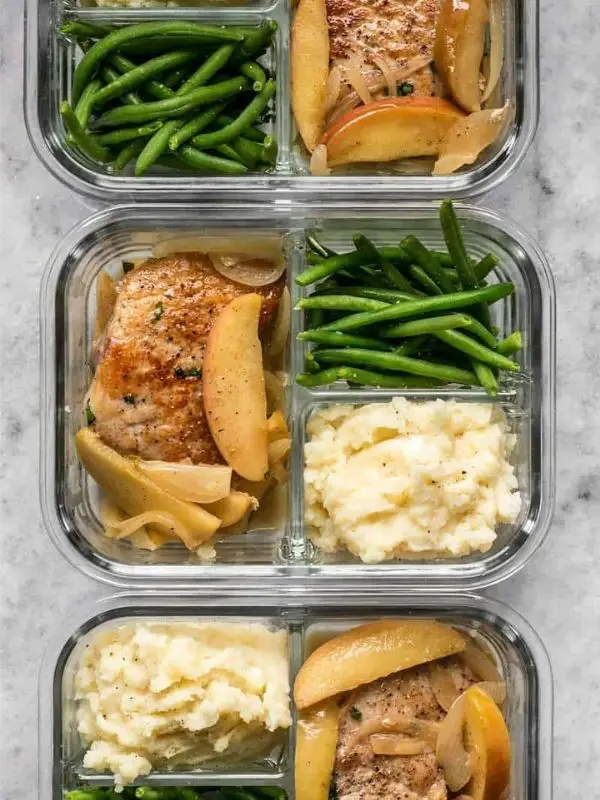 If you're a fan of autumn spices and pork chops, then you will love this recipe. Full of sweet, salty and warm spices that come from apples, butter, brown sugar, cinnamon, and onions, make this a meal to die for!  (Via Budget Bytes)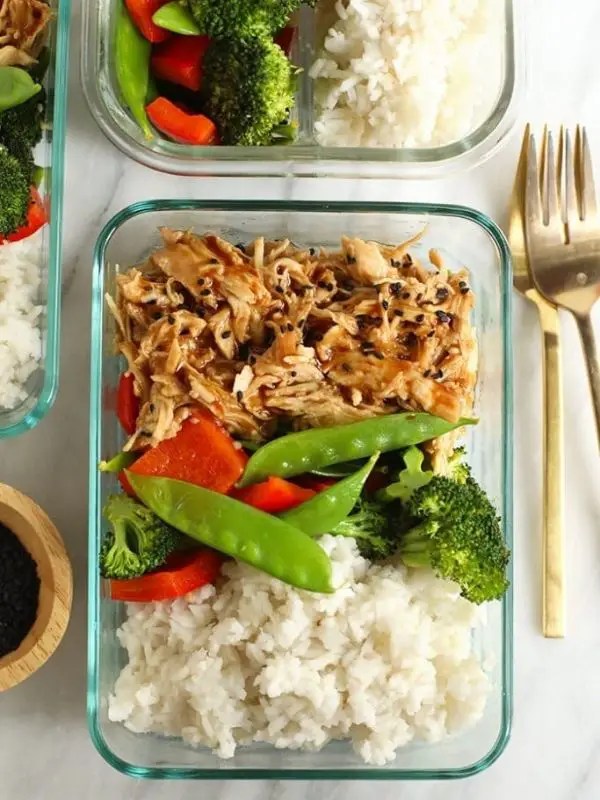 You do know how delicious and easy it is to cook chicken, especially when you need a quick meal prep. So why not make it easier by cooking in the crockpot? With this no-hassle cooking, you will get the easiest meal prep for all week long. (Via Fit Foodie Finds)
You can check this Crockpot chicken Recipes post for more ideas!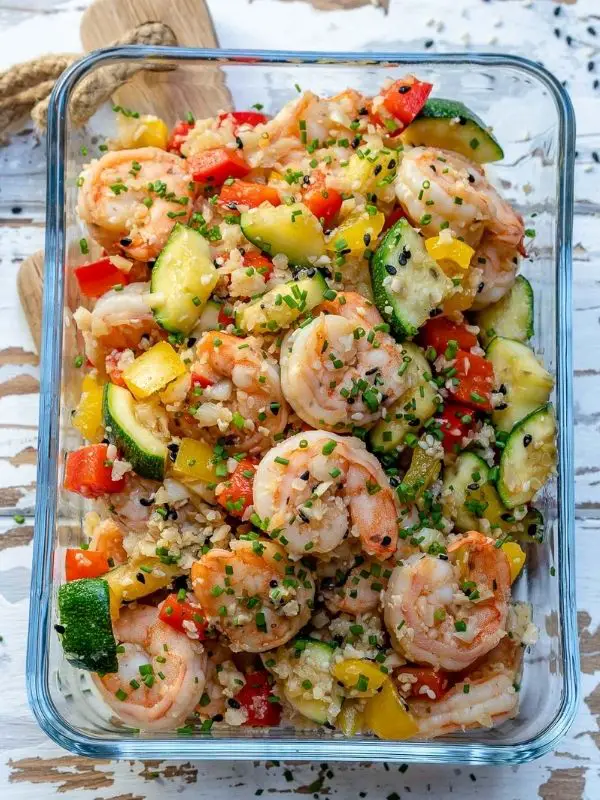 Enough with beef and chicken and let's give your body delicious meat that your body will love: shrimp. This beautiful, full of colorful veggies and shrimp is sure will satisfy your craving. Perfect meal prep for seafood lovers! (Via Clean Food Crush)
Pick Your Meal Prep!
Always remember to start small and focus on the simple recipes, then you can make more variety into your meals. This post proves that meal prep ideas don't have to be boring!
Happy planning!
Follow my Pinterest for more ideas!