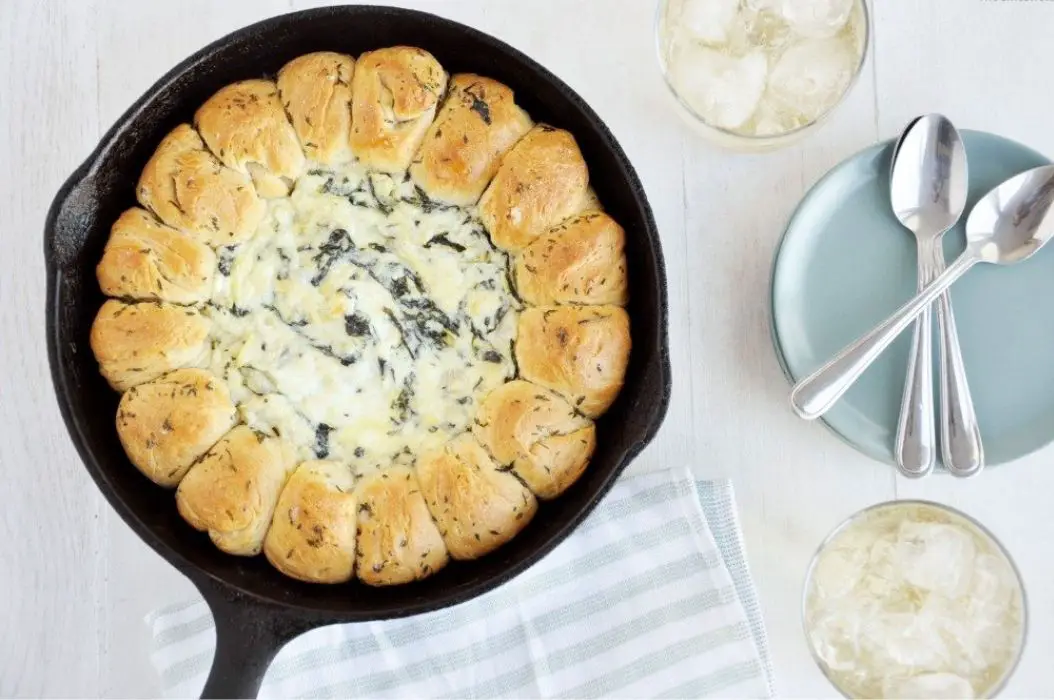 We love eating buttery biscuits, but sometimes we don't have time to cook them from scratch, or maybe we don't have the best biscuit recipe. And that's when a shortcut is needed which is Pillsbury biscuit recipes.
Canned biscuits are vital if you want to make an easier version of your favorite dishes like pizza, pies, bread, doughnuts and more in minutes.
Luckily, there's a lot of delicious recipes on the internet mostly on Pinterest so you can transform Pillsbury grand biscuits into something more than just biscuits.
24 Best Pillsbury Biscuit Recipes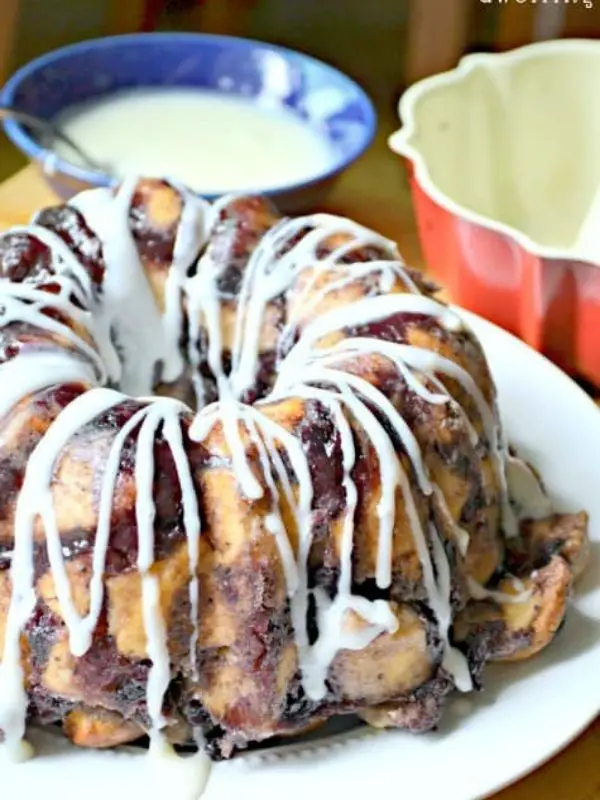 Who doesn't happy to have this delicious blueberry filling, monkey bread and cream cheese for breakfast?
If you love blueberry and always wanted to try monkey bread, then this recipe is here for you. (Via Lemon Tree Dwelling)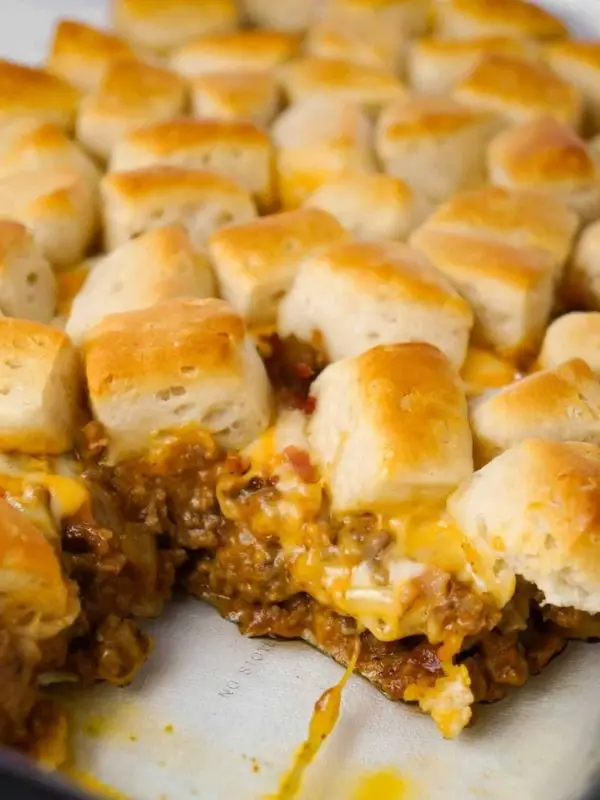 Ground beef, crumbled bacon, shredded cheese, diced onions, condensed cheddar cheese soup and Pillsbury biscuits are the ingredients you need to whip up this yummy hamburger casserole loaded with cheese and bacon. (Via This is Not Diet Food)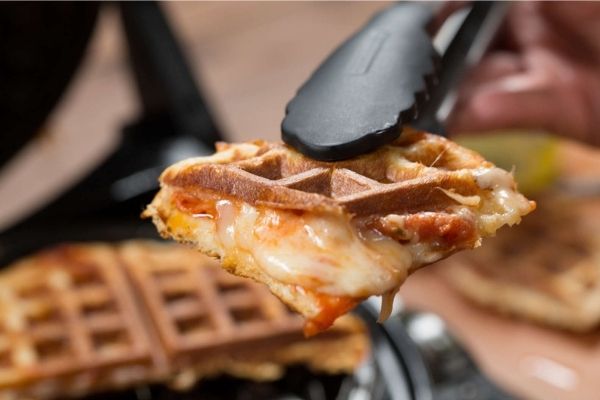 Calling for just 4 ingredients: biscuits, provolone cheese, pepperoni, and pizza sauce, these cheesy pepperoni waffles are about to become your new way to enjoy pizza. (Via Thrillist)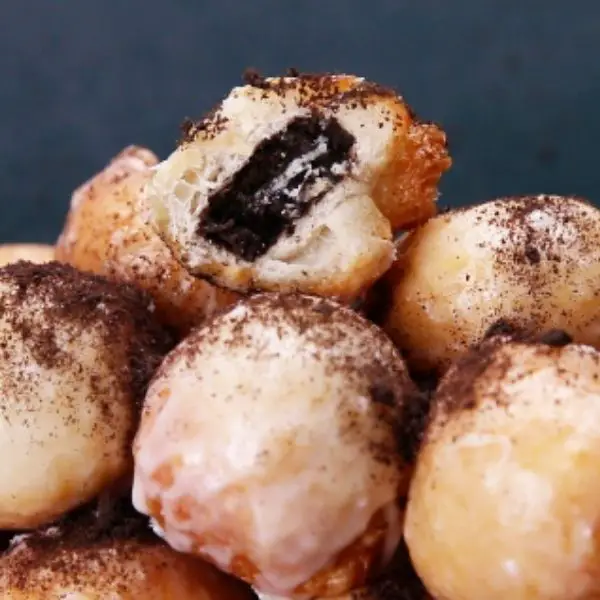 This recipe calls for oreo and biscuit dough. You just need to stuff the oreo into the dough- make sure the dough is pinched shut – and fry them. You could make these with or without the glaze. (Via Tasty)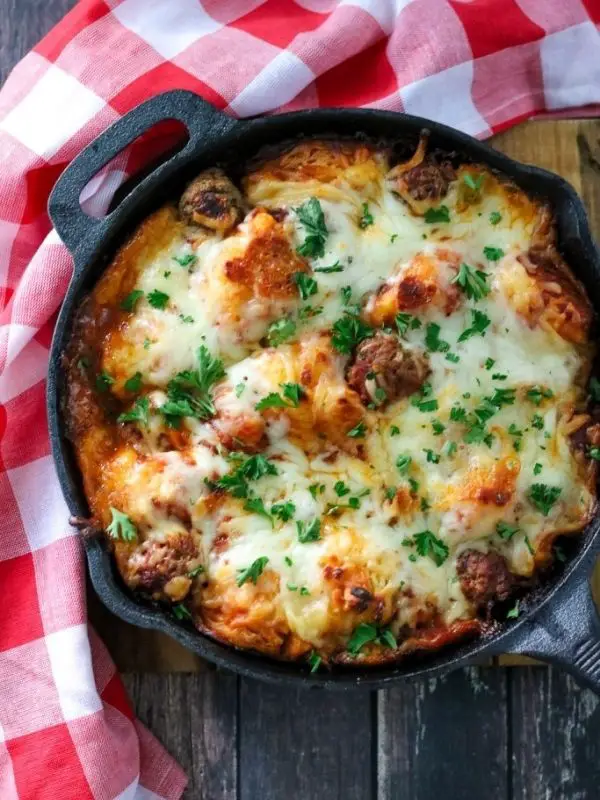 Looking for a crowd-pleasing meal that isn't hard to make? I've got you covered
With just 4 simple ingredients: meatballs, sauce, cheese and biscuits you can make this easy bubble-up bake dinner that everyone will love. (Via Life With The Crust Cut Off)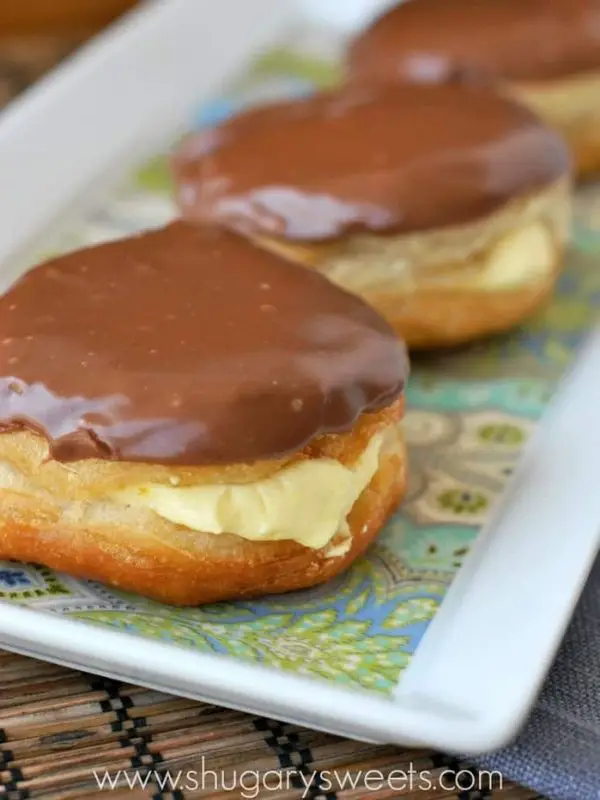 Filled with creamy vanilla pudding mixture and topped with chocolate glaze frosting made from rich chocolate ganache, these decadent donuts are a delicious treat. (Via Shugary Sweets)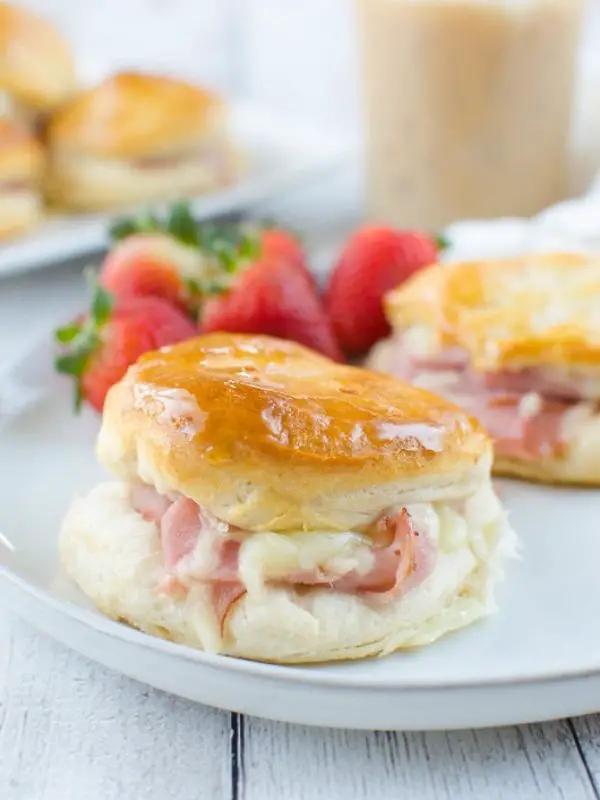 Biscuits topped with slices of ham and Swiss cheese, top it off with biscuits and then brush the tops with melted butter before bake. For finishing touch, brush warm honey on top of biscuits after they come out of the oven. (Via Fake Ginger)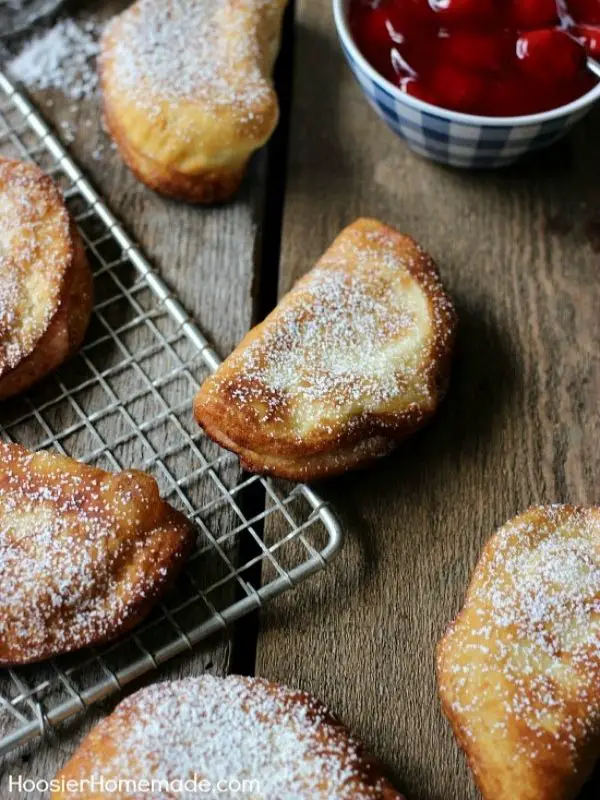 This yummy recipe couldn't be easier to make. Made with just two simple ingredients: your favorite fruit pie filling and biscuits, these fried pies are what you need when you want to serve a quick, easy dessert. (Via Simple Easy Creative)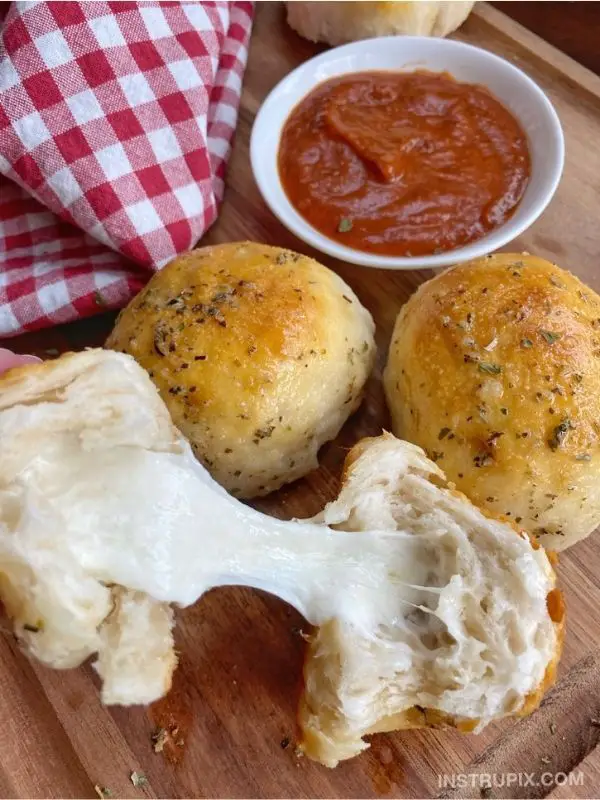 Filled with gooey mozzarella and coated with a garlic butter mixture, this easy and absolutely delicious cheese-stuffed bread is a quick comfort food recipe. Serve it with a little tomato or your favorite pizza sauce for a super tasty snack. (Via Instrupix)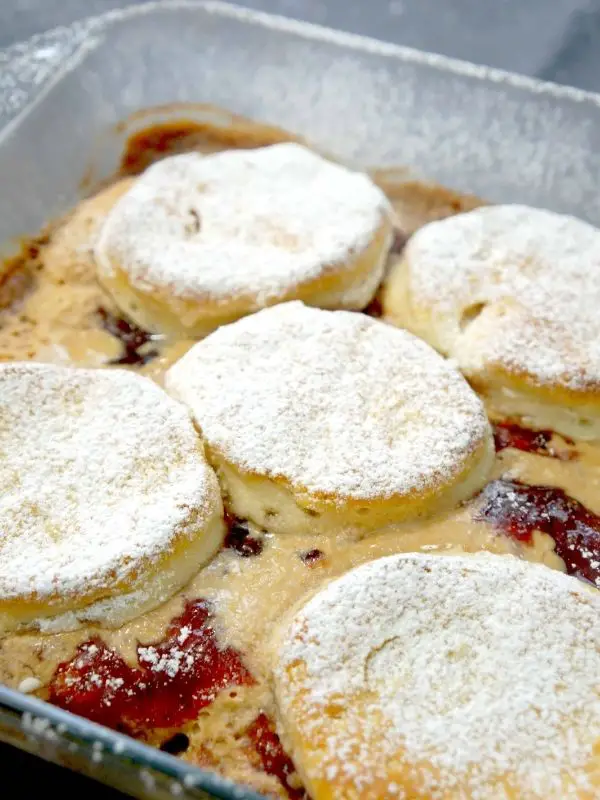 The perfect recipe for anyone who wants to make a fun twist of a childhood classic: peanut butter and jelly sandwiches. Strawberry jelly, smooth peanut butter, powdered sugar and Pillsbury country biscuits are the simple ingredients that you need to whip up this recipe. (Via This is Not Diet Food)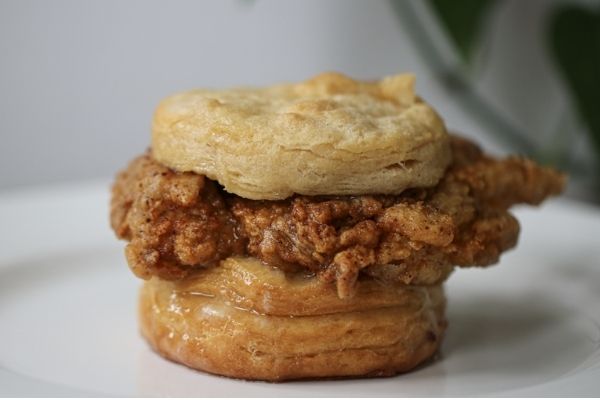 If you are a huge fan of anything that comes with crispy chicken, then this recipe is literally to die for.
Chicken thighs get dunked into the buttermilk mixture and coated in flour mixture then tossed in hot oil and bake the biscuits.
The result is a warm biscuit sandwich filled with crispy chicken lathered in honey butter. Yum! (Via The Naughty Fork)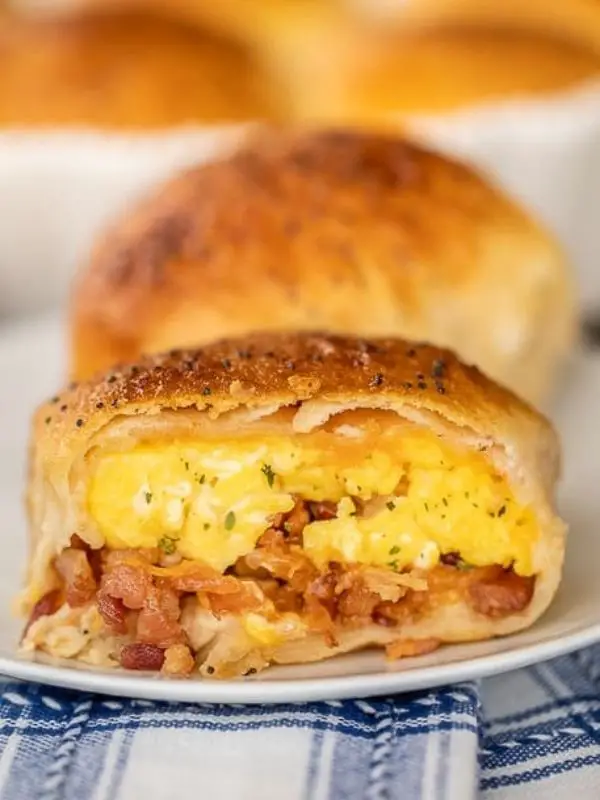 Start your day with these breakfast biscuit bombs!
Stuffed with bacon, cheese, and egg and topped with a sweet and savory glaze made with butter, brown sugar, poppy seeds, and dijon sauce, this recipe makes for a delicious family-friendly Sunday breakfast. (Via Plain Chicken)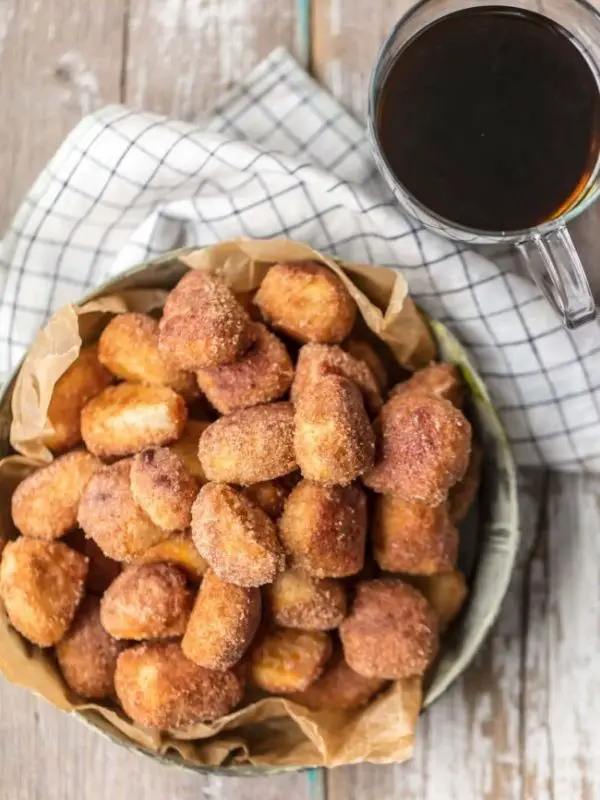 Who says that you need to bake for hours to accomplish your sweet tooth craving? The truth is you can make something delicious with just 4 simple ingredients, like these easy crispy cinnamon bites. (Via The Cookie Rookie)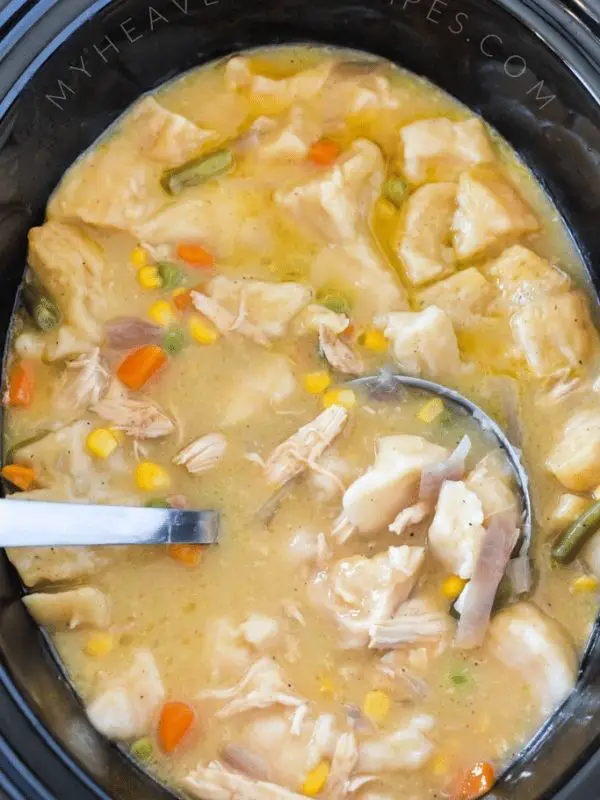 Likes to whip everything out with your slow cooker? Made with chicken breast, frozen mixed vegetables, chicken broth, butter, red onion, condensed cream of chicken soup, and Pillsbury grand biscuits, this crockpot meal is the ultimate comfort food. (Via My Heavenly Recipes)
You can check this post to get more slow cooker recipe ideas!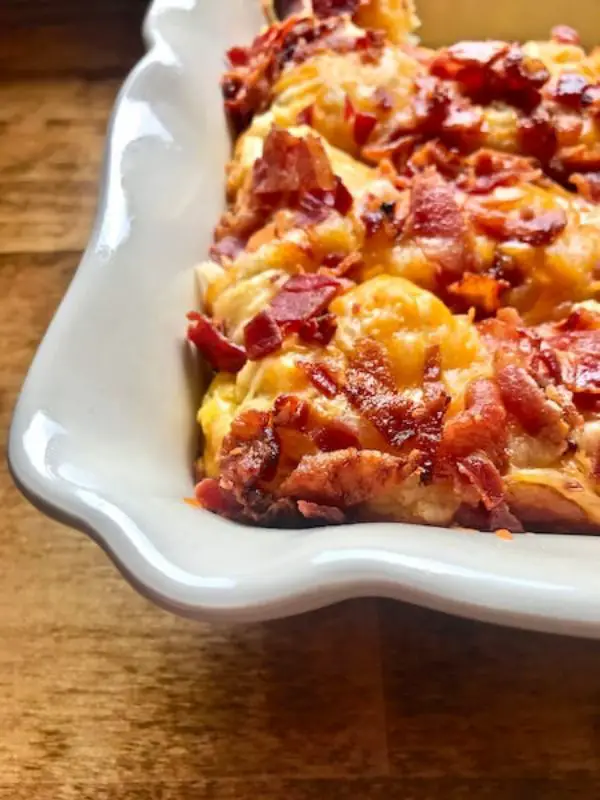 Nothing can beat bacon and egg for breakfast, especially when it's turned into something more tantalizing like this super yummy breakfast casserole.
This recipe is so easy, all you need to do is fry the bacon, chop it up and toss them with the cut biscuits into whisked eggs, then bake them. You've got yourself a perfect breakfast that your family's gonna love! (Via The Skinny-ish Dish)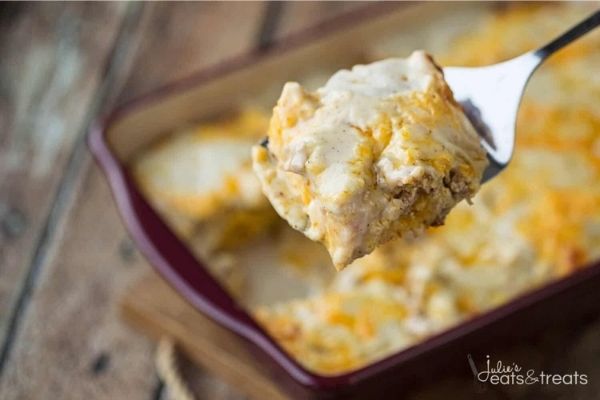 Wouldn't it be great if you wake up in the morning and don't have to think about what to make for breakfast? Loaded with sausage, eggs, cheese, and gravy, this biscuit casserole is so easy and can be prep the day before and you just bake it in the morning. (Via Julie's Eats and Treats)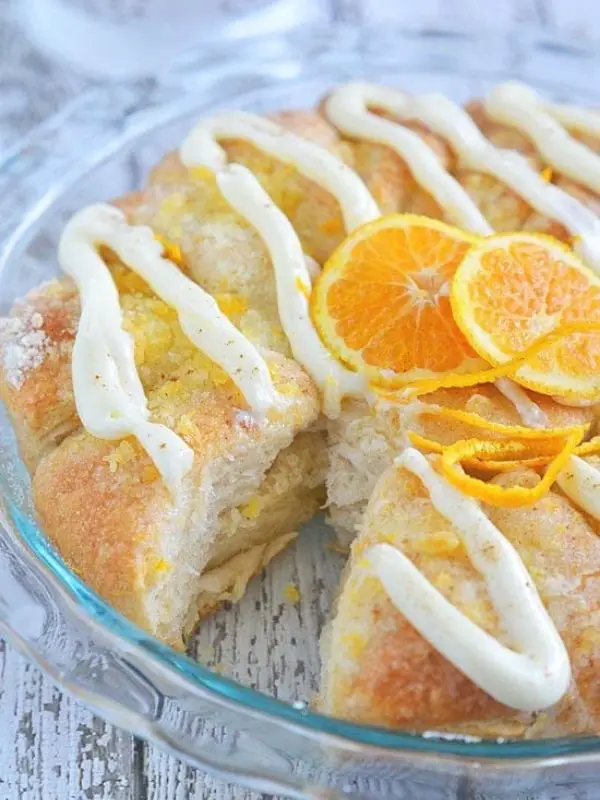 Granulated sugar, butter, orange zest and biscuits and icing made from powdered sugar, cream cheese and orange juice, are all you need to make this easy coffee cake that's perfect for a quick breakfast or for entertaining. (Via Kitchen Meets Girl)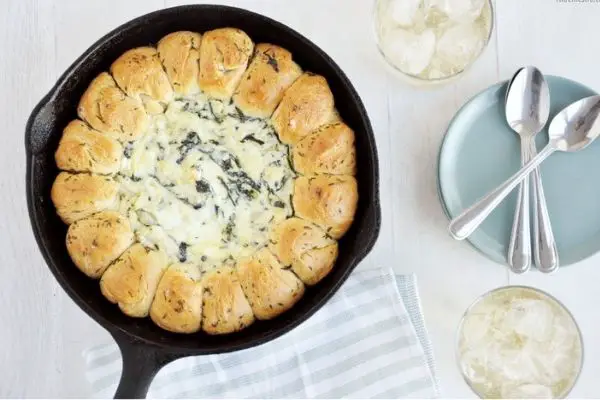 Hosting a party? Grab your skillet and make this delicious snack or appetizer!
Sautéed spinach and artichokes combined with a cheese mixture of cream cheese, mozzarella, parmesan and mayo until well incorporated, then put them in the center of skillet that the edge already filled with biscuits. (Via Rachel Hollis)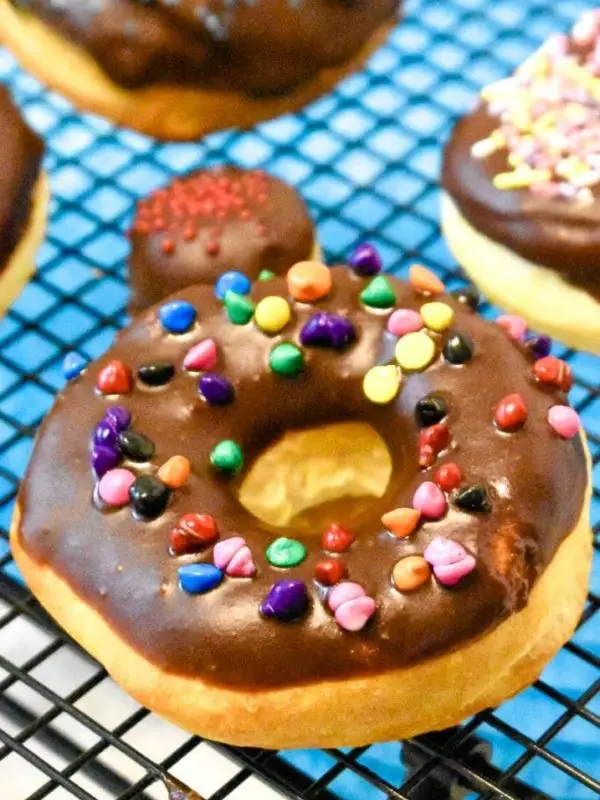 Do you love donuts but don't want the unhealthy effect of traditional deep-fried donuts? Well, there's a perfect solution – Air fryer.
Cooked with almost no oil, these tasty air fryer donuts are delicious as the deep-fried donut and also make a kid-friendly dessert. (Via Upstate Ramblings)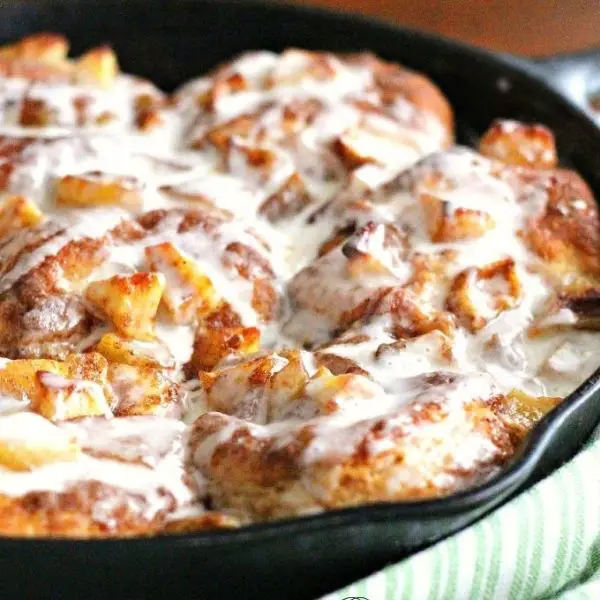 This apple pie is not as difficult as you might think. Premium apple filling, buttermilk biscuits, butter, brown sugar, ground cinnamon, vanilla extract and nutmeg are all ingredients you need to make this recipe. If you like nuts, you can also add pecans or walnut. (Via Melissa's Southern Style kitchen)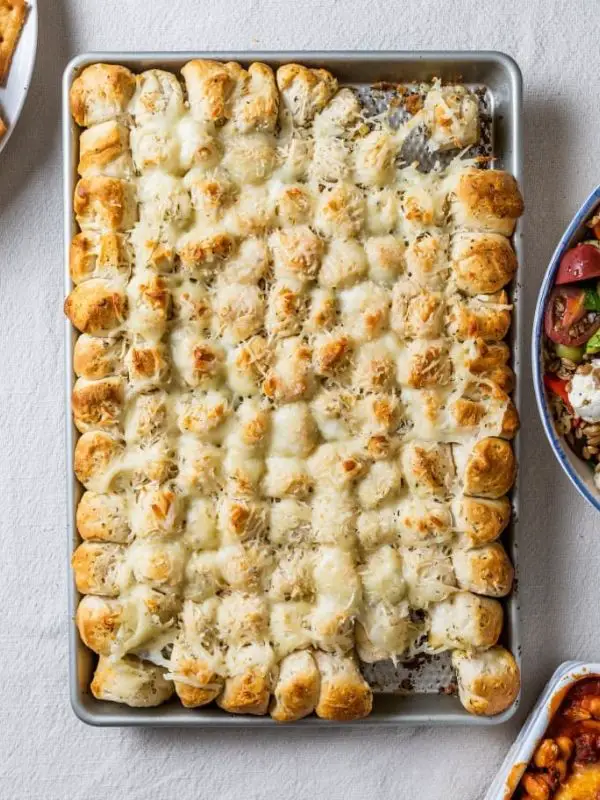 Why make a small bunch when you can make it in a large tray? It's ridiculously easy to make, you just arrange the dough balls in the tray, pour the garlic-butter mixture on top, bake and then sprinkle it with cheese and bake again until the cheese melted. A perfect recipe for potluck side dishes. (Via The Kitchn)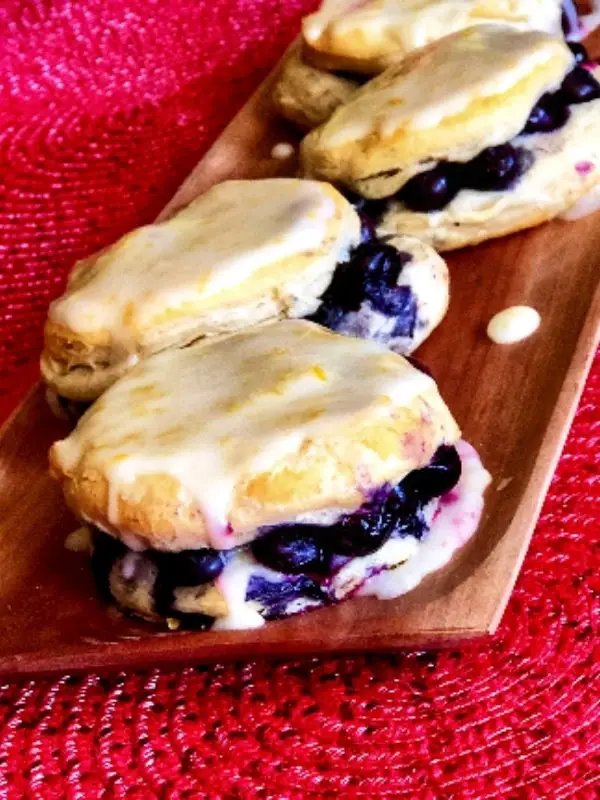 These biscuits couldn't be easier. With just 5 ingredients: blueberries, lemon zest, lemon juice, powdered sugar and buttermilk biscuit dough, you can turn them into a delicious dessert. (Via All Recipes)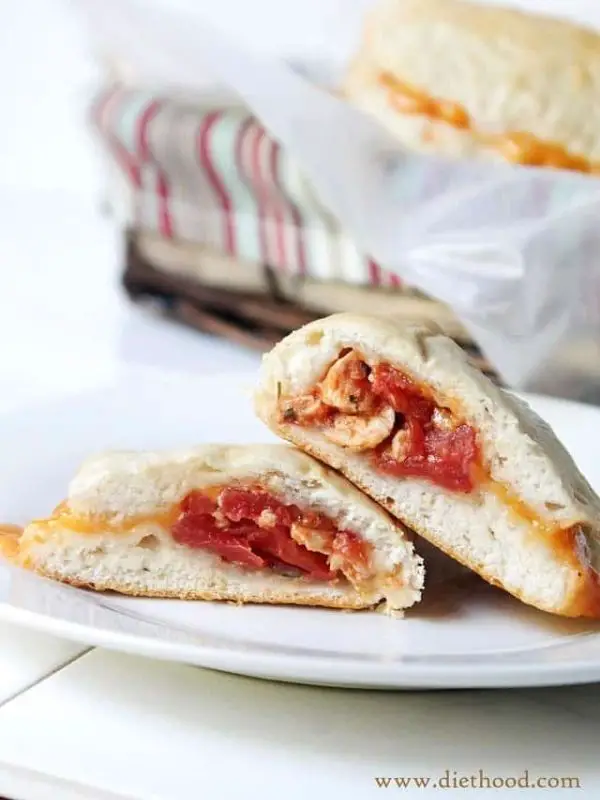 Don't have time to cook for dinner? Or have leftover chicken? Then you should give this recipe a try. Delicious, rich, spicy and filling is what you got once you make these easy chicken taco melts. (Via Diethood)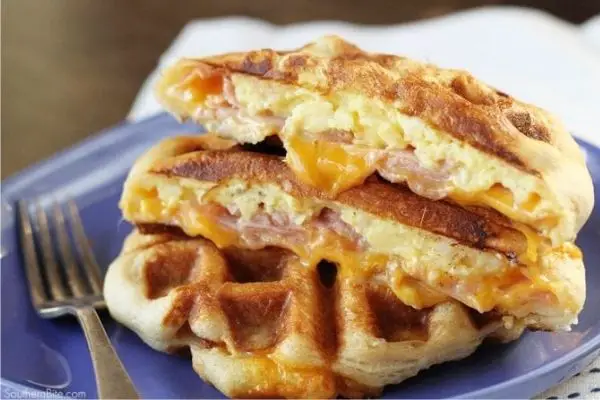 Instead of eating your ham and egg in sandwich form, why not just make it more fun by making it in your waffle iron? These cheesy gooey, melt-in-your-mouth biscuit wafflewiches will quickly become your new favorite breakfast. (Via Southern Bite)
Want more ideas of recipes you can make in your waffle iron? Check this post.
Follow me on Pinterest for more recipe ideas!