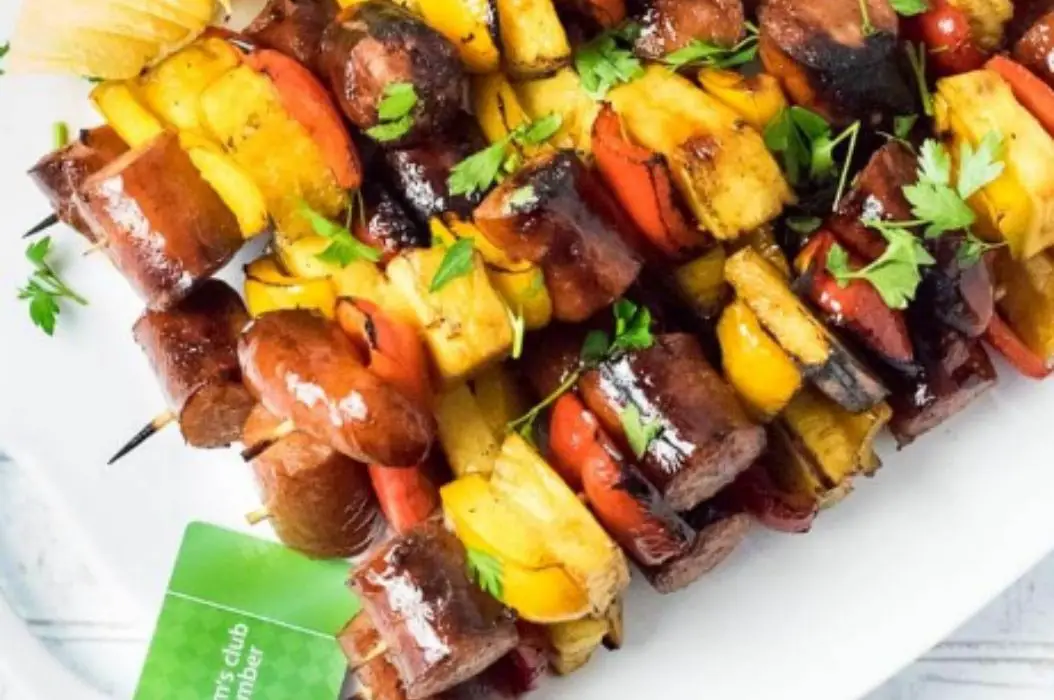 Smoked sausage is a must if you're the type of person that likes to make lunch or dinner when it's almost time to have it on the table, or not feeling like doing much. Because it's already cooked, it really easy to add with whatever is in your fridge.
Rice, pasta, chicken, potatoes, peppers, broccoli are the most ingredients you can add with smoked sausage to get dinner done. But actually, there's a lot of smoked sausage recipes that you can try.
From kielbasa, andouille to chorizo, you are sure to find some ideas in this collection of recipes that your whole family will love!
24 Easy & Delicious Smoked Sausage Recipes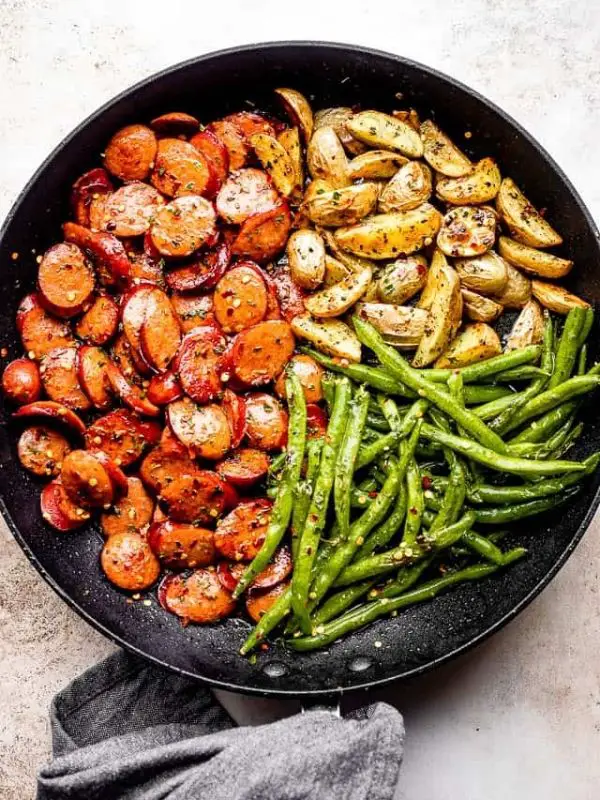 Who's not happy to make one-pot meals, because you don't need to take care of all the utensils that pile up in your sink. That's why this recipe is your belly saver and time saver. Smoky, spicy and savory, this easy recipe is perfect for a quick weeknight dinner. It's also great for a make-ahead freezer meal. (Via Easy Weeknight Recipes)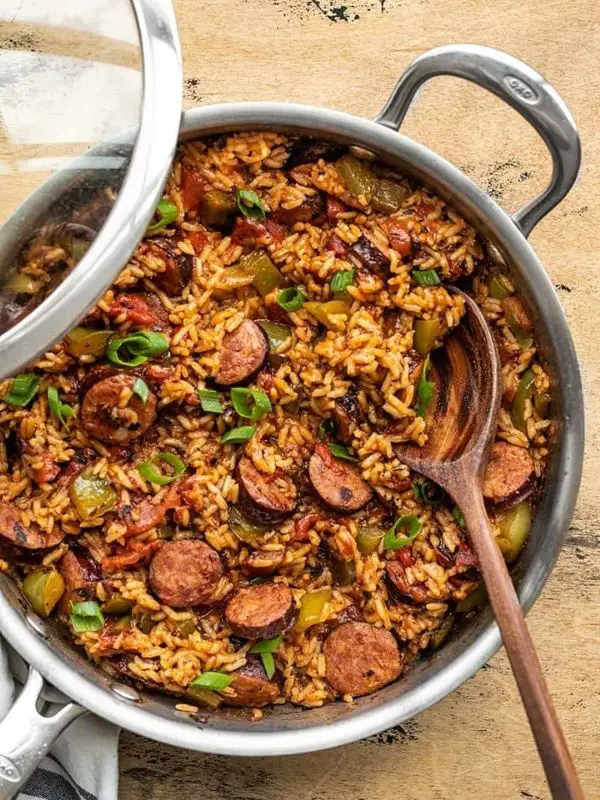 Packed with plenty of smoky-spicy flavors and using Andouille sausage, this simplified version of jambalaya is so tasty and spicy. But if you can't handle spicy food, you can make a mild version by using a non-spicy smoked sausage and skip the cayenne pepper. Another good news? You can add this recipe to your meal prep rotation! (Via Budget Bytes)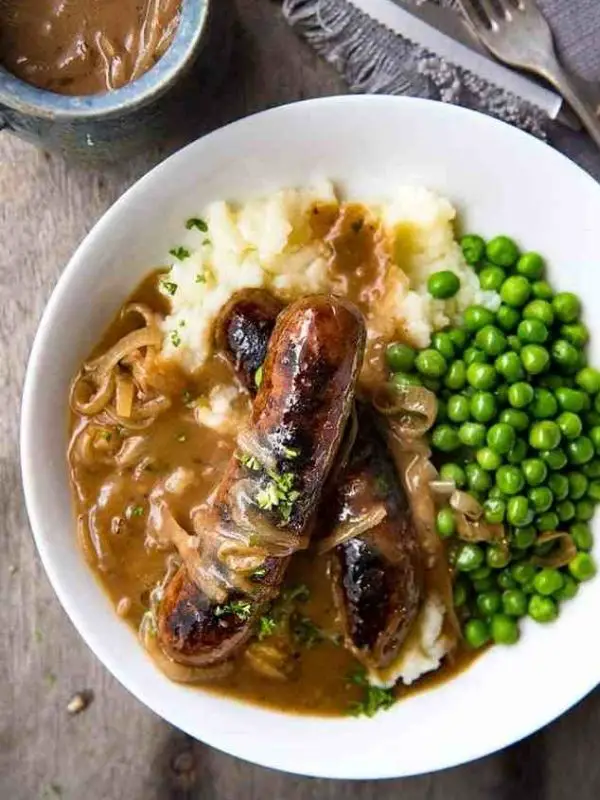 I bet your eyes lit up once you see this mouthwatering pic of sausages drowning in loads of gravy and don't forget the peas and creamy potatoes too! With just 5 simple ingredients you can make this delicious sausage with onion gravy and enjoy it as Brits do! (Via Recipe Tin Eats)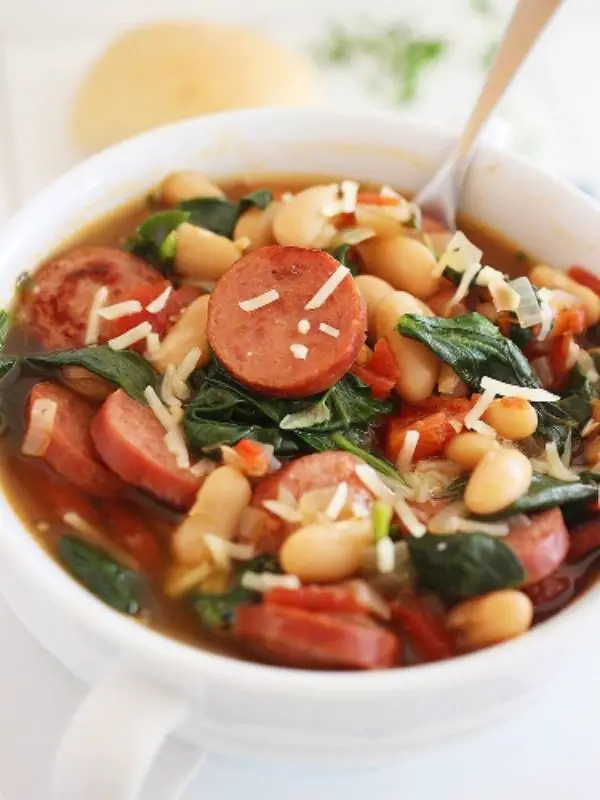 Easy, hearty and healthy food is sometimes what we are craving for dinner like this warm, flavorful soup. You just need smoked sausage, fresh spinach, beans, diced tomatoes and Italian seasoning to make this scrumptious soup. (Via Comfort of Cooking)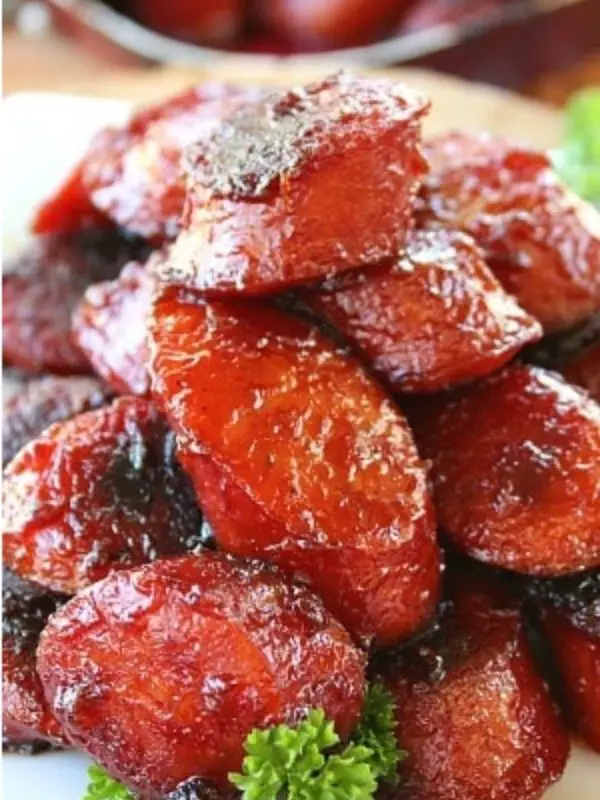 I know, I know, these smoked sausage bites are great for appetizers or snacks, so how could these tiny bites make a meal you probably thought. Well, there's nothing wrong to be a little creative, right? You could make a rice bowl by putting these bites over steamed rice or put them between Hawaiian rolls. I bet it would taste delicious.
Besides, you just need two simple ingredients, smoked sausage and barbecue sauce. Which is super simple, especially if you are wanting a super duper easy and delicious meal. (Via Great Grub, Delicious Treats)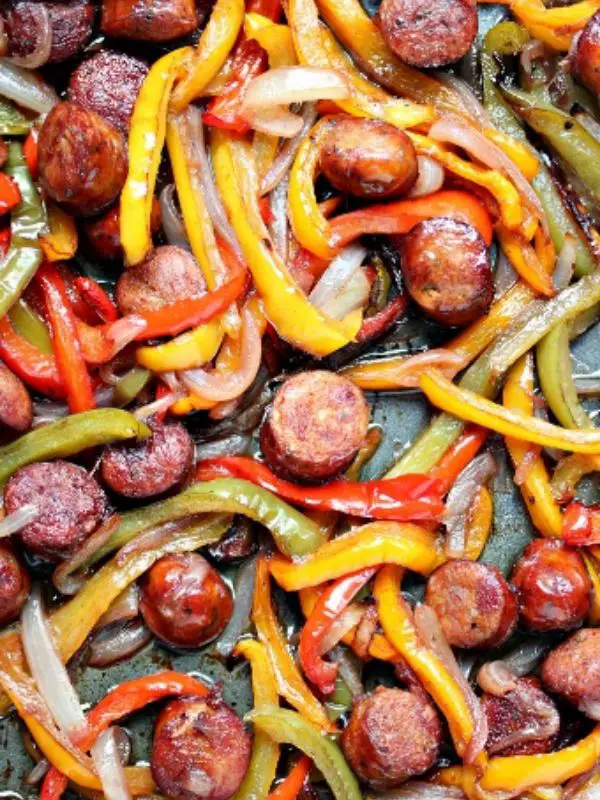 Let's change that smoked sausage and peppers that you usually make and create this boozy grown-up version. Smoked Cajun sausage combined with the silky, luscious red wine is truly perfection. (Via Cravings of a Lunatic)
Are you looking for Eckrich smoked sausage recipes? I've got one for you. Used brown butter, which you simply melt the butter, swirls and wait until the color change to brown. Then add the browned butter, sliced sausage, lemon juice and chopped parsley in a large bowl that is already filled with cooked pasta. A simple yet elegant pasta! (Via Kevin is Cooking)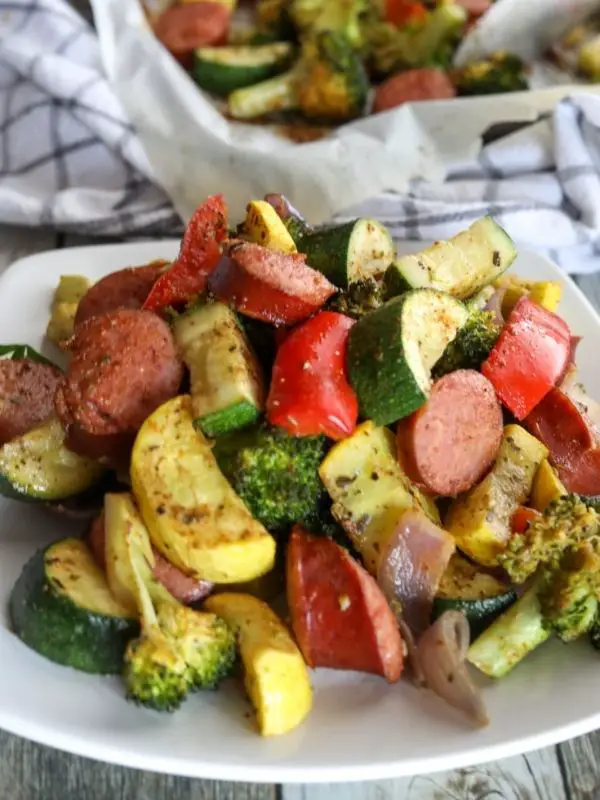 Can you eat smoked sausages when you're on a keto diet? The answer is yes, you can and this recipe proves it. Used low-carb veggies like broccoli, squash, bell pepper and zucchini, spread out onto the pan and roasted with sausage until perfectly tender, this healthy sheet pan meal is sure to be a family favorite. (Via Kasey Trenum)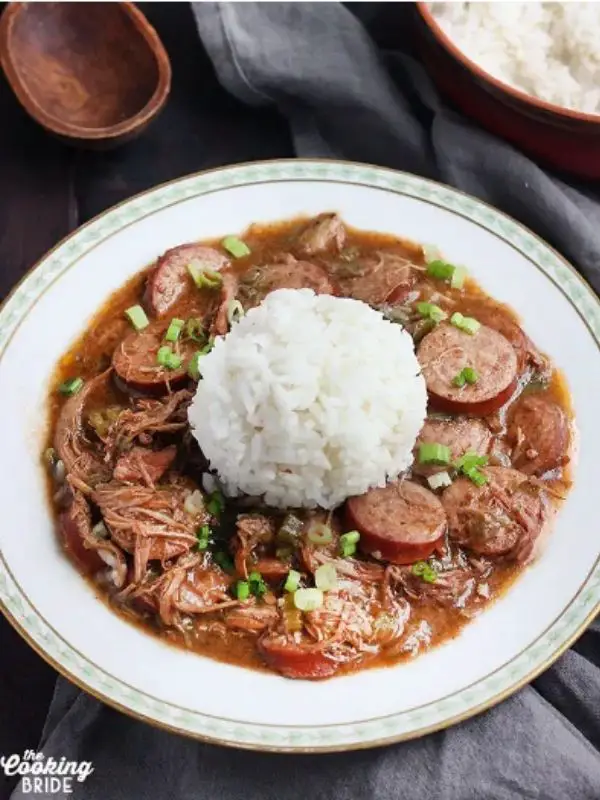 Loaded with smoked sausage, shredded chicken, vegetables and spices, this yummy stew-like meal is so delicious and yummy. Probably become your new meal rotation. This dish is best serves with rice. (Via Cooking Bride)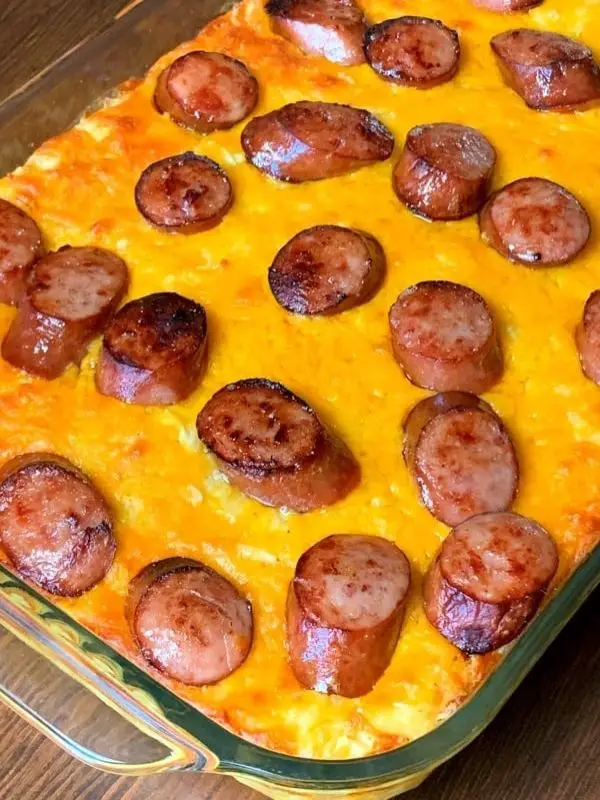 Who doesn't like a simple, easy yet delicious like this one? Cheesy hashbrown casserole with slices of smoked sausage on top. Yum! This casserole is a great addition to your collection of smoked sausage recipes. (Via Plowing Through Life)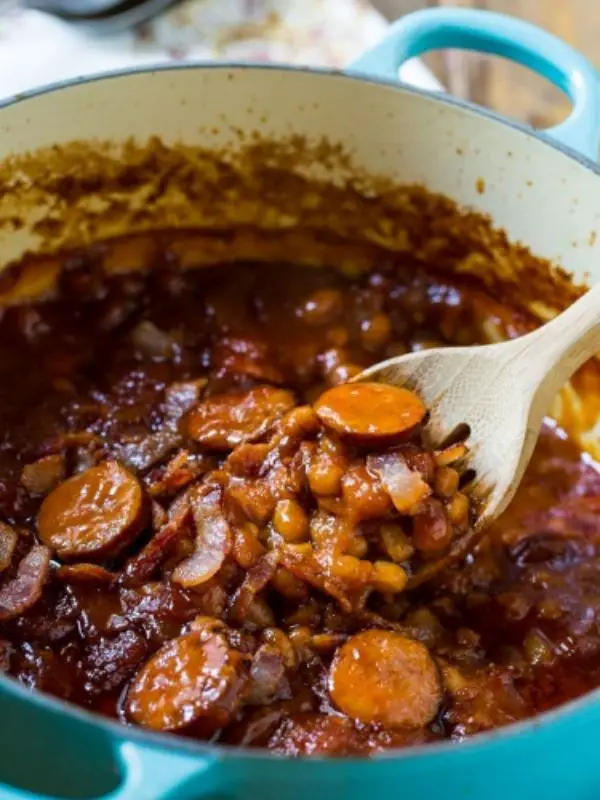 The sweetness from the brown sugar, ketchup and molasses with tangy flavor from mustard, apple cider vinegar, and Tabasco sauce, makes this baked bean has a balanced flavor. And the best part? It's not only used smoked sausage but also bacon. You will get rave reviews once you serve this for dinner or to your social gathering! (Via Spicy Southern Kitchen)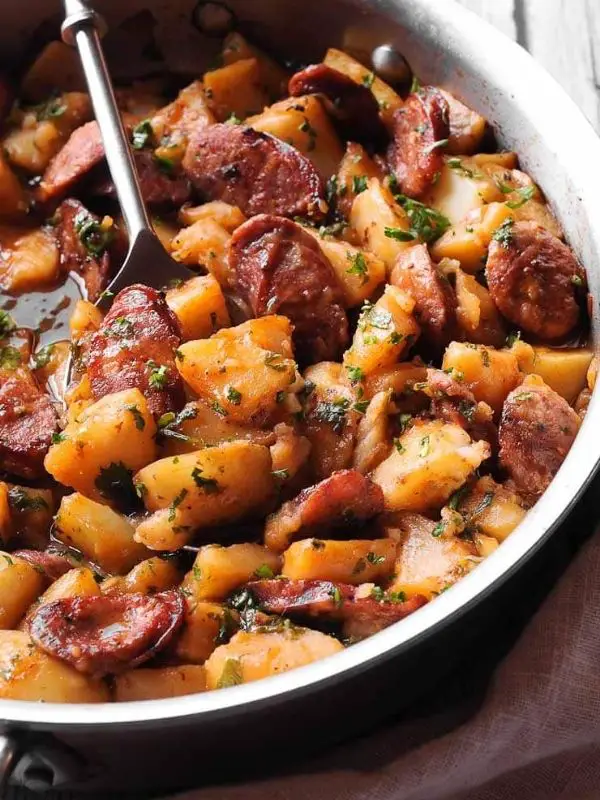 There's nothing more satisfying than eating comfort food that warms you up in cold weather. This slightly different than your usual stew is a perfect choice. With just smoked sausage, red skin potatoes, chicken stock, and butter you can make this easy Hungarian style goulash. (Via What's In The Pan?)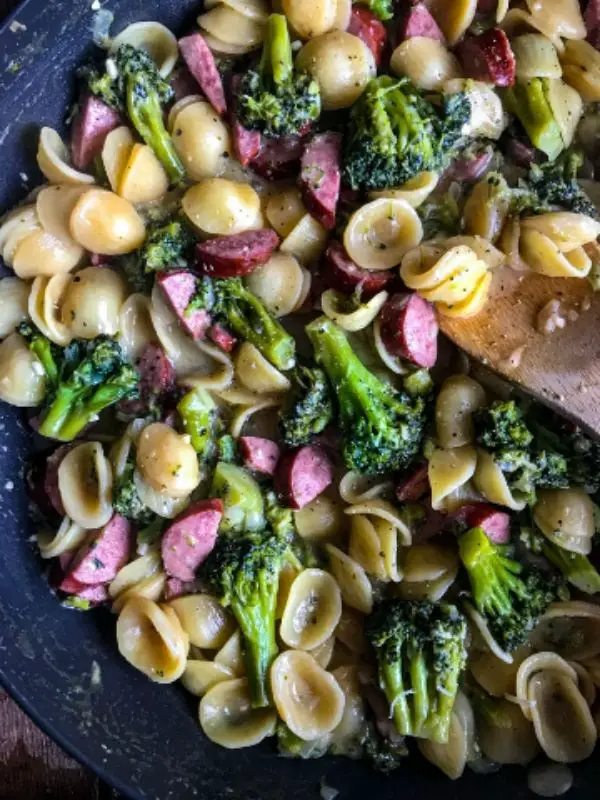 Turkey smoked sausage, fresh broccoli, parmesan cheese, milk, dry noodles, chicken broth and Lawry' seasoned salt are ingredients that you need to make this flavorful, delicious, easy one pot meal. (Via The Skinny-ish Dish)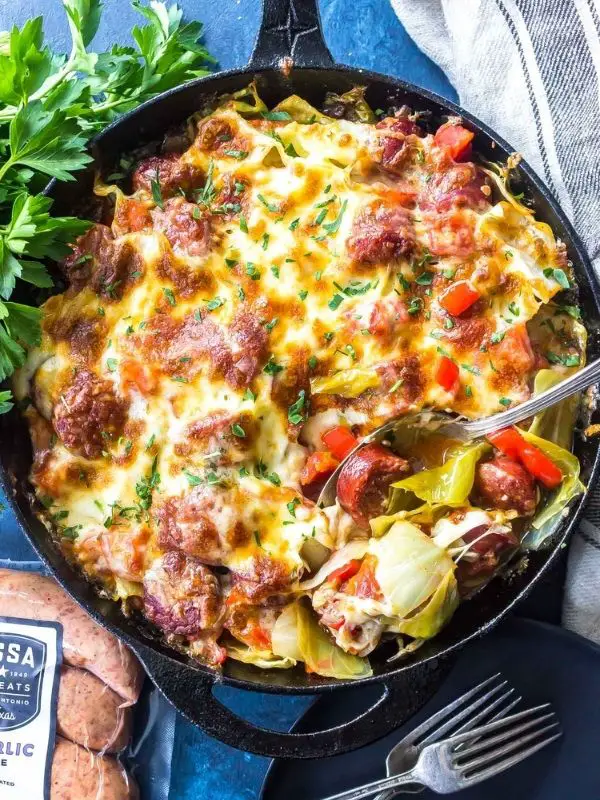 Looking for a healthy easy smoked sausage recipe? Search no further. Made in a cast-iron skillet, this dish is packed with healthy vegetables, tasty smoked sausage and cheese. Well, what are you waiting for? Grab your skillet now! (Via Cast Iron Keto)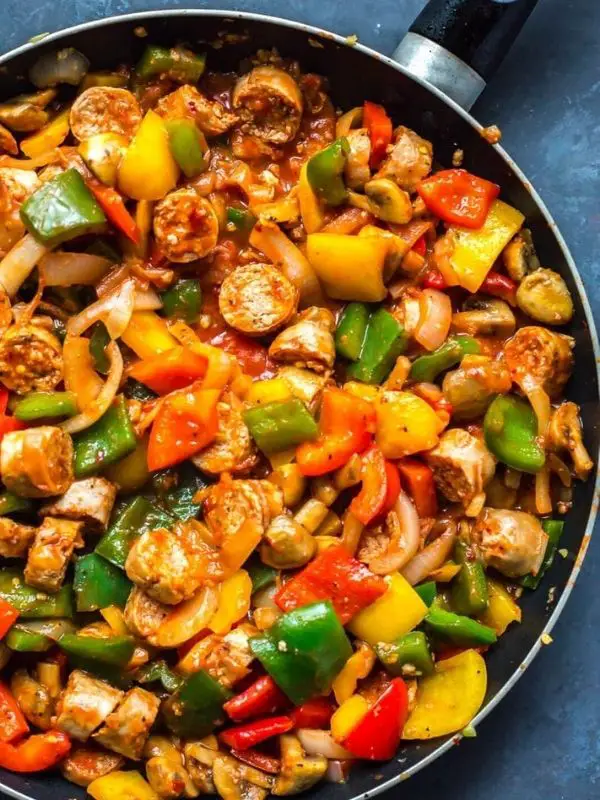 If you like turkey sausage then you may also like this recipe. with just basic ingredients: sausage, onions, mushrooms, jarred tomato, garlic, and red, green, and yellow bell pepper, you can make this awesome meal and serve it with pasta, rice or quinoa. This dish is also great for meal prep! (Via The Girl On Bloor)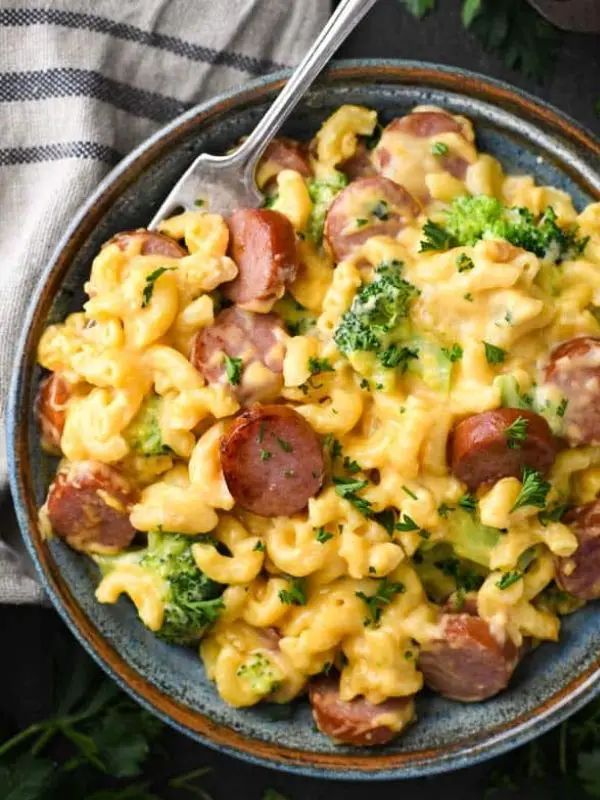 In the mood for something creamy and cheesy like this pasta? This dish is the perfect option. Made from scratch skillet mac and cheese with broccoli and kielbasa, you will get a delicious meal in just 30 minutes. Perfect for busy weeknights! (Via The Seasoned Mom)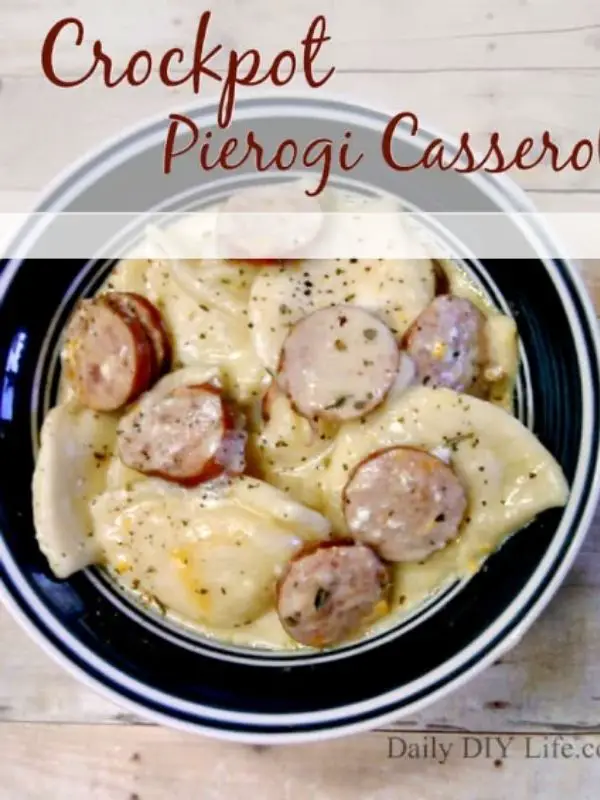 I know how hard it is to prep meals when you're busy and always on the go. But that problem is solved and that's all thanks to a slow cooker. Basically, you just need to toss all the ingredients in your slow cooker, set it and forget it. Pretty easy, right?
So does this recipe, you can choose to cook it on high or low and voila! You have a hearty, thick and easy meal that will satisfy everyone at the dinner table. (Via Daily DIY Life)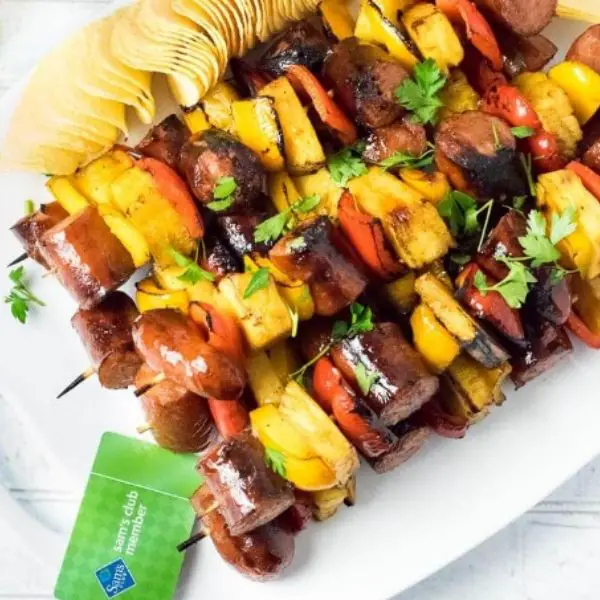 Summer means grilling season. So why not add these amazing kabobs to your grilled food menu. A skewer of grilled kielbasa with fresh pineapple and peppers is what you need this summer. (Via Fox Valley Foodie)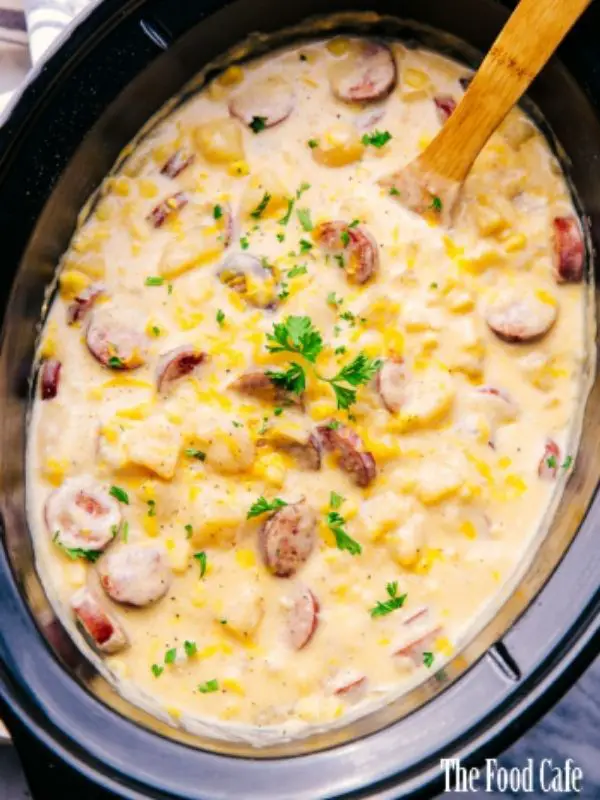 If the slow cooker is your thing, then you need to try this mouthwatering soup that's so creamy and delicious. Loaded with tender potatoes, cheddar cheese and andouille sausage, you'll have your family lining up with a bowl in their hand when it's done. (Via The Food Cafe)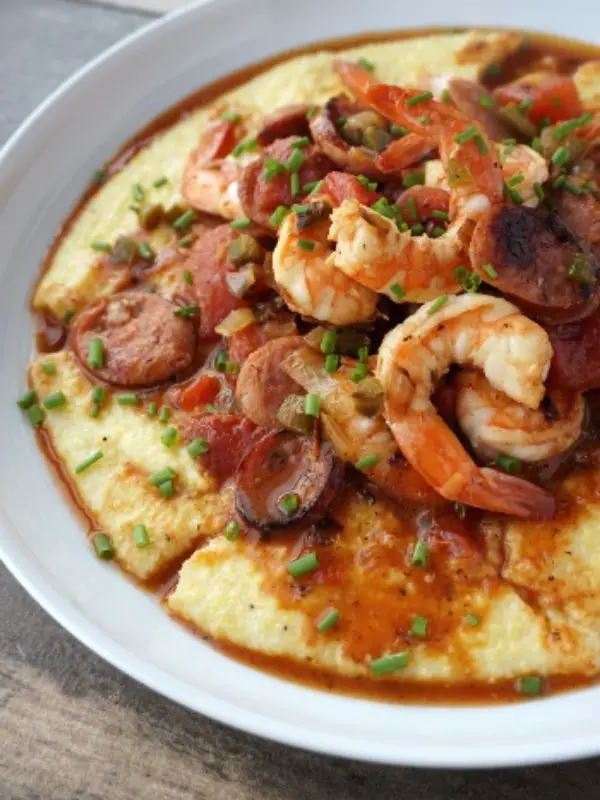 The combination of the Parmesan cheese grits with garlicky sauce from the kielbasa, shrimp and tomatoes is yummy that your family won't be able to get enough of. You guys should give this a try. (Via Broke and Cooking)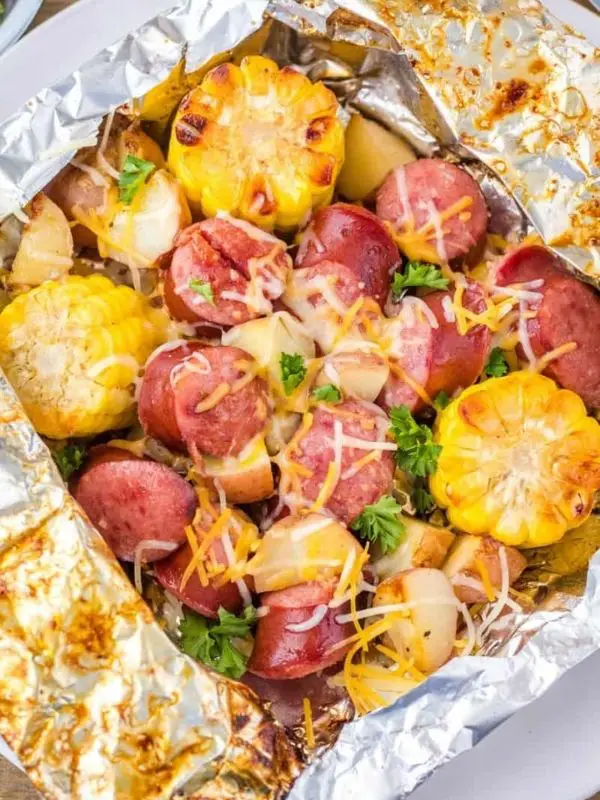 Sometimes we are too lazy to prepare a meal because we know there would be a pile of dirty dishes that need to be washed after. But what if I say you can have a tasty meal with practically no cleanups?
Yup, foil packet is the ultimate saver! You just need to cut the potatoes, smoked sausage and corn into bite-sized, pack them into the aluminum foil, fold the foil packet and grill them. That's it, so easy, right? And the best part is you can toss the foil in the trash when you're done. (Via Bread Booze Bacon)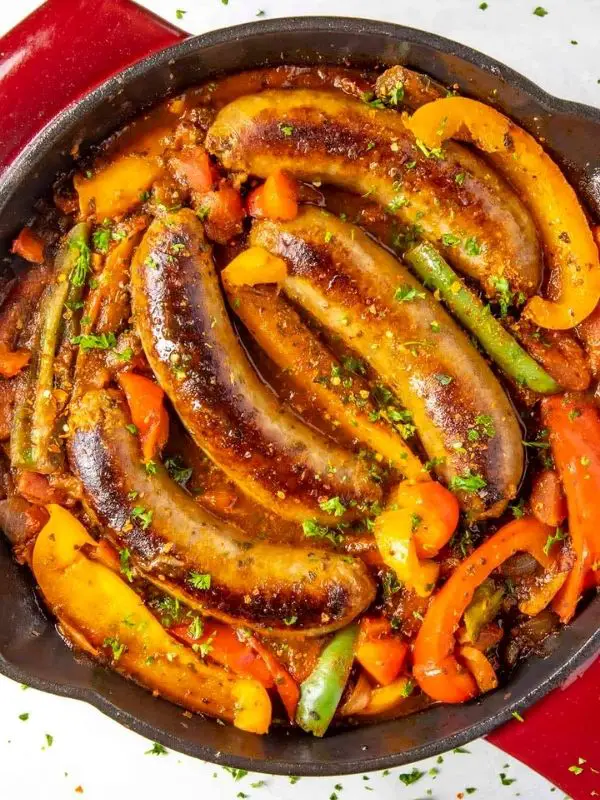 Calling all the spicy food lovers! I'm sure you are eager to try this. To make these peppers madness you need smoked sausage, bell peppers, fire-roasted tomatoes, spicy red pepper flakes, dried basil, and dried oregano. And for non-spicy food lovers, don't fret, because there's a milder version for you. (Via Chili Pepper Madness)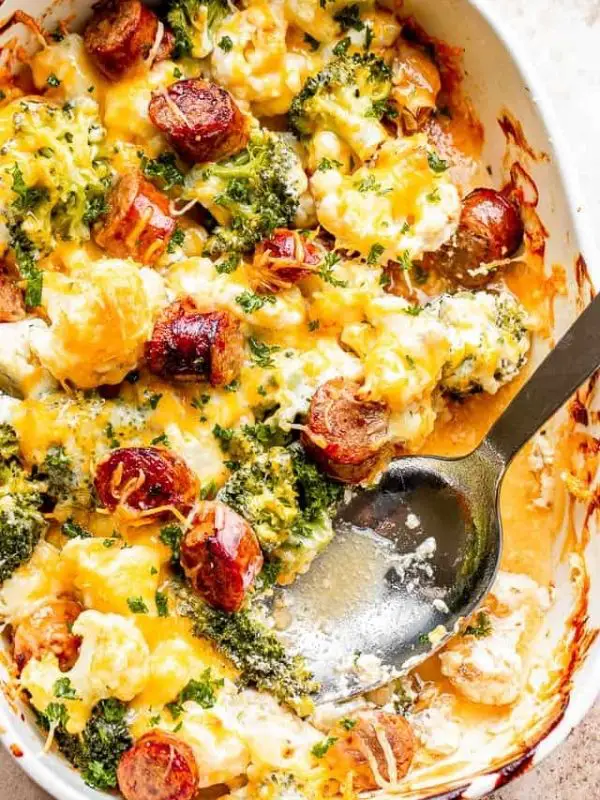 An easy, cheesy casserole recipe made from hearty vegetables like broccoli and cauliflower with tasty smoked sausage. This creamy comfort food is a perfect low-carb dinner that will satisfy your craving. (Via Diethood)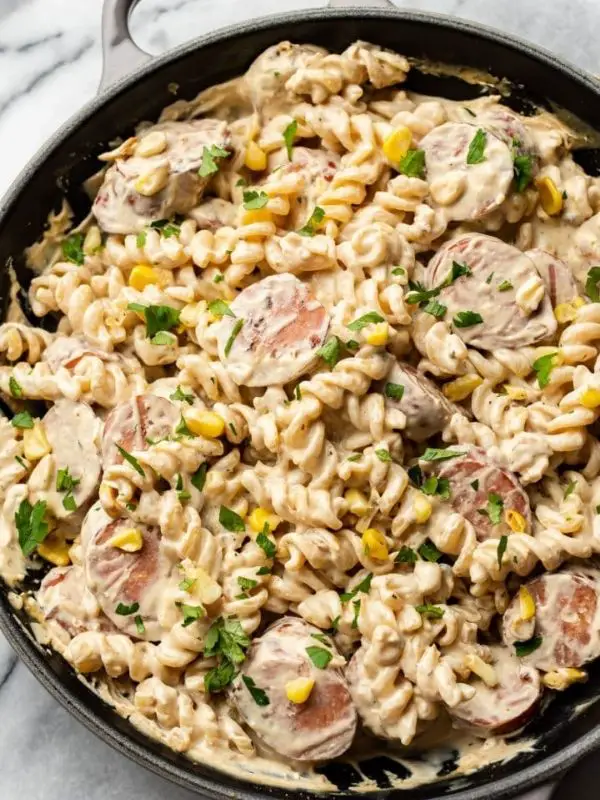 Corn, cream cheese, red pepper flakes, and smoked sausage make this pasta creamy but still has a little kick. Another pasta with smoked sausage recipe that you need to try! (Via Salt Lavender)
So what are you waiting for! Pick your favorites from the list above, prepare them and serve your family these delicious smoked sausage recipes. Also, don't forget to share this post and follow me on Pinterest to get more awesome ideas!