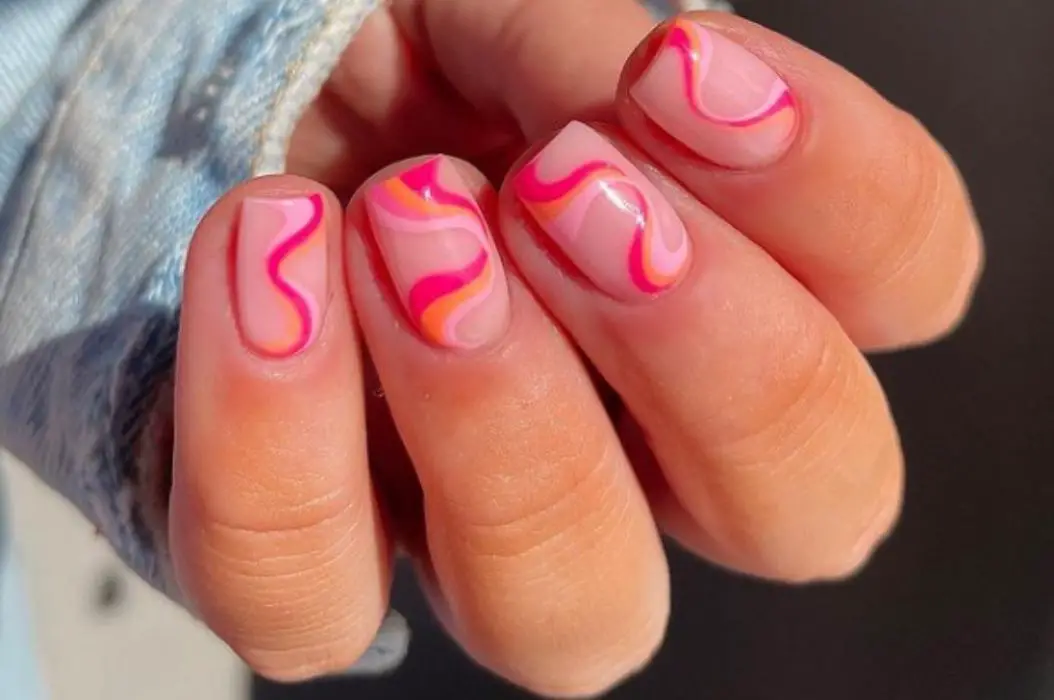 If you ever wore acrylic nails before then you know that acrylics have a reputation for being long and beautiful. But that's not the case anymore because some women prefer short acrylic nails that still look glamorous.
Whether your nails are very short or not, you can still add pretty and fabulous short acrylic nails with different shapes and colors.
Maybe you're into almond short acrylic nails or coffin shape. But no matter what nail designs you like, you will get some of the best short acrylic nail inspiration for your next look.
So scroll down and get fun with these ideas!
30 Fabulous Short Acrylic Nails
1. Neon Tartan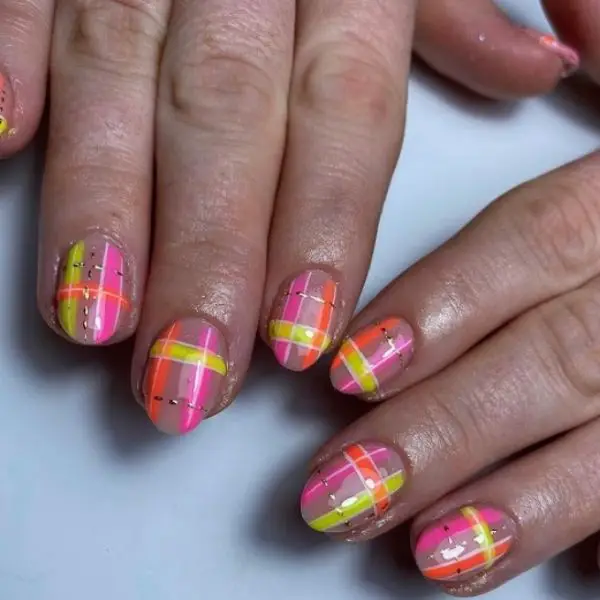 If you're looking for something bright and unique to spark your nails, then you need to apply these. The vibe of the neon color paired with gold dotted lines really complements each other. (Via @Sophiescottnailsx)
2. Moody Black and White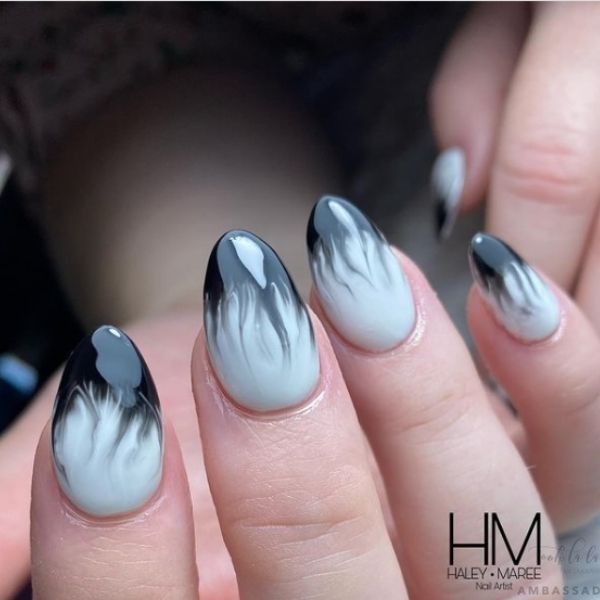 You can never go wrong with a black and white mani. Either each nail is painted in white or black, your nails will still look fabulous. But why not step up the game like these cool short acrylic nails that sure will give you a moody vibe. (Via @Bombshell_nailandbeauty)
3. Pink and Blue With Handpainted Art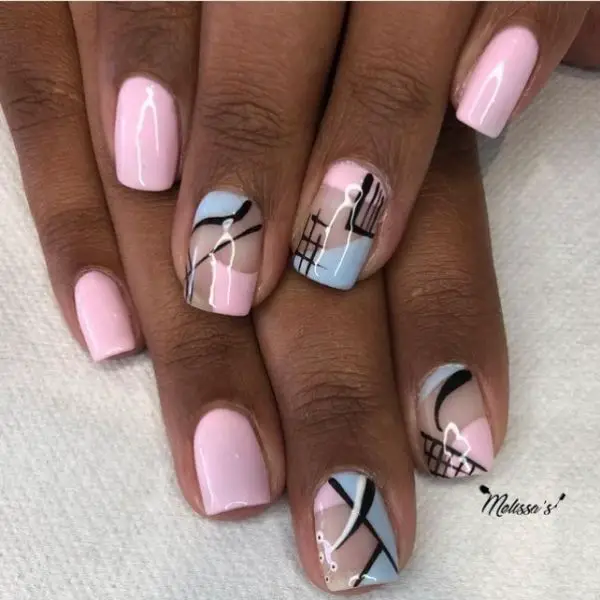 If pink color is your staple, why not give it more beautiful by adding blue color and black and white handpainted art on several of your nails. The pink color gives off a calm vibe against the stunning blue handpainted art nails. (Via @Nailsandbeautybymelissa)
4. Black With Bright Color Chevron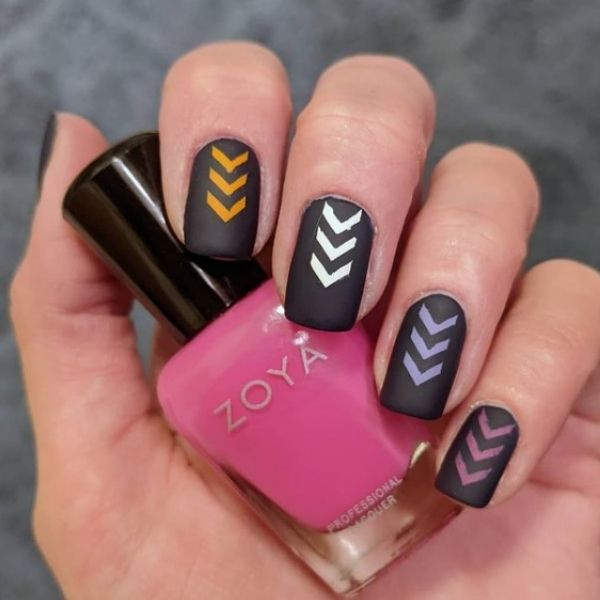 Gives your matte black nails a color by adding multiple bright colors chevron painted. You can get more creative and change the chevron colors with the bright polishes that you have. (Via @Lizolas.nails)
5. Purple Gradient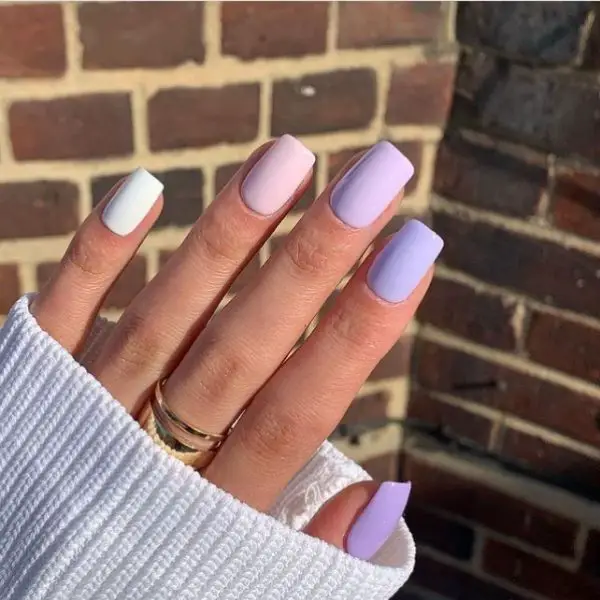 Love all shades of purple? Why not use them all on your nails like this pretty purple gradient. You can add a top coat to the purple gradient if more likely to have a nice shiny finish. (Via @The_gelbottle_inc)
6. Bluefin Tips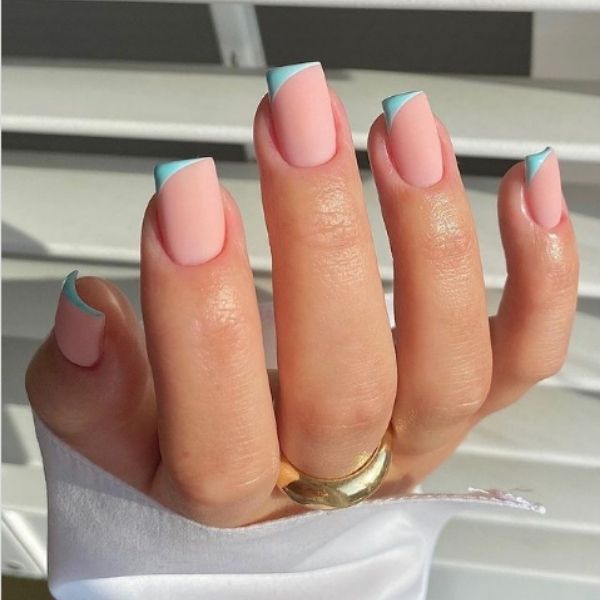 Looking for a fresh, simple and chic mani that's perfect for spring? This one here is for you to recreate. The beautiful blue tips give a contrast color to the natural nude color. Don't forget to finish them with a matte top coat so the nails look bolder. (Via @The_gelbottle_inc)
7. Yellow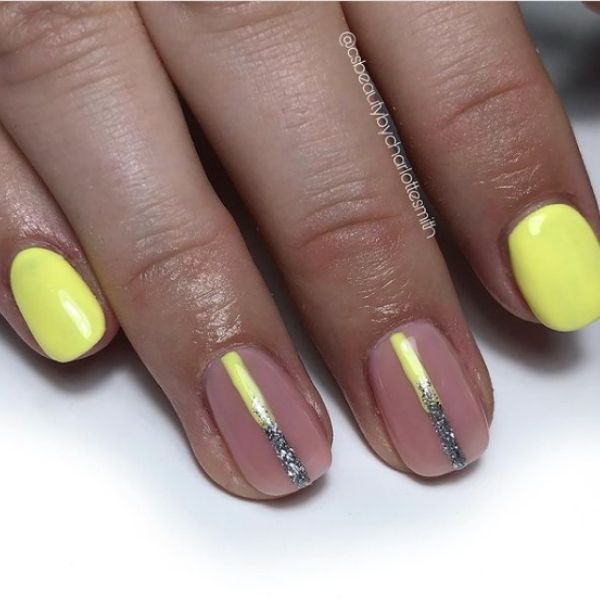 Who doesn't like yellow colors that remind us of the summer vibes? You can copy these yellow nail art nails for your next summer. The yellow lines paired with eye-catching glitter on the middle and ring fingers make them look appealing and prettier. Best part? You can switch the lines and the yellow paint on each finger that you like. (Via @Thehousofbeauty)
8. White Star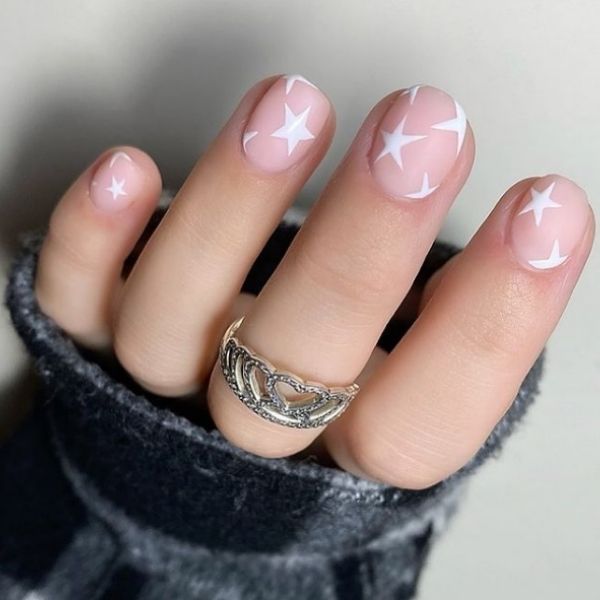 Simple and chic is the definition of these nails. The barely-there nude combined with the white stars are perfect if you're into subtlety. (Via @Glossifyofficial)
9. Shades of Blue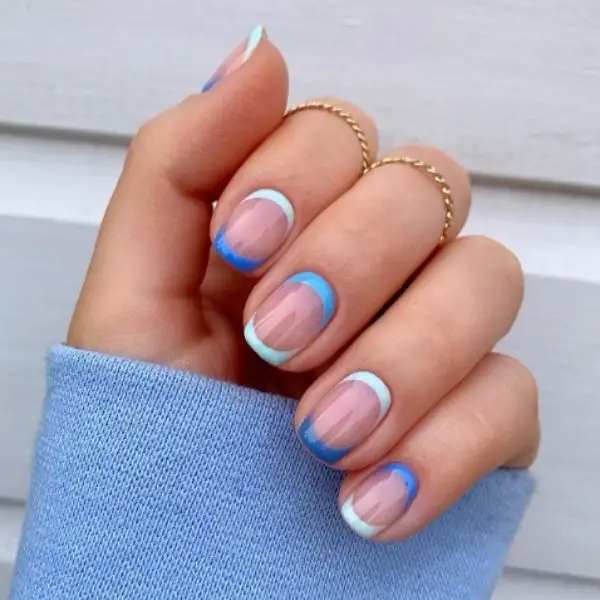 I'm really in love with these modern shades of blue nails. The bottoms and tips crescent-shaped give a modern vibe. The unique part is the switch shades of blue on each finger from lighter color tips to darker and back to lighter until it sort of creates two colors of waves. So beautiful! (Via @charlsgelnails_)
10. Mocha Nails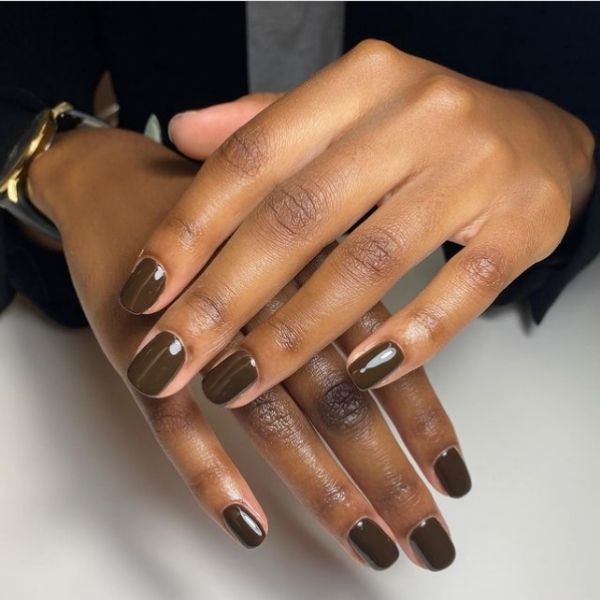 These short acrylic nails prove that you don't need to do a lot to have that perfect and nice look. Really perfect for women who like to keep their nails subtle but still want a little glam. You can even see your reflection on these super glossy nails! (Via @Charlotteemilybeauty_)
11. Multicolor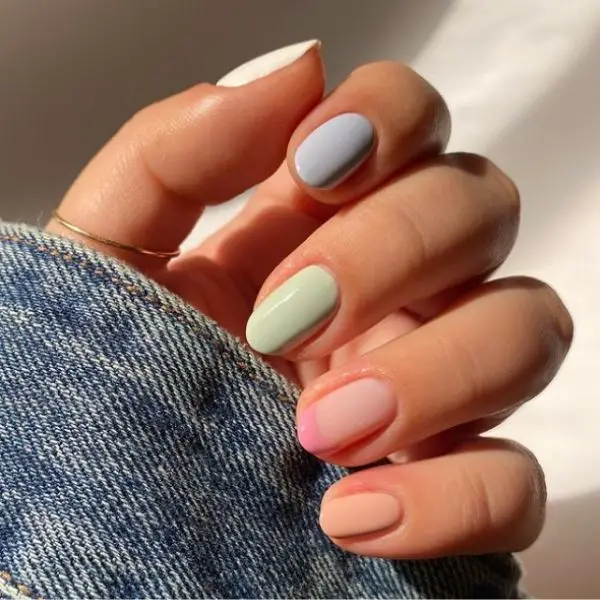 Don't know what to choose between that beautiful blue color and sea green? The pink or even the nude one? Well, why you need to worry when actually you can wear them all on your nails and have these gorgeous pastel nails. And can you see that pink tips that had different styles with other nails? So pretty. (Via @Avivaatri)
12. Red Short Acrylic Nails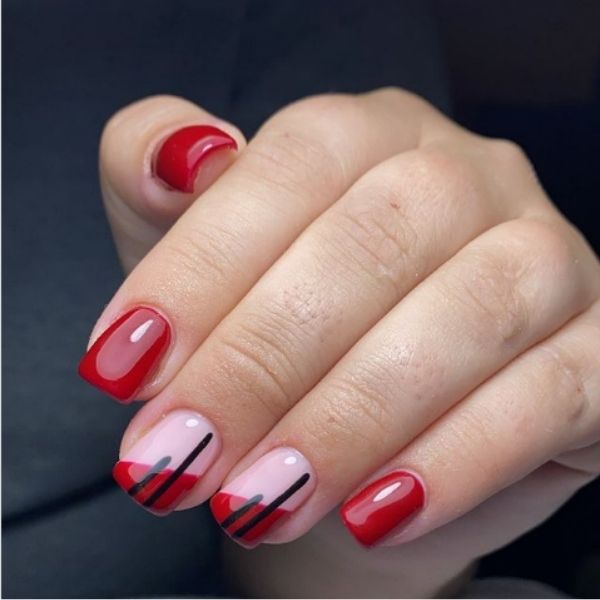 Bored with the same red look that you always wore on your nails? Now it's time to get fun with your red polish by recreating these awesome nails. The glossy finished look makes the red color look more pop! (Via @Bysophiegillespie_)
13. Jelly Bean

Looking for unique yet simple short acrylic nails? These jelly beans (not really sure but they look like jelly beans) are worth adding to your mani inspo list. (Via @_by_shelley)
14. Leaves

Maybe you like to watch the leaves fall from the tree when the Fall season comes? Even though Fall has not come yet, you can still use it as inspiration for your short acrylic nails. Match them with light pink and chocolate polishes. (Via @Colornailsorlando)
15. Glitter Round Nails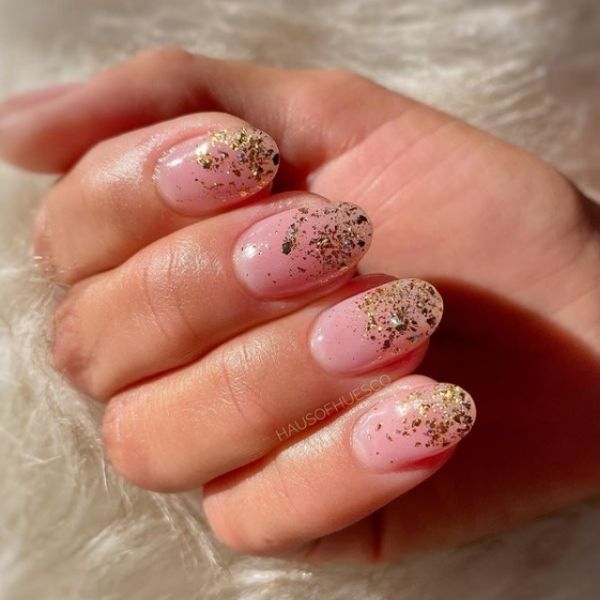 Glitter…glitter on the nails. Instead to go all-glitter, make it fading as it gets close to the bottom to create a shattered glass falling down effect. So glam and simple! (Via @Hausofhuesco)
16. Galaxy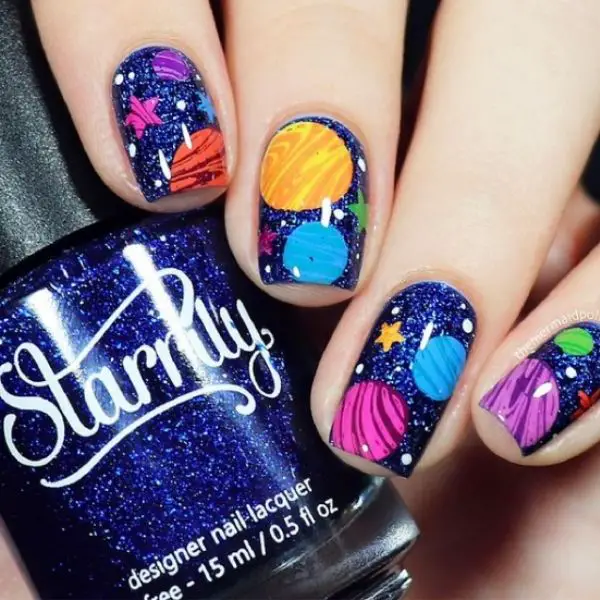 Twinkle, twinkle little stars in the galaxy with a blue moon and other planets. These nails are such a wonder, and I bet you can't stop staring at your nails once you have done this nail design. (Via @Themermaidpolish)
17. Coloured Lines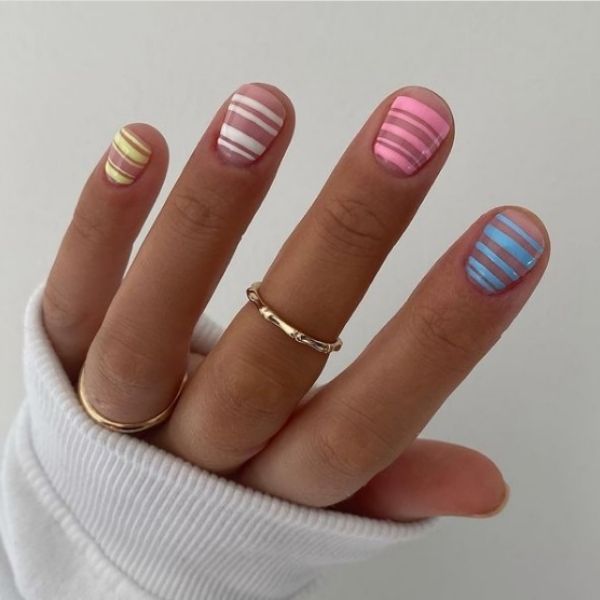 No matter how many acrylic nail designs you had, colored lines are a winner for their simplicity. You can combine multiple colors or just use your favorite color. (Via @Beautyspace_charlotte)
18. Rainbow Stripe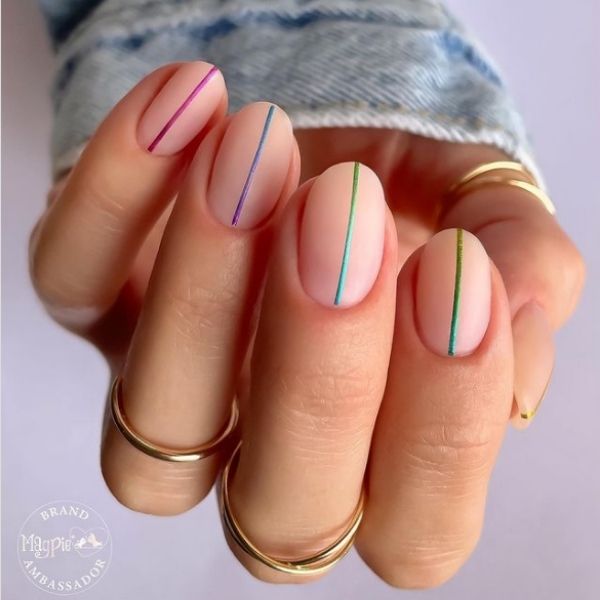 Are you looking for minimalist nails but still look chic? Search no further. Instead of drew the lines horizontally, the artist drew them vertically. Make them look perfect with the gradient-colored lines against the nude color. (Via @Thebeautyroombysarah)
19. Leopard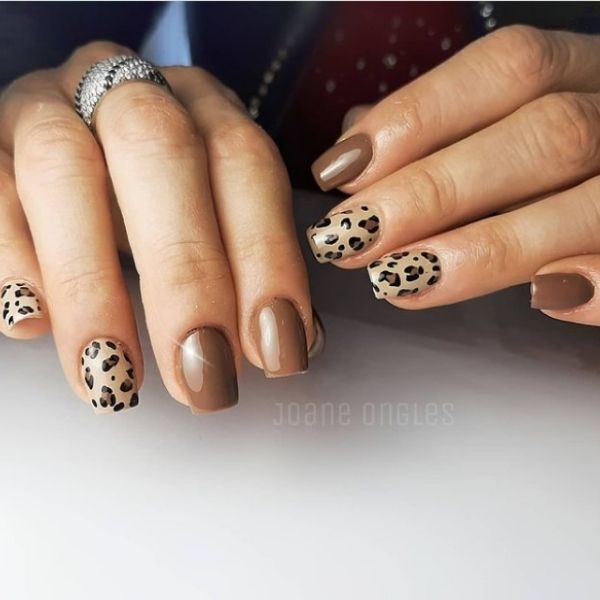 Leopard nails have been popular for a while and it seems their popularity will not just belong to long acrylics but also to short ones. (Via @Joaneongles)
20. Fruit Salad Swirls

These pink and orange color swirls really complement each other and will definitely make your fingers look pretty. (Via @Thenailroommanchester)
21. Skinny Gradient French Tips

If you're looking for a new way to wear French tips on your nails, look no further than this short acrylic nail inspiration. Best of all? You can customize and change the color of the pink skinny gradient to any color that you want. (Via @Charsgelnails_)
22. Gold Striped Ombre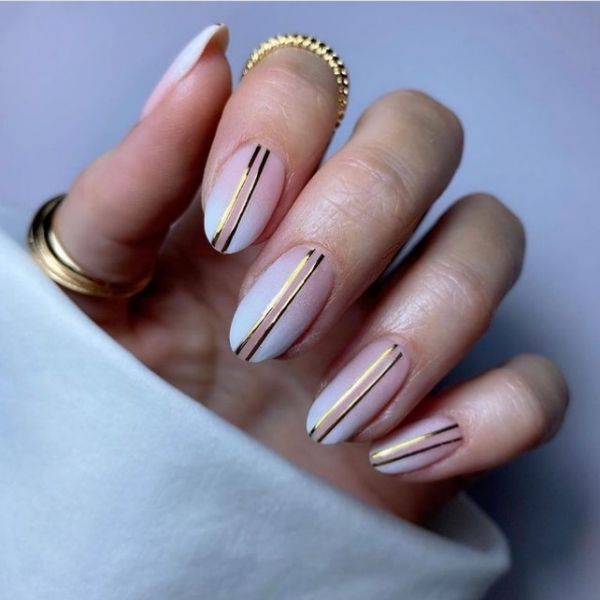 Ombre nails is showing no sign of slowing down, and when it combined with gold stripped they create a stunning and glam color scheme. (Via @Dixie_plates)
23. Mixed Metal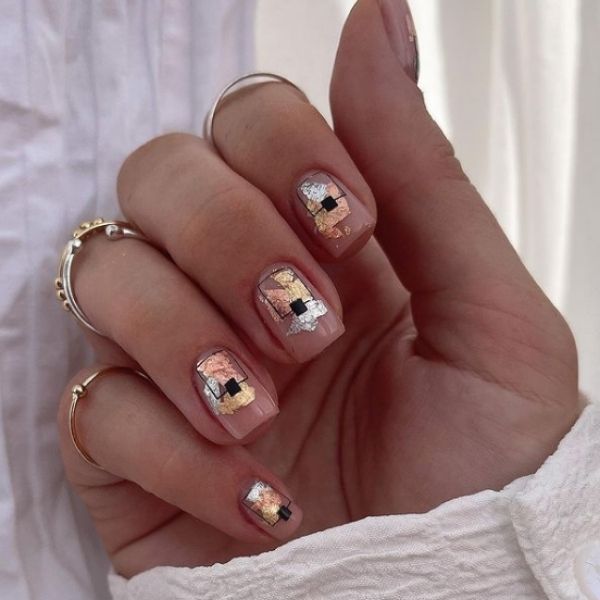 These mixed metal short acrylic nails are surely different than any other nail art that you ever painted on your nails. The contrasting color of silver, copper and gold combined with rectangular shape really create a perfect design. (Via @Violetanaildesign)
24. Sad Emoji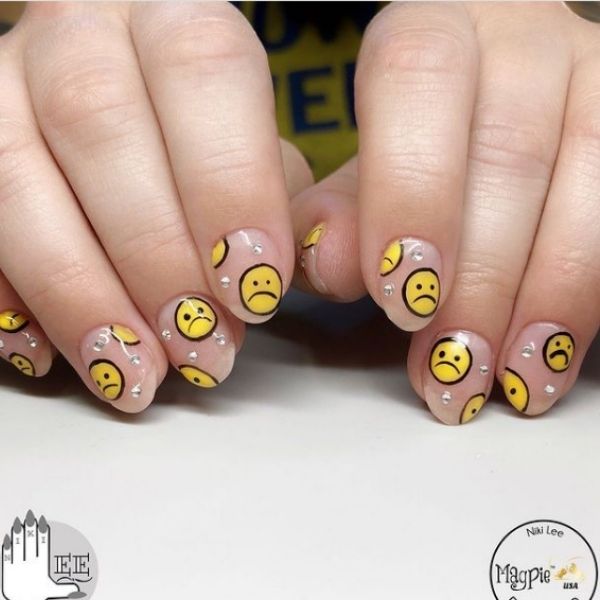 Maybe you're not in a good mood and want to express it in a way that you never did before? Well, these nails will transfer the sad face to your nails. (Via @Goodbyelulupgh)
25. Pop Art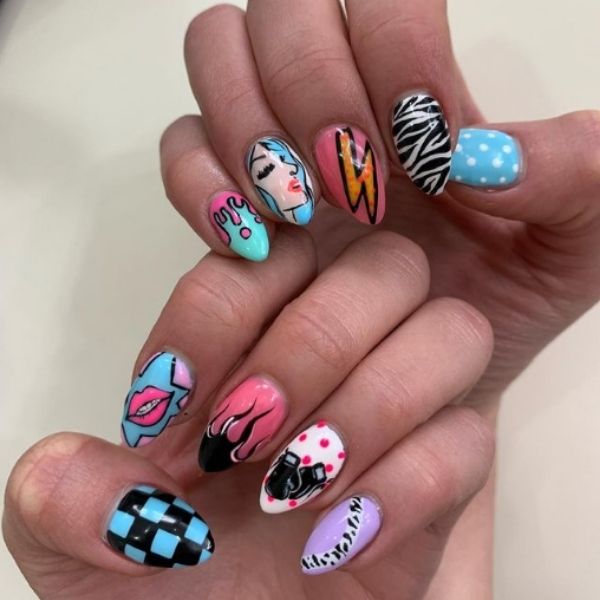 These pop art nails sure look like they just came out of the comic book. So creative! (Via @Beautystudiomaria)
26. Spring Tips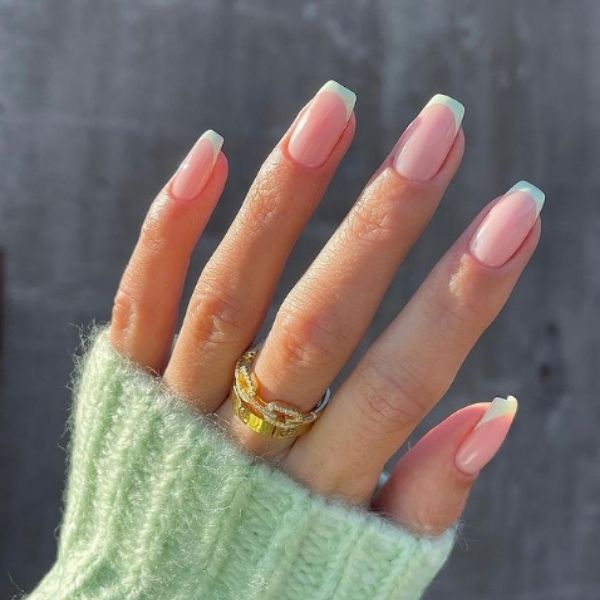 Spring is here and it's time to show off pastel color! There's a lot of unique ways to play with pastel and these nails are proof of it. Blue and pink color are a perfect pastel combination. Pro tip: you can switch the color so the tips are pink and the rest are blue. (Via @Gelsbybry)
27. Charcoal Marble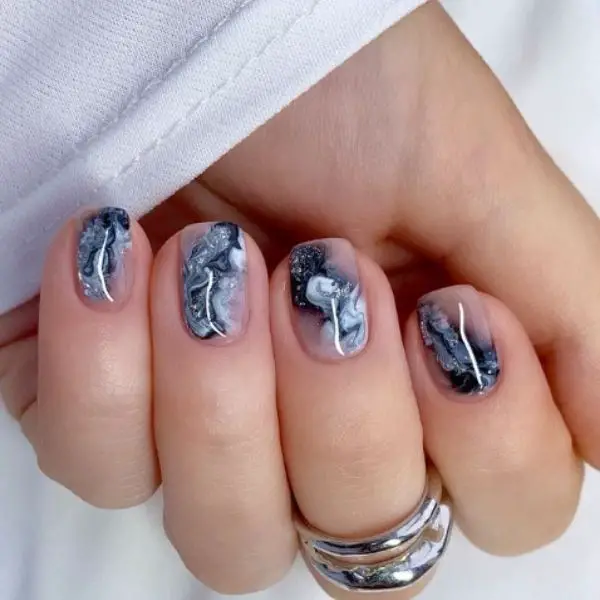 Black and white combination always complement each other so well and create a beautiful design like these pretty marble nails. (Via @Charsgelnails_)
28. Flower and Rainbow Swirl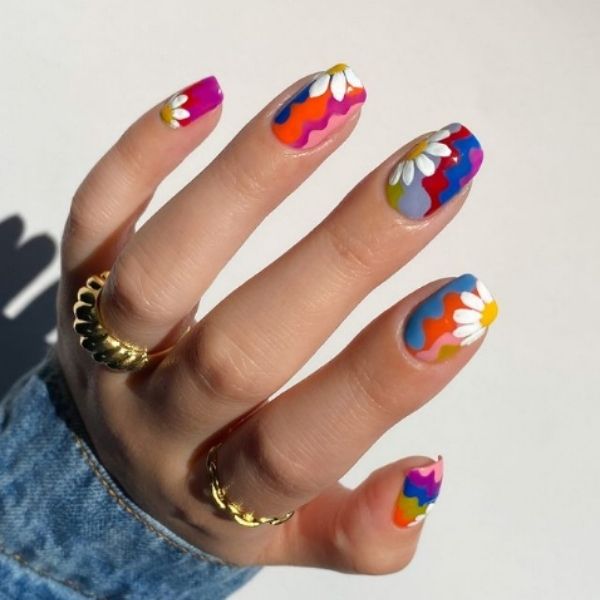 Who is ready for summer? It still not complete if you don't wear anything that screams summer and the first place that you should look at are your nails. So what are you waiting for? Head to your fav manicurist and recreate these nails (Via @Lightslacquer)
29. Snakeskin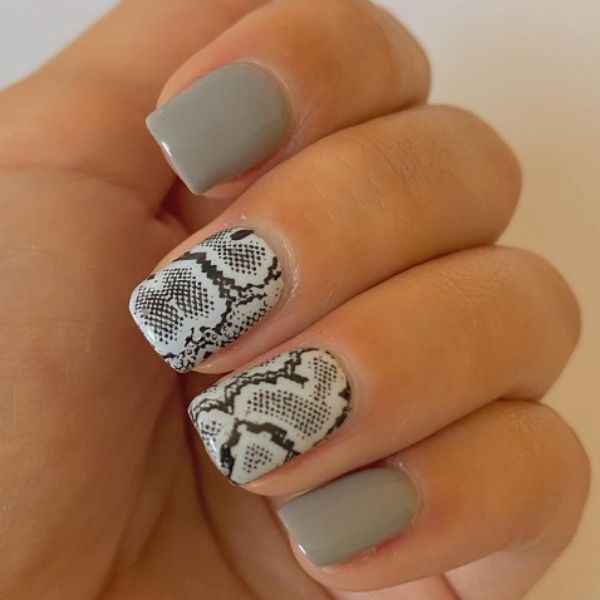 If leopard is not your thing, maybe this snakeskin would. You can go a bit bolder by painting all your nails with this snakeskin or just copy the style as was done here. (Via @_the.nail.hub)
30. Chrome Short Acrylic Nails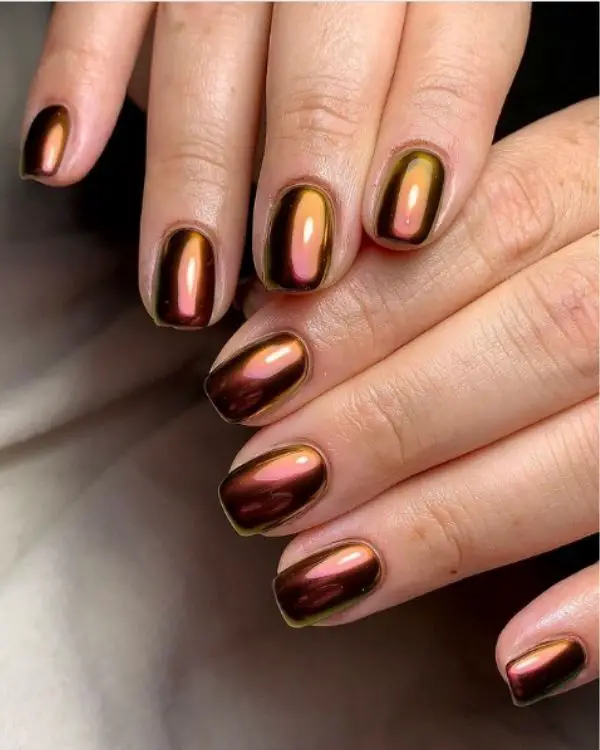 Can you see how gorgeous the chrome nails are? The hot molten look combined with the extreme shine top coat makes the nails look like a rare obsidian stone. Super impressive!. (Via @Polishedbylearnahstarbucks)