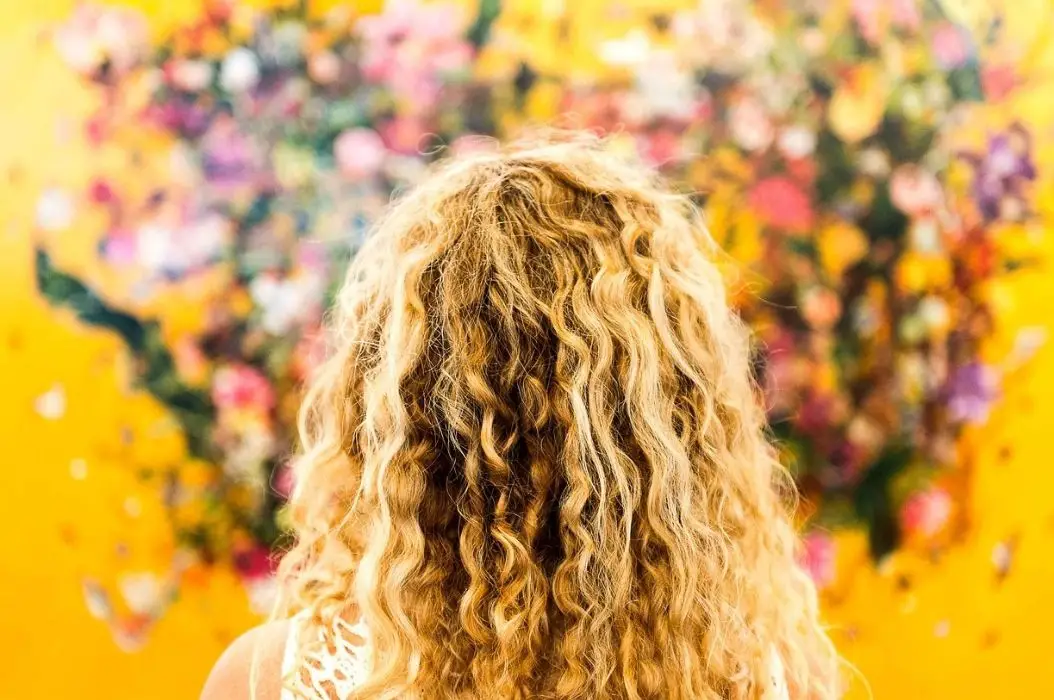 This post contains affiliate links. This means if you purchase something through one of my links, I may receive a small commission at no extra cost to you. Please read my disclosure for more info.
It's a common issue that almost all of us battle frizz, no matter if you have short or long hair, curly or straight, even some of my male friends also battle with frizzy hair–It turns out not just women problem.
But, have you ever thought about why your hair is frizzy? Or what actually causes frizzy hair?
The main reason that causes frizziness is a lack of moisture in the hair. This makes hair absorb moisture from the air around it, causing each hair's cuticle to swell up, overlapping, and makes hair look frizzy.
So, just remember this equation: dry hair + humid, wet weather = Bad frizzy hair
There are also a few factors that cause frizz. But just because frizzy hair is almost unavoidable doesn't mean you can't tame it. All you need is a few tips on how to tame and deal with it.
Luckily, I have gathered 9 tips to get rid of frizzy hair so you can achieve smoother, defined hair and also improved your hair health.
9 Tips To Get Rid Of Frizzy Hair
1. Use a hydrating shampoo
The first thing you should do is change your shampoo. Some shampoos contain sulfates that are known to dry your hair and strip your hair of its natural oils, causing frizziness.
Go to your bathroom and check if your shampoo contains sodium lauryl sulfate or sodium laureth sulfate on their first line in the ingredient list. Then opt for a sulfate-free shampoo.
But, be sure that you look for the most truly sulfate-free shampoo, because there are many products that claim sulfate-free shampoo when actually they just put the label for marketing and still contain sulfates.
You can start by using this Moroccan Argan Oil Shampoo Sulfate-free from Pure Nature Lux Spa that contains argan oil that helps to hydrate your hair and dimethicone which moisturize your hair and leaving your hair silky smooth.
2. Don't forget to use a conditioner
Just because you have a good shampoo, doesn't mean it's enough to treat your frizzy hair because they can still strip away your hair's natural oil. And as you know what your dry hair actually needs is moisturizer. That's why you need to use a conditioner.
Look for a conditioner that is good for dry, frizzy hair. Make sure you don't apply conditioner all over your head, so you don't weaken the hair follicle around your scalp and make your scalp greasy.
And to lock in moisture in your hair, you can use a leave-in conditioner or curl defining cream on your slightly wet hair.
3. Turn down your shower temp
Who doesn't like a hot shower especially when you have sore muscles, but sadly it's doesn't act the same to your hair. The hot water opens hair cuticles, and when the cuticles are open, hair needs more moisture, which causes frizz.
Fortunately, you don't have to suffer cold showers, you just need to turn down the temperature to warm showers or even cold showers.
4. Wash your hair less often
If you're the type of person that shampooing daily, then start to stop doing it. As you know that shampoo works by removing dirt on your hair, but it also strips your natural hair's oil.
So if you over-washing your hair, you just not make your hair dehydrated but also produce excess oil and creating more frizz.
Even though there isn't a specific number of times per week that experts recommend washing your hair, it's still best not to wash it daily.
You can start washing your hair every other day or every two days and slowly increase it to every 3 and 4 days. Alternatively, if your hair starts looking a little greasy or oily, you could apply dry shampoo like this universal favorite Bumble and bumble Bb. Pret-a-Powder
5. Dry your hair properly
Drying your sopping wet locks as quickly as possible with a towel will cause more friction and disrupt the cuticles. Therefore, it's better to dry your hair in a towel turban or use a microfiber towel to prevent friction frizz.
And if you like to use a blow dryer to dry your hair, then you better add a diffuser. It also helps to keep your curls intact if you have curly hair. And when you using the heat setting, please set the heat to low and finish with a blast of cold air.
6. Brush your hair when it's wet
No matter what type of your hair is, you usually avoid brushing your frizzy hair. Because that's what I do. Having natural hair myself, I know how time-consuming it is of taking care of my hair, I even ever silk-pressed and relaxed my hair so it's easier to maintain.
But here's a tip from me: I always comb my hair with a wide-tooth comb (or you can use a wet brush) after I apply conditioner in the shower, then I rinse my hair. This not just makes my hair soft but also easier to comb. After that, you just gently comb through your wet hair with your fingers.
7. Invest in a hair mask
It's not a crime to give a little intensive care to your hair. And the best way to do it is with a hair mask.  Hair masks help to make your hair less frizzy, add moisture and make your hair softer and shinier.
Look for a moisturizing hair mask that contains oils, such as olive oil, coconut oil or argan oil and other nourishing ingredients like honey or avocado. Apply it once a week to your hair for 30 minutes before showering. You can also make your own hair mask from ingredients you may already have in your kitchen.
8. Always use heat protectant products
It's better if you minimizing the use of hot tools on your hair, but when you really need to curl or straighten your hair, you should apply a heat protectant before using a heat tool. This will prevent future frizz and reduce damage to your hair.
9. Use a satin pillowcase
You are unconscious when you are asleep, so you don't know how much friction your hair gets from your pillowcase when you toss in your sleep. And as I mentioned, that to get rid of frizzy hair you need to reduce friction. That's why a satin pillowcase becomes a great solution.
And also try pulling your hair up in a loose bun, so your hair doesn't move as much whilst you sleep. You could also invest in some silk scrunchies since they don't leave a crease.