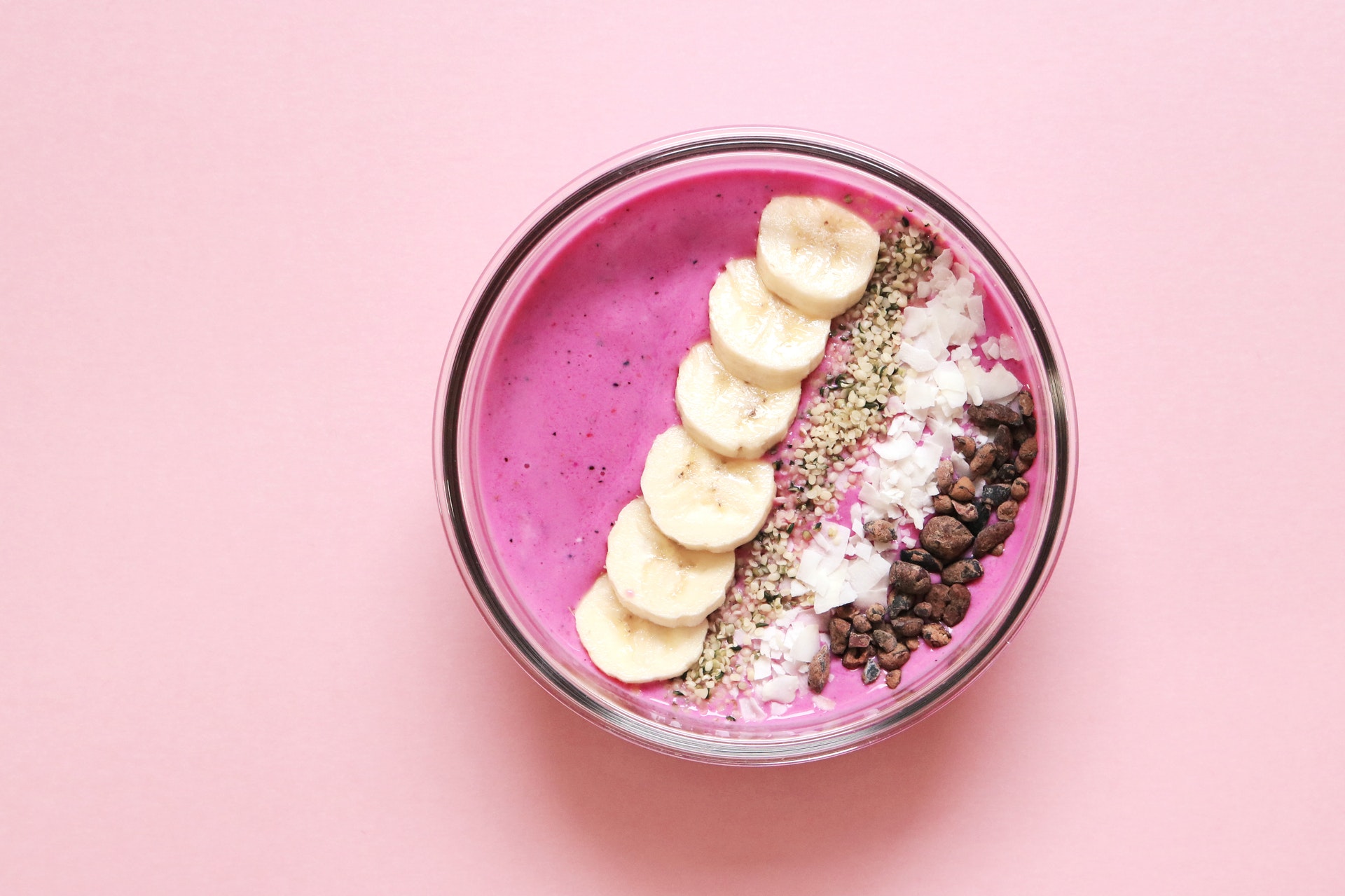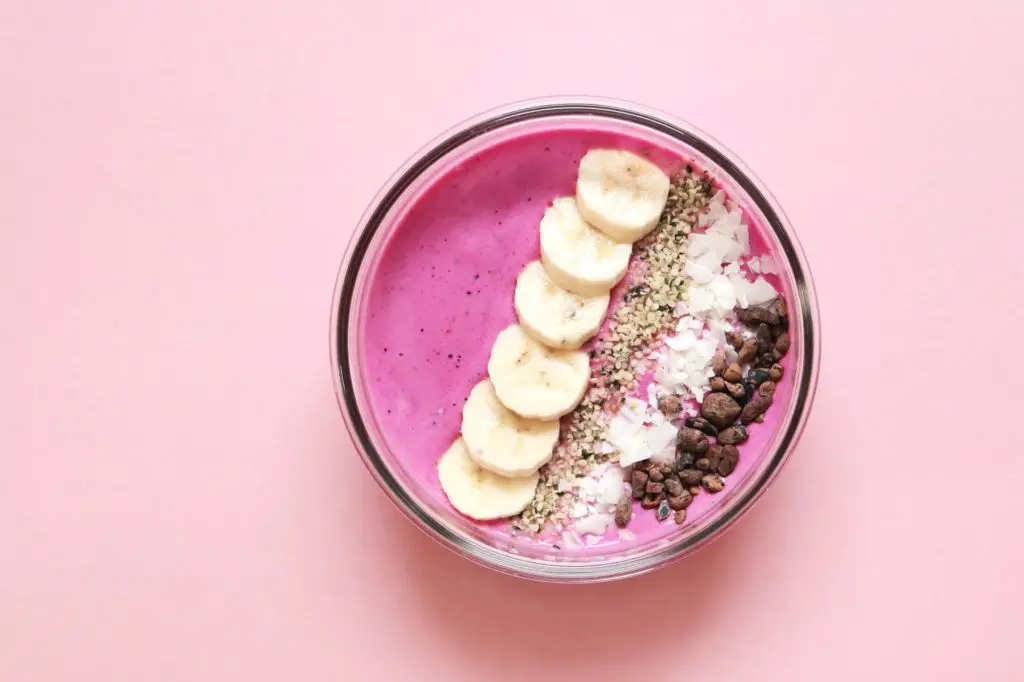 This post contains affiliate links. This means if you purchase something through one of my links, I may receive a small commission at no extra cost to you. Please read my disclosure for more info.
It's more satisfying to eat smoothies in a bowl than just put them in a glass. Not just delicious, but you can get creative by creating many flavors that you want with the top of fruits and nuts or cereals that you like.
Another surprise is you can make it in just 5 minutes. If you love smoothie bowls, here are my favorite smoothie bowl recipes to start your day.
What Is A Smoothie Bowl?
A smoothie bowl is pretty much like what it sounds like, a smoothie in a bowl. The only difference is the thickness of the smoothies and it's hard to sip or drink a thick smoothie in a glass, so it's more suitable to enjoy it in a bowl with a spoon.
Because it serves in a bowl, you can get fun and creative with it by deciding which toppings on the smoothie bowl you want to put to make it look more pretty.
Best Toppings and Nutrition Additions For Smoothie Bowl
the most common toppings for a smoothie bowl are:
berries
sliced fruits
coconut flakes
granola
chia seeds
nuts
And other ingredients you can add to give you an extra boost are
protein powders
supplements
cocoa powder
Ingredients Matter
The ingredients in your smoothie bowl are important to consider. You don't want to stuff your healthy breakfast with processed granola or dried fruits that contains a lot of artificial sugar and processed sugar.
And if you made a fruit base smoothie, make sure you don't stuff yourself with a lot of high sugar load and not enough fiber to eat.
So always remember to get the best benefit from smoothie bowls by making sure that the smoothie contains all the nutrition that you need.
4 Smoothie Bowl Recipes That You Can Make This Morning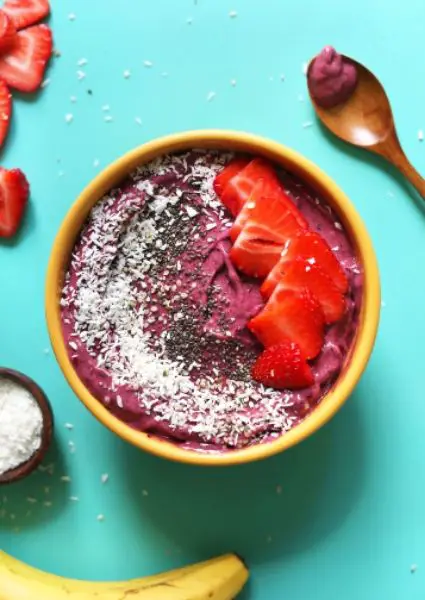 This smoothie is perfect when you are in a rush but still need something healthy, satisfying, quick, and nutrient-rich.
You just need 3 ingredients to make this -ripe banana, organic frozen mixed berries, and coconut milk- and all you need to do is blend banana and berry first then add light coconut or almond milk, pour it in a bowl and for the topping, you can add chia seeds, granola, and fruit. (Recipe from Minimalist Baker)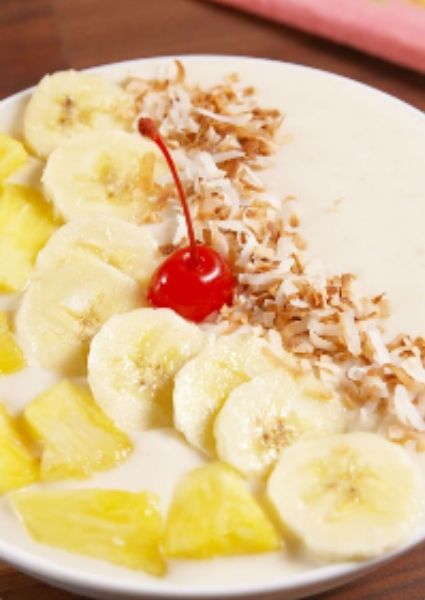 To make this smoothie all you need is to blend frozen pineapple, sliced banana, and coconut milk until smooth and for the top, you can use the same ingredients by arranging the pineapple, banana, and coconut or add any toppings that you like. (Recipe from Delish)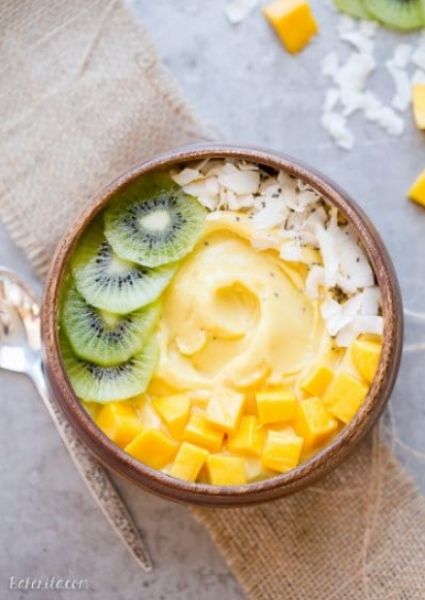 Bring the tropical vibe to your breakfast with this bright, fresh and healthy smoothie bowl that screams summer.
With just four ingredients you can make this smoothie and all you need is to blend mango, pineapple, banana, and coconut milk until completely smooth.
This smoothie really thick and creamy, you can add a small amount of milk if you prefer a thinner smoothie.
Add this coconut bowl to complement this tropical smoothie. (Recipe from Bakerita)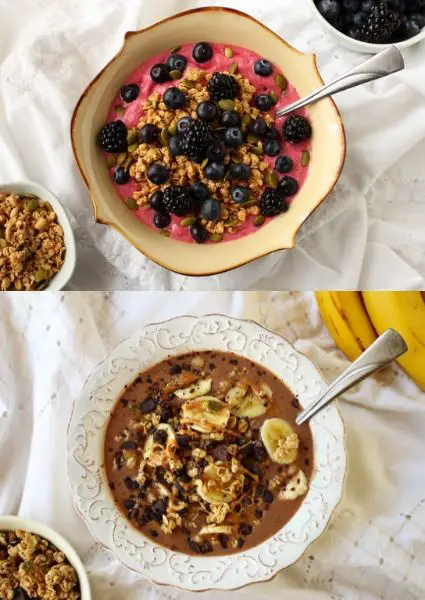 Make these two types of smoothie recipes to keep your fiber and nutrition balance in the morning.
To make the raspberry mango smoothie you just need frozen raspberries, soy milk, raw pumpkin seeds, and frozen mango and for chocolate peanut butter & banana smoothie, you just need to blend almond milk, natural peanut butter, frozen banana, dark chocolate chips, and cocoa.
These smoothie bowl recipes are perfect for a vegan or those who are on a vegan diet. (Recipe from I Love Vegan)
Your New Favorite Breakfast: Smoothie Bowl
You can start to pick one of the above smoothie bowl recipes for your breakfast ideas and add your favorite toppings to finish them. Happy breakfast!
Follow me on Pinterest for more recipe ideas!