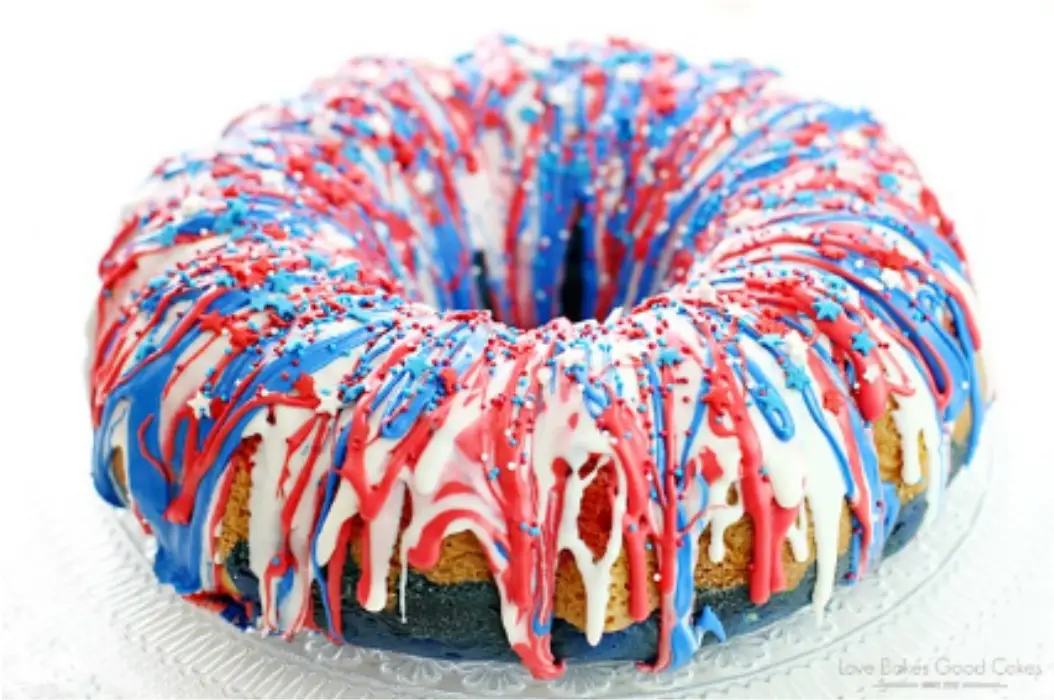 With iconic red, white, and blue colors, these easy 4th of July desserts are great if you're planning a get-together for this celebration.
Maybe you also looking for grilled recipes and easy summer drinks that you can serve to a crowd.
And you don't need to worry if you want to stay healthy at a barbecue, because there's something for everyone here.
This collection of easy delicious and festive 4th of July desserts is perfect not just for Independence Day but also for Memorial day and any other patriotic events.
Get started with these patriotic dessert ideas that are sure to be a big hit.
30 Best 4th of July Desserts You'll Love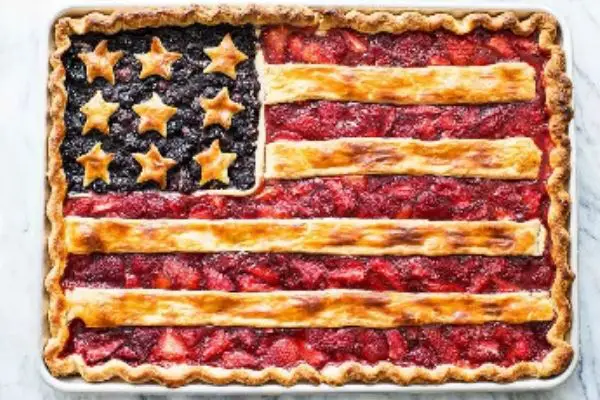 There's nothing more special to bring to your 4th of July cook-out than this American flag pie made with a homemade crunchy crust and filled with fresh strawberries and blueberries topped with stars and stripes. What a stunning patriotic dessert! (Via Simply Recipes)
Looking for a simple, delicious sweet treat for adults? This boozy ice cream is your perfect option. Within 10 minutes of prep and a few simple ingredients, you can make this no-churn, gluten-free, creamy, and super fluffy ice cream that tastes not too sweet, fruity, and crisp. The combination of wine ice cream and blue and red berries makes a perfect patriotic dessert! (Via Show Me The Yummy)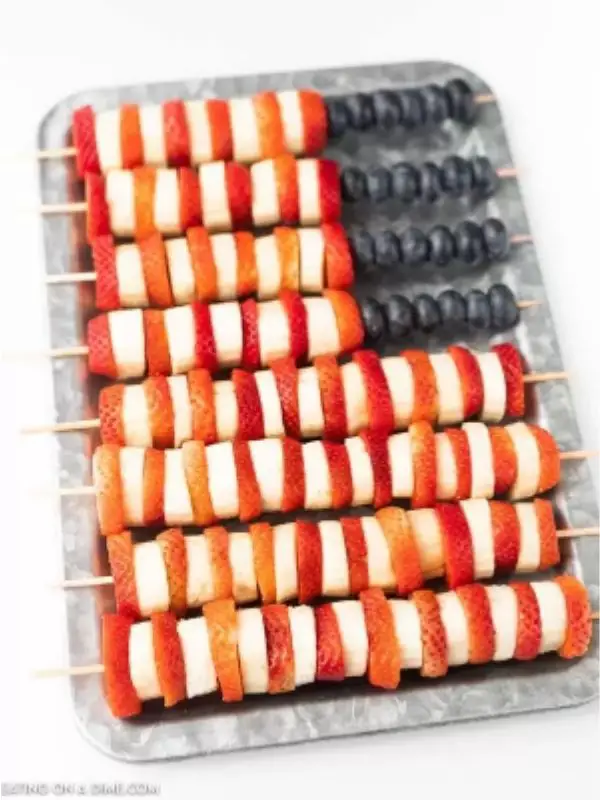 Strawberries, blueberries, bananas, and a package of wooden skewers are what you need to make this easy, healthy, fun, and festive kabobs. This healthy food is perfect for kids and adults. (Via Eating On A Dime)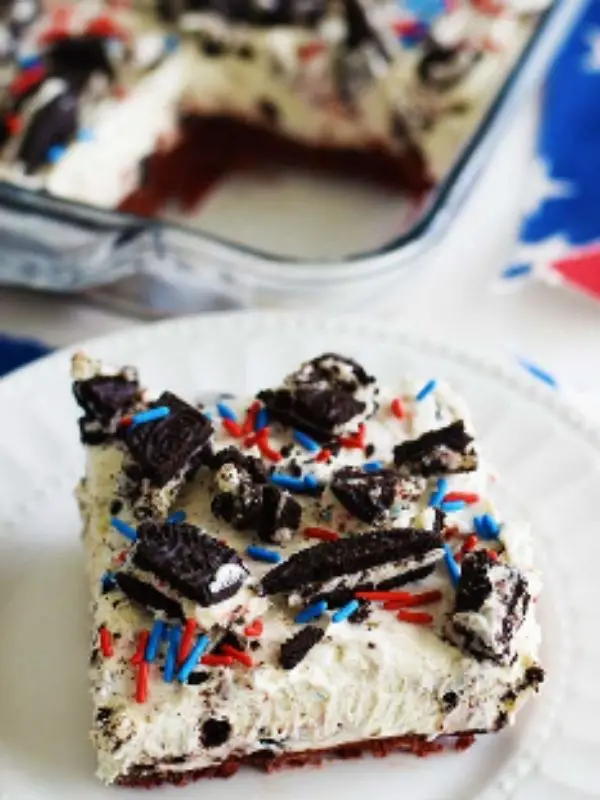 Who doesn't like Oreo, especially in the form of no-bake like these goody bars? Takes no time to pull together this, this mouthwatering dessert made from red velvet oreo cookies as a crust and cheesecake filling is sure will be a big hit and gives some sparkle to your celebration! (Via Soulfully Made)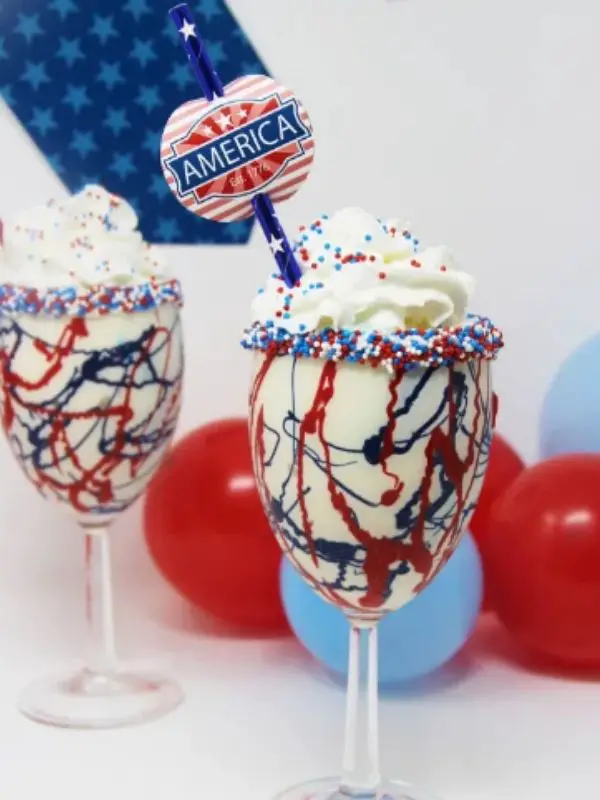 Sometimes a good drink is what you need to cool off on a hot summer day, especially if you had been outside for hours. Luckily, this milkshake is so easy and can be prepped the day before.
All you have to do is make the shake by combine milk and ice cream in a blender until smooth, create red and blue stripes from melted candy inside of clear glass cups, then top it off with whipping cream and sprinkles. (Via Jessie K Design)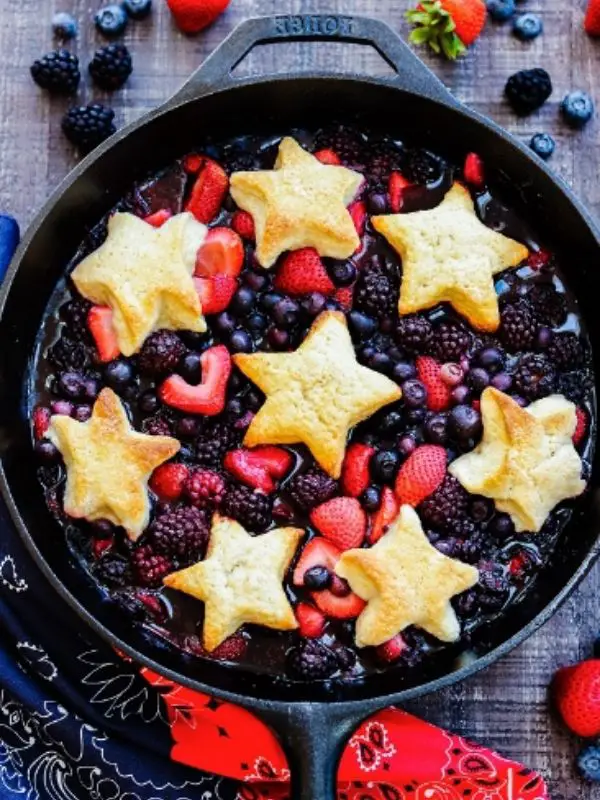 Grab your skillet now and make this festive cobbler! The fresh bright color of the warm red and blueberries combine with the cold white ice cream will be a great treat for patriotic holidays. And don't forget the lemony biscuit topping that makes it looks perfect. (Via Give It Some Thyme)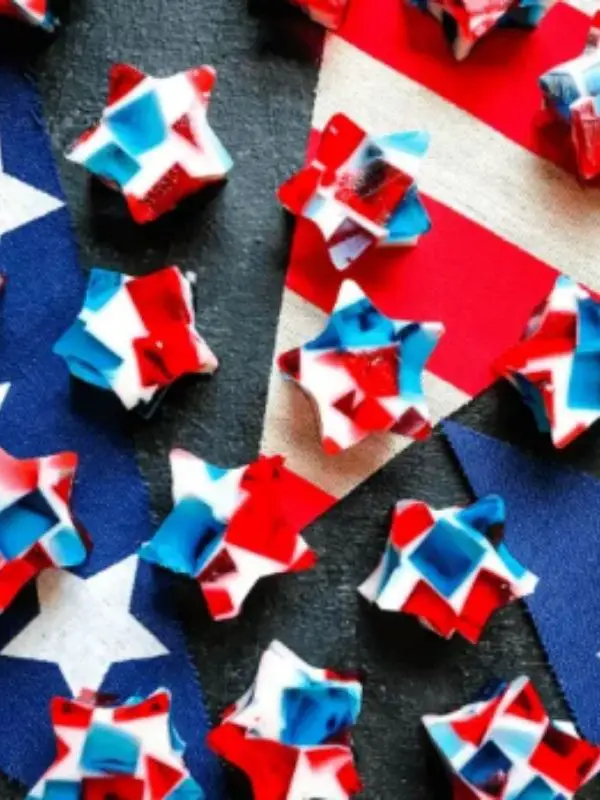 Why make that same jello shots that you usually made when actually you can get creative by making them in stars form? These red, white, and blue mosaic jello shots not just make a unique dessert but also make a fun alcohol treat.
You can omit the vodka and use extra water instead if you want to make this kid-friendly and non-alcoholic. (Via Three Olives Branch)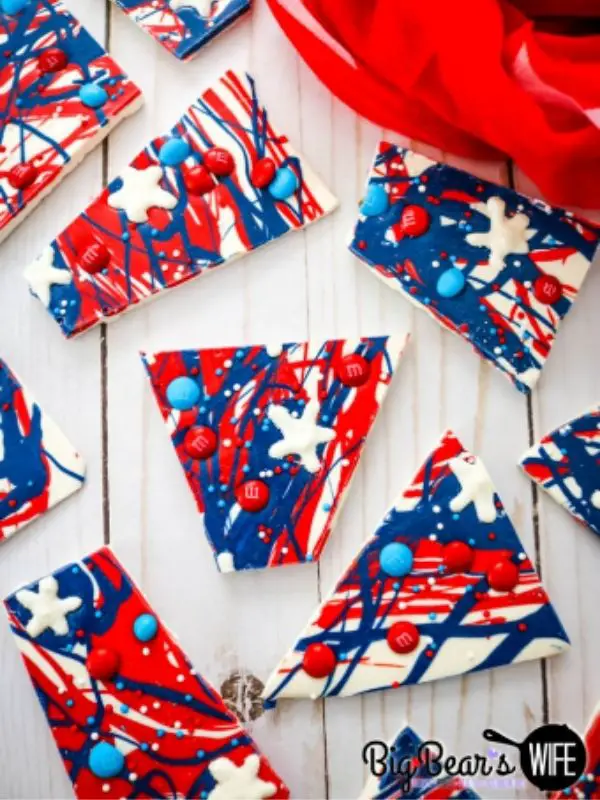 Want to make an easy treat that's full of patriotic spirit? I've got one for you. This bark calls for M&Ms, sprinkles, and of course, red, white, and blue candy melts. Don't forget to top it with homemade sugar stars. (Via Big Bear's Wife)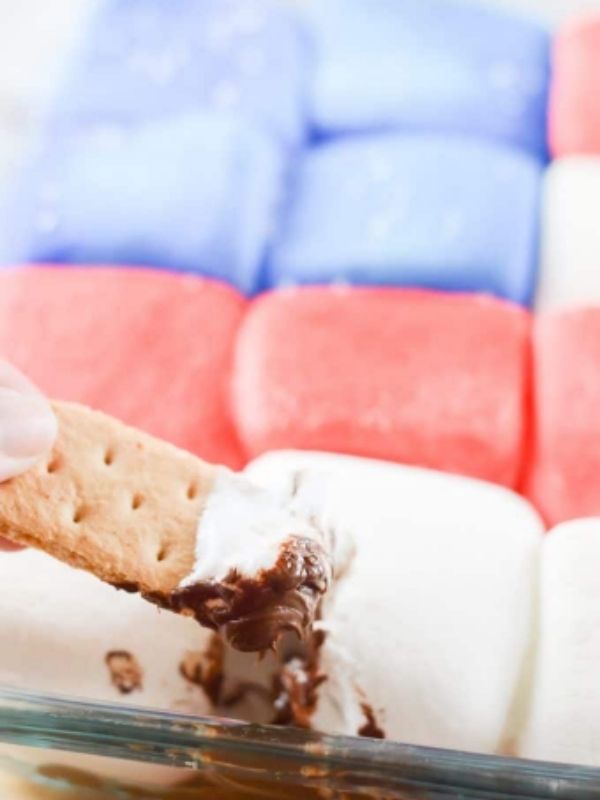 Look at this yummy, chocolaty dip that you can make with only three ingredients: marshmallows, chocolate chips, and red, and blue food coloring, and within 15 minutes. Serve with graham cracker squares, everyone will rave over this patriotic s'mores dip. (Via Life Begins With Dessert)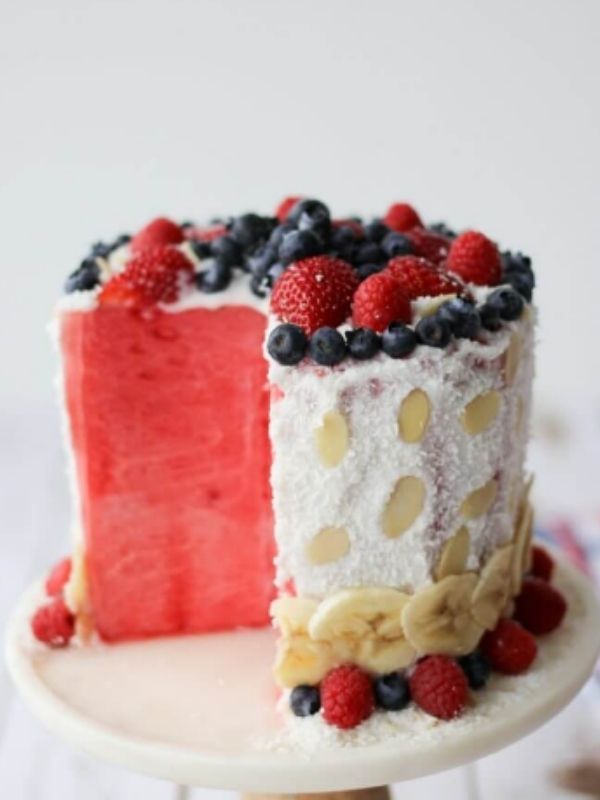 You do know that the 4th of July is full of BBQs, boozy drinks, etc. But just because you're a vegan or one of your family members is a vegan doesn't mean they can't enjoy the delicious fests, right?
This watermelon cake is a perfect solution. Low in calorie, dairy-free, gluten-free and low fat, this red, white and blue cake will be the healthiest dessert at your party. (Via Abbey's Kitchen)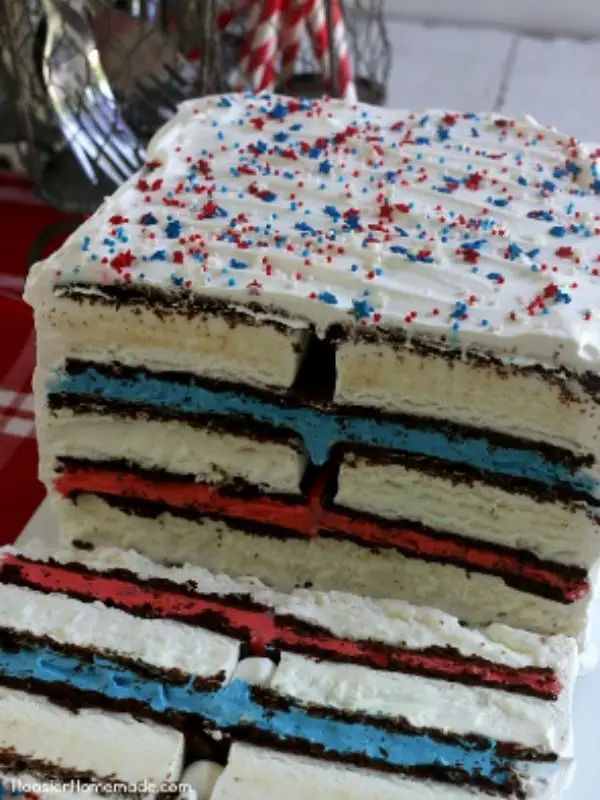 Maybe you want to create a show-stopping dessert but there's still a lot on your to-do list that needs to be done and you're busy preparing your next party. I get it. That's why I got this easy dessert for you.
And it's really easy because you just need 5 ingredients to make this – whipped topping, marshmallow fluff, pudding, coloring, and Klondike Ice Cream. And with 20 minutes, you'll have a fun and easy dessert. (Via Simply Easy Creative)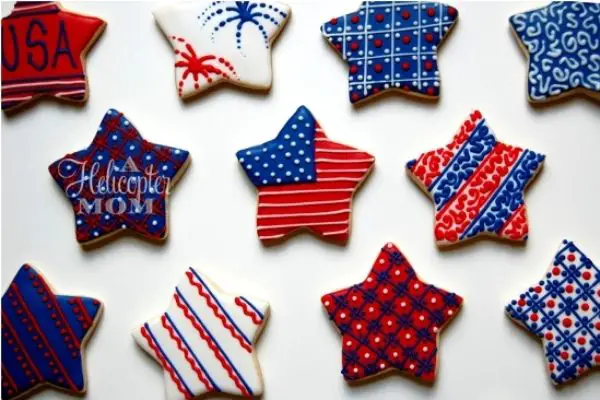 Flour, baking powder, unsalted butter, white granulated sugar, eggs, and vanilla extract are ingredients that you need to make these easy and festive patriotic cookies! (Via A Helicopter Mom)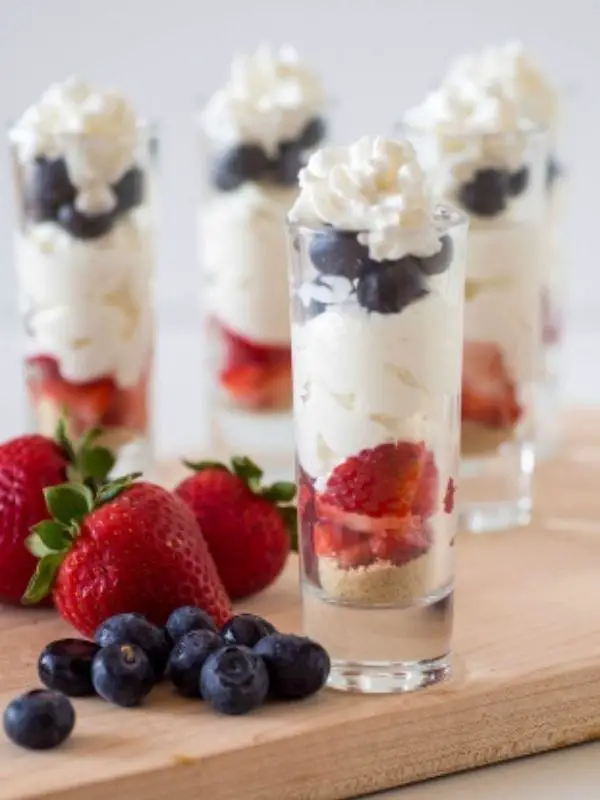 Looking for an elegant and simple dessert that you can make ahead of time? These sophisticated mini cheesecake parfaits are here for you. With just graham cracker crumbs, strawberries slices, blueberries, and cheesecake filling, you can make these patriotic theme cute little desserts in just minutes. (Via Upstate Ramblings)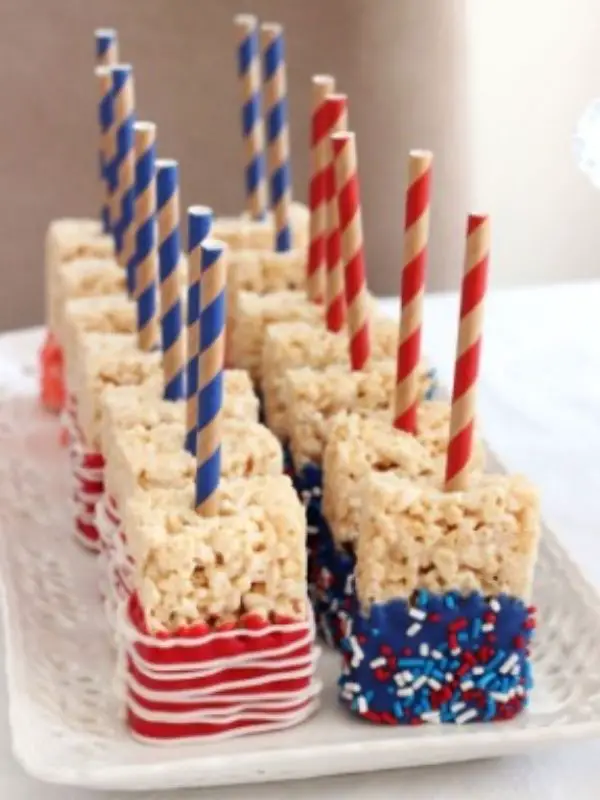 Who is here a big fan of Rice Krispie? Then you need to check this recipe. It's so easy to make because you just need to use pre-made Rice Krispie treats (except if you want to make it from scratch), red, white, and blue candy melts for dipping, and sprinkles. Really simple and colorful treats! (Via Life, Love and Sugar)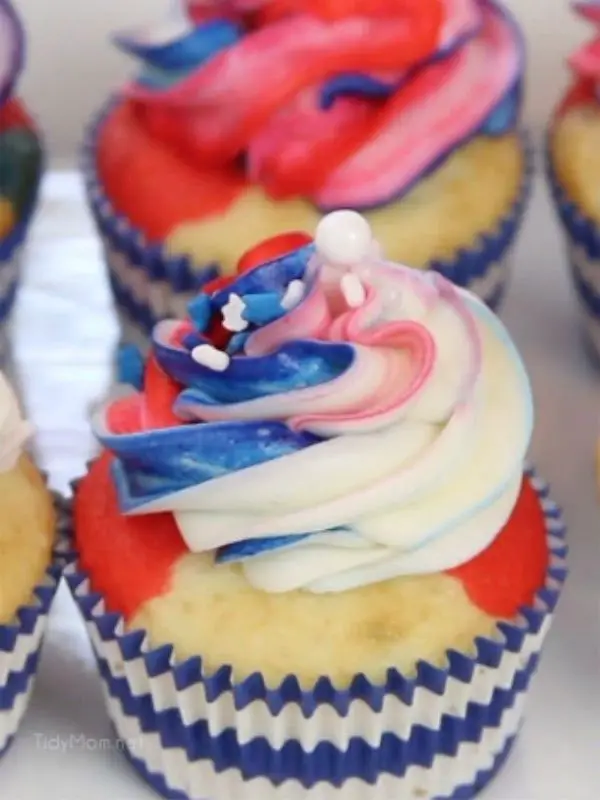 If you are looking for a festive dessert that will spark your guest's attention, then look no further. These patriotic cupcakes are too cute for them to ignore.
A batch of white cake batter is what you need, then divide the cake into 3 bowls and add red and blue food gel coloring to the first and second bowl. Spoon them to cupcake liners and bake them. Add tricolor frosting and voila! You are sure will earn salutes at your party. (Via Tidy Mom)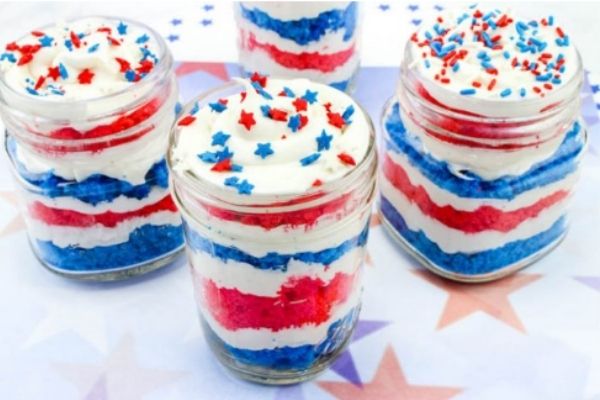 Look at this beautiful red, white and blue cake in jars! Not just fun to decorate, this cake in a jar also makes a perfect gift. This recipe is perfect for those who don't want to upgrade their patriotic cupcake display. (Via Sunny Sweet Days)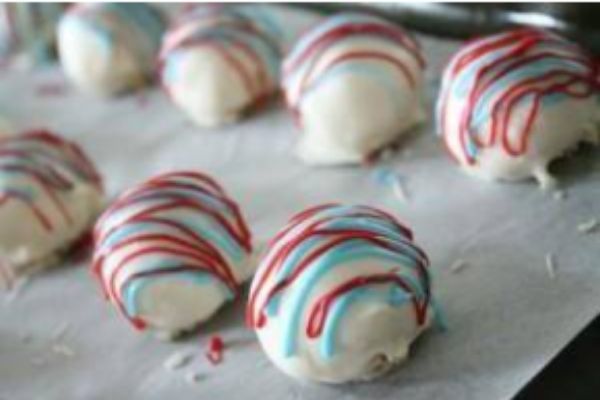 Another oreo treat that is super easy to make. Vanilla Oreo cookies, cream cheese, white almond bark, and colored candy melts are basically what you need for this delicious recipe. And I'm sure your whole family will enjoy them. (Via Passion for Savings)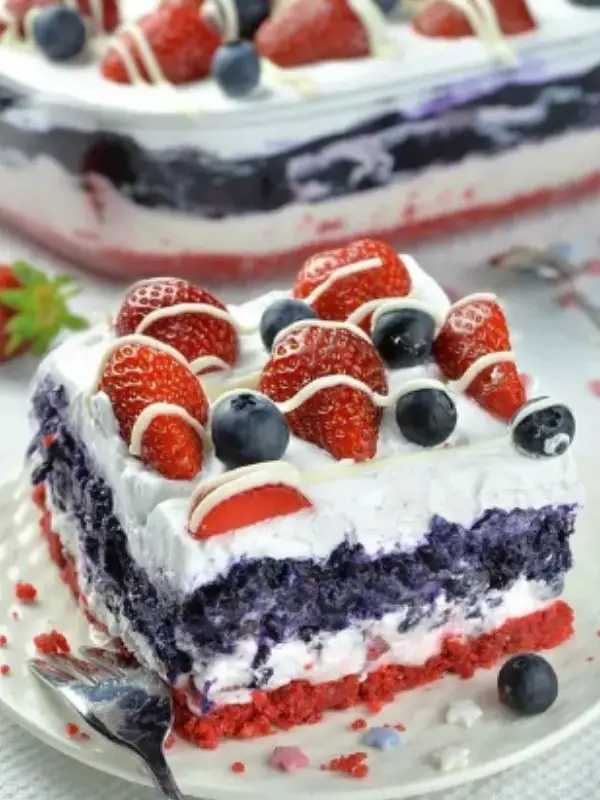 Summer is a perfect time for refreshing and light sweet treats. So why not making some dessert with fresh fruits like this no-bake berry lasagna? I bet your guests can resist eating this festive berry lasagna when you serve it at your 4th of July celebration.
Friendly reminder: save a piece for you before it's gone within minutes. (Via Oh My Goodness Chocolate Desserts)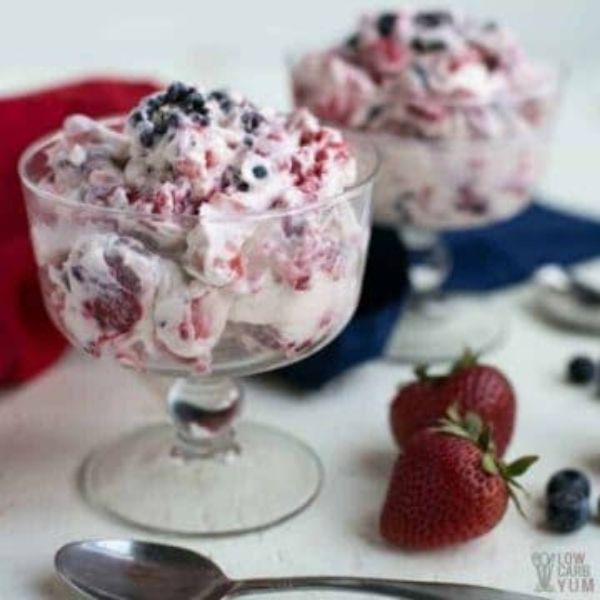 Are you looking for a low-carb dessert that you can make for the 4th of July? Search no further. With all kinds of berries, whipping cream, cream cheese and stevia concentrated powder, you will have this healthy dessert that just contains 8g of carb. (Via Low Carb Yum)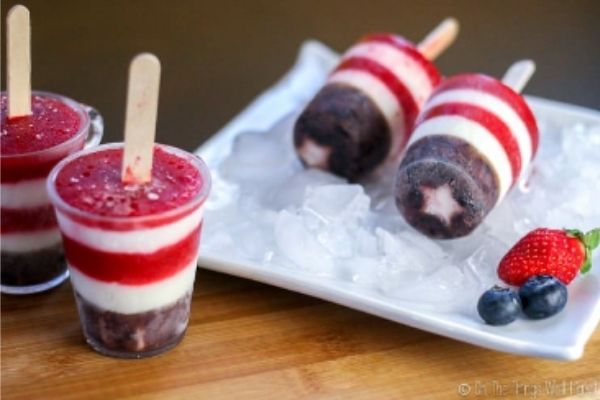 These healthy patriotic popsicles are easy to make. Using real food ingredients: greek yogurt, blueberries, strawberries, and honey, you can even make the dairy-free vegan version by substitute the yogurt with vegan yogurt. What's better on a hot day than popsicles? (Via The Things We'll Make)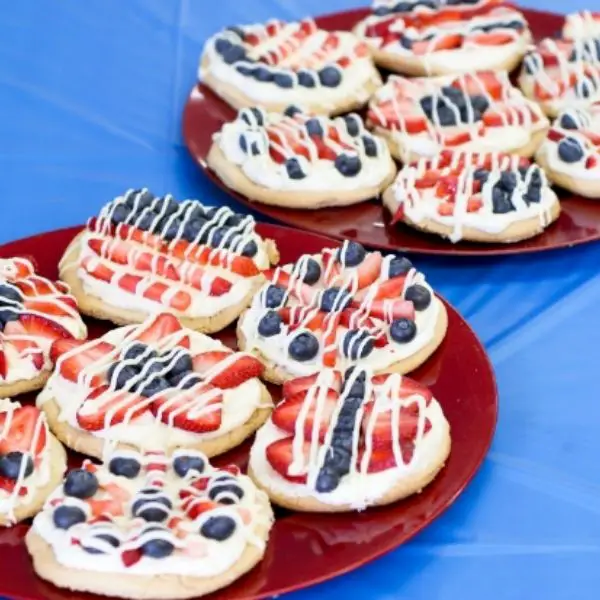 This is not like any regular pizza where there's ham and veggies, because this is a healthier version. A sugar cookie crust with juicy blueberries and strawberries topping and a drizzle of white chocolate is sure to be a hit! (Via Six Clever Sisters)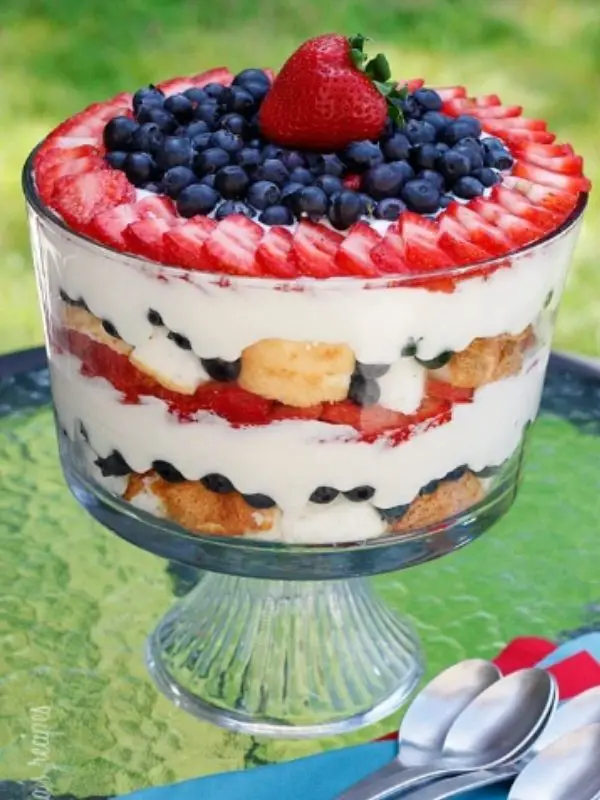 You don't need to heat up your kitchen to make this trifle because it using store-bought angel food cake. Based with angel food cakes, followed by blueberries, cream mixture, and strawberries, repeat and top it with the rest of the berries. What a heavenly dessert! (Via Skinny Taste)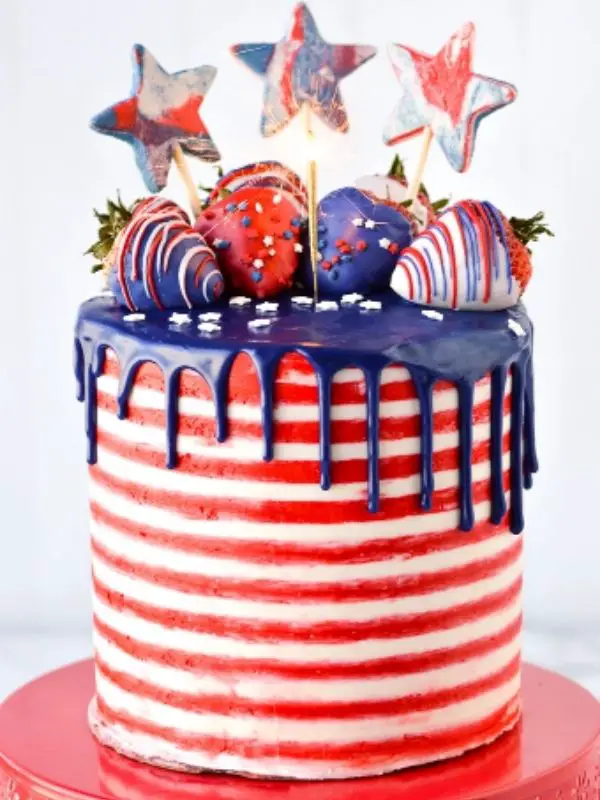 If you really want to go full out for your next fourth of July party, this cake is the perfect dessert. Using a white cake, with red and white striped buttercream frosting, blue chocolate ganache drip, and fun decorated strawberries dessert, this festive cake is a show-stopper. (Via Partylicious)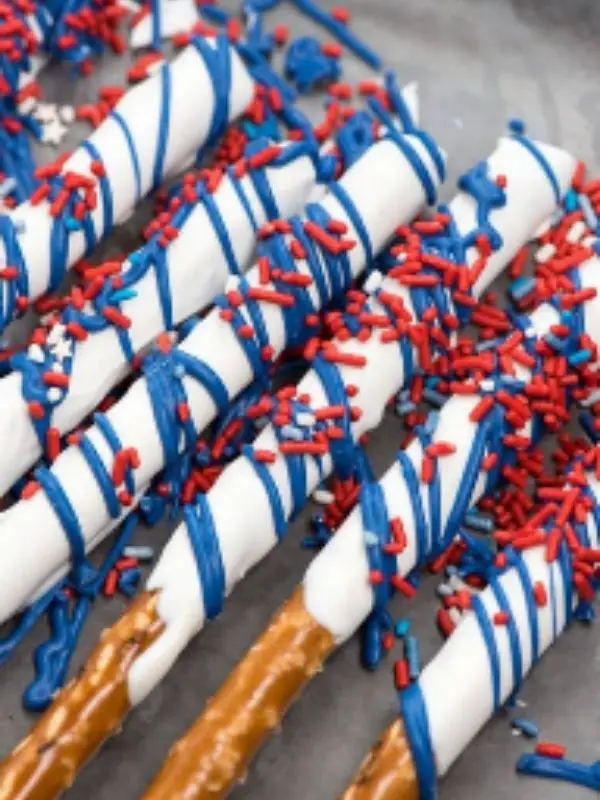 There's nothing more satisfying than making easy desserts that taste delicious. Like these pretzels for example. With just simple ingredients: pretzel rods, sprinkles, candy melts, and almond barks, you can make this easy treat that everyone will love – mostly with kids. (Via Easy Good Ideas)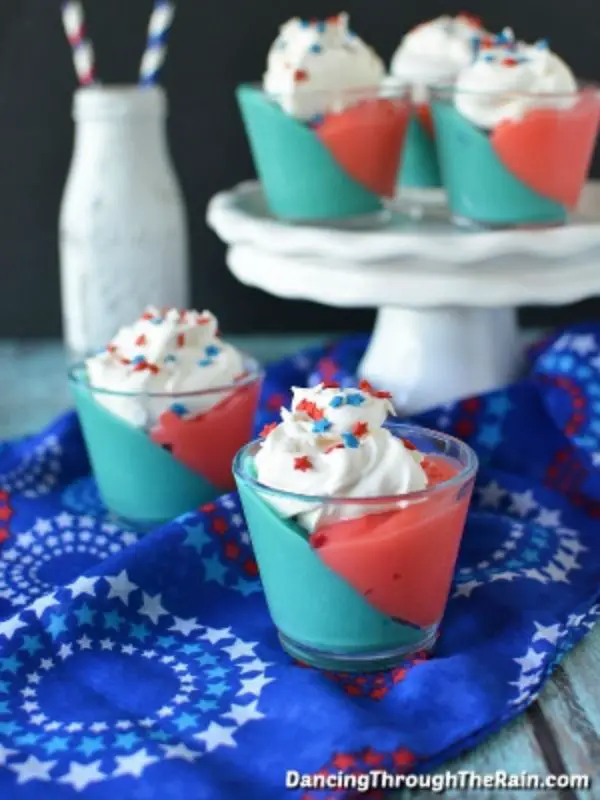 Desserts don't have to be difficult, and this layered pudding is a proved. You only need vanilla instant pudding, cold milk, whipped topping, star sprinkles, and red and blue gel colors to make these fun patriotic pudding cups. (Via Dancing Through The Rain)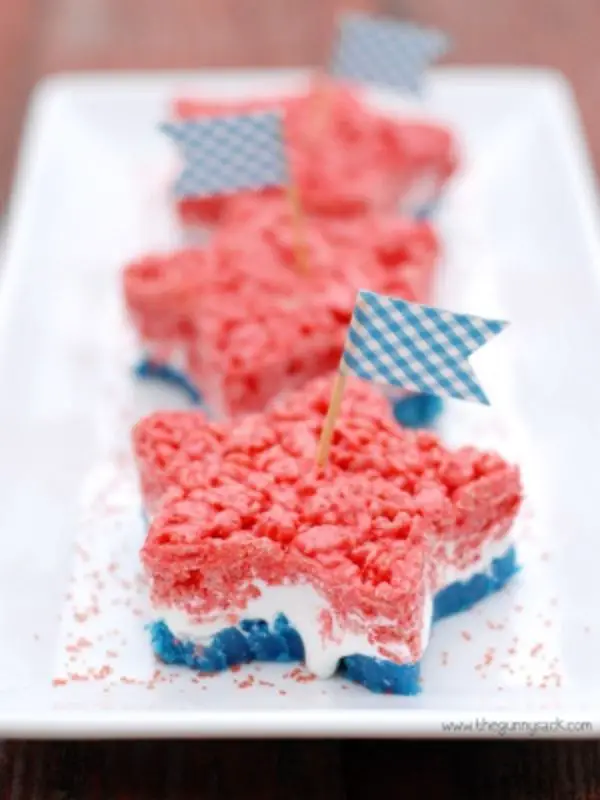 Blue cake mix with soft marshmallow cream in the middle and red Rice Krispie treats on top is what you get once you make these gooey red white and blue bars that are perfect for barbecue, picnic, and party treats. (Via The Gunny Sack)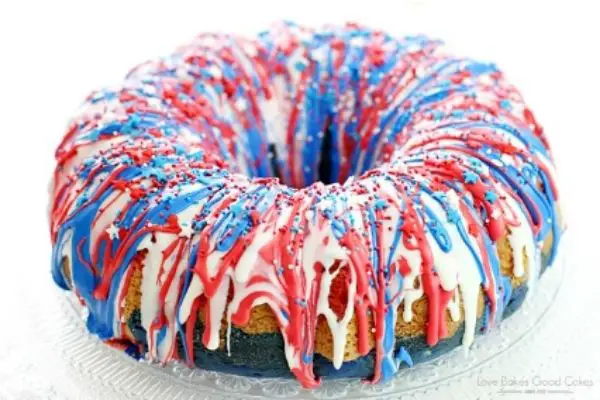 If you like to watch fireworks then you absolutely will love this firecracker cake. Just look how awesome the firecracker effect on this cake is. What a creative way to show your patriotism. (Via Love Bakes Good Cakes)
28. Red, White and Blue Cheesecake Bars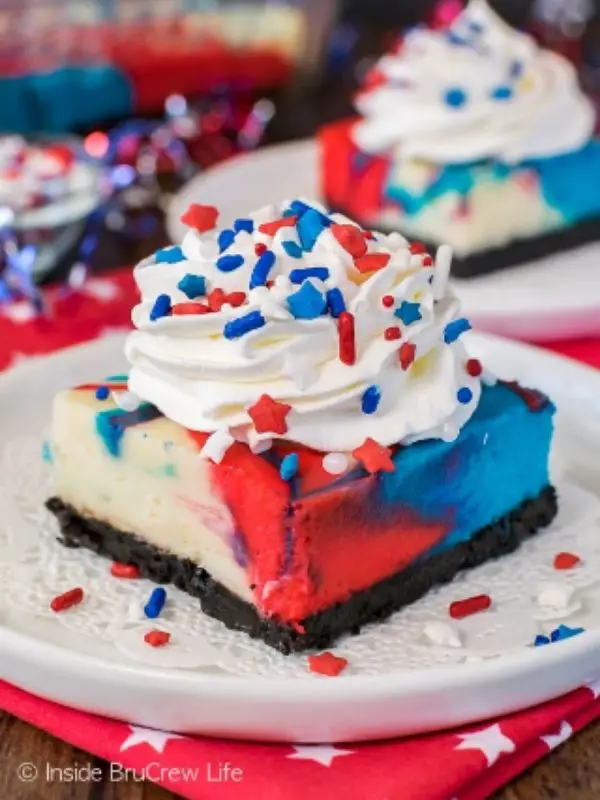 Brighten your 4th of July picnics with these super simple red white and blue cheesecake bars. With just Oreo cookie crust and vanilla cheesecake made from cream cheese, eggs, flour, sugar, sour cream, and gel food coloring, you will have this fun swirl of colors dessert. (Via Inside BruCrew Life)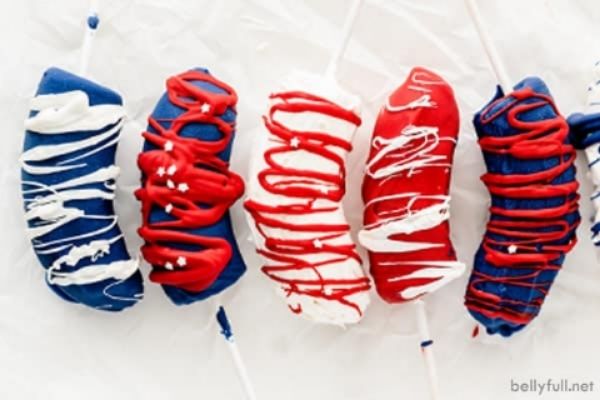 Maybe bananas are not you're favorite fruit, but why not try eating it in a different way like this frozen treat? I bet you will like it.
Bananas, red candy melts, white candy melts, royal blue candy melts, sprinkles, and lollipop sticks are ingredients that you need to make this recipe which is super simple. (Via Bellyfull)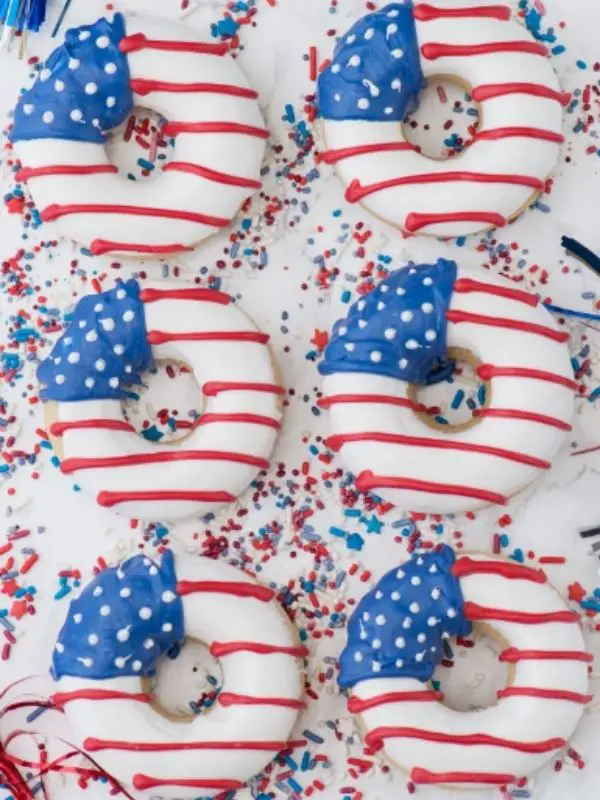 Oh donut lovers, I know you are so happy that I include this amazing and cutest donut so you don't need to eat that same classic vanilla donut again on your 4th of July gathering.
These donuts are so easy to decorate, you need red, white, and blue candy melts and then melt them. With a squeeze bottle fill the melted candy, the blue color to form the upper left hand corner of the flag, the red one to draw stripes, and lastly the white for dots on the blue section.
That's it, a patriotic dessert on a summer day to satisfy your sweet tooth! (Via The First Year)
Follow me on Pinterest for more recipe ideas!