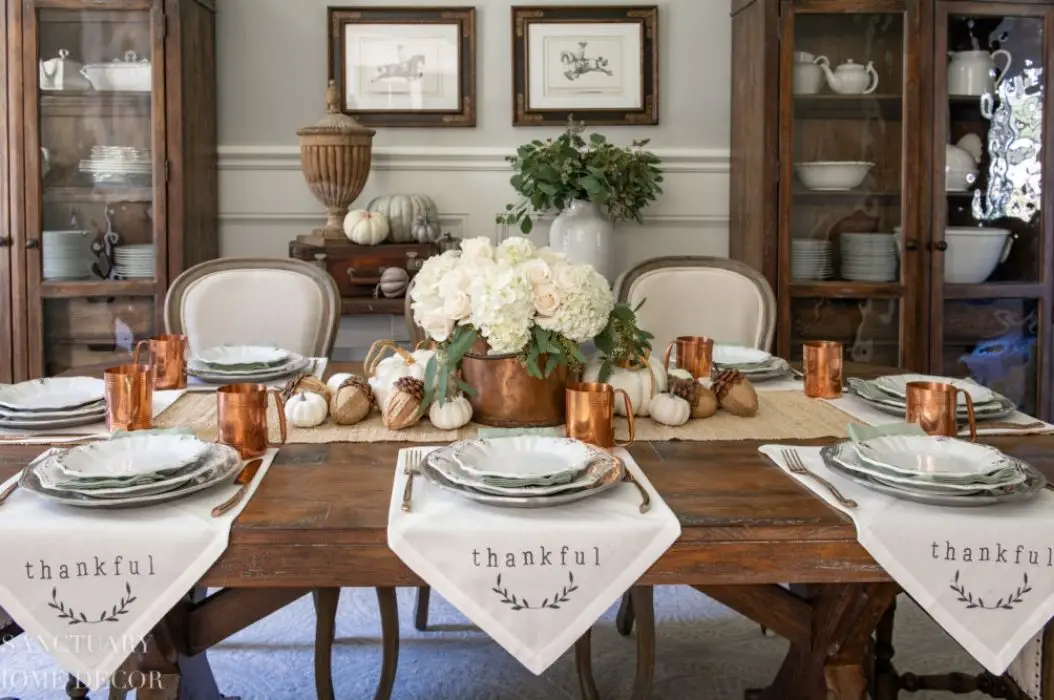 For many people, celebrating Thanksgiving means there's gonna be a feast. If this happens to you too, then you may already be thinking about Thanksgiving turkey, Thanksgiving side dishes, and also table decorations.
Thanksgiving table decorations don't have to be expensive. You can still create a simple and epic table decoration that is both easy and affordable. From rustic settings, glam accent, or whatever style you want, I've got the perfect thanksgiving table decorations for you.
So scroll down and elevate your Thanksgiving dinner table in an instant.
10 Stunning Thanksgiving Table Decorations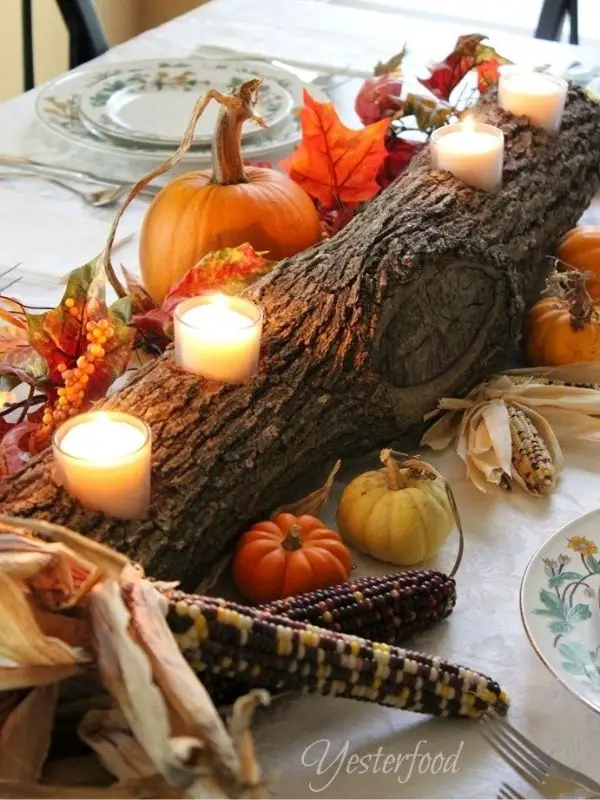 Found a fallen log but don't know what to do with it? This rustic log centerpiece is a perfect idea. Bring the right tools, drill the log, put the votive candles, and surround it with small pumpkins and leaves. You will be surprised how fabulous, simple, and elegant the log turned out to be! (Via Yesterfood)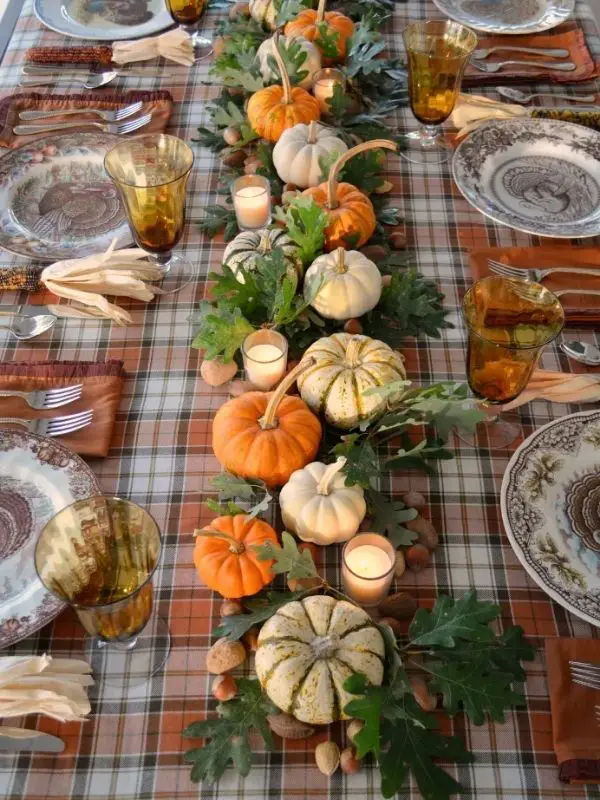 This table setting using oak leaves to create a natural leafy runner with scattered nuts, votives, and pumpkins that give natural centerpiece vibrant. And the plaid tablecloth really set the mood for Thanksgiving dinner. What a warm and pretty table setting! (Via Home is Where the Boat Is)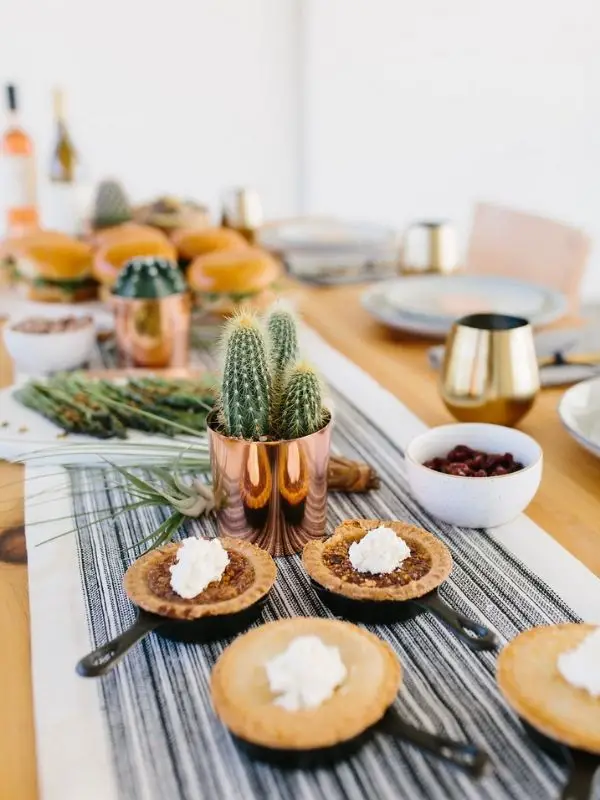 Instead of using seasonal centerpieces or beautiful flowers, you can set a different touch to your tabletop decors like these succulents and mini cacti that will bring minimalist vibes. And don't forget to put a matching table runner on. (Via The Effortless Chic)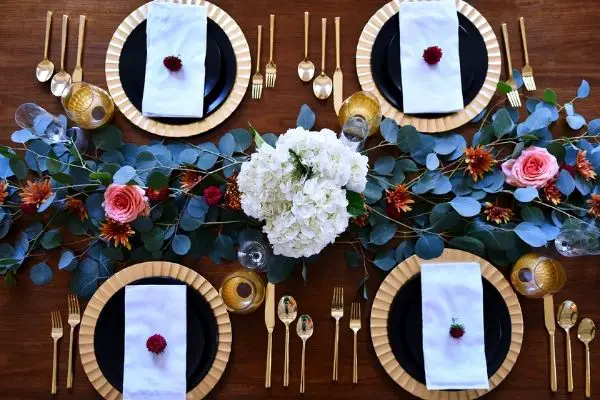 Black and gold details and a set of cool-tone greenery eucalyptus and pink roses with a white bouquet of the hydrangea centerpiece really make this table looks elegant and modern. An easy modern tablescape that will surely wow your guests. (Via Fashion Jackson)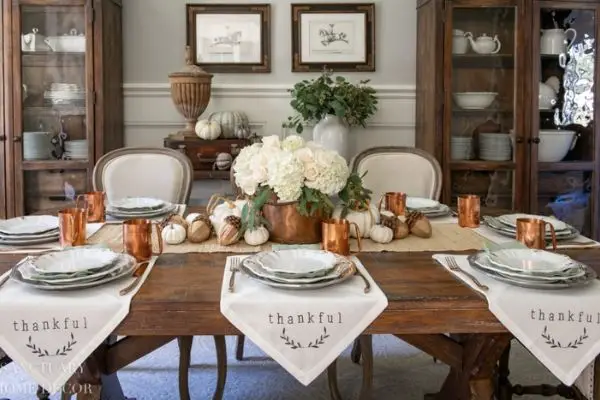 Dreaming of creating a traditional Thanksgiving table decor? You just need to fill your vintage copper bucket with a simple arrangement of cream roses, seeded eucalyptus, and white hydrangea, then put it on a natural-woven fiber table runner and add a few acorns and faux white pumpkins. (Via Sanctuary Home Decor)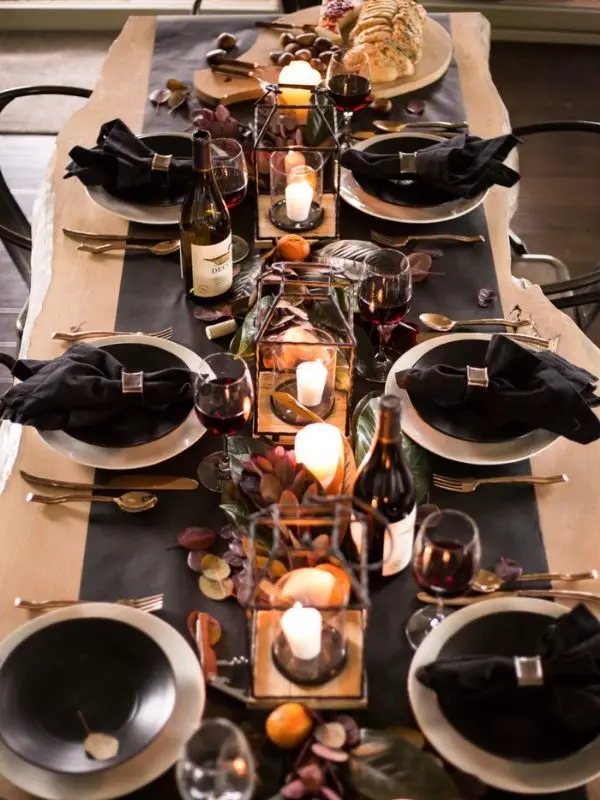 Bring more ambiance and elegance to your home with this dark table setting. Using basic and modern black and natural wood lanterns filled with white candles and the magnolia leaves mixed with a deep purple branch and pops of clementines brings more dark moody vibes. (Via Taryn Whiteaker)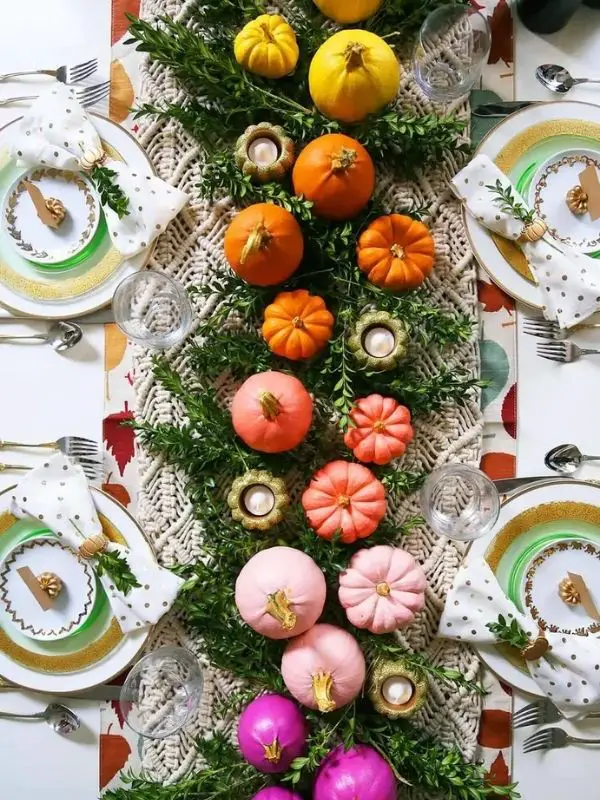 Want to set a colorful thanksgiving table but still look appropriate? This bright tablescape is perfect for you.  All you need to do is paint the pumpkins with acrylic paint and create an ombré look for the pumpkin or you can create your ombré style. Add some fresh leaves and a table runner to complete the table setting. (Via Pro Tool Guide)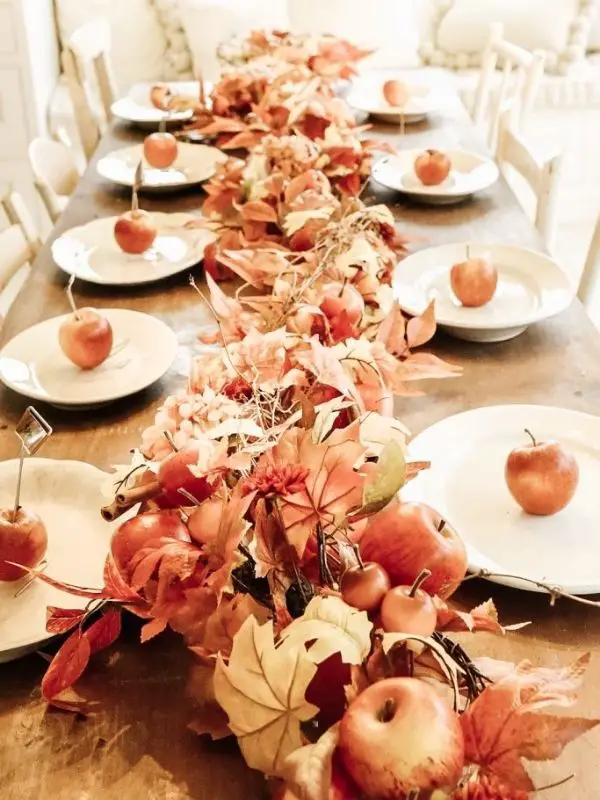 The garland that laying on the center of the table looks so simple and beautiful. With just using a simple garland, you can change your tablescape to cozy and casual farmhouse decor. And if you are bored with pumpkin decorations then this apple spice garland is a perfect option for your next tablescape. (Via Liz Marie)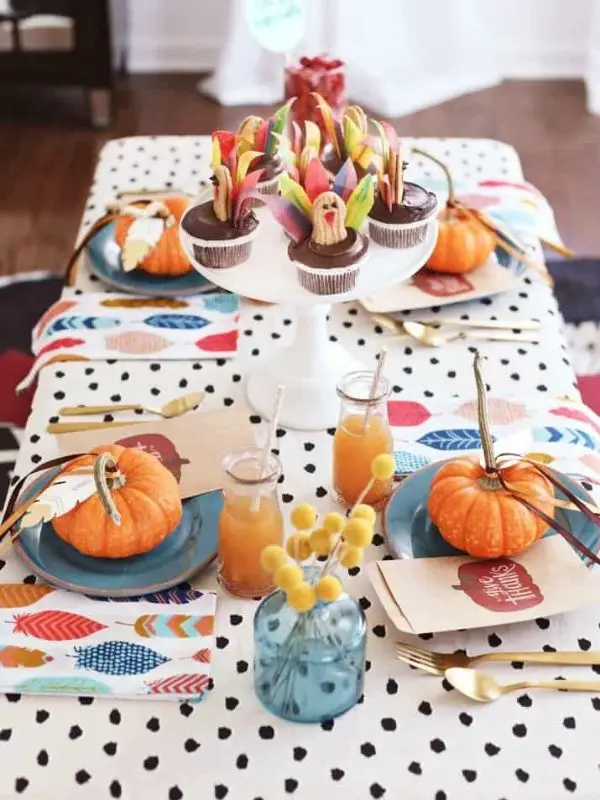 Your youngest guests deserve to have their own table too! And it's a great idea to separate kiddos at Thanksgiving, not just it allows the grown-ups to have an adult conversation but it makes the little ones feel special too. You can add some toys and other elements to make it more festive. Your kids definitely will love this colorful table setting. (Via Celebrations at Home)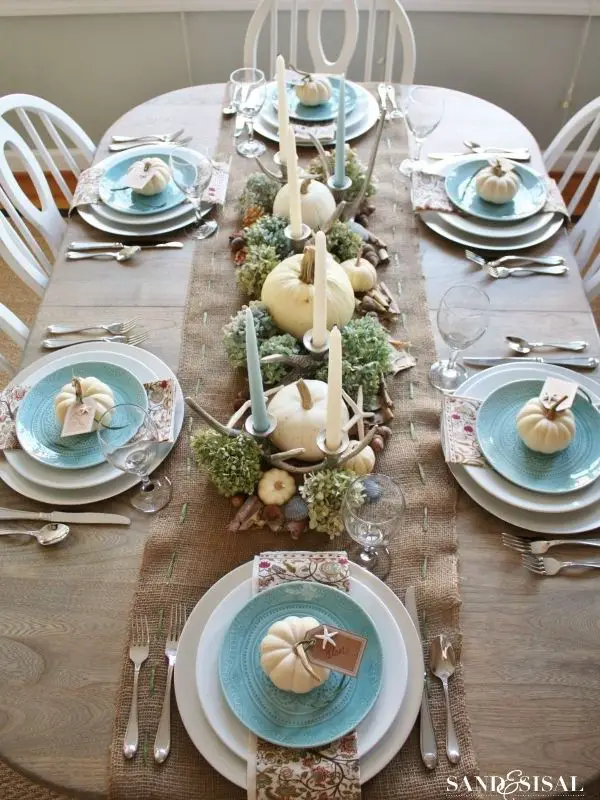 Inspired by the ocean's natural elements like starfish, scallop shells, clam, and watery blue candles, this table color scheme of ocean blue, white, brown, and a little green colors will make you feel like you're celebrating Thanksgiving at the beach. (Via Sand & Sisal)
If you love this post, be sure to follow me on Pinterest to get more ideas! Happy Thanksgiving!