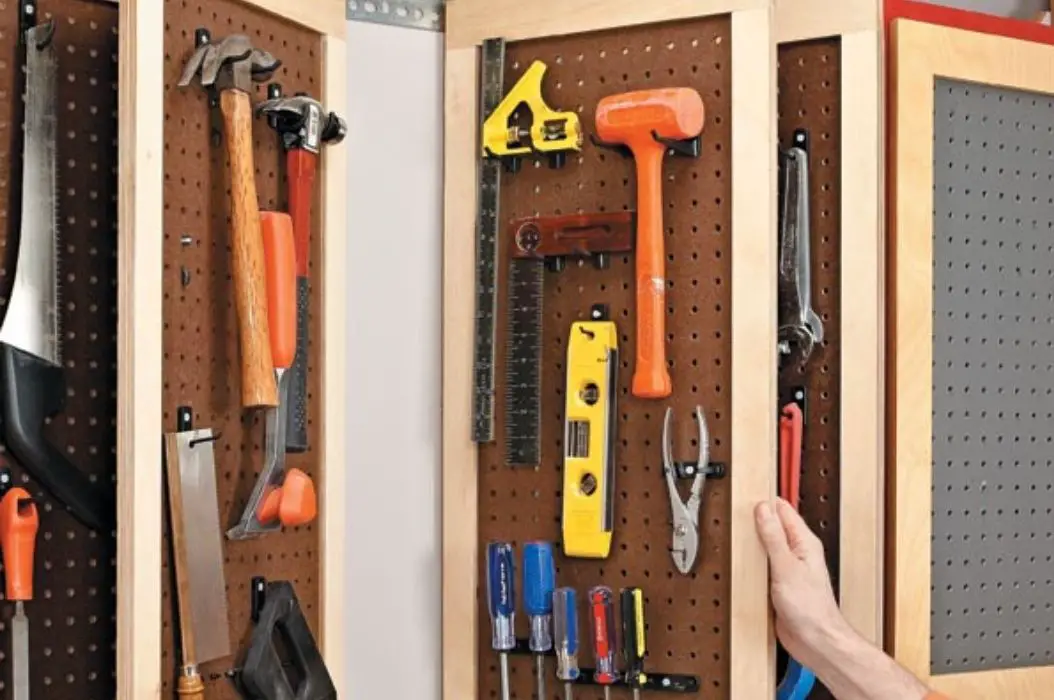 It a common thing for us to dump something that doesn't fit into the house to the garage and then we realize that there's not much room left in the garage to park our car. Or maybe you're looking for something in your garage but can't find it because it's so disorganized?
Intentional or not, your garage often becomes a dumping ground.  If this happens to you and your garage needs an overhaul, these DIY organization ideas will give you tricks to help you save some space.
So, get organized with these brilliant garage organization and storage ideas!
14 Brilliant Garage Organization Ideas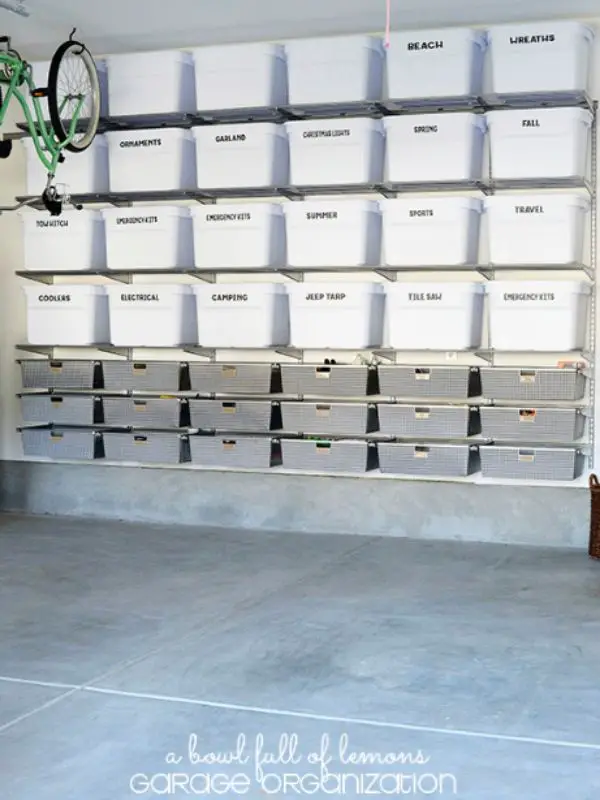 If you have a lot of stuff and want to keep everything off the floor, then a shelving system is the solution. You will need containers, labels, drawers, and shelving to have this system.
But how if you're on a budget? You can use cardboard boxes as containers and name them with white label stickers, bracket system for shelving or you can scour Craigslist for shelving units for cheap. (Via A Bowl Full Of Lemons)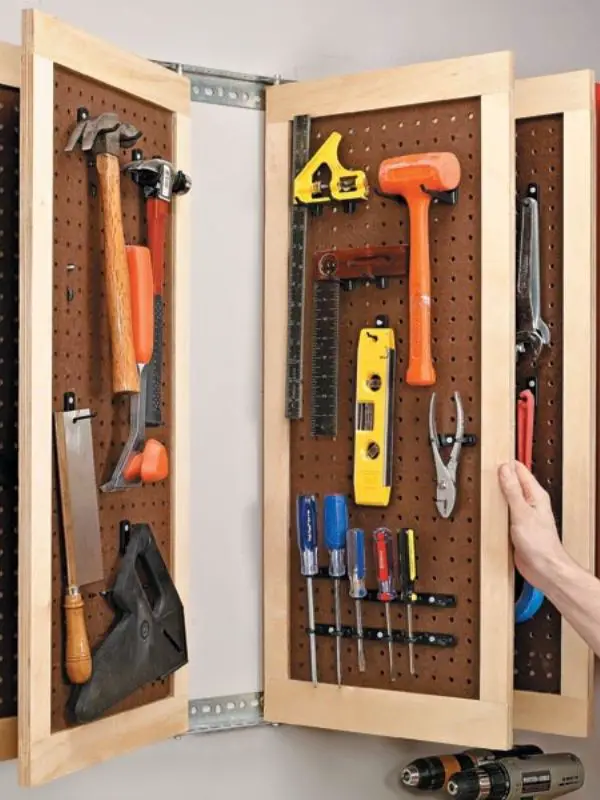 Don't have enough wall space to hang your tools? This multipanel pegboard made of Plywood, slotted angles and metal pins is all you need where you can store your tools on both sides of the panel. You can add a label on both sides of the panel to make it easier to search for some tools. (Via Woodsmith)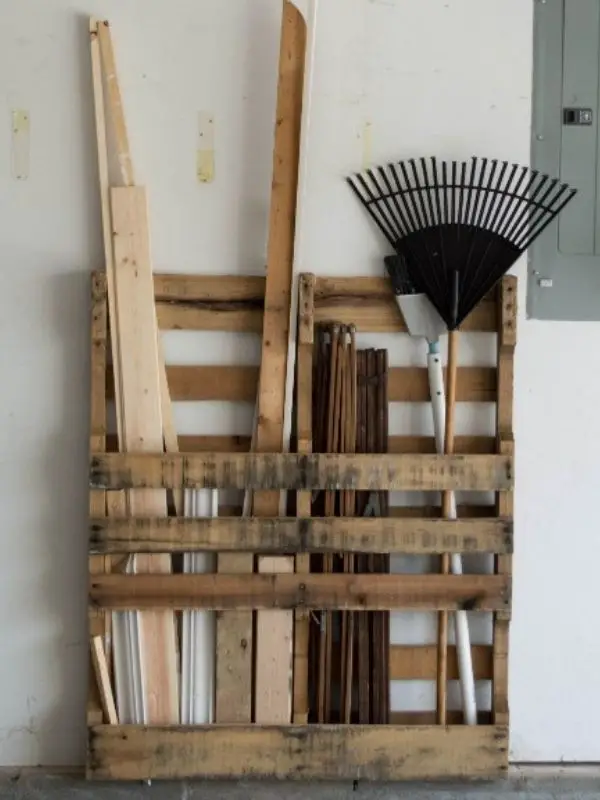 Have old pallets or plywoods that sitting in your garage? Well, It's time to use them and turn them into a useful garage organization where you can put things like rakes, brooms, bats, and more! (Via Unexpected Elegance)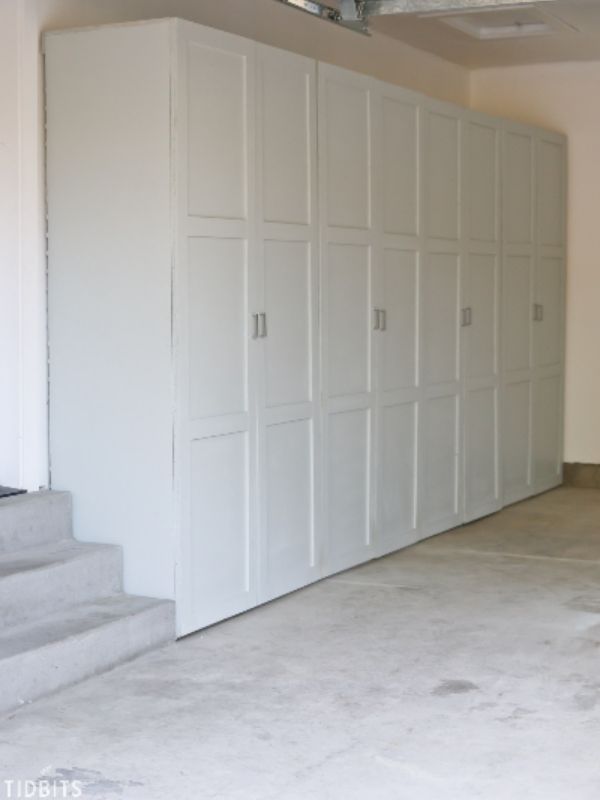 Have a lot of free time and you seriously want to take back control of your garage? These storage cabinets are your perfect solution.  You can put a lot of your stuff from garden equipment, outdoor toys, auto supplies, bulky stuff, household supplies and many more!
If you're not a handy person, you can find someone to make and install this for you with this plan and even modified it to your needs. (Via Tidbits)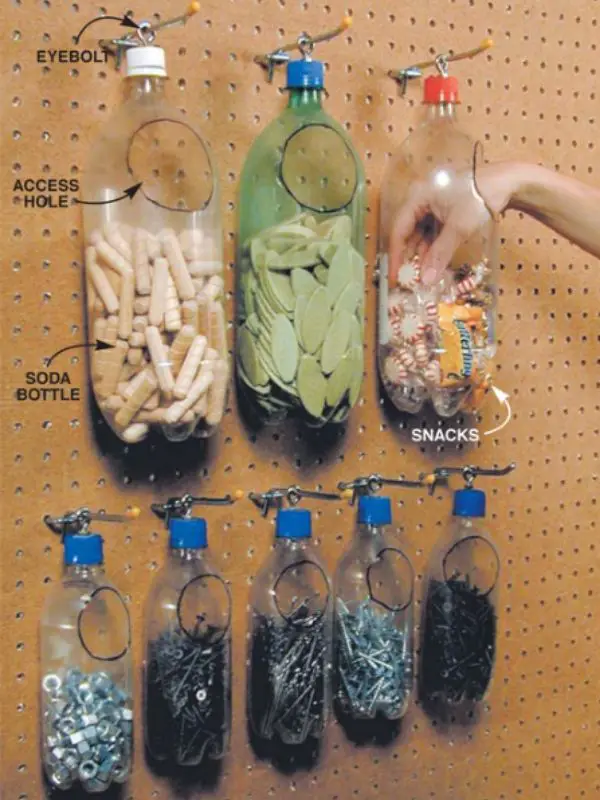 Did you know that you can store all of your screws, plugs, and other small kinds of stuff in a plastic soda bottle? Yup, you just need eyebolts and plastic soda bottles. A cheap, easy idea to keep small things organized! (Via Popular Woodworking)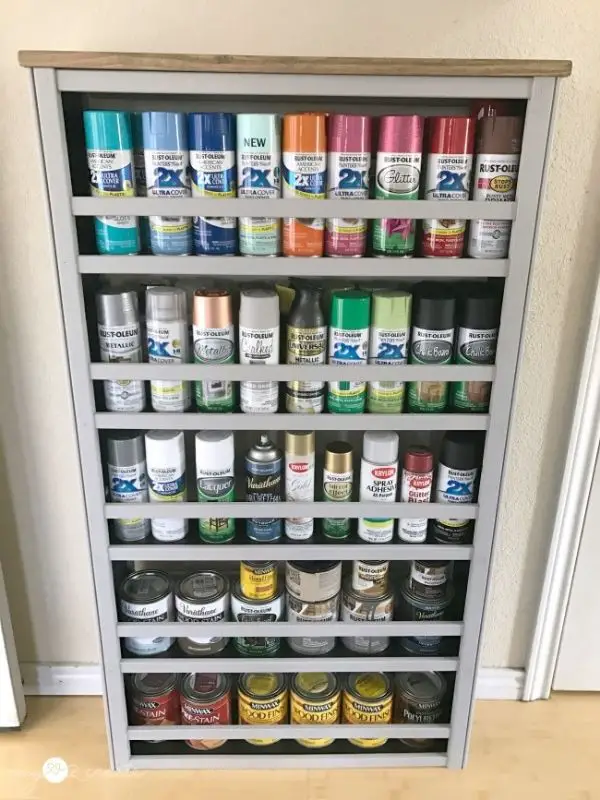 Don't know what to do with that old crib? You can repurpose it into this shelf. Old crib, woods, wood glue, pocket hole screws, spray paint and wood paint are the materials that you need to make this project. Now you have a place to store all your paints. (Via My Love 2 Create)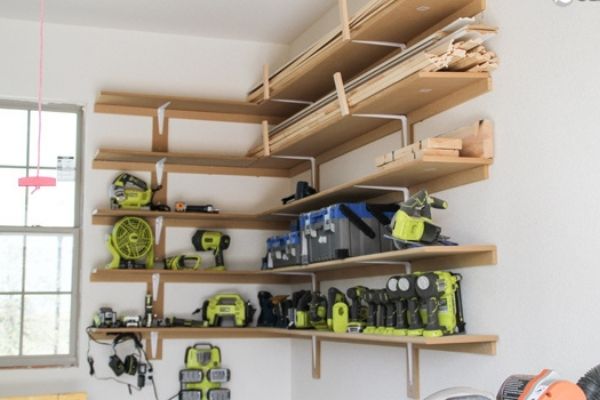 If you're looking for practical shelves to put your tools on, this inexpensive and easy DIY is a perfect project. Materials that you need to make these shelves are wood screws, wood glue, studs, brackets, and wood. That's it! Really easy project to get everything organized! (Via Shanty 2 Chic)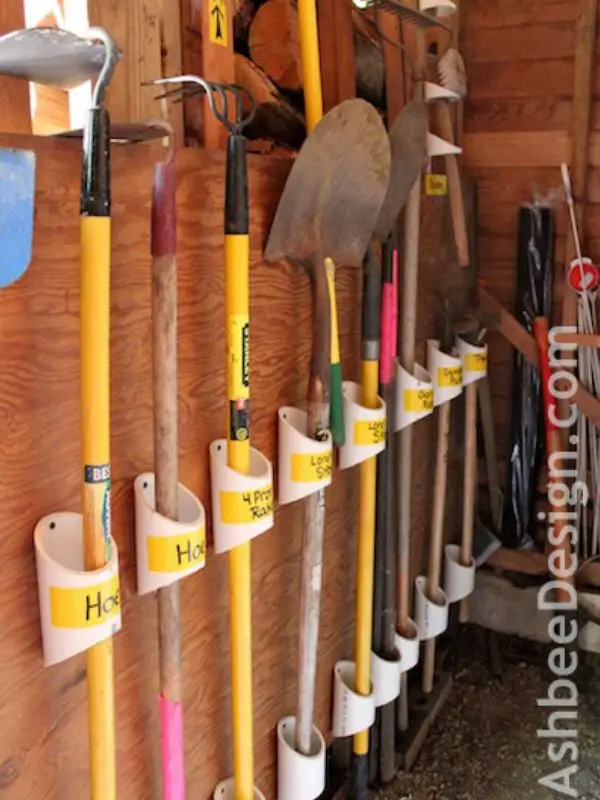 If you're like me then you probably just put all of your garden tools in a bucket or just shove them onto the wall, and that's really practical until it's hard to find tools anymore. Luckily, this easy project will help you keep your gardening tools organized with just simple materials! (Via Ashbee Design)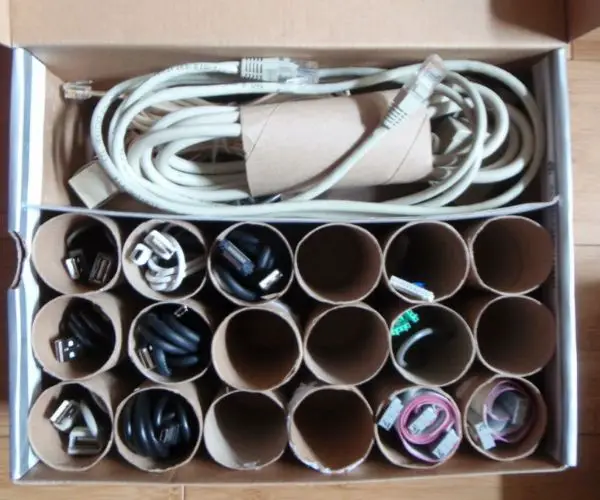 It's not something shocking anymore that we live in a world full of technology. So of course there must be cords laying around in your house. Maybe you have a lot of cable from old computers? or wifi cable? handphones? Whatever it is, these paper toilet rolls and a shoe box can solve that problem! (Via Instructables)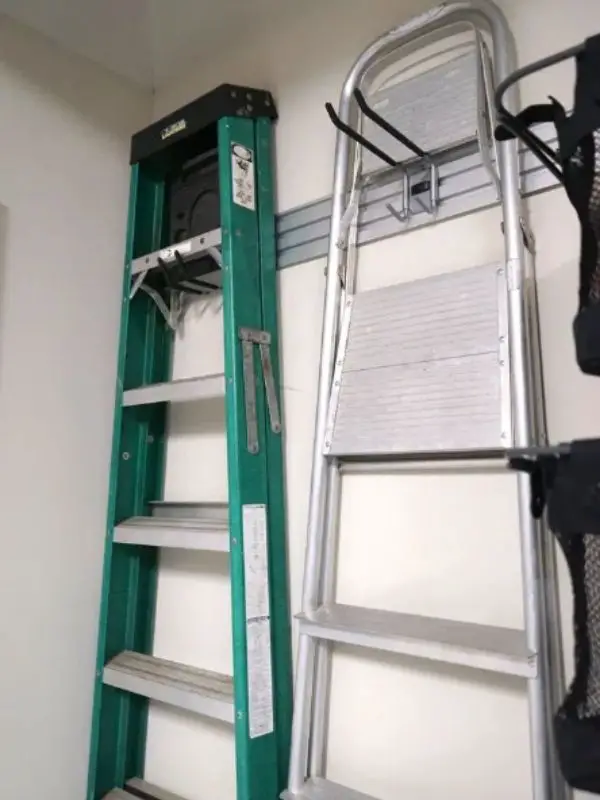 Instead of leaning the ladders against the wall in a corner, try to use wall hooks to hang your ladder. It's much more secure so you don't need to worry they will fall back. (Via Kuzak's Closet)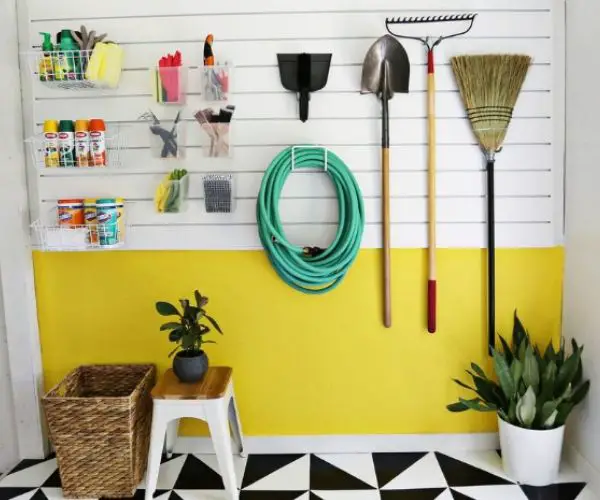 Organizing your garage doesn't have to be boring! You can brighten up your garage by painting a fun color or with bold color and also infused some of your personality. So it will feel like a more fun project than a hard chore that you need to tackle. (Via A Beautiful Mess)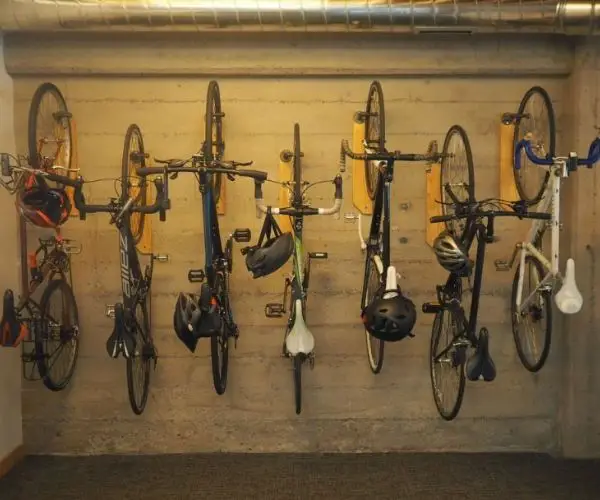 Pipe fittings, reclaimed wood and scrap rubber innertube are materials that you need to make this brilliant bike storage. You can use galvanized pipes or clear coating the pipes to prevent rust. (Via Instructables)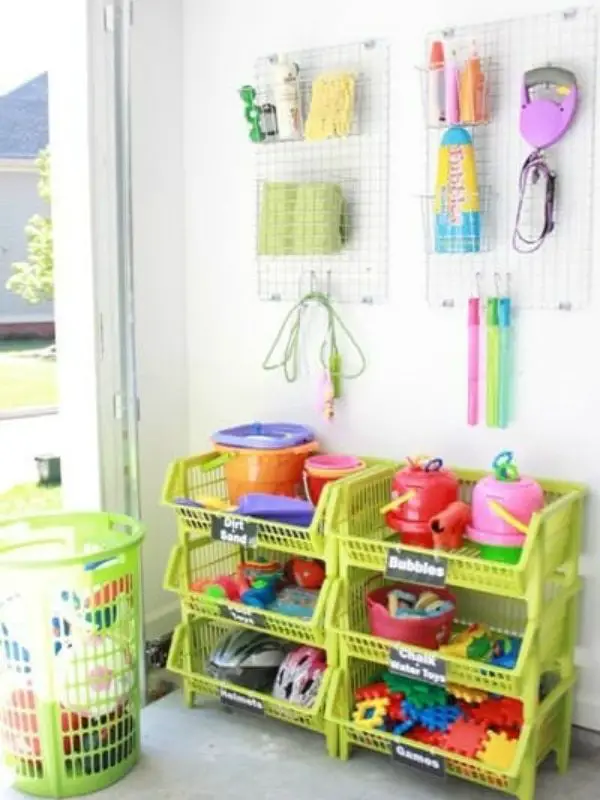 If you have young children, then there might be a lot of toys in your house so it's a must to have toys storage. But how do get them to organize their toys after they use them? The answer is this easy storage system. With this system, you can train your kids' independence in using their toys and learn tidy habits. (Via Organizing Junkie)
Want more ideas about toys organizing? Check out this post – 14 Easy DIY Toy Storage Ideas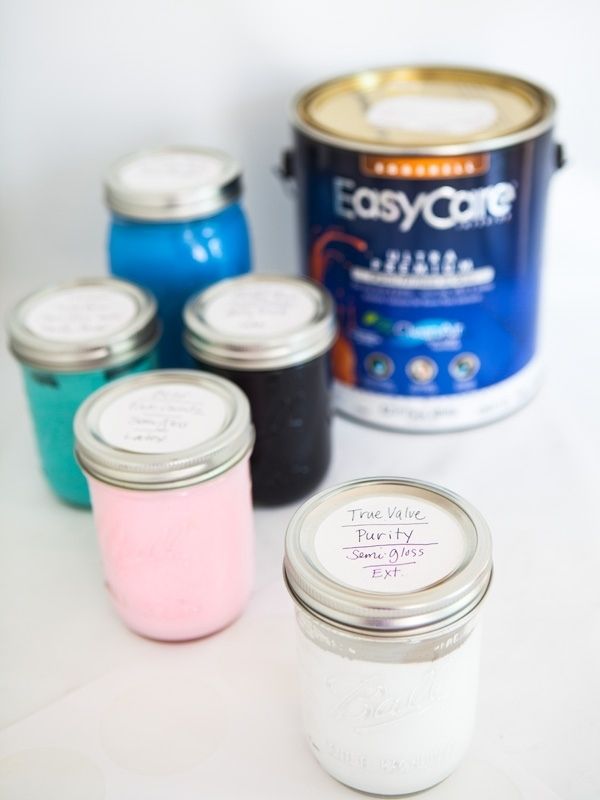 Have a few cans of paint that sitting in your garage? Then it's time for a major cleanout. Canning jars and round labels are materials that you will need for this project.  Now you don't need to keep the gallon paint cans anymore. (Via True Value)