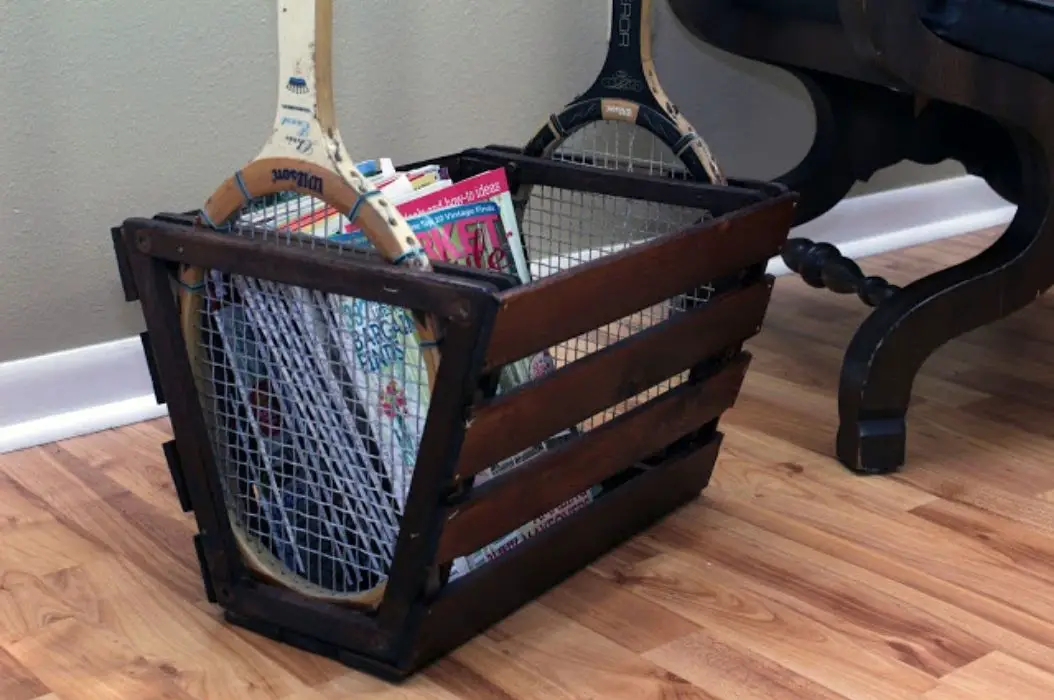 Sometimes we don't know what to do with our old unused stuff and so it ends up lying around in our home, garage, or in the trash.
The thing is that broken stuff that you want to throw away can be transformed into something functional and even some make a stunning décor. All you need is a little inspiration to turn your old unused stuff into a useful thing.
Here are some fantastic DIY ideas for your old unused stuff I have gathered that will surely delight you.
30 Things to Create From Old Unused Stuff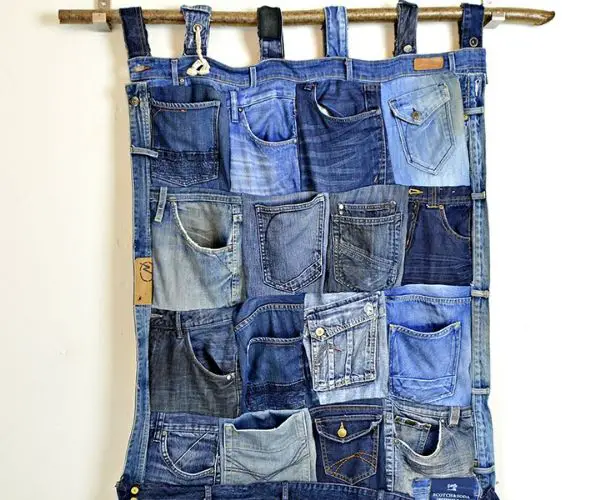 Need a handy storage organizer where you can store your favorite little things? This cool denim pocket is what you need. With just scissors, thread, pins, a sewing machine and lots of old jeans, you can make this handy pocket wall organizer. The best thing is the wooden branch that complements the rustic look of this organizer. (Via Pillar Box Blue)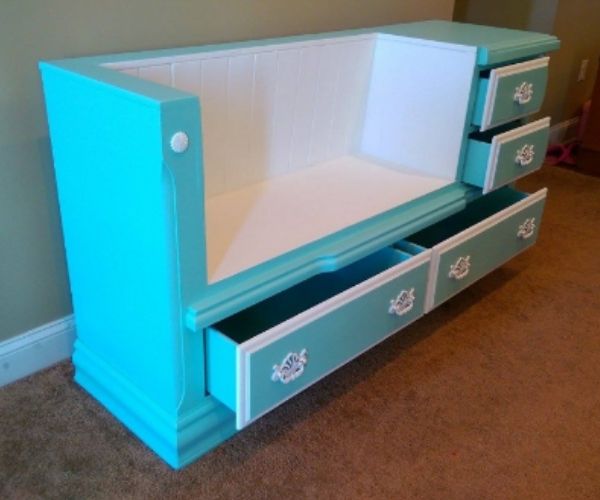 Have an old dresser that just sitting in your house? You can turn them into this awesome bench. Chalk paint, nail gun, circular saw, wax, dresser are materials that you need. This DIY is easier than you would think. (Via Grillo Designs)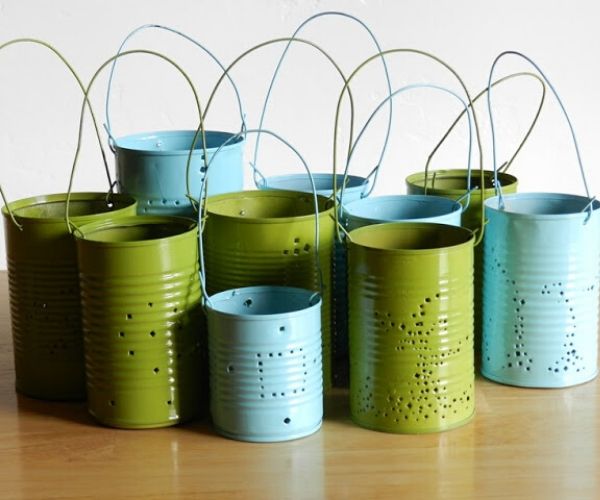 Do you need some color out in the backyard or want some decoration for the garden? Then you need to give these little cute cans a try. This project also great if you want romantic decoration for your porch or balcony! (Via Elise Engh Studio)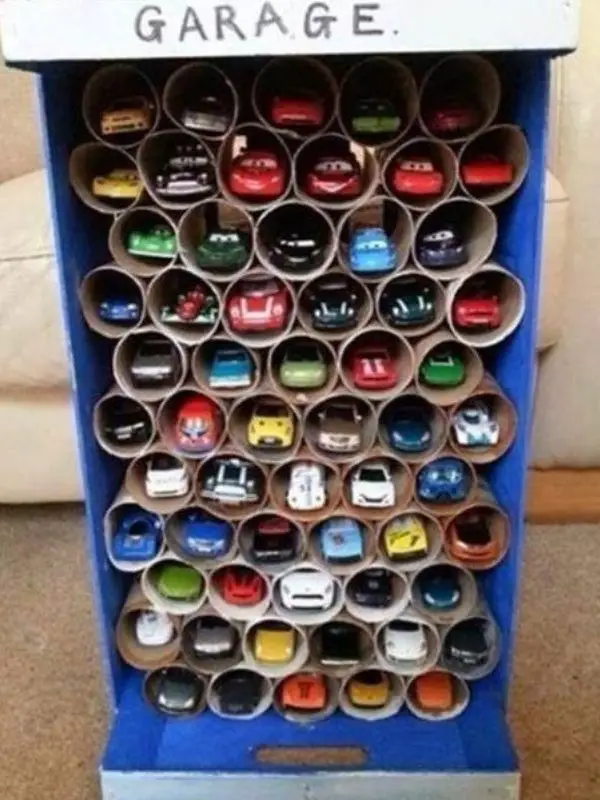 Have some toilet paper rolls lying around? Now you don't have to throw them in the trash bin because there's an effective way to use them to make this cool garage.
This project is a win-win solution because you can recycle your shoebox and toilet paper rolls and at the same time have a place to store toy cars.  No need to worry to have your boy toy cars scattered around the house anymore! (Via The Boys Store Blog)
Love this awesome idea? You probably will love this 14 Easy DIY Toy Storage Ideas post too!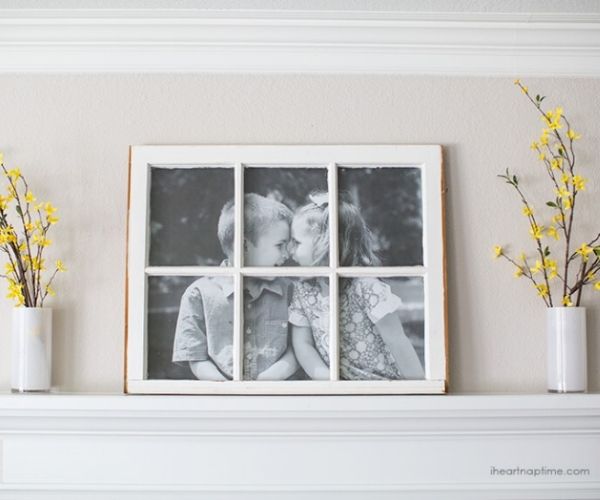 Who says that you need a new picture frame to display your favorite photo? If you have some old windows, then you can use them as picture frames. Not just this project is so easy and inexpensive, it also adds rustic decor to your home.  (Via The Inspiration Board)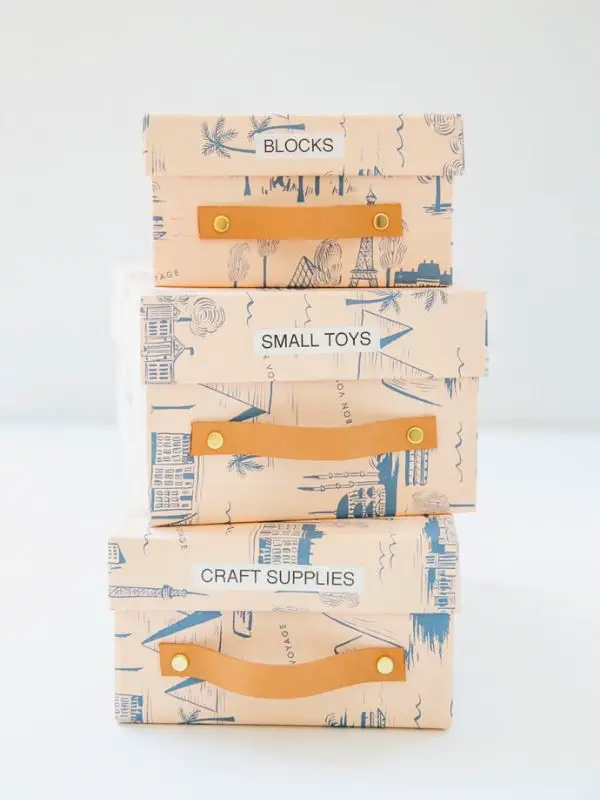 Made with shoe boxes, decorative paper, glue sticks, metal brads, leather straps, scissors and a label maker, these super easy, budget-friendly boxes are sure to help to keep your floors and desks clear from those pesky pileups. (Via Handmade Charlotte)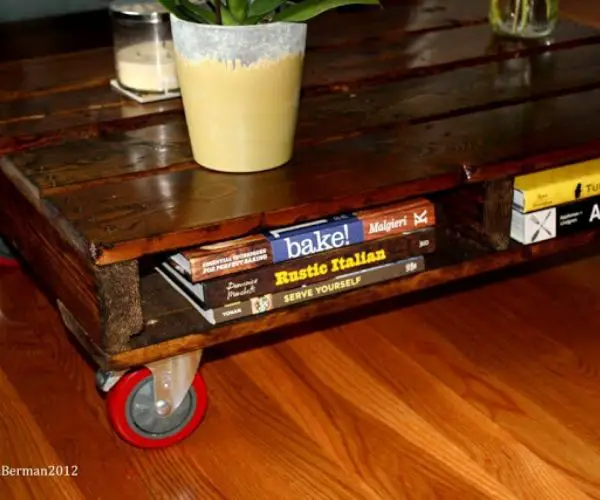 Have a bunch of pallets but don't know what to do with them? You can make this amazing coffee table. All you need to do is sand and stain the pallet then attach the wheels. (Via Mango & Tomato)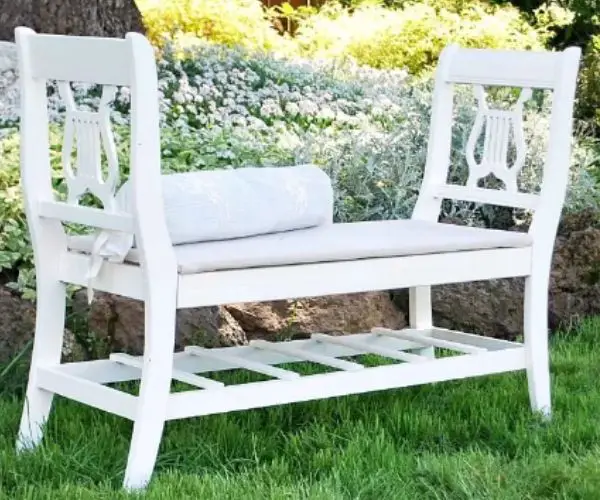 Did you know that your broken chairs can be turned into a stunning bench? With a few basic tools and old chairs, you can create a classic French-style bench. Now you know what to do with that broken chairs. (Via An Oregon Cottage)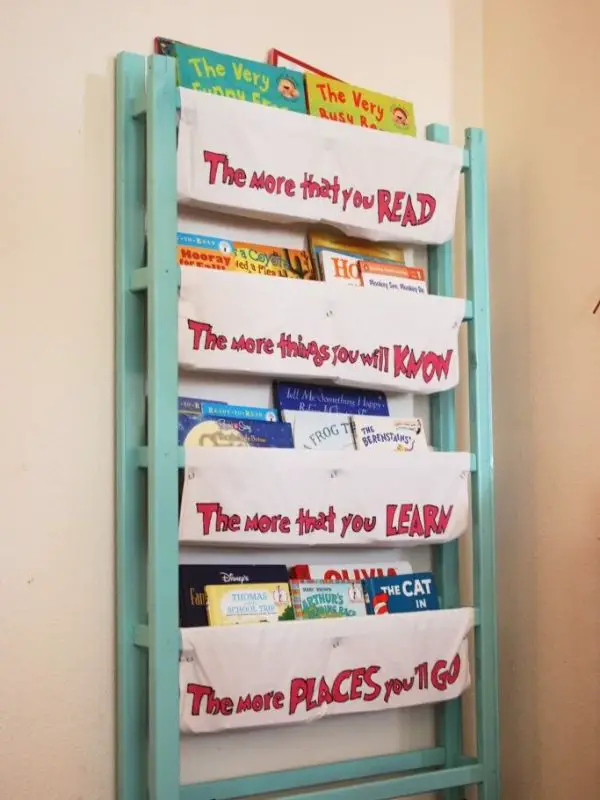 Want to create a bookshelf for your kids? Well, why not use their old crib. Using the front and back panels of the crib and pillow cases for the sling, you can make this creative project. Have a favorite quote about books and reading? don't forget to write it down onto the pillow cases. (Via DIY Home Sweet Home)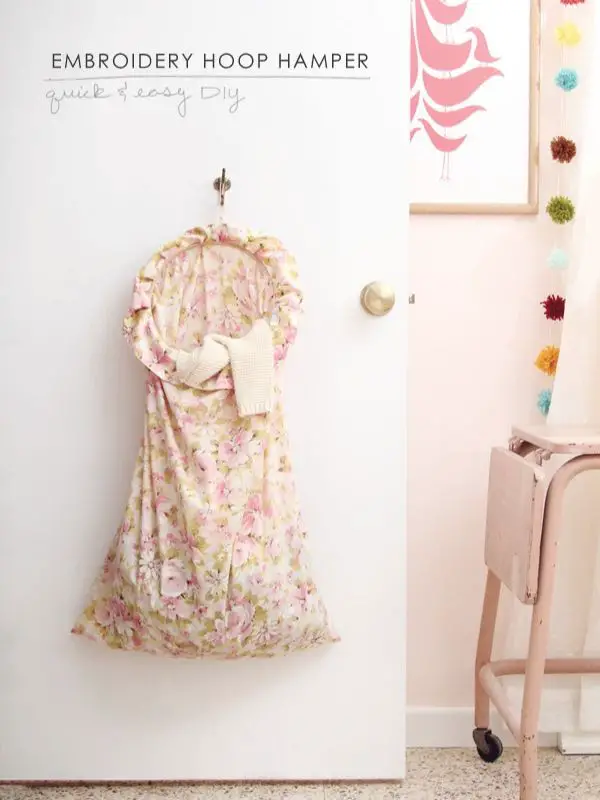 Do you live in a dorm or in a small apartment so you don't have much floor space to put a hamper? Well, wonder no more! This easy hanging laundry bag is your ultimate solution. You can use an old pillowcase or even your old oversized shirt. (Via Making Nice In The Midwest)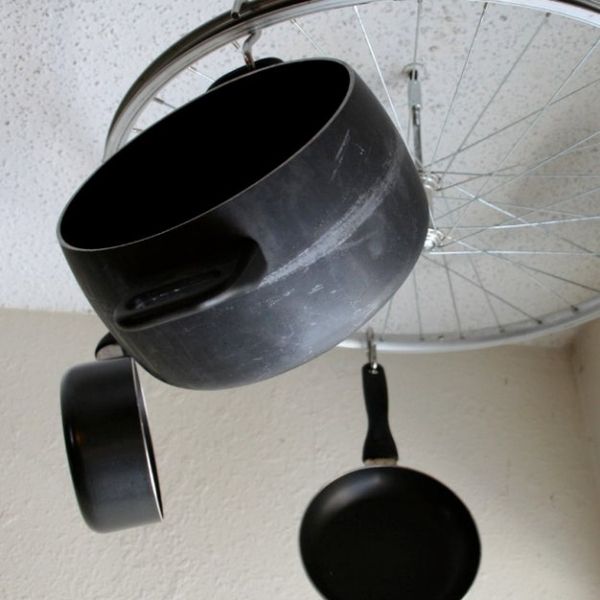 Sometimes you have to be a little creative to solve your small space problem, especially if you live in a small apartment and don't have a place to organize your pans and pots. Luckily, this awesome DIY is perfect if you need a little more space in the kitchen. (Via Instructables)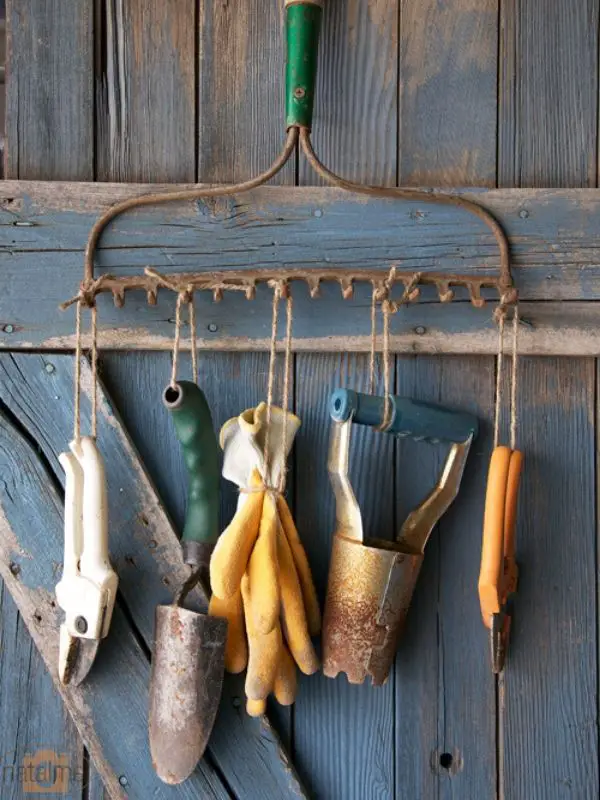 Hang your garden tools where you can see them with your old garden rake. (Via Natalme)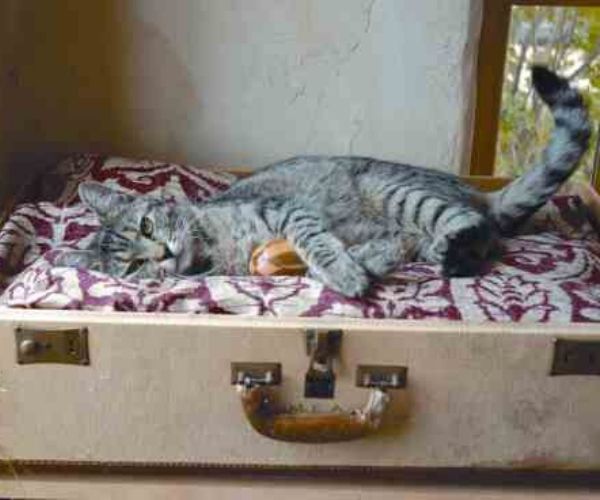 Have an old suitcase that you don't use anymore? Give your cat a unique gift by turning your old suitcase into a comfortable bed that is perfect for your lovely pet. (Via Mother Earth Living)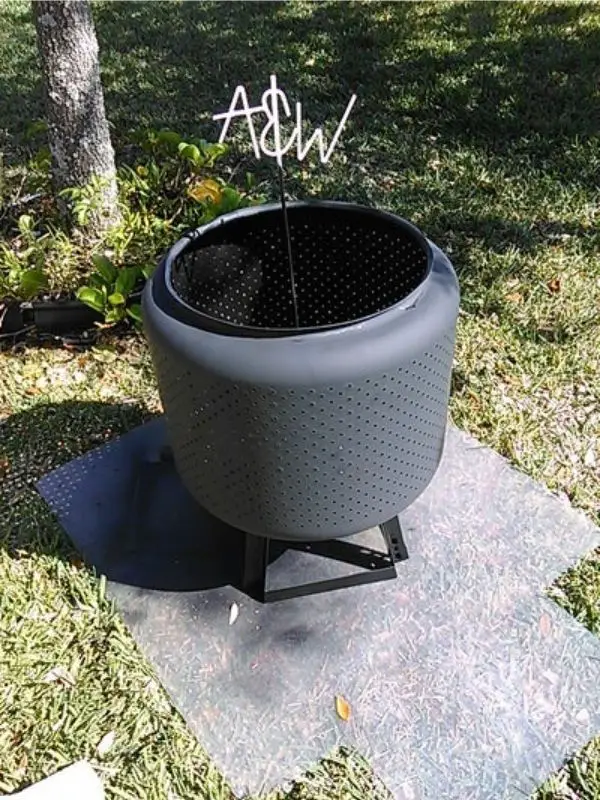 If you have an old washing machine then you can make this awesome project. Steel rod, flat bars, high heat black and white spray paints and an old drum from the washing machine are materials that you need to light up your patio. (Via Instructables)
Check out this post for more great backyard fire pit ideas – 20 Best DIY Fire Pit Ideas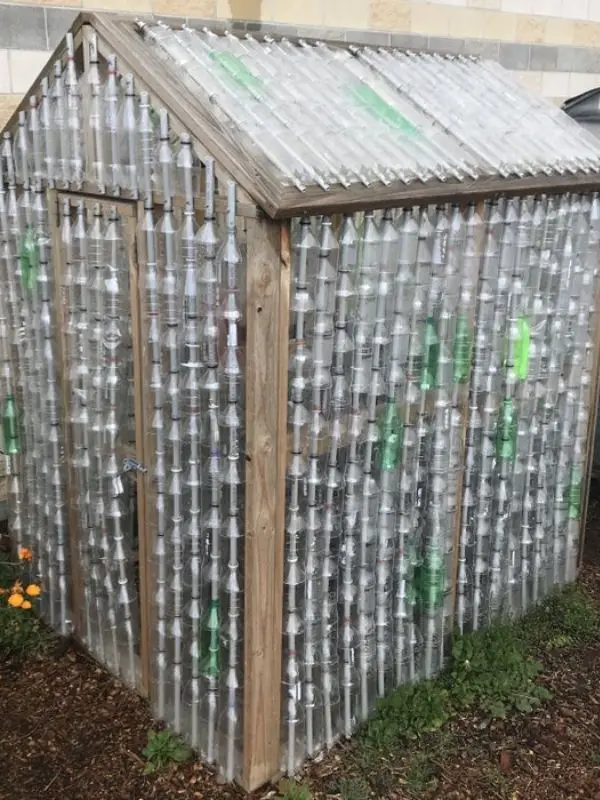 Are you live in a cold area and want to have a hot house but don't want to waste money on an expensive glass hothouse? Or want to do something to help the environment? Then this project is for you! All you need is some timber for a frame and some bottles. A great project for those who like to drinks a lot of bottled water! (Via Instructables)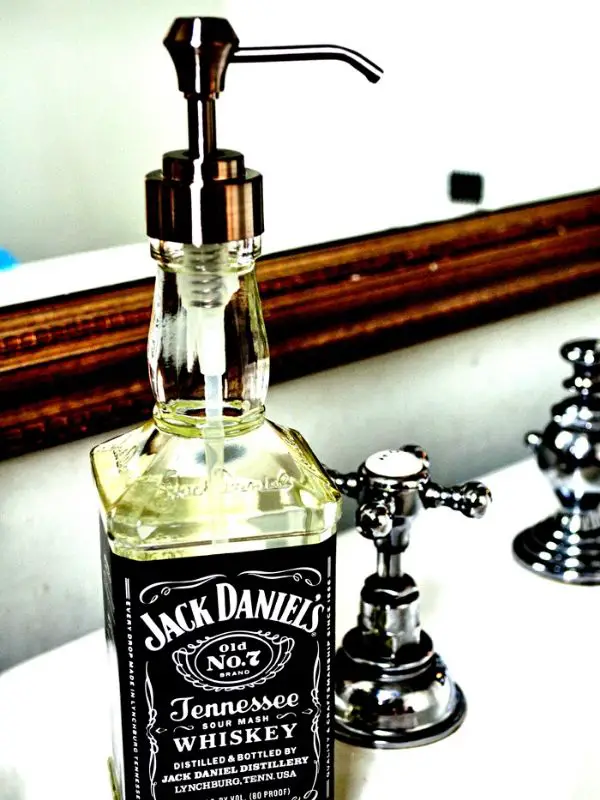 Take your empty liquor bottle and make this cool project that sure will make your kitchen or bathroom look amazing. This idea also makes a genius gift idea for your friends or family!. (Via Curly Birds)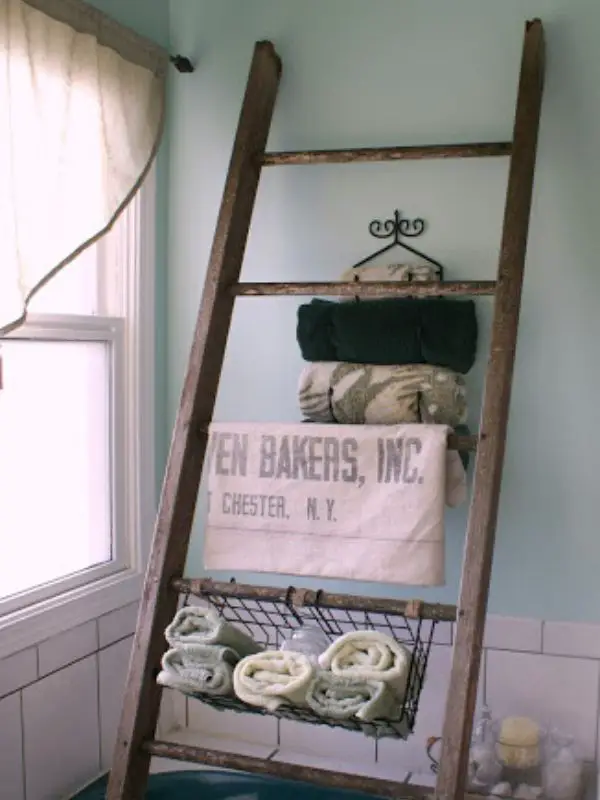 Instead of just let that ladder sitting in your garage,  you take it out and repurpose it into bath storage where you can store your towels. (Via Our Hopeful Home)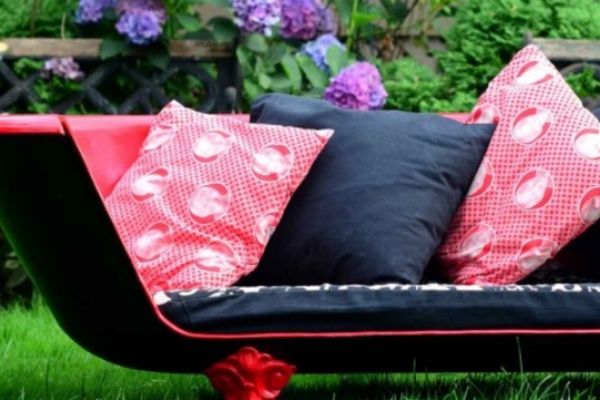 Did you just removed your old bathtub and don't know what to do other than to throw it? But actually, you can transform that old bathtub into a couch. Yup, you absolutely can make this couch from an old bathtub. Don't believe me? Check this great post. (Via Greenmoxie)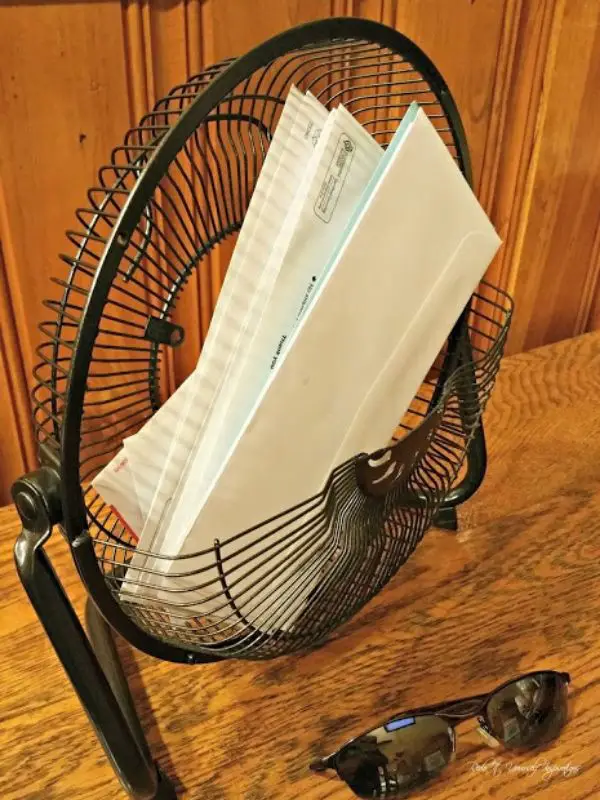 Have that cute little fan that used to give you cool air so you didn't sweat during the night's sleep before the motor burned out? Well, you can turn it into this functional industrial mail holder so you have a place to put all your bills and mails. (Via Redo It Yourself Inspirations)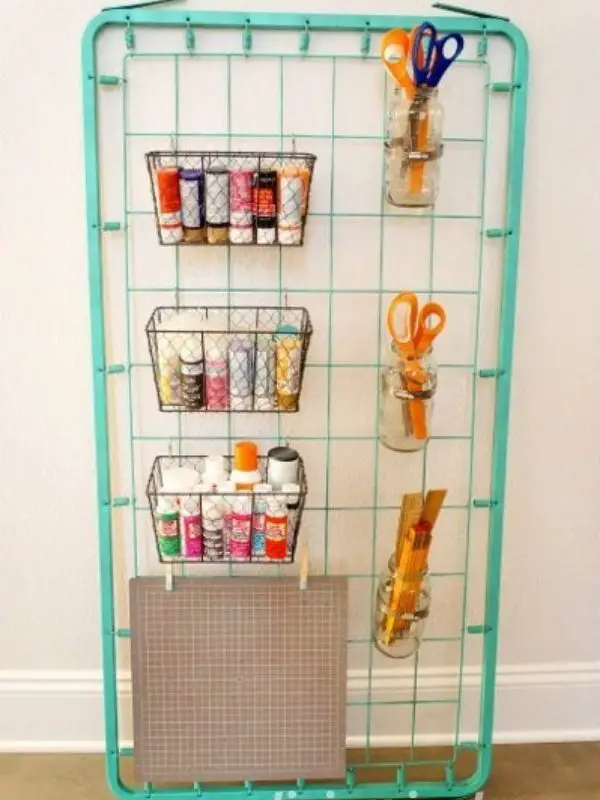 Your kids outgrew their toddler bed and you happen don't have a lot of space for your stuff? You can repurpose their bed spring. Wire baskets, s hooks, spray paint, pipe clamps, twine, mason jars, and bed spring are the materials that you will need to make this project. (Via DIY Inspired)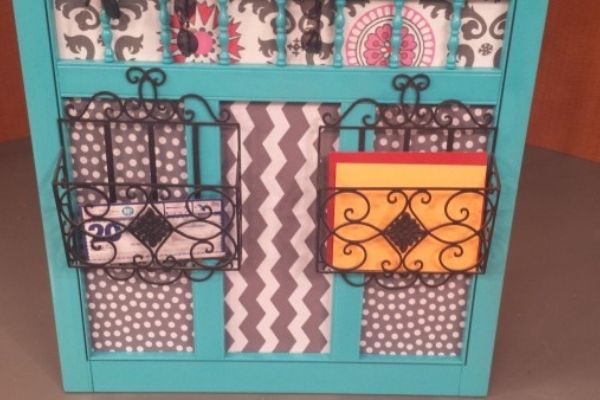 If you want to repurpose your screen door and want to have some type of command center to put your keys, bills, papers, sunglasses and still have space to put a bulletin board and chalkboard, then this DIY idea is perfect for you. (Via Diva of DIY)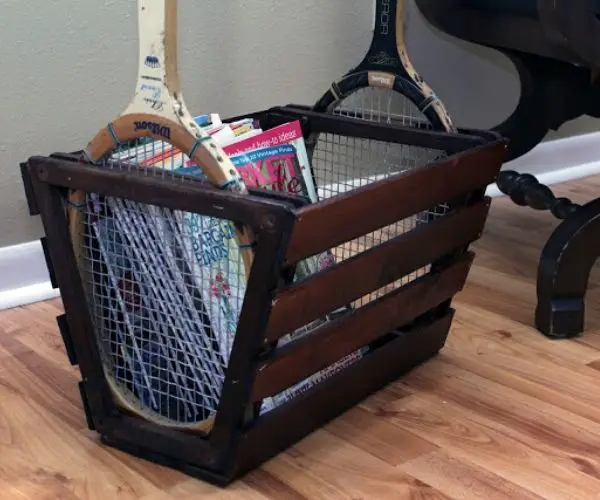 Have two broken tennis rackets with brackets and one wooden crate, then you certainly can make this magazine rack. This project is great if you want to make your room more sporty! (Via Salvaged Spaces)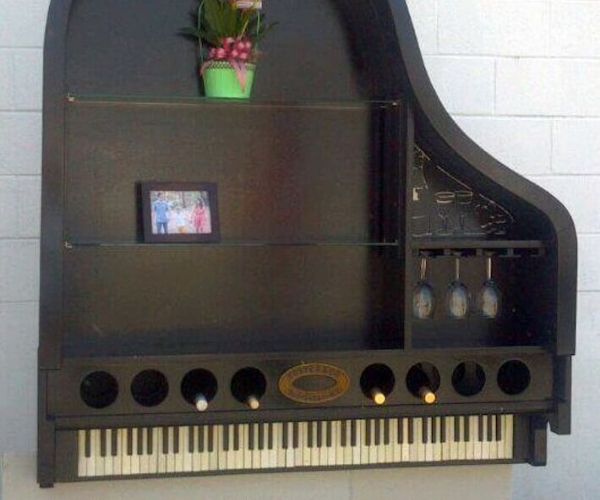 Have unused piano that's too expensive to repair? You can transform your old piano into this awesome bookcase and wine rack. A great way to have a piece of art in your house. (Via Home Jelly)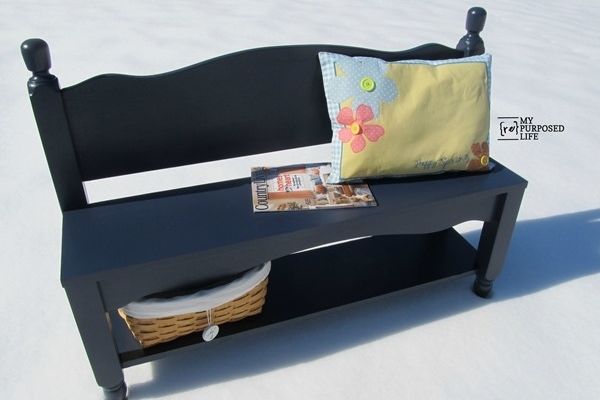 Transform your old twin bunk bed headboards that used to be in your room and turn them into this beautiful bench and storage. The shelf on the bottom serves so many purposes. Perfect for a front entry or a mud room. (Via My Repurposed Life)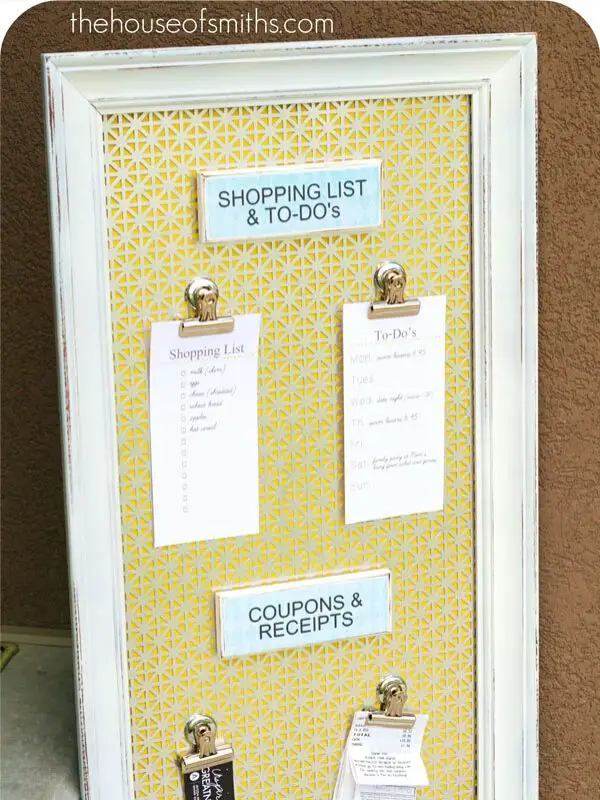 Another old unused stuff that you can DIY. With just a large frame and a large piece of magnetic metal, you can keep track of all of those important papers like coupons, bills, and shopping lists in such an easy and stylish way.
Hang on the inside of the pantry door, this project is also great if you don't have enough wall space in your kitchen! (Via The House of Smiths)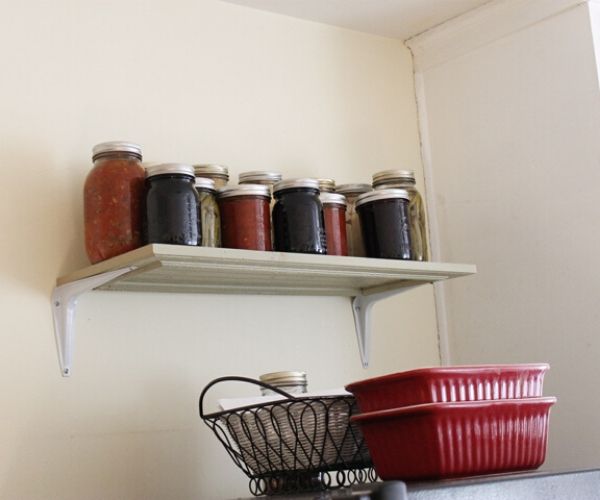 Don't throw away that old cabinet doors but instead turn them into this creative floating shelf. With just L-brackets and cabinet door you can have additional storage in the kitchen to store canned goods and other stuff. (Via Thriving Home)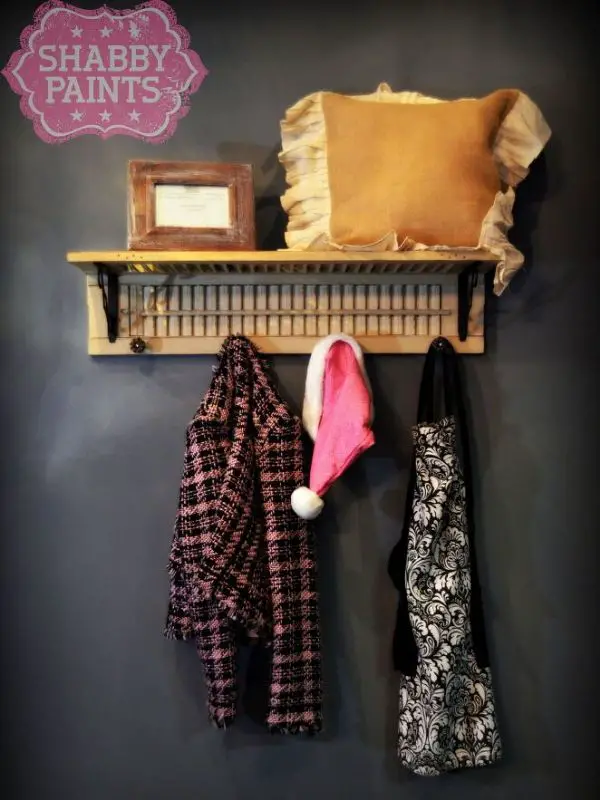 Maybe you don't have old cabinets but you have an old unused shutter? Well, you can still repurpose it into this coat rack with a shelf. So creative! (Via Hometalk)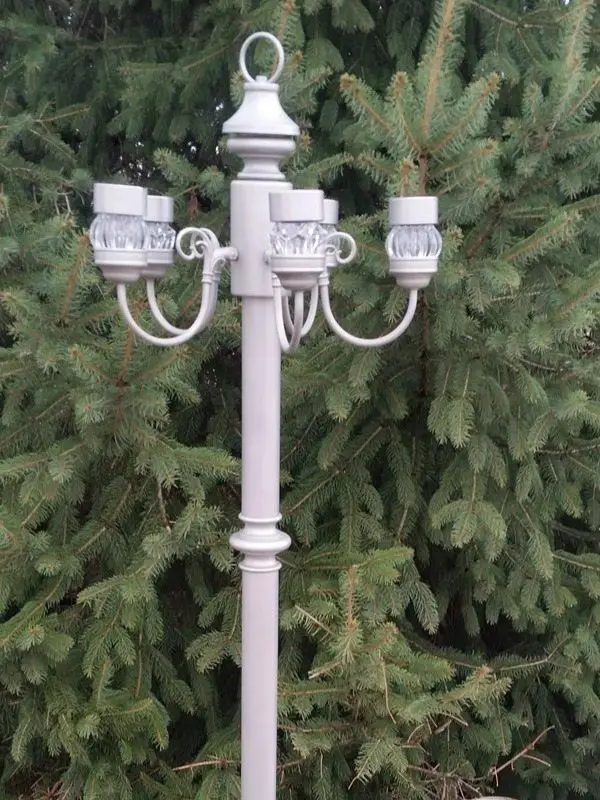 Floor lamp, solar lights, spray paint and old chandelier are materials that you need to make this fun, removable and inexpensive project that is sure will light up your lawn.  (Via My Repurposed Life)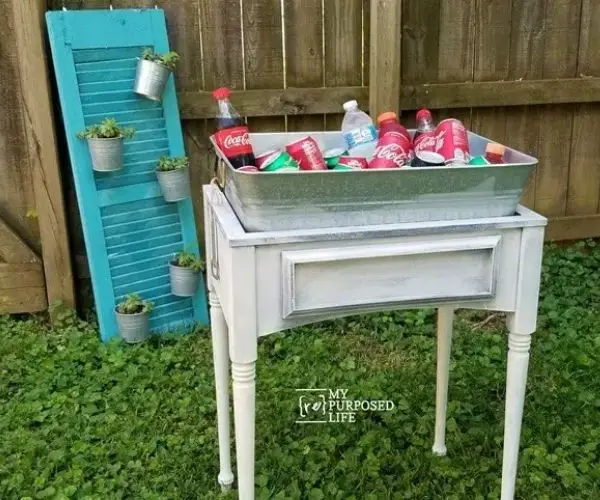 Transform your old sewing machine cabinet into this drink station. it's really easy to make, all you need to do is remove the chippy veneer, add a bottom to the sewing machine cabinet, paint it and lastly add the tub. Surely you will never run out of drinks at your party with this amazing idea. (Via My Repurposed Life)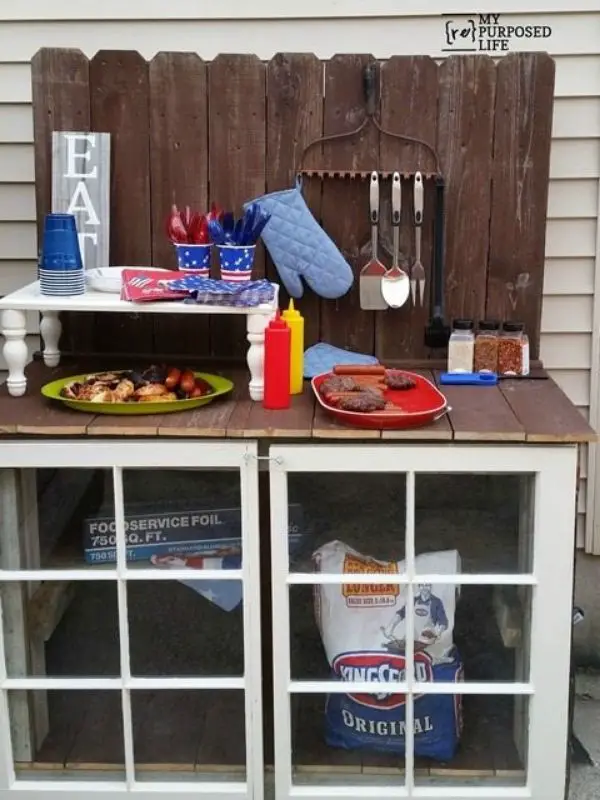 Summer means grilling, and grilling means more time outside with family and friends. So of course you will need an outdoor buffet to put all the grilled food. The rusty rake is a great idea for hanging utensils! (Via My Repurposed Life)