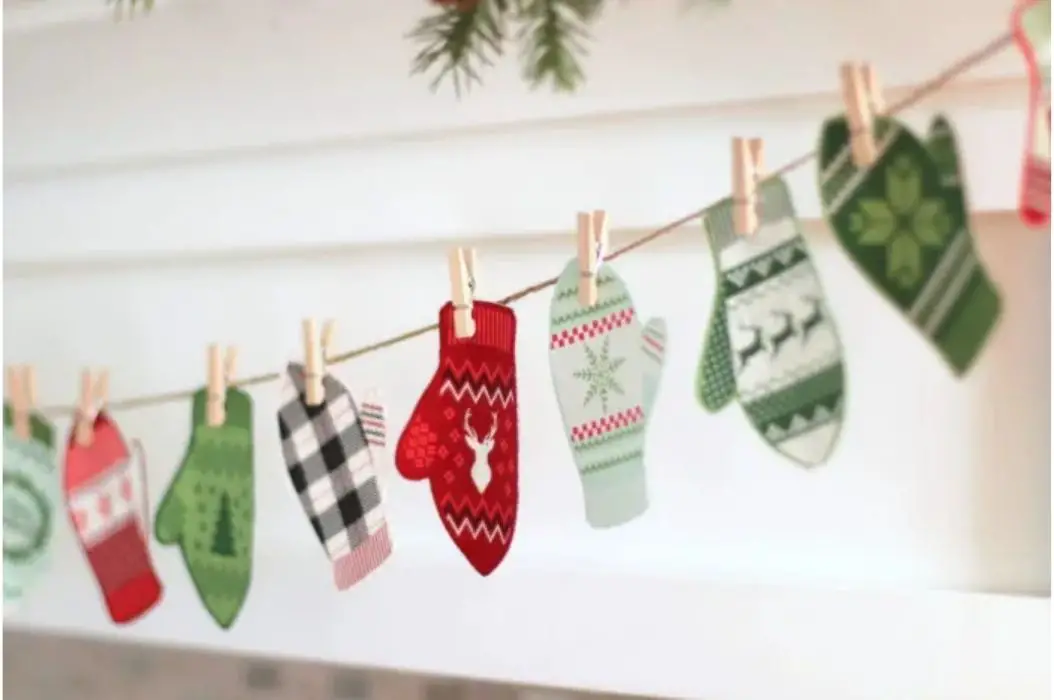 Christmas is right around the corner and there's nothing better than to deck the halls and every single room in your house with Christmas decorations! But you do all know that Christmas decorations are expensive, let alone you already saving money for food and gifts for the holiday.
But Christmas decorations don't have to be expensive and time-consuming. Instead, you can create something beautiful yet inexpensive that will make people amazed that you made them.
Make it a great holiday activity by getting your family involved in these projects and make this a yearly family tradition!
From indoor decorations to door decorations and even outdoor decorations, I've got some stunning and easy DIY Christmas decoration ideas that will bring joy and turn your home into a winter wonderland.
28 Easy DIY Christmas Decoration Ideas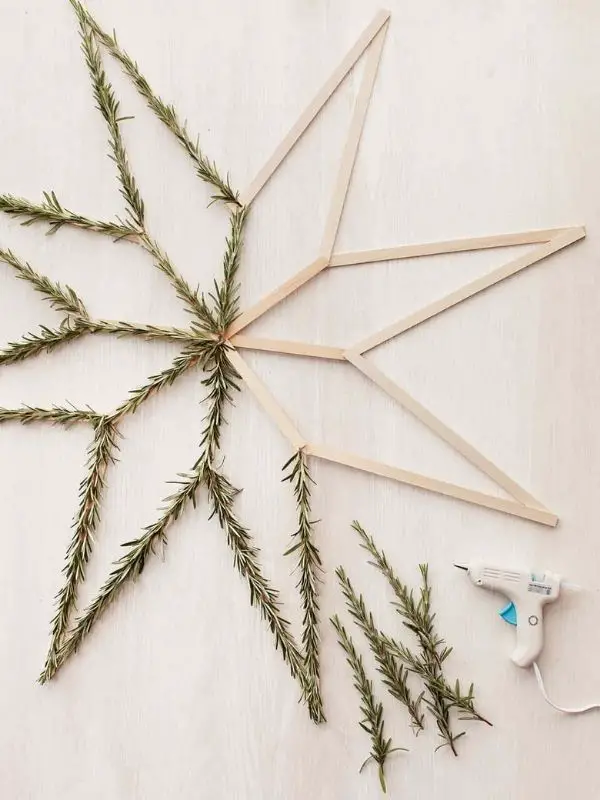 Wouldn't it be cool if your house is covered with stars? Not like totally covered, but just partially or third of your wall? Well, you could make it real by making these simple and beautiful stars made with basswood strips and greenery that will give your house a Scandinavian style! (Via Martha Stewart)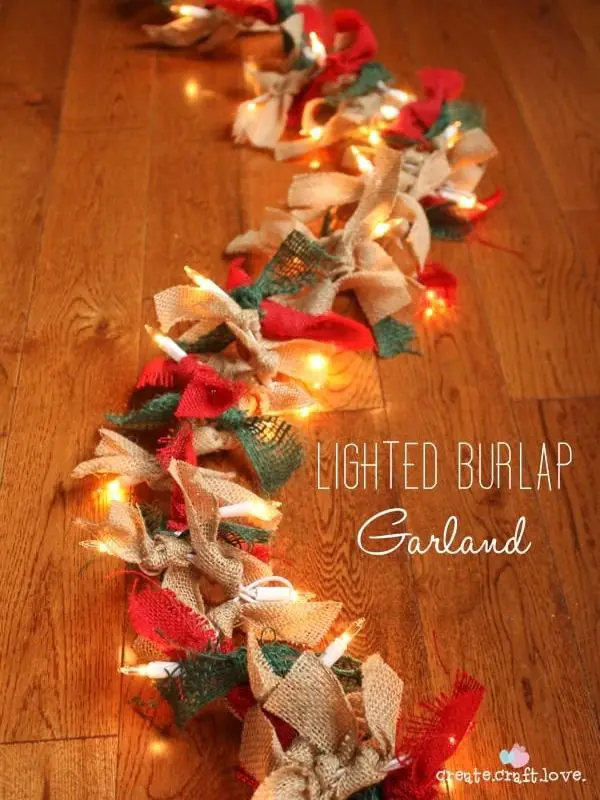 With just simple materials—burlap ribbon and white mini lights, you can create this beautiful rustic garland. All you need to do is to cut the burlap and tying those burlap strips around the mini light wire. You can even make this while watching a movie! So easy. (Via Create Craft Love)
To make this you will need to glue the mini Christmas tree on the underside of the lid, fill your jar with distilled water then add a drop of glycerin to the water. Insert the figurine and give it a good shake, don't forget to put the glitter before you insert the tree. Surely you will treasure this cute snow globe for years. (Via The Sweetest Occasion)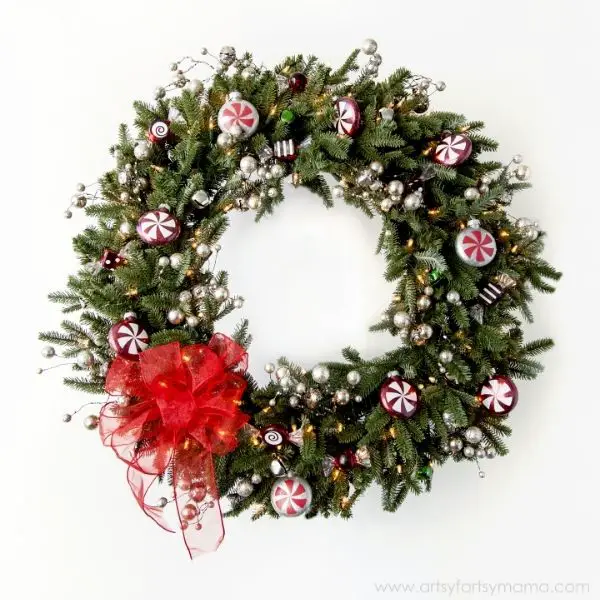 Upgrade your wreath by adding some candy ornaments and vinyl like this peppermint candy wreath. This project is perfect if you want to makeover your wreath without overdoing it. (Via Artsy fartsy Mama)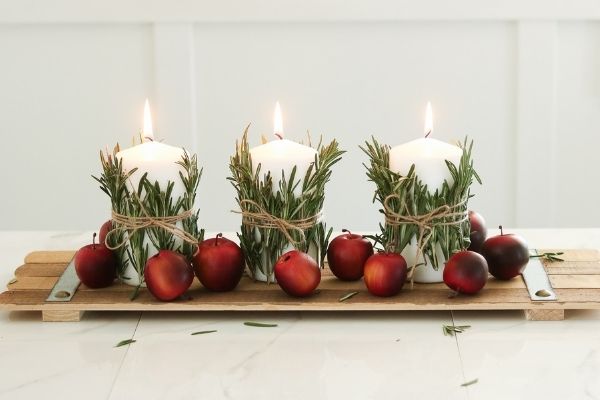 Isn't this table decor look simple and beautiful yet has many possibilities. Because you can make a fun twist by using pumpkins instead of apples for Thanksgiving table decor or lavender sprigs for Easter. You can even make this project more fun by making your own candles! (Via Lily Ardor)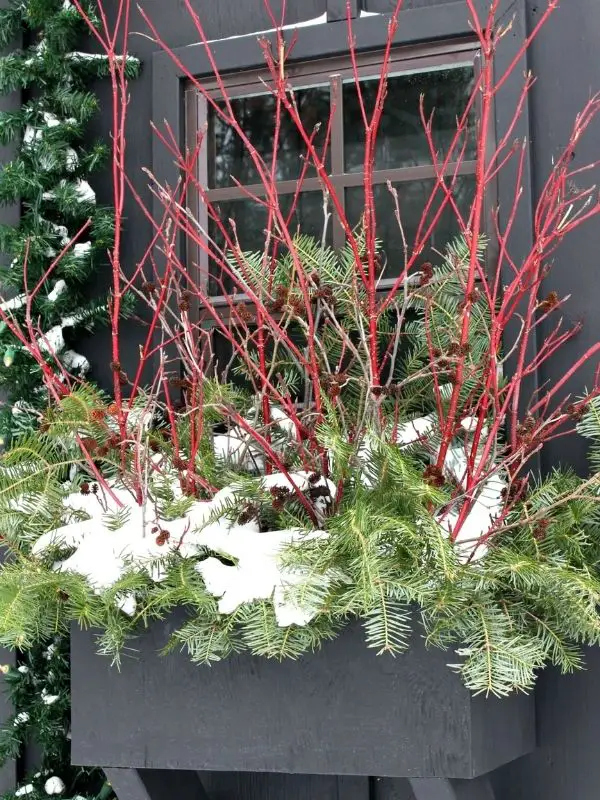 Have you ever wondered how the houses in the Christmas movies had beautiful winter window boxes? You can make some for your home with this budget-friendly DIY. Now you can have something pretty to look at during the winter season!  (Via Dans Le Lakehouse)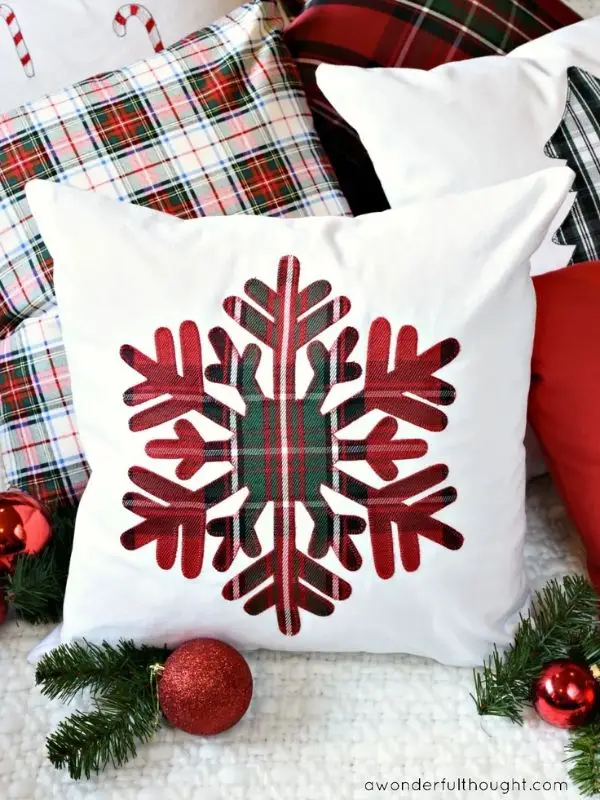 You can go wrong with using plaid for Christmas decor! Because plaid is a timeless pattern and perfectly fit for fall and winter decor. And this project is easier than you would think!  (Via A Wonderful Thought)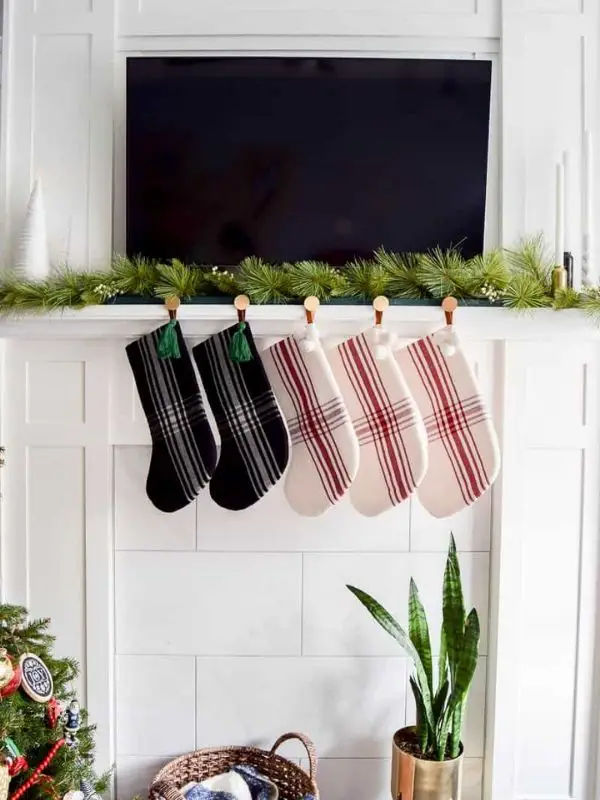 The brass really gives a touch of modern style. And it's so easy to make this one, you just need oak board, brass knobs, screws, paint, 3M strips, and the last and the most important material is stockings. Simple yet stylish decor! (Via Making Joy and Pretty Things)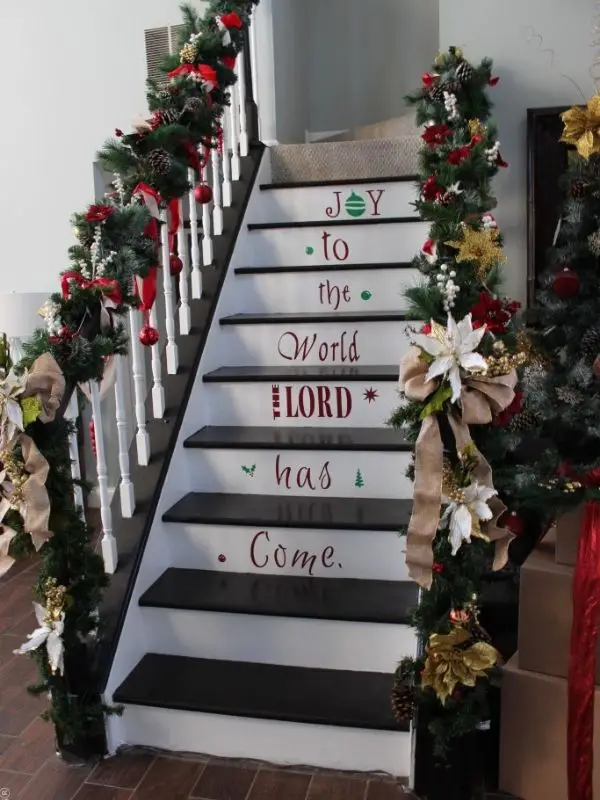 Don't neglect your staircase! Instead make it festive by decor your stairs with this traditional color scheme of green, cranberry red, and cream where it will be the star attraction when someone walks into your house. (Via Toolbox Divas)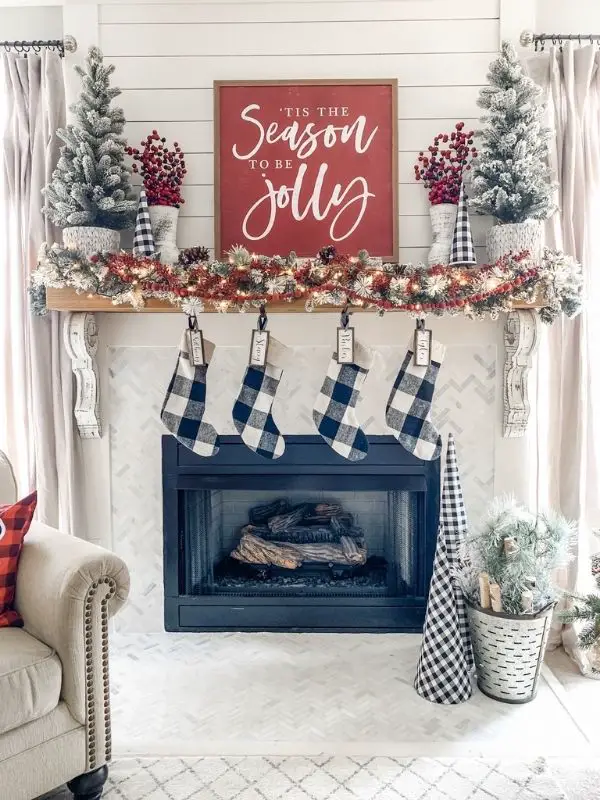 Let's transform your mantel and turn it into this beautiful and merrier decor just by adding the red and white sign, the garland, vases, and white and black buffalo check (stockings and trees). A stunning Christmas decoration for your home! (Via Wilshire Collections)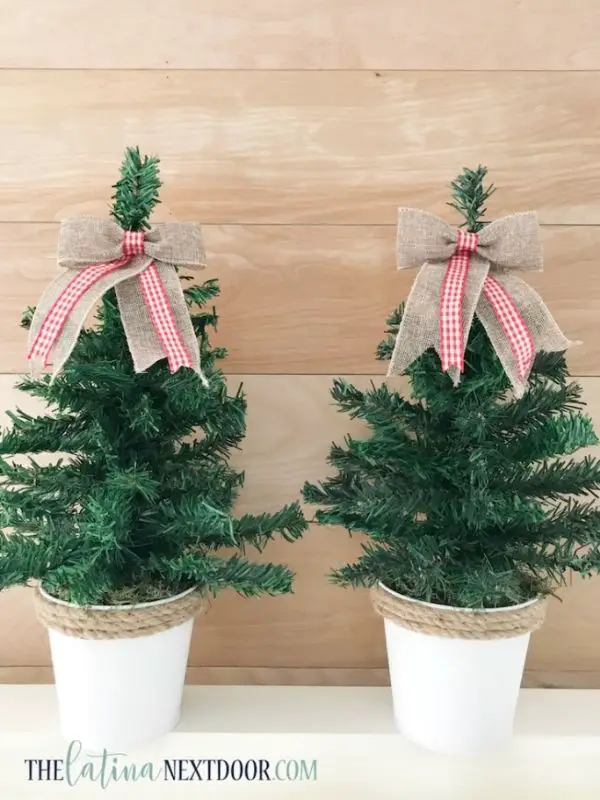 Instead of having a big Christmas tree in your living room or family room, why not try to change that tradition for this year with adorable tiny trees. they are so easy and cheap to make and they only cost you about $5 each. This tiny tree also makes a perfect Christmas gift. (Via The Latina Next Door)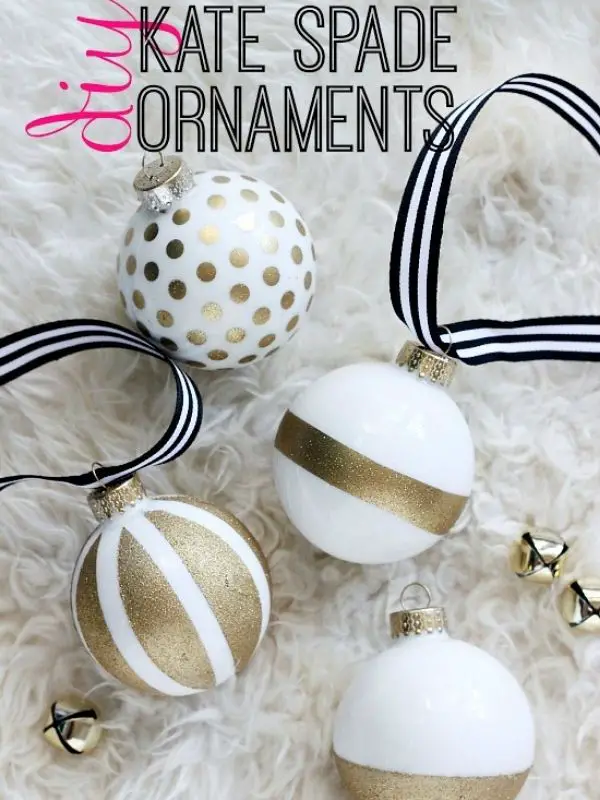 Gold, white, and sparkle always make a perfect match and so do these ornaments. and you just need gold glitter spray paint, painters tape, and solid ornaments to make this festive craft. If gold and white are your favorite colors then you absolutely will love these gorgeous ornaments! (Via Hi Sugarplum)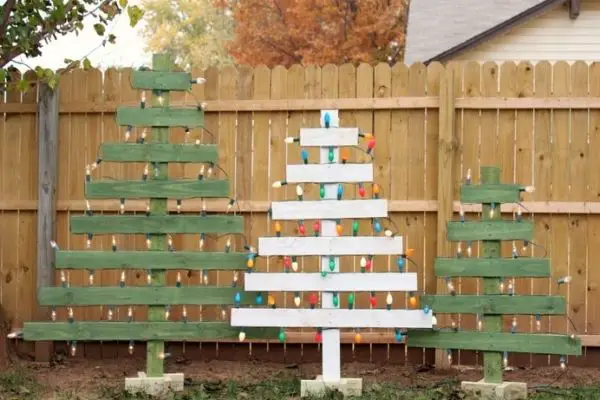 You need to give your yard a Christmas touch and I know what your front yard need are these wooden trees. lumber, screws, paint, and lights are the materials that you need o make these awesome trees. Start to make this and light up your yard. (Via Frazzled Joy)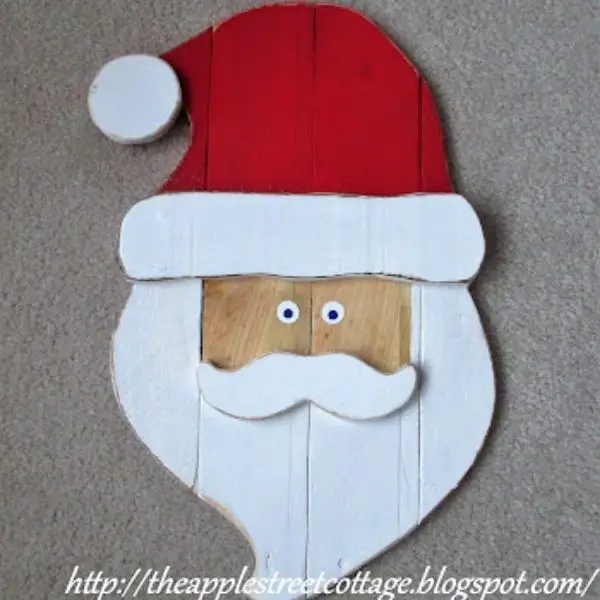 Santa clause is coming to town…Santa clause is coming to town… do you read those with rhymes? let's stop for a while and gather your white and red paint, pallets, a jigsaw, and a marker, then you can continue to sing that song while making this cute  Santa! Put this Santa in your front porch or entryway so it becomes a welcome sign decor. (Via The Apple Street Cottage)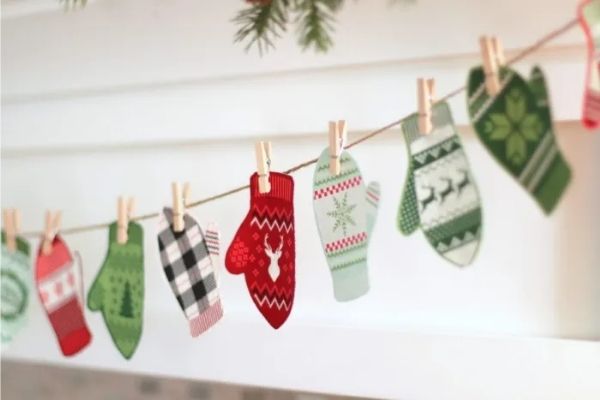 Don't have time to make beautiful garlands? Then this cute and quick little mitten garland is your best option. And it's a no-sew project, so it's easy to make you just need some jute twine, mini clothespins, scissors, and the panel. (Via Diary Of A Quilter)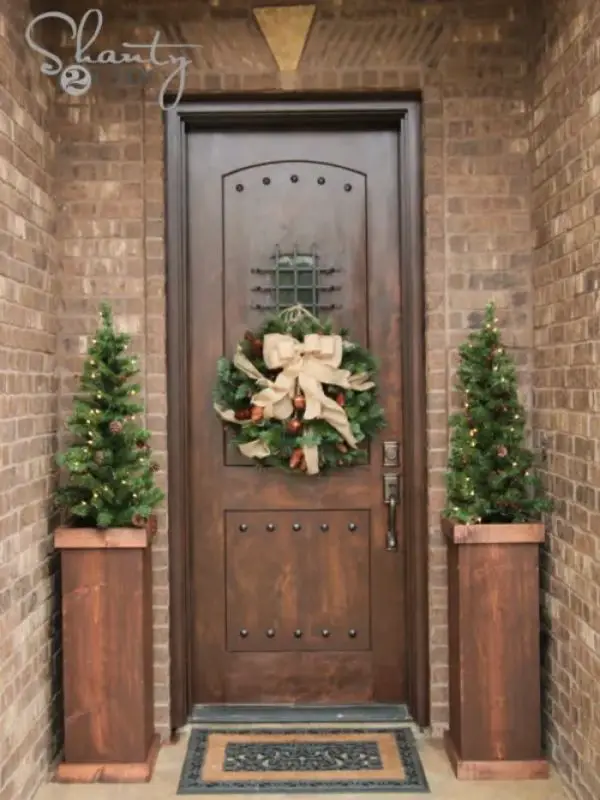 If you have a narrow entryway and still want to decor it, you will love this project. Want to know the best part? It would cost you around $25 for 1 plant stand. You can customize the size and color of the stand so it matches your house. (Via Shanty 2 Chic)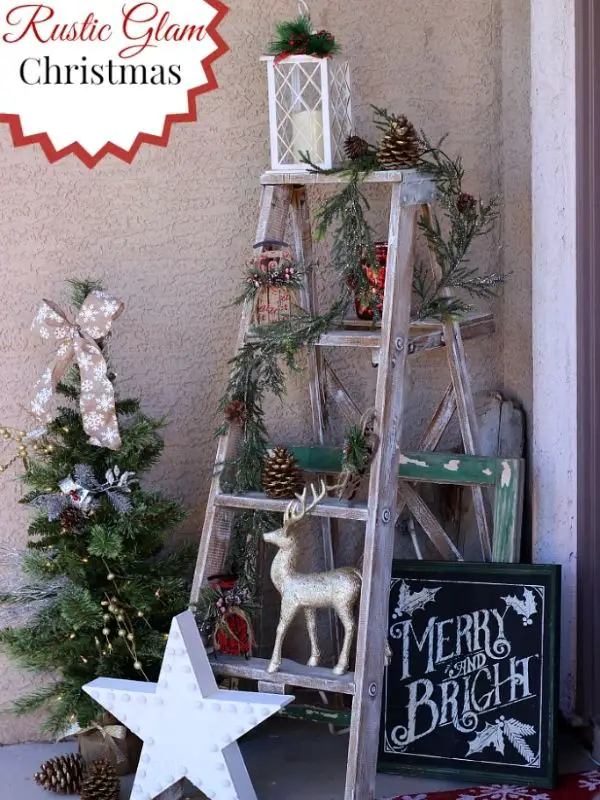 Look at this cute Christmas tree ladder where you can put lots of fun Christmas decor! This vintage ladder is a great idea for your front porch if you want to display a rustic theme this year. (Via Ribbons and Glue)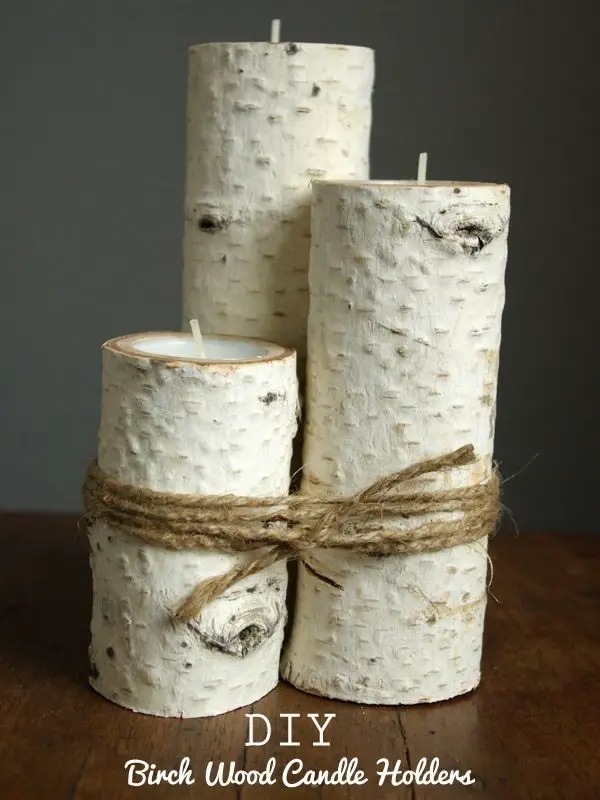 Looking for natural candle holders that absolutely look amazing for the holidays and can still be used year-round? Then you need to make this super easy DIY project. (Via Oleander + Palm)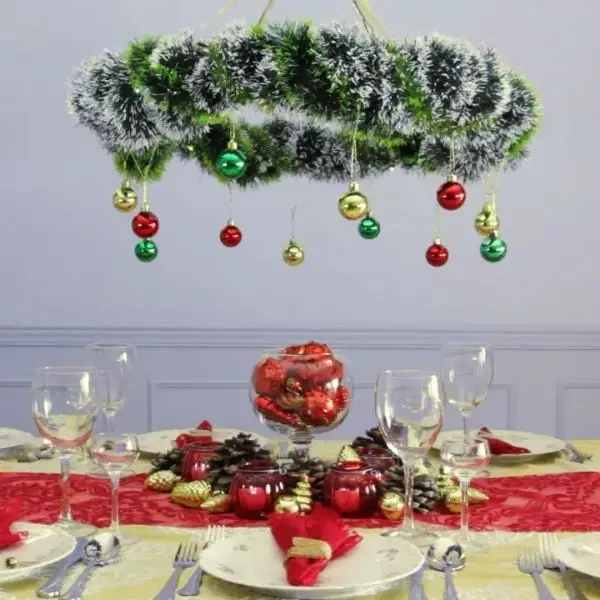 Step up your Christmas decor game by making this super fun and unique chandelier. It takes little to no effort to make this hula hoop, you just need to gather mini ornaments, battery-powered string lights, green garlands, and a child-sized hula hoop. With minimum effort, you can create something that will make your dining room merrier. (Via Hometalk)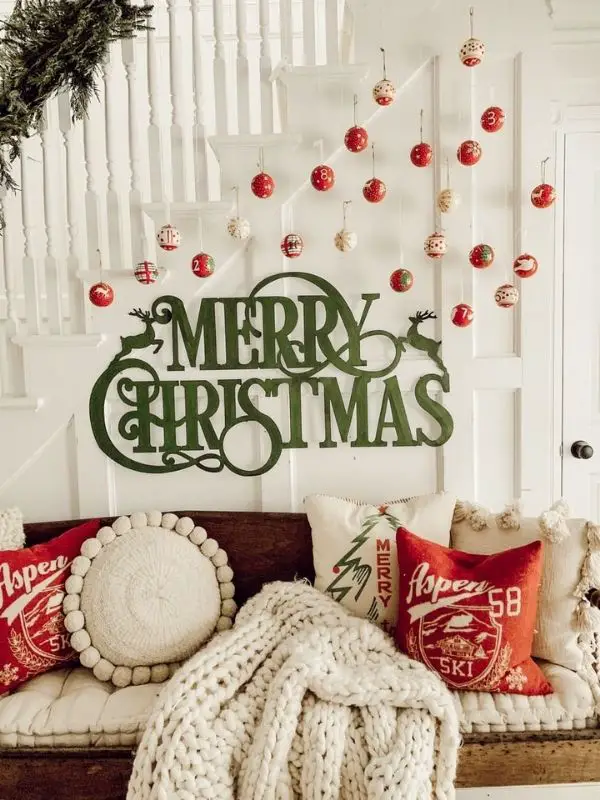 Make your home cozy and inviting by making this festive with the red and green ornament gallery wall in your entryway. This project is a great idea if you want to display something a little quirky this season. (Via Liz Marie)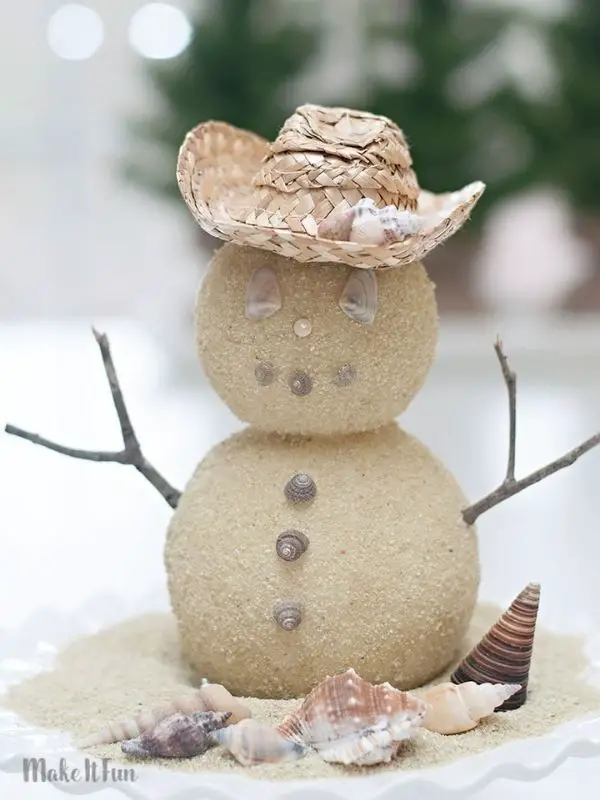 Maybe you live in a tropical region so there's no snow falling and you can't make a snowman, but what if I told you that you can still make a snowman from other materials? If you live close to a beach then you will love this project as it is made with materials from beach like sand and shells. Add this cute sand snowman to your DIY Christmas decoration list. (Via Crafts By Courtney)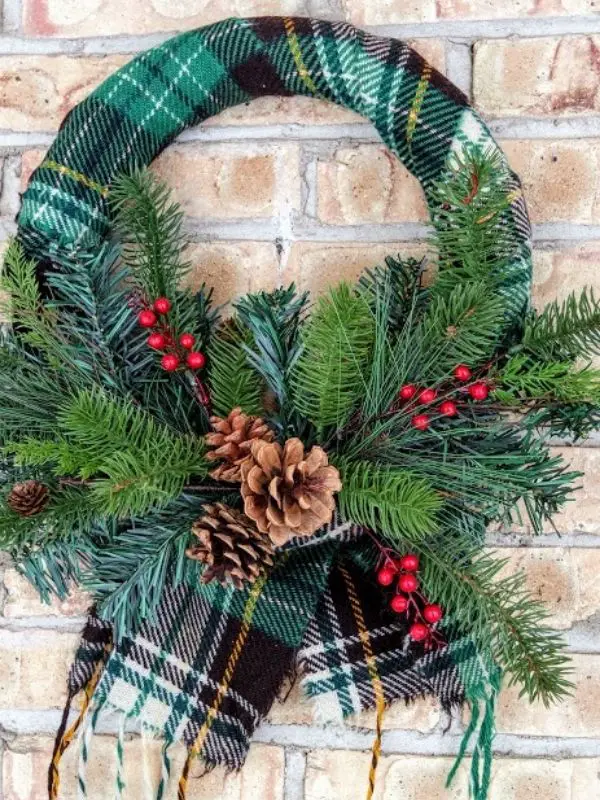 Be creative by reuse your old stuff. You just need a plaid scarf, wreath form, floral pins, and embellishment, or you can customize it and make your own version. The evergreen, berries, and pinecones on this wreath make a cozy winter feeling. What a creative way to reuse an old scarf! (Via My Thrifty House)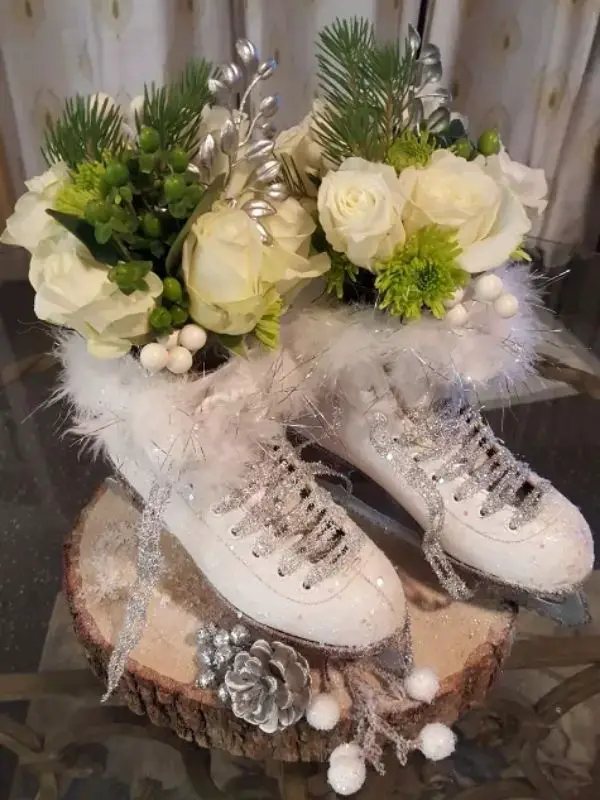 It's time to clean your old skate and start repurpose them into this simple, beautiful sparkling white centerpiece that is perfect for your Christmas dinner table and for your home decor. (Via Hometalk)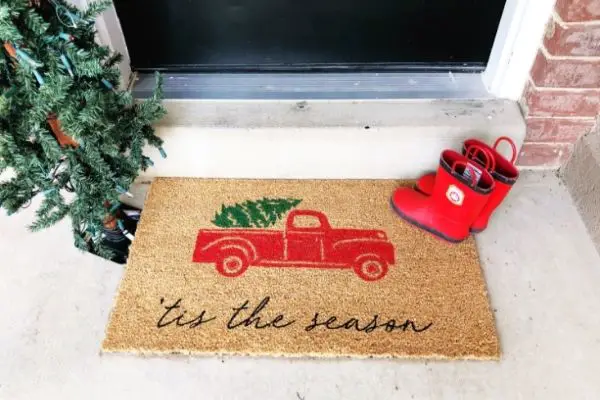 After you've decorated your house inside out with ornaments, wreaths, and lights, maybe it's time for you to greet your family and friends with this awesome doormat. You can easily customize it to your liking. (Via Craftables)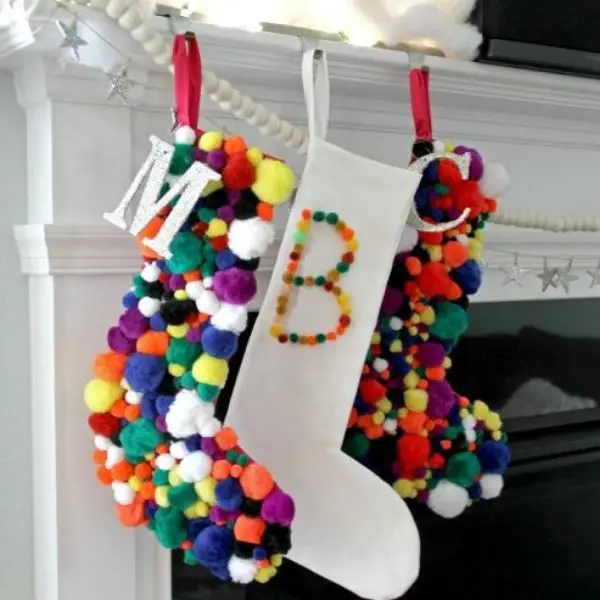 To make this one you just need a cotton stocking (either store-bought or sew), a bag of pompoms, and fabric glue. Make this project more fun by inviting your family member so they can create their own stocking. (Via DIY Network)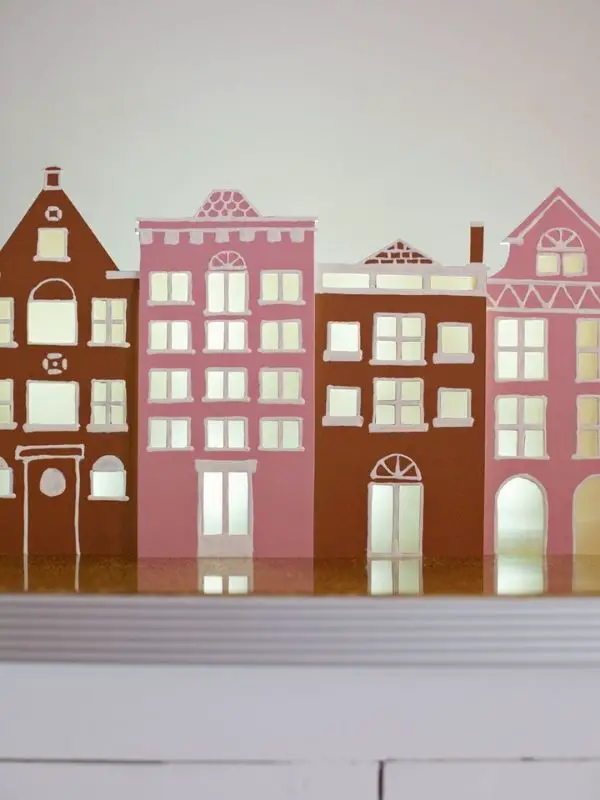 Bring your childhood memories back by recreating your own winter village. This village is simple to make because you just need foam board, set-like facades, LED lights, and wintery bottle brush trees. What an adorable little village! (Via A Beautiful Mess)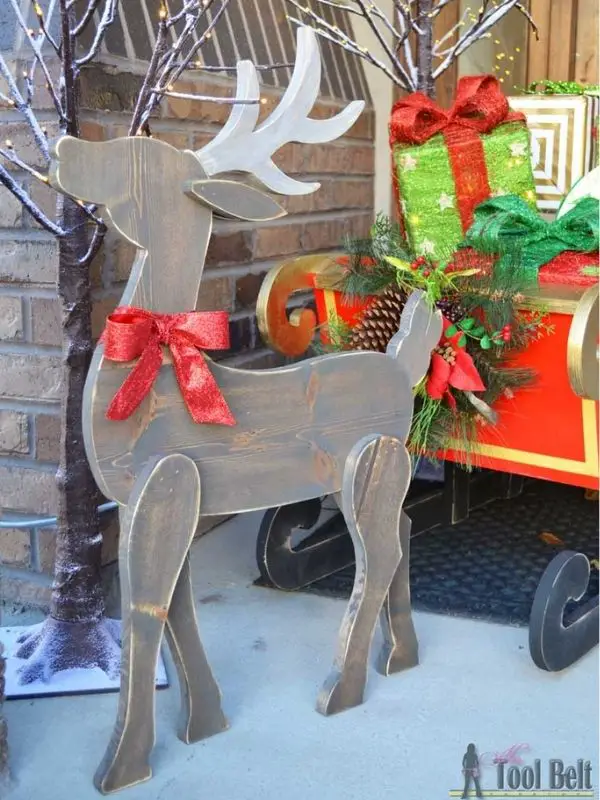 Warm up your front door with this reindeer! The author already provided this wood reminder pattern, so you can download and print them. Board, brad nails, wood glue, sandpaper, pocket hole screws, and paint are the materials that you need to make this cute reindeer. (Via Her Tool Belt)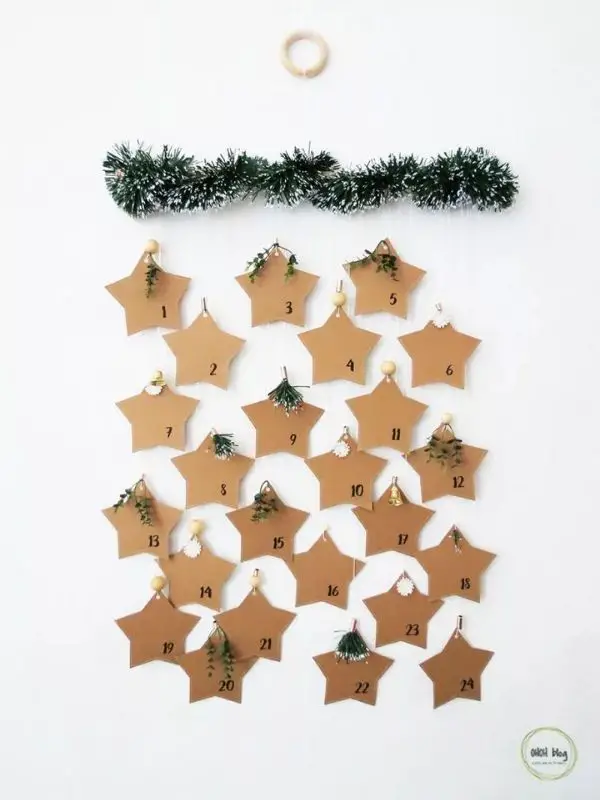 Or do you just want to decor your house with something simple like this paper advent calendar? Plus this calendar makes a great way to spend time with your family by putting a paper with a list of activities in each star and then open them in accordance with the date. (Via Ohoh Deco)
Be sure to follow me on Pinterest for more ideas. Happy holiday!