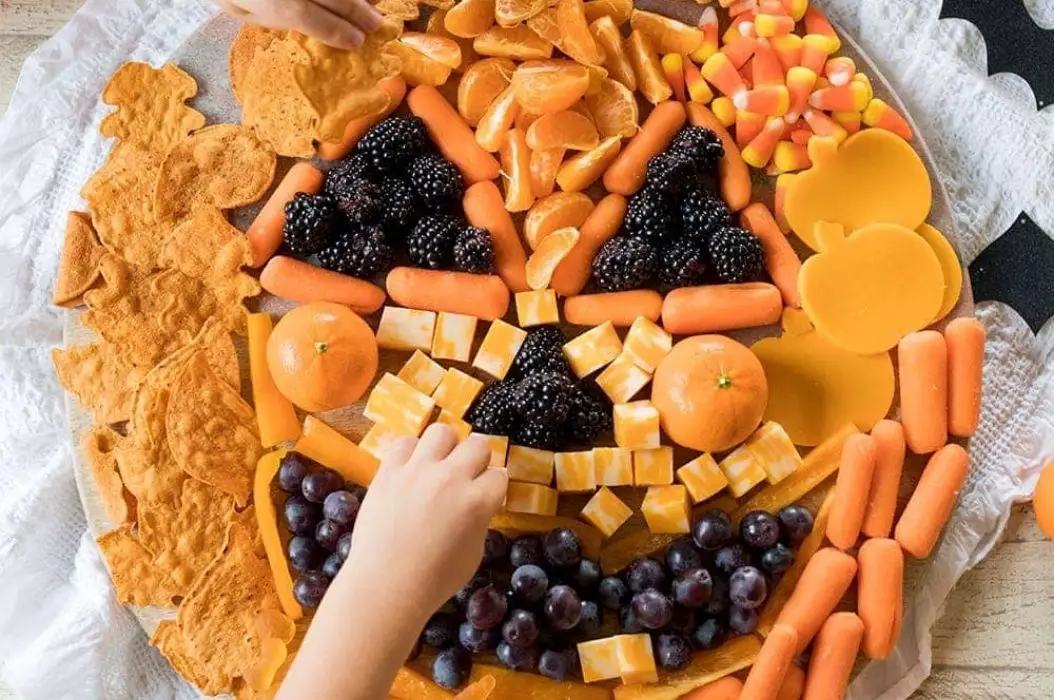 You don't have to wait until 31 October to enjoy some creepy and cute Halloween snacks. Because you can celebrate Halloween as a month-long occasion, after all, October is the only month where we can serve a plentiful of gruesome fingers, eyeballs, skulls, and other creepy Halloween snacks. Luckily, I've gathered a list of Halloween snacks that will make your day spooktacular and your family and friends will scream with joy.
21 Spooky Halloween Snacks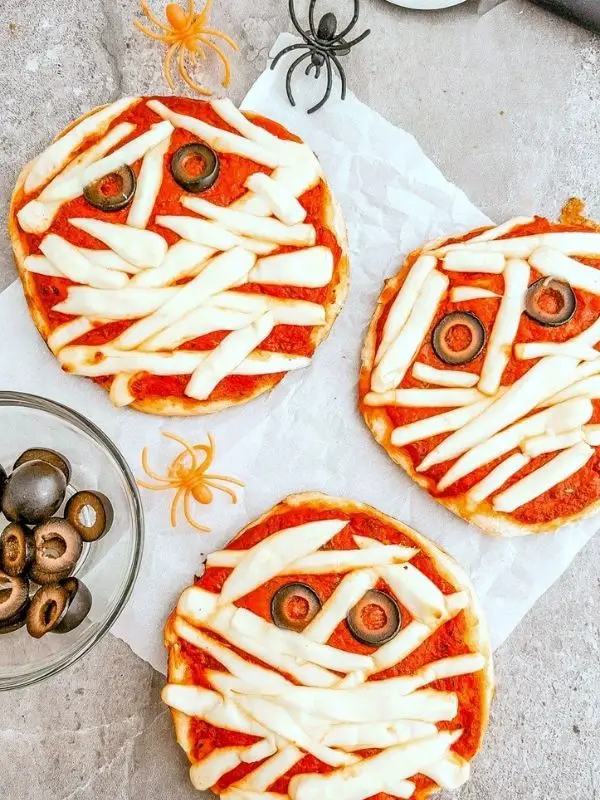 These creative mini mummy Halloween pizzas are so easy and simple because you just need four ingredients: black olives, mozzarella sticks, pizza sauce, and a can of biscuits. to make this. A perfect way to get into the Halloween spirit without breaking the bank! (Via Mommy Musings)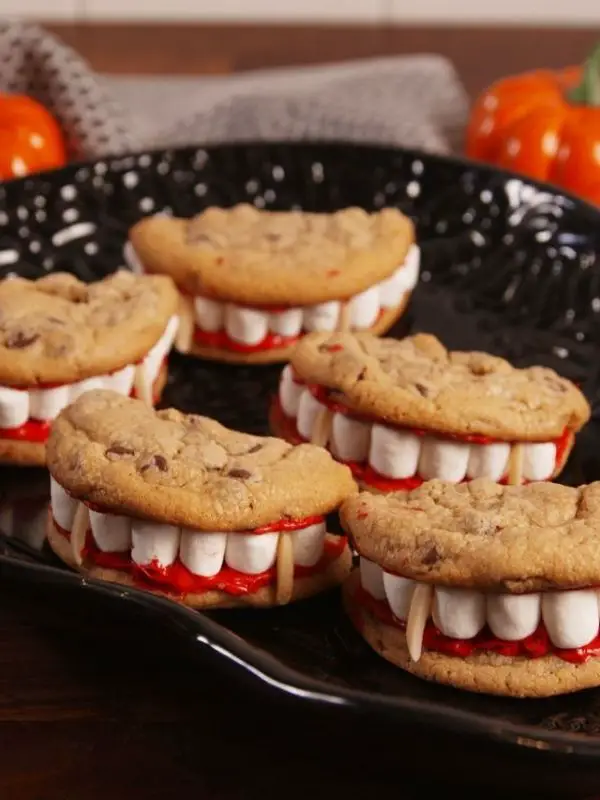 You don't need a bloody vampire just to see their fangs when you can actually make these tasty dentures with simple ingredients like marshmallows, vanilla frosting, red food coloring, slivered almonds, and chocolate chip cookie dough. Not only is it way more fun but these dentures are also tasty. (Via Delish)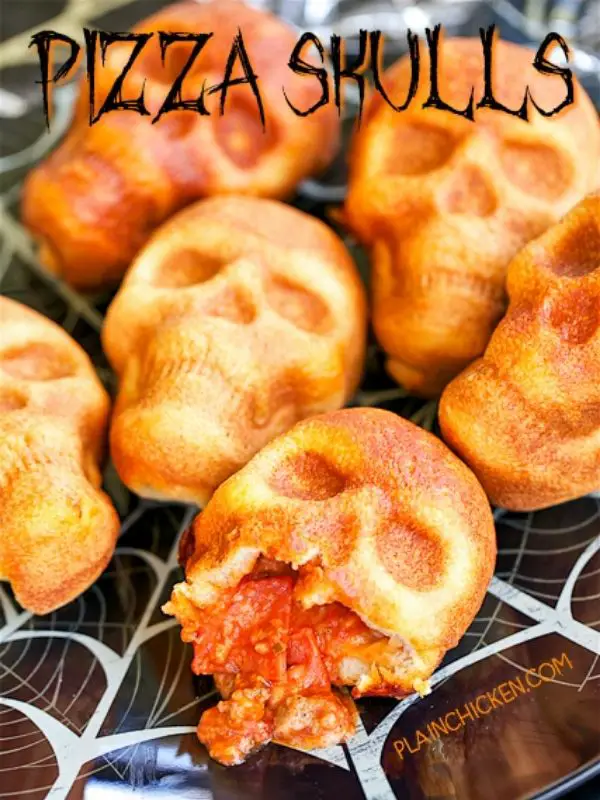 Look at these awesome yet creepy snacks! And it's so easy to make, you can even bake them first and then freeze them if you want to make these ahead. These skulls really have their guts coming out like some zombie in The Walking Dead Series. Spooky! (Via Plain Chicken)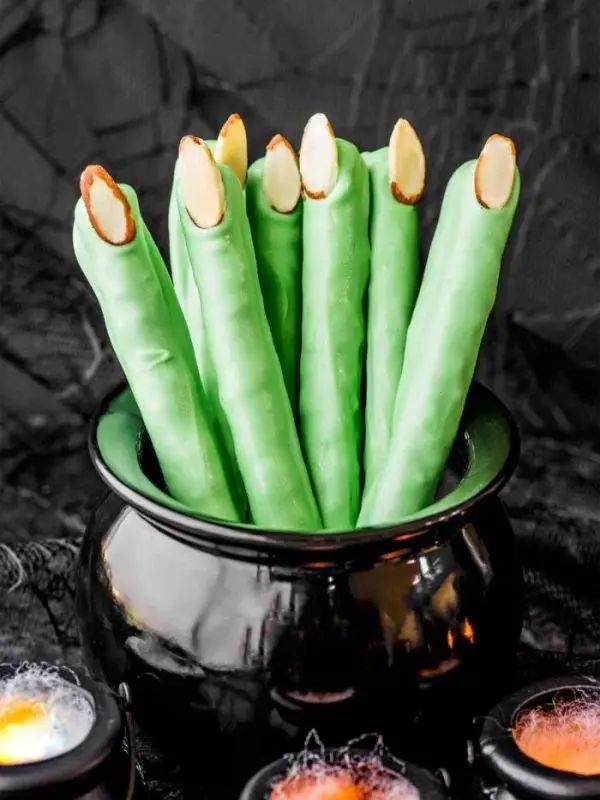 Covered in a mixture of white candy melts and green food coloring, these simple pretzels are transformed into these fancy witch fingers! A perfect snack for any witch party! (Via Homemade Hooplah)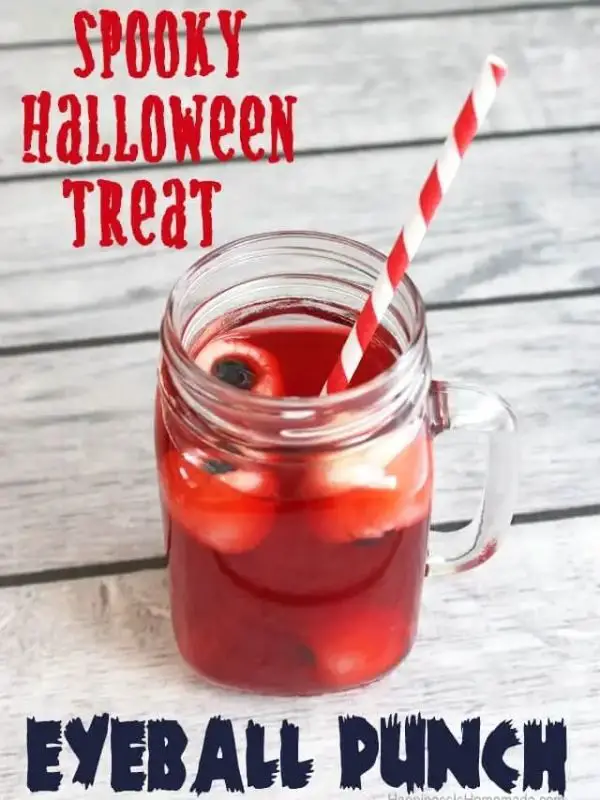 You sure need something to flush all the creepy Halloween treats that you've had and this punch is a perfect idea. This gory-looking eyeball punch is made with fresh blueberries, a can of lychees, 7-up, and Hawaiian punch fruit juicy red. These eyeballs will surely make your family and friends squeal in terror once they see them! (Via Happiness is Homemade)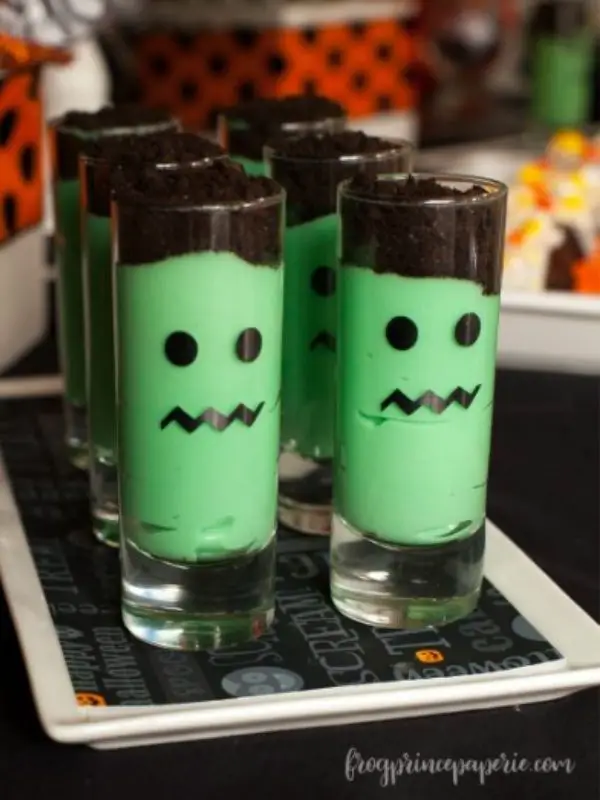 You don't have much time but still want to make a Halloween treat? Don't worry, this easy, cute, and amazing 5-minute dessert is what you are looking for. You just need to buy vanilla pudding premade, color them with green coloring food, mix it up, pour it into your tall shot glasses, then spoon in a tablespoon of crushed Oreos. (Via Frog Prince Paperie)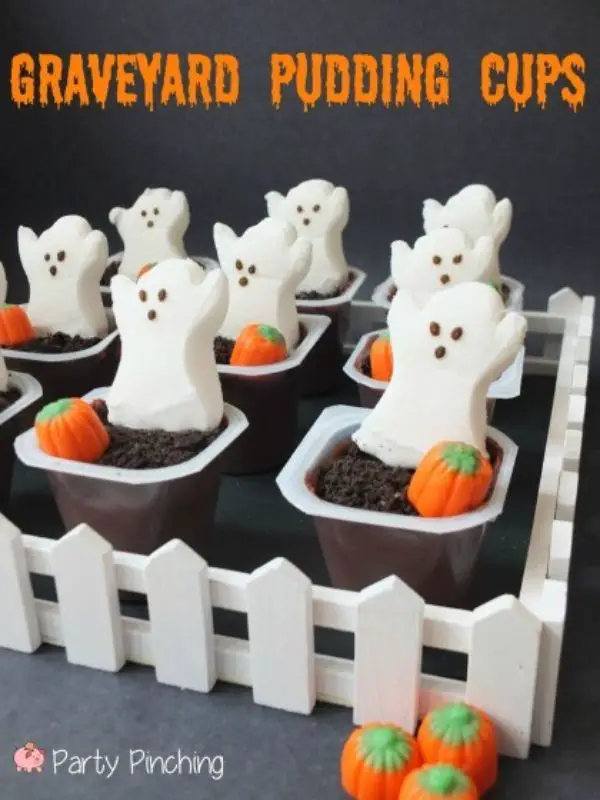 Now you don't have to challenge your friends or kids to a haunting place or graveyard just to see a ghost because surely once you make these puddings, the ghosts and their graveyard will appear at your home. Boo! (Via Party Pinching)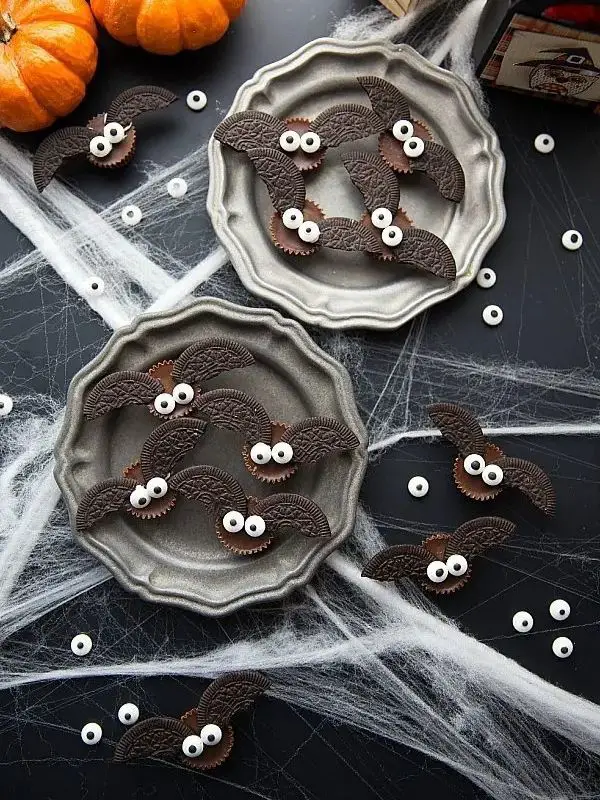 With just mini Reese cups, chocolate sandwich cookies, frosting, and edible eye candies you can make these cute little bat treats and it just take 15 minutes. Even though you don't celebrate Halloween in your country you still can make these cute bats. (Via Chelsea's Messy Apron)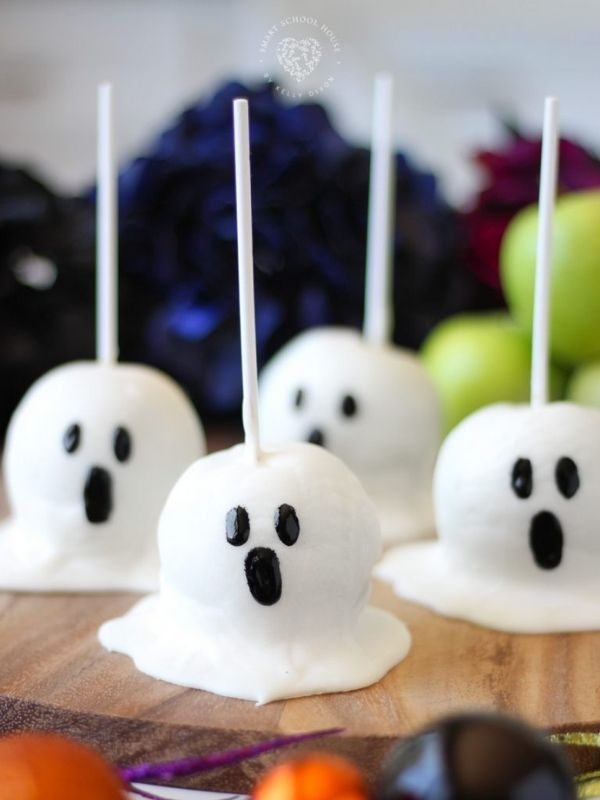 Small apples, black gel icing, candi Quik, and cake pop sticks are the supplies that you need to make these white candy coating apples that make a perfect ghostly Halloween appearance! (Via Smart School House)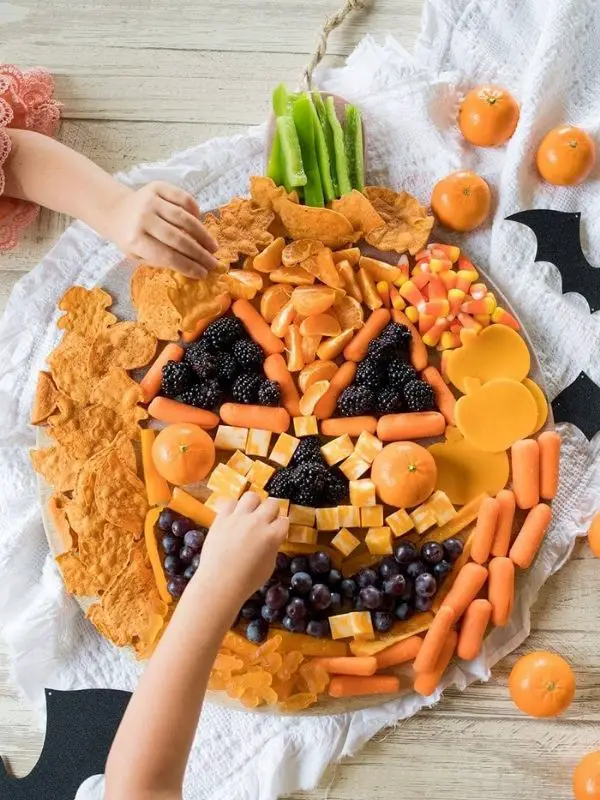 This snack board couldn't be easier to assemble, all you need is the right colored foods to execute it. You can even make the black and white version which has a spooky look. So go shopping, pick all your favorite candy, crackers, cheese, and healthy snacks, then make your own version! (Via Freutcake)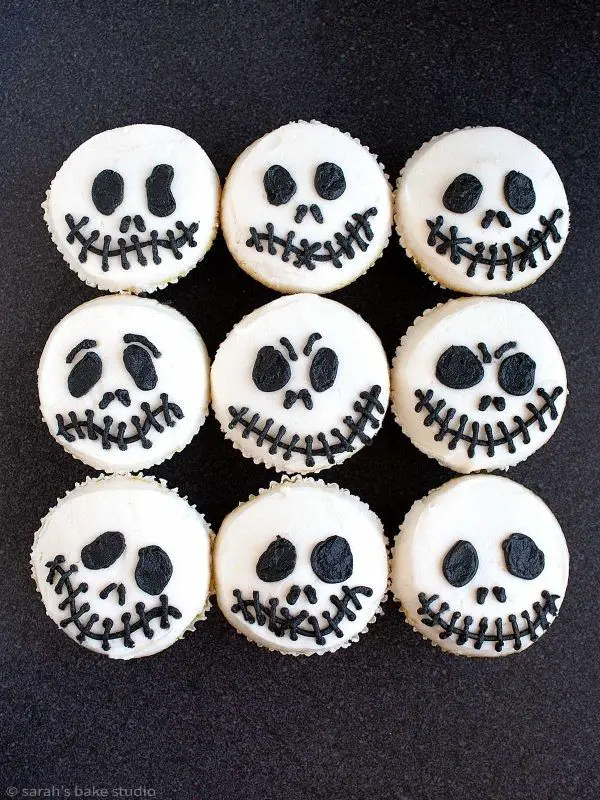 Don't be intimidated with these jack skeleton cupcakes, because it's actually easy and fun to make. Vanilla buttercream, black food coloring, and your favorite cupcake recipe. These surely will make your Halloween spooktacular! (Via Sarah's Bake Studio)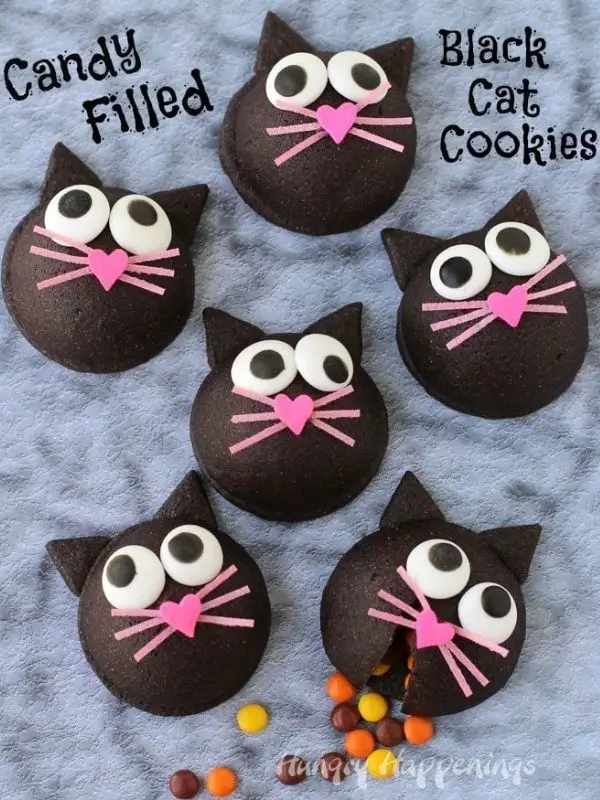 Black cats don't always have to be associated with dark magic or evil, just look at these sweet-looking cookie cats! These wide-eyed cats are sure will be the cutest Halloween treats you ever made. (Via Hungry Happenings)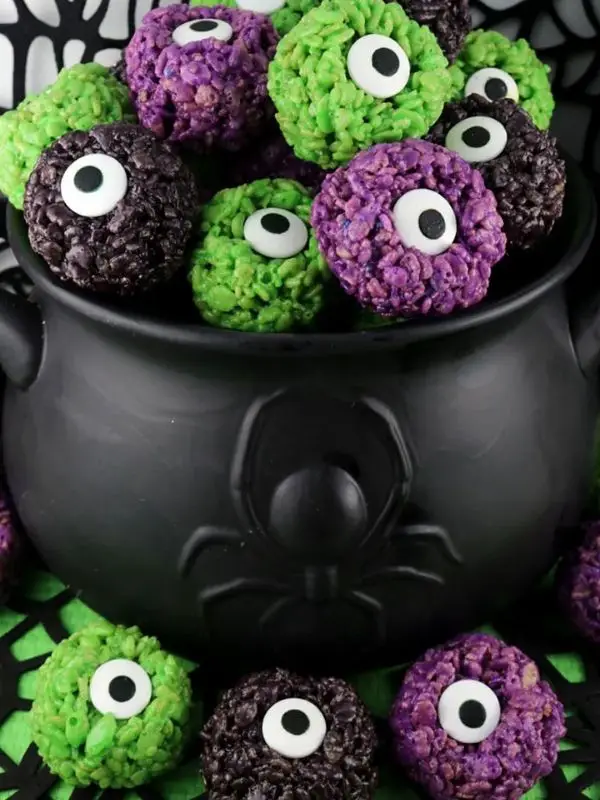 Kellogg's rice krispies cereal, mini marshmallows, Wilton candy eyes, butter, and food coloring are the ingredients that you need to make these treats. These eyeballs are a definition of cute, creepy, and yummy treats at the same time! (Via Two Sisters)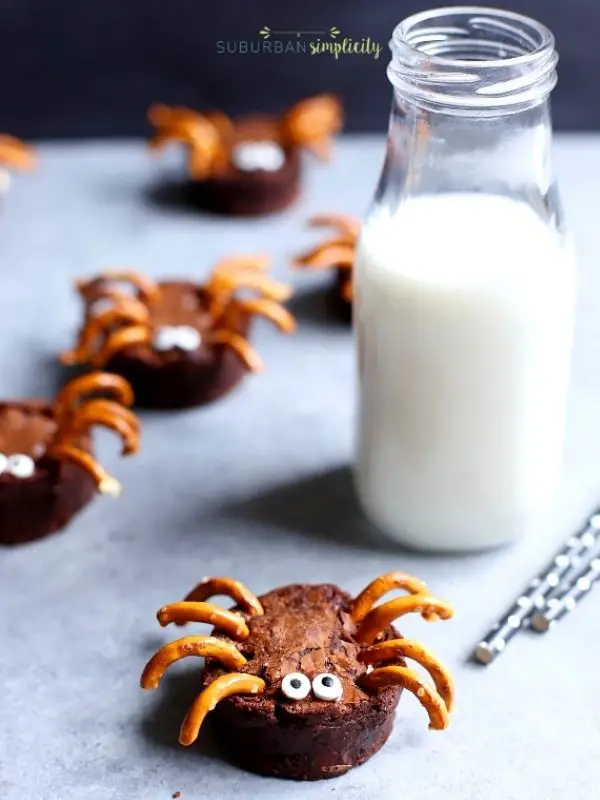 Who doesn't like brownies especially in this adorable spooky spider form! Made with pretzel twists, semisweet chocolate chips, baked brownies, and candy eyeballs, these easy brownies are perfect for a fun baking project with your kids. (Via Suburban Simplicity)
Want to serve a magical treat for your next Halloween party? These delicious jello shots surely will be a big hit! You still can make the non-alcoholic version of these by omitting the vodka. (Via Bread Booze Bacon)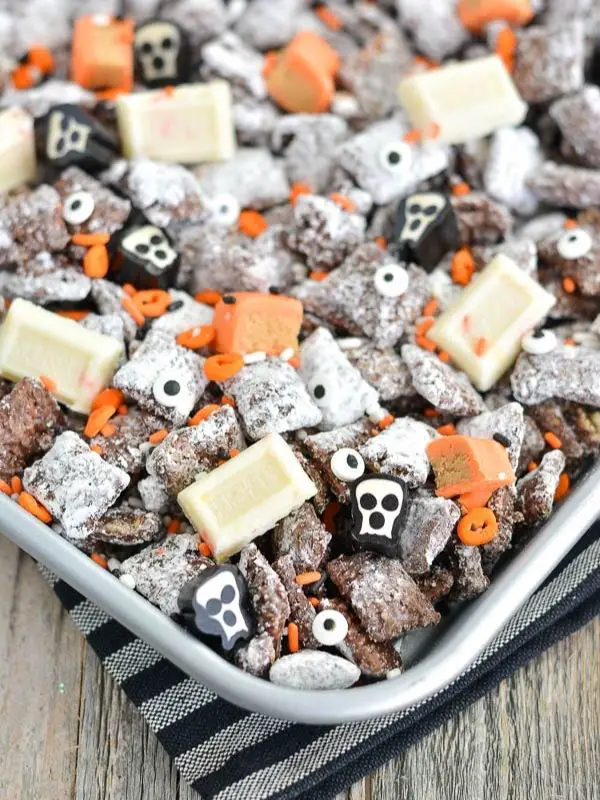 Looking for an easy Halloween treat to enjoy while watching your favorite Halloween movies? These Halloween muddy bunnies are the perfect treat to make your night spooky! (Via A Pumpkin & A Princess)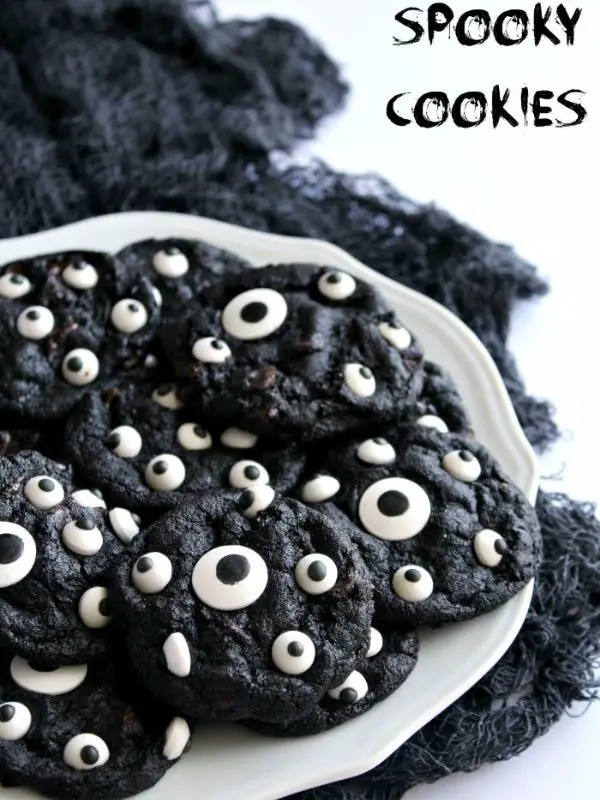 This double chocolate dark scary night sky cookies with eyeballs will make your Halloween feel like there's a lurking night shadow that keeps watching you. So fun and creepy! (Via Love To Be In The Kitchen)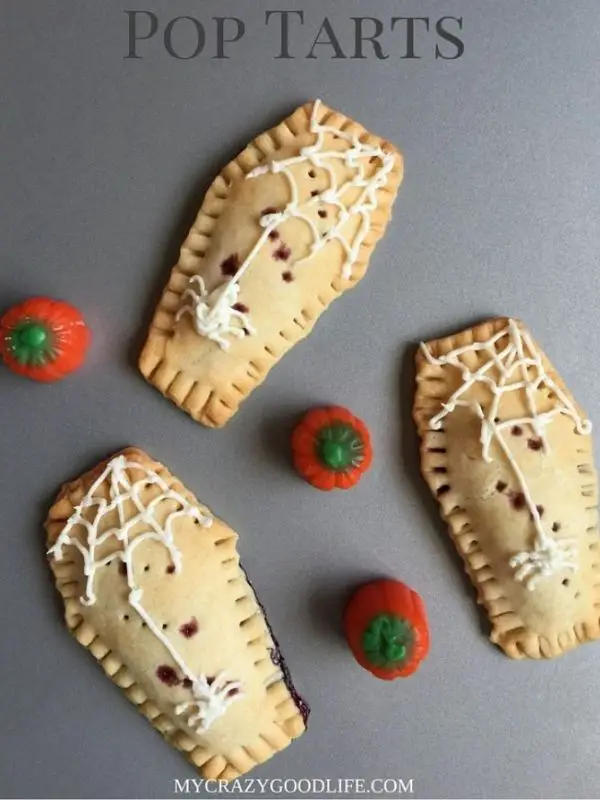 With just 5 simple ingredients: vanilla frosting, jelly, piping bag, Pillsbury pie crust, and coffin cookie cutter you can make this easy, yummy, and tasty coffin with any filling that you like. (Via My Crazy Good Life)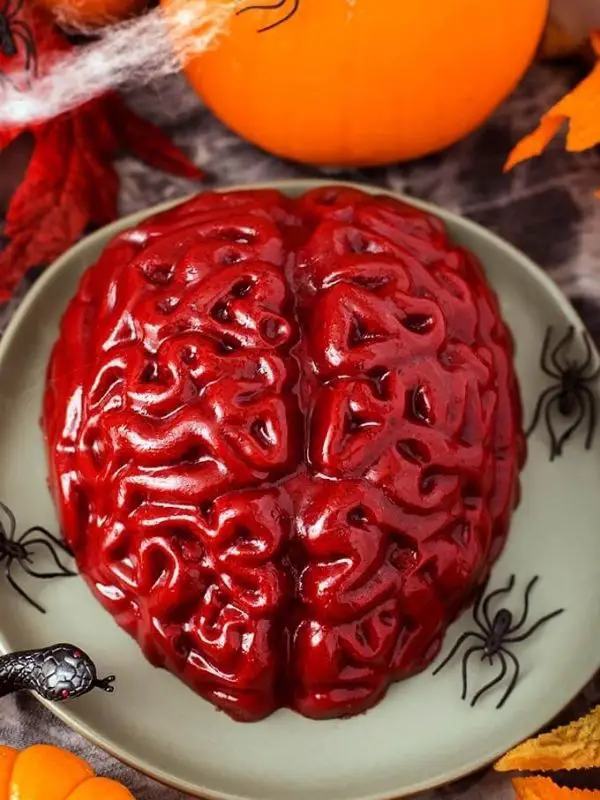 Brain…Brain…where is the brain?? The zombies are hungry and need some fresh and tasty brains to eat! So you better make this bloody red jello brain before they eat yours. (Via Simply Happy Foodie)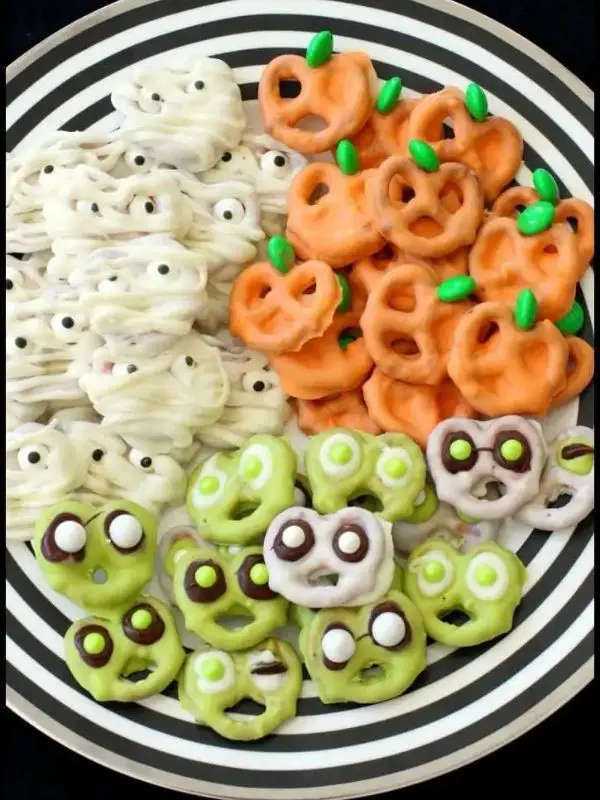 These spooky pretzels are made in three ways: Aliens, Mummies, and Pumpkins. All you need to do is to dip each pretzel in a bowl full of melted chocolate, decorate it and let it cool. Involve your kids to make this activity more fun! (Via Butter with a Side of Bread)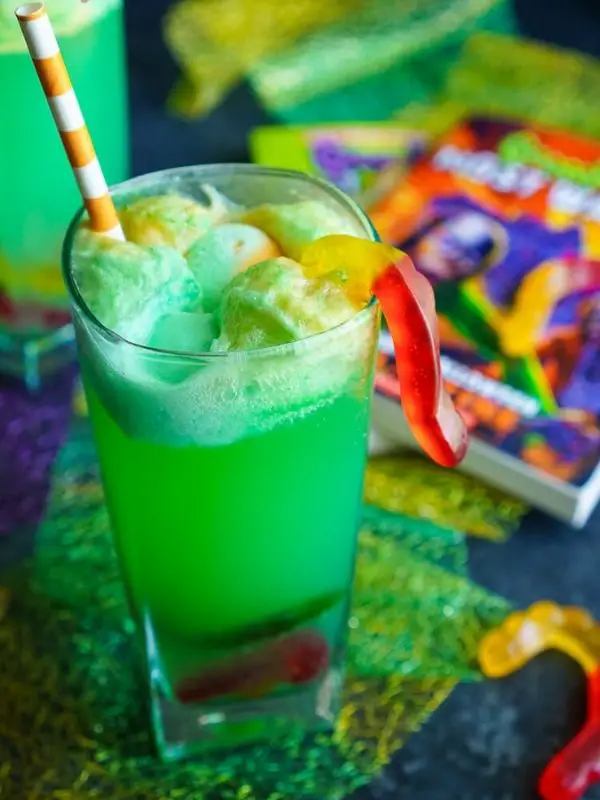 Calls for lemon-lime soda, rainbow sherbet, green food coloring, and gummy worms. This super simple and easy Halloween drink is a perfect addition to your Halloween party and surely will give you and your guests goosebumps. (Via Sugar and Soul)
Follow me on Pinterest for more recipe ideas!